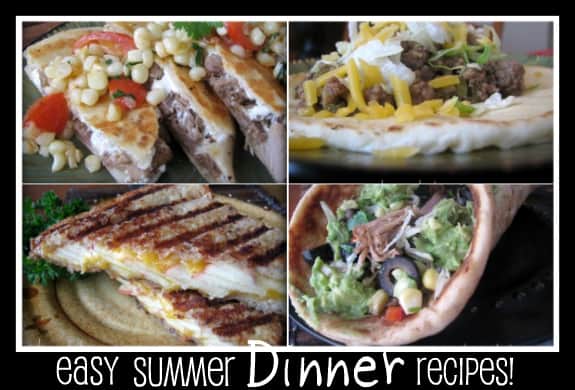 Monday snuck right up on us again didn't it?! I have been running around NYC since last Thursday and am just flying back home this morning. Thought it would be fun to compile some Easy Summer Dinners and favorite reader recipes of Picky Palate today.
Let's start with some great summer dinners…..as in break out the crockpot so you don't have to fire up the oven! Here are some of my dinner pics that will do just the trick…plus a panini that is perfect for summer with minimal heat 🙂
Steak and Goad Cheese Quesadillas
Crock Pot Beef Tacos in Soft Tortilla Bread
Toasted Whole Grain Apple Cheddar Panini
Slow Cooked Green Chili Pork Tacos with Corn and Tomato Relish
Reader Favorite Treats!
Let's start with the Motherlode Layered Cookie Bars. I created this recipe September 2009 and had no idea it would be such a hit. It is extreme that's for sure! Think all of your favorite cookies piled up on top of each other in one giant bar. It really is a fun recipe 🙂
Motherload Layered Cookie Bars
My Cinnamon Roll Sugar Cookies are probably one of my favorite recipes I've created here on Picky Palate. There is just something about these chilled in the refrigerator that make them irresistible! If you haven't tried them yet….what are you waiting for?! Lol 🙂
Cinnamon Roll Sugar Cookies? Yes!!
Last but certainly not least are my Caramel Apple Cream Cheese Cookie Bars. I created this recipe for Bettycrocker.com last Halloween and it was a huge hit. This is a great recipe to take to any party 🙂
Caramel Apple Cream Cheese Cookie Bars
__________________________________________
Have a great new week, come back soon for details about my fun in NYC and some new recipes!!