Sharing my Brioche French Toast, Disneyland Copycat Recipe with you today! One of my very favorite dishes to order for breakfast from Flo's V8 Cafe in Cars Land! Homemade Salted Caramel Sauce plus buttery sweet brioche is a combination from heaven!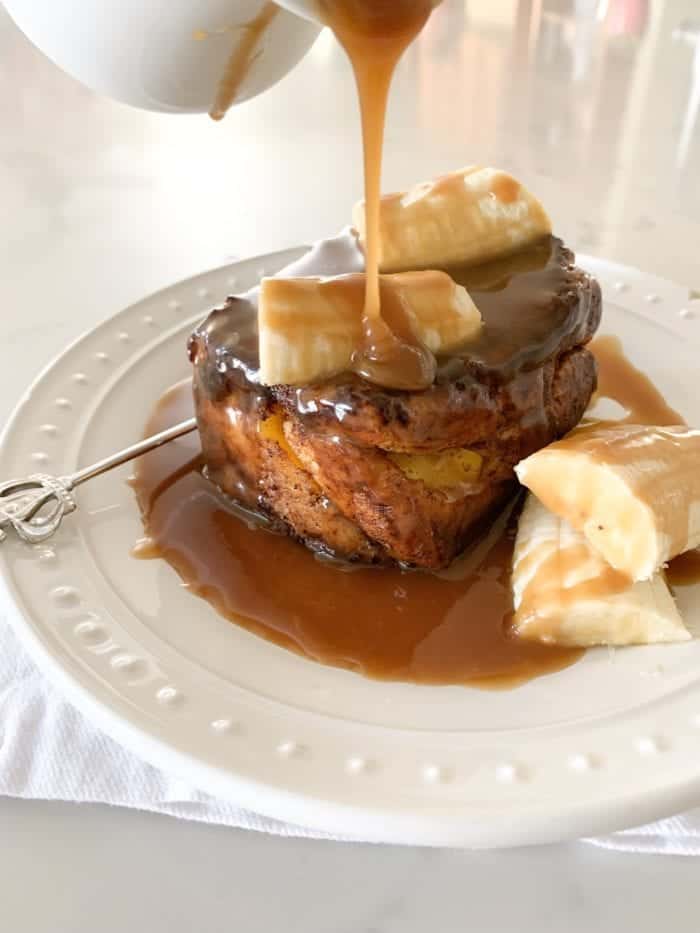 Brioche French Toast
One of my favorite things to do is find the best food at Disneyland and years ago we found this French Toast straight from heaven available at Flo's V8 Cafe, Disney California Adventure Park's Cars Land. I could drink that darn salted caramel sauce on top. I knew I needed a copycat recipe to enjoy at home.
Be sure to follow Disney Hungry on Instagram for the Best Eats at Disneyland Resort!
Flo's V8 Cafe, Cars Land

Disney fans know exactly where Flo's V8 is, right in Cars Land across from Cozy Cone Motel. They've got lots of delicious home cooked style meals on the menu, including my favorite Brioche French Toast! Love visiting Flo's for breakfast, lunch and dinner. Let's see how I re-created this recipe at home.
How To Make Homemade Salted Caramel Sauce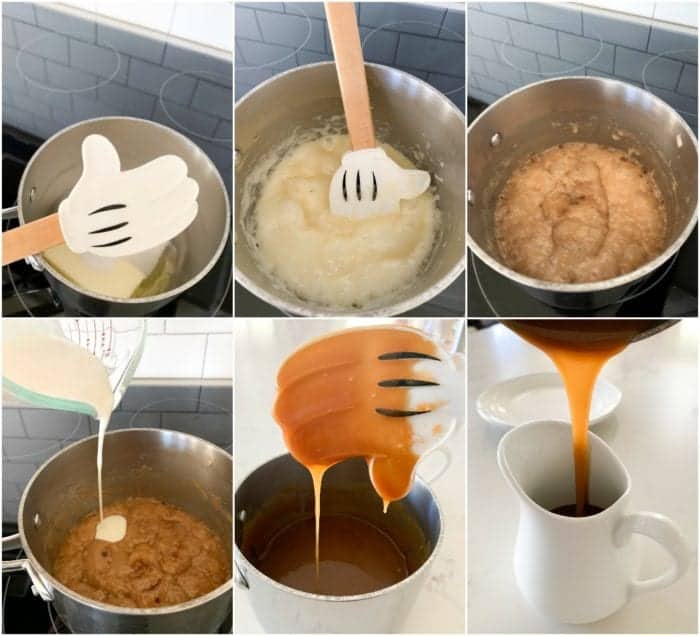 My homemade salted caramel sauce is very simple to prepare. You need just a little patience waiting for the butter and sugar to cook, boil and turn golden brown/caramel color. Took me about 10 minutes on medium-low heat. Don't rush the process with high heat. Once your caramel has turned golden, note that when you add the heavy cream and vanilla, the mixture will bubble and boil quickly, don't be alarmed. Remove from heat and keep stirring. Add a pinch of kosher salt, let it cool and thicken for a good 15 minutes.
What is Brioche?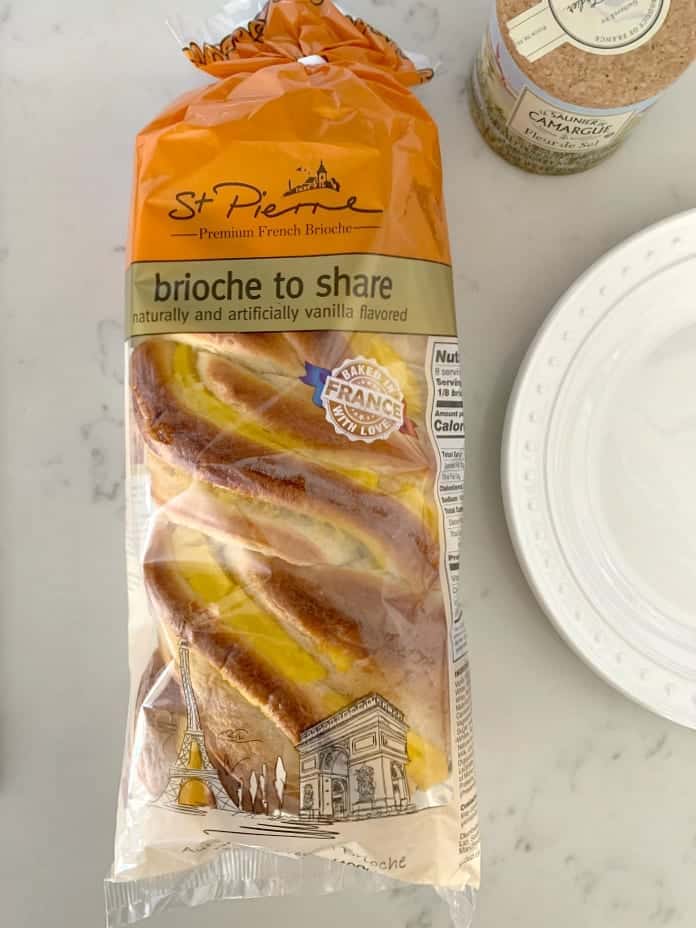 Brioche is an enriched French bread, meaning that the dough contains a high proportion of fat it in. Brioche is enriched with lots of butter and egg yolks. This gives the bread a very fine, very soft crumb and an almost flaky texture, in addition to turning the crust a dark golden color after baking.
Brioche is often used in sweet dishes, leading to the perception that the bread is sweet. Actually, the bread does not usually contain much sugar at all; it is featured in sweet dishes because of its rich texture and buttery flavor.
To make this recipe as delicious at Flo's V8 Cafe, you need to find a loaf of Brioche. Check your local grocery store bakery. I am able to find it at my grocery store most of the year. You don't want to substitute this!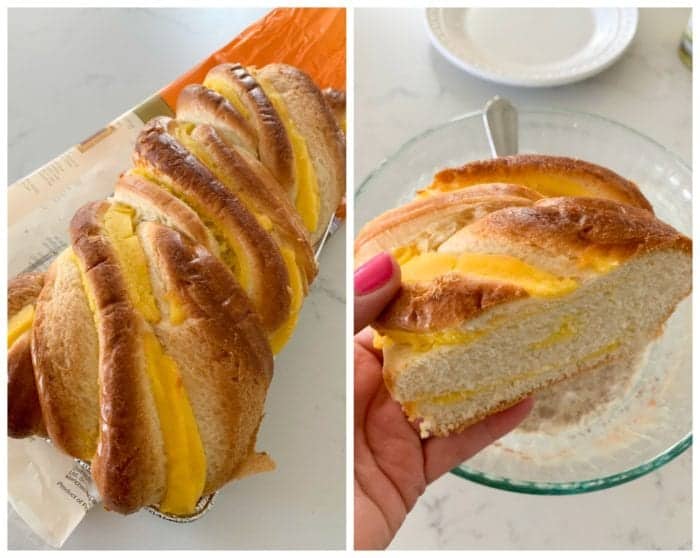 You can see all of those butter strands throughout. Literally nothing beats a loaf of buttery sweet brioche. Cut it into slices and get ready to dip in the egg mixture.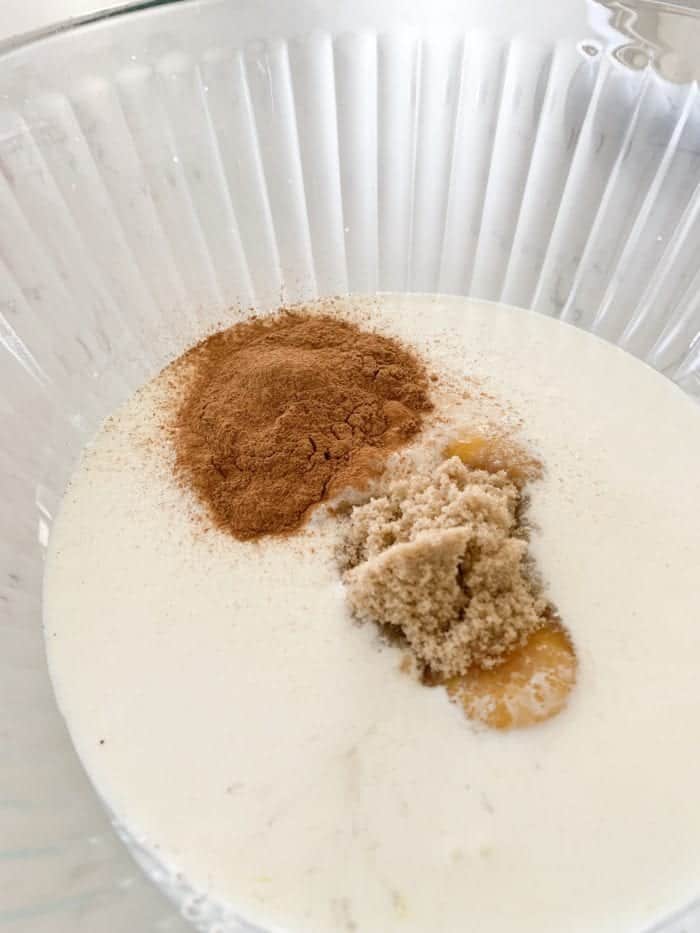 You'll dip your brioche slices in this mixture of heavy whipping cream, egg yolks, brown sugar and cinnamon. Give it a good stir and it's ready for the brioche slices.
The Best French Toast Recipe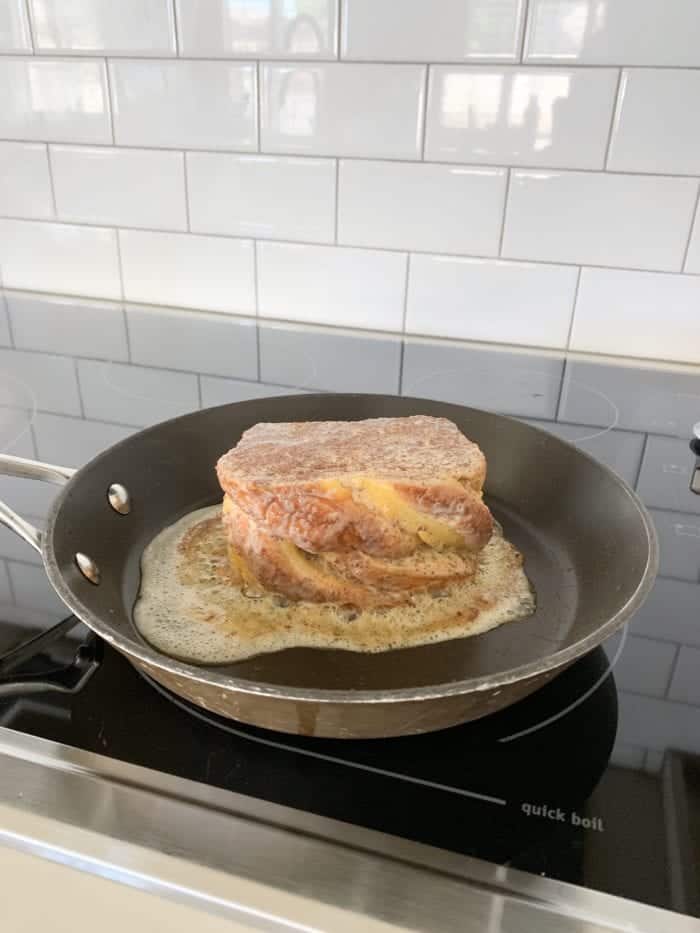 I like to use a non-stick skillet over medium-medium low heat. Butter the skillet before adding each slice of dipped brioche. Cook until golden on all sides.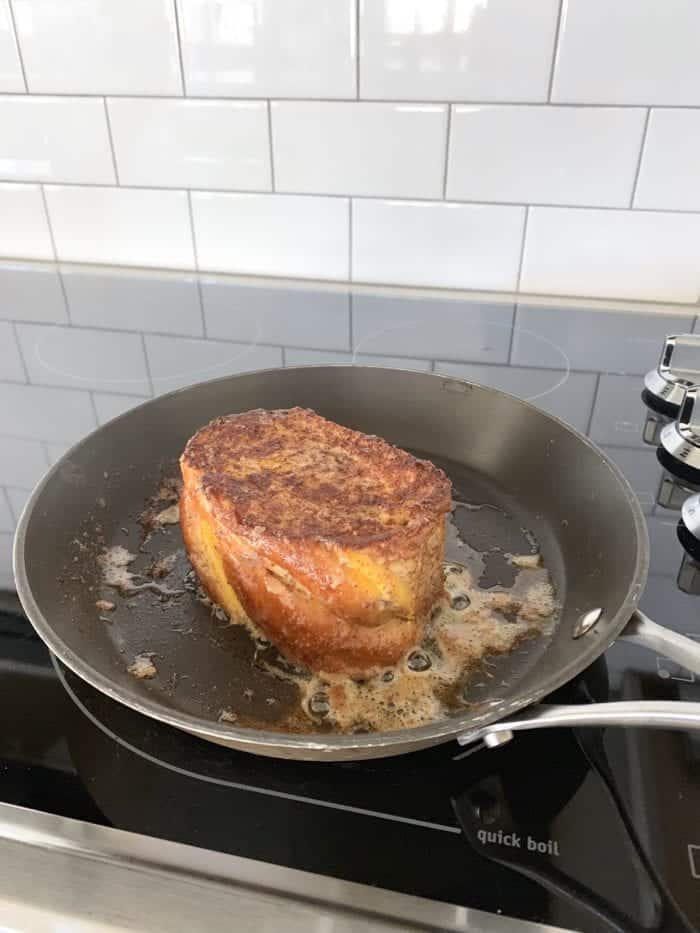 Perfectly golden, this is what you're going for.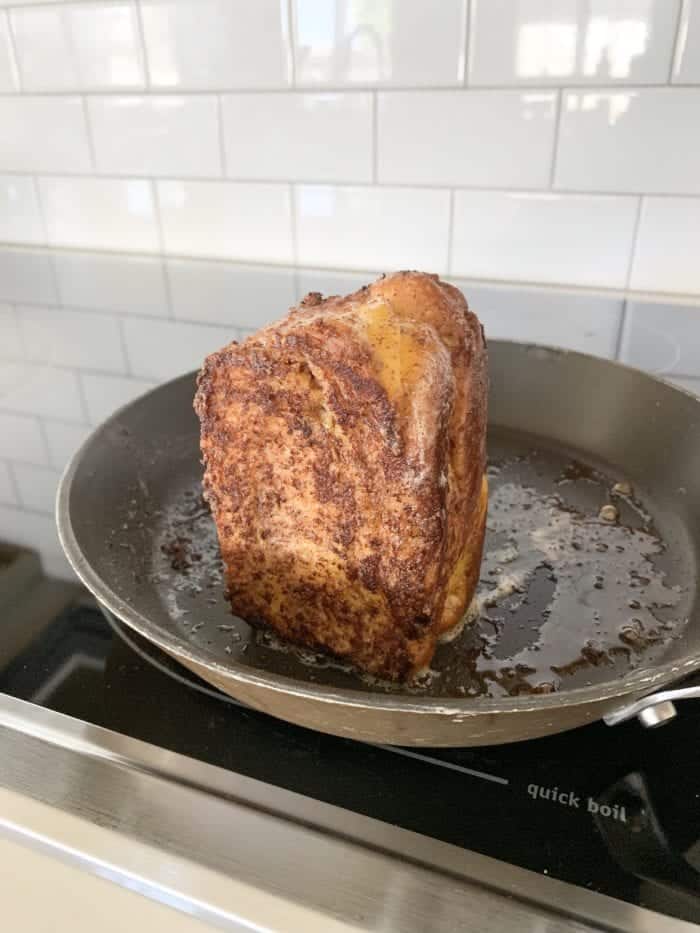 Don't forget to let all sides cook until golden.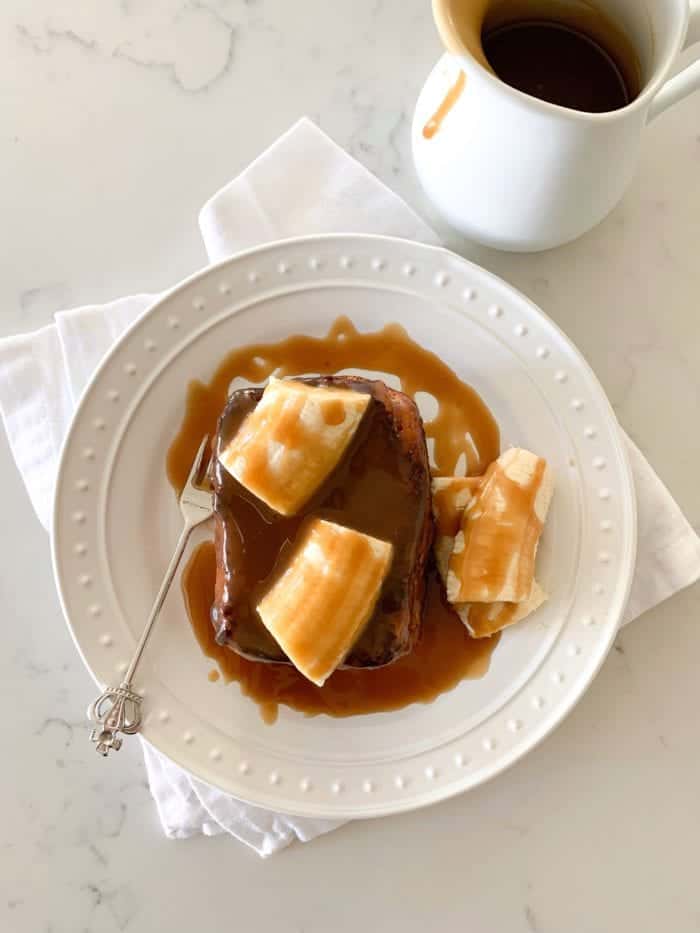 One your French Toast is cooked, top with banana slices and drizzle with the warm salted caramel sauce.
Literally nothing better. Hope you enjoy a little Disney magic at home!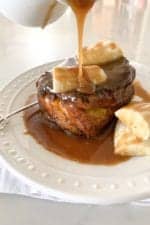 Brioche French Toast
Print
Pin
Rate
Ingredients
Salted Caramel Sauce
1

stick salted butter

1/2

cup

granulated sugar

1/2

cup

heavy whipping cream

1/2

teaspoon

pure vanilla extract

1/4

teaspoon

kosher salt
1 loaf Brioche
1

cup

heavy whipping cream

3

large egg yolks

1/4

cup

packed light brown sugar

1

teaspoon

ground cinnamon

1/2

teaspoon

pure vanilla extract

1/8

teaspoon

salt
Slices of butter for skillet
Instructions
To prepare salted caramel sauce place butter and sugar into a small saucepan over medium low heat. Stir and let boil for nearly 10 minutes or until mixture thickens and becomes dark golden caramel color. Turn heat off and stir in heavy cream and vanilla. Mixture will bubble quickly, stir and be careful. Remove from heat completely, add salt, and let cool for 15 minutes.

Slice Brioche into desired size slices. I did about 4 inch slices.

Place whipping cream egg yolks, brown sugar, cinnamon, vanilla and salt into a large mixing bowl, beating until well combined. Dip each piece of brioche into egg mixture.

Preheat large non-stick skillet over medium low heat. When hot, butter skillet (for each slice of toast) and add dipped brioche, one at a time. Cook each side until golden then remove from heat and continue until all slices are cooked.
Nutrition
Calories:
338
kcal
|
Carbohydrates:
28
g
|
Protein:
2
g
|
Fat:
24
g
|
Saturated Fat:
14
g
|
Cholesterol:
179
mg
|
Sodium:
176
mg
|
Potassium:
66
mg
|
Sugar:
25
g
|
Vitamin A:
1005
IU
|
Vitamin C:
0.2
mg
|
Calcium:
66
mg
|
Iron:
0.4
mg
Keywords:
best food at disneyland, breakfast, breakfast recipes, brunch, brunch recipe, brunch recipes, copycat recipe, disneyland food, disneyland recipe, french toast, french toast recipe
Pin Brioche French Toast