Cheesy Chicken and Wild Rice Casserole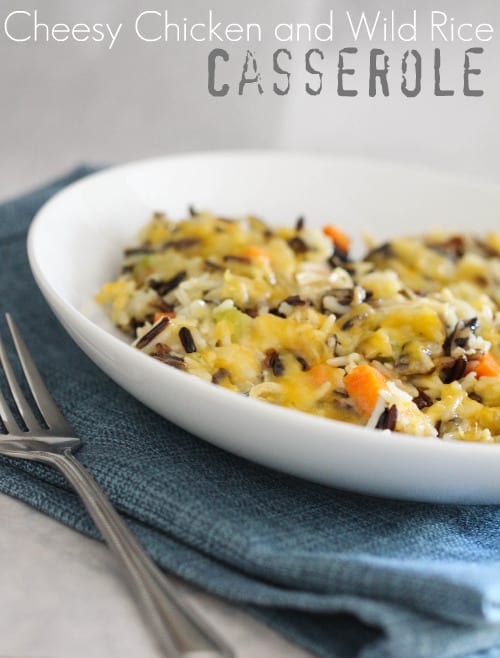 I LOVE Fall cooking and baking, so much delicious comfort food right?! Wait until you try this fabulous Cheesy Chicken and Wild Rice Casserole. It is comfort food at it's best and the kids LOVED it. Despite my 2 stinkers being nervous about the  "black looking" rice,  they took one bite and gobbled it down in no time. With the kids back to school, it's nice to have some hearty weeknight dinners….this one is delish!
I will say, go find yourself some wild rice like the one I found at Trader Joes. It's fully cooked and ready to be eaten once it's warmed. I use it for soups and a zillion other recipes. If you don't have Trader Joes near by, check your grocery store it's absolutely worth it! Worse case scenario…..use all white steamed rice 🙂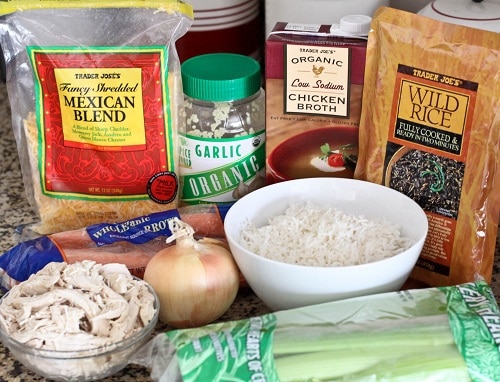 Here's your line up 🙂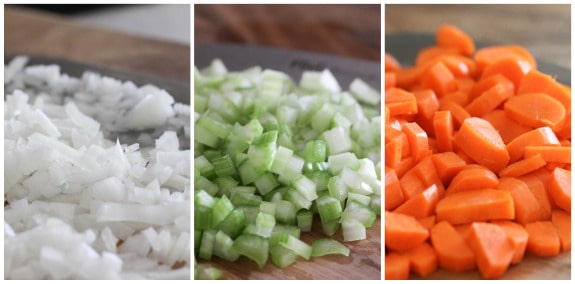 Dice your veggi's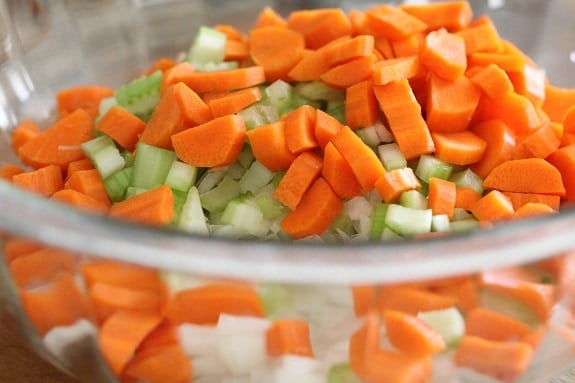 Get them ready to saute…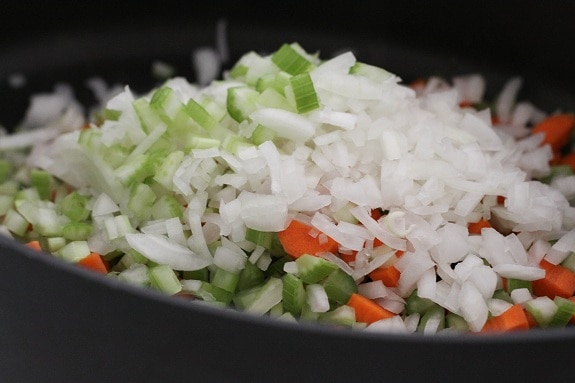 …..saute in a nice big pot.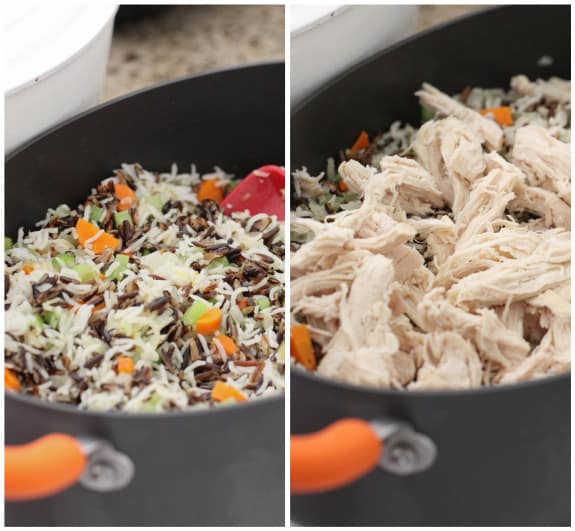 add in both rices, seasonings and chicken.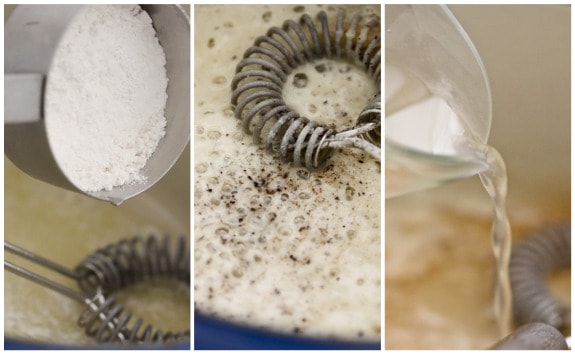 Time to make the cheese sauce…melt your butter, add the flour, seasonings then whisk like crazy while stirring in your chicken broth 🙂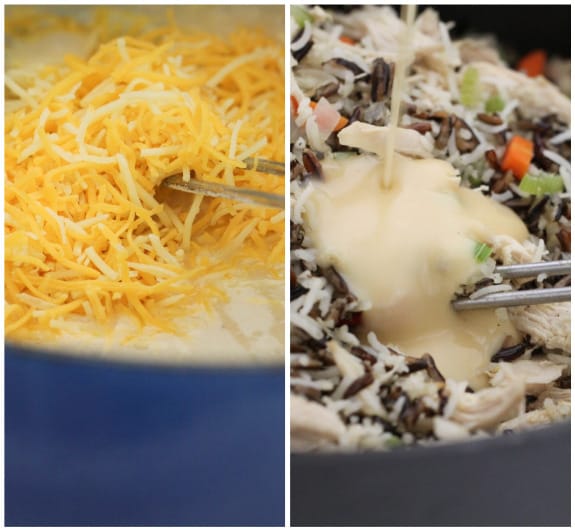 Add your cheese to the sauce then once melted pour into rice mixture….mmmm!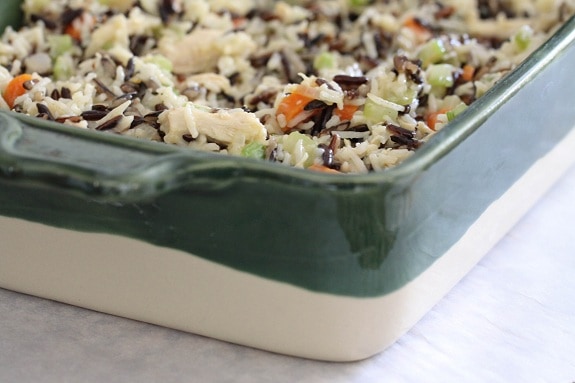 Transfer it all to a nice baking dish 🙂  xoxox Emile Henry.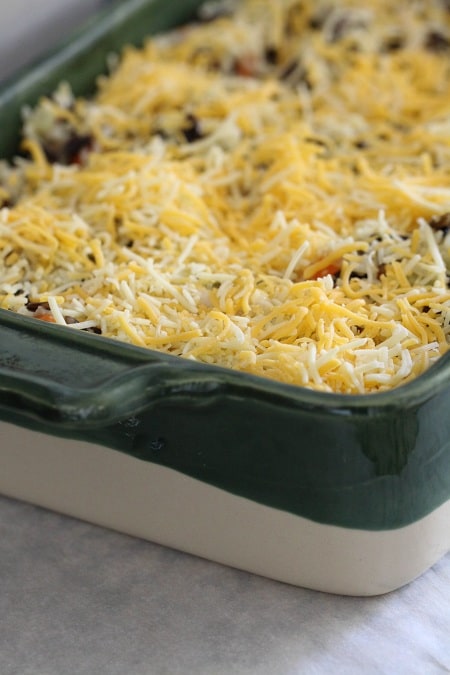 Add some cheese on top and it's time to bake!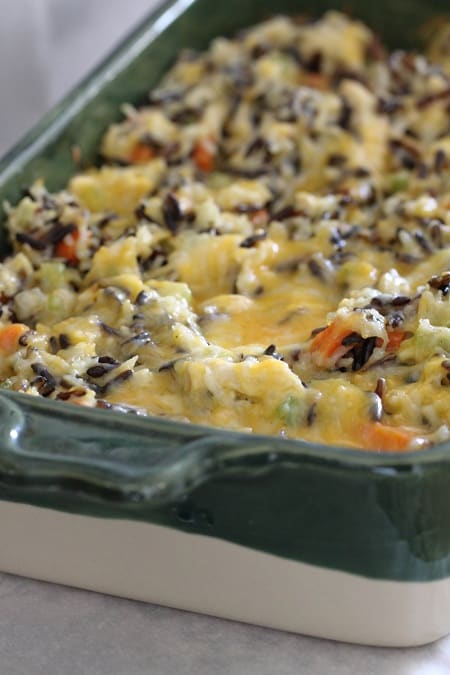 Here is the gorgeous masterpiece you will find when your timer goes off 🙂  Enjoy!
[ziplist]
Cheesy Chicken and Wild Rice Casserole
3 Tablespoons extra virgin olive oil
1 medium onion, finely diced
3 stalks celery, finely diced
3 carrots, peeled and diced
2 Tablespoons fresh minced garlic
2 Cups shredded, cooked chicken breast
2 Cups steamed white rice
16 oz prepared wild rice (I get mine at Trader Joes, LOVE it)
1 teaspoon kosher salt
1/2 teaspoon black pepper
1/4 teaspoon garlic salt
______
CHEESE SAUCE
4 Tablespoons butter
1/4 Cup all purpose flour
1/4 teaspoon kosher salt
1/4 teaspoon black pepper
2 Cups chicken broth
2 Cups shredded cheddar cheese
Top with 1 1/2 Cups shredded cheddar cheese
1. Preheat oven to 350 degrees F. Heat oil into a medium dutch oven or pot over medium heat. Saute onion, celery and carrots until softened, about 10 minutes. Stir in garlic and cook for 1 minute. Stir in chicken, both rices, salt, pepper and garlic salt. Reduce heat to low.
2. To prepare cheese sauce melt butter into a medium saucepan over medium high heat. Whisk in flour, salt and pepper then slowly pour in chicken broth whisking continuously. Whisk until thick and nearly boiling then stir in cheese until melted. Pour cheese sauce into cooked rice mixture then transfer to a 9×13 inch baking dish. Top with additional cheddar cheese and bake for 25-30 minutes or until cheese is melted through. Serve.
8-10 servings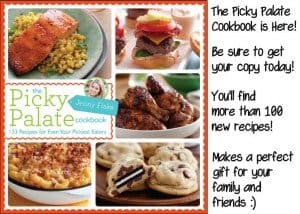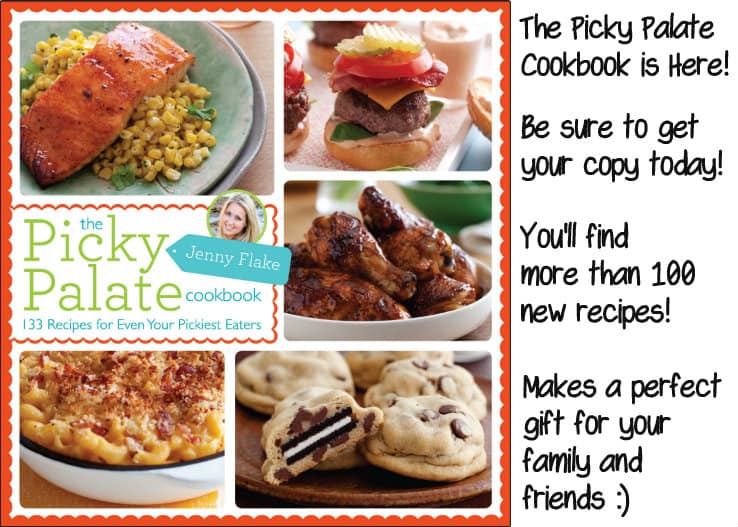 FOLLOW PICKY PALATE ON INSTAGRAM! Show me what recipes you're making from Picky Palate by using #pickypalate.
Other recipes you may enjoy...
Comments