Talking about what to bring in your Disneyland Backpack for a day at the Parks! Some of my favorite Disneyland tips that will help you have a great day!
Disneyland Backpack
There are so many amazing Disneyland backpacks to choose from right now! Literally the cutest prints. There are a few things to consider when deciding on your backpack for Disney Parks.
Size. How much space do you need? Are you packing for kids too? I go with a medium size backpack so I can pack my favorite essentials. I do love the look of the small backpacks, but not realistic for me and all of the stuff I like to bring.
Be sure to check out my blog posts Become a Pro Using Disney MaxPass and Become a Pro Using Disneyland Mobile Ordering. Follow Disney Hungry on Instagram for Disney tips and Best Eats!
Disneyland Tips

iPhone Battery and Cord
Do I dare say first on my Disneyland Backpack list besides my iPhone, is having my portable iPhone battery and cord in my backpack? I've learned the hard way having minimal battery life at the Parks. If you take lots of photos and videos this is especially important. Disneyland does offer portable batteries for purchase, but I prefer to bring mine from home that keeps my phone all day and then some.
My absolute favorite portable charger is by Anker (affiliate link) and charges my phone 4-5 times before I need to re-charge the battery. It's amazing.
Disneyland Backpack

Park Ticket/Annual Pass + Gift Cards
If you are not an annual passholder, be sure to purchase and print your park ticket before you get to the Parks. This saves so much time. I've done it both ways and always regret not purchasing my tickets in advance. You absolutely don't need a Disney Gift Card, but I added it today, because it's so convenient paying for food and snacks around the Parks with a gift card. Personal preference for sure.

Sunglasses, Sunscreen and Water
More MUST HAVES in my Disneyland backpack for a day at the Parks is 100% my favorite sunglasses, a travel size sunscreen that will fit nicely in my bag plus some water bottles. Keep in mind you can always get cups of ice water at any Disneyland restaurant. Just walk up and ask for it.

Medications
In my Disneyland backpack, I will always have Advil, Tums/Immodium and motion sickness pills just in case. This is again personal preference, but one too many times I've needed theses items 🙂 I also like to have my favorite mints and chapstick on hand.
Hand Sanitizer/Wipes
Another item you will always see in my Disneyland backpack is hand sanitizer and or sanitizing wipes. With so many people/kids visiting the Parks, I like to clean my hands often. Helps to bring your own from home.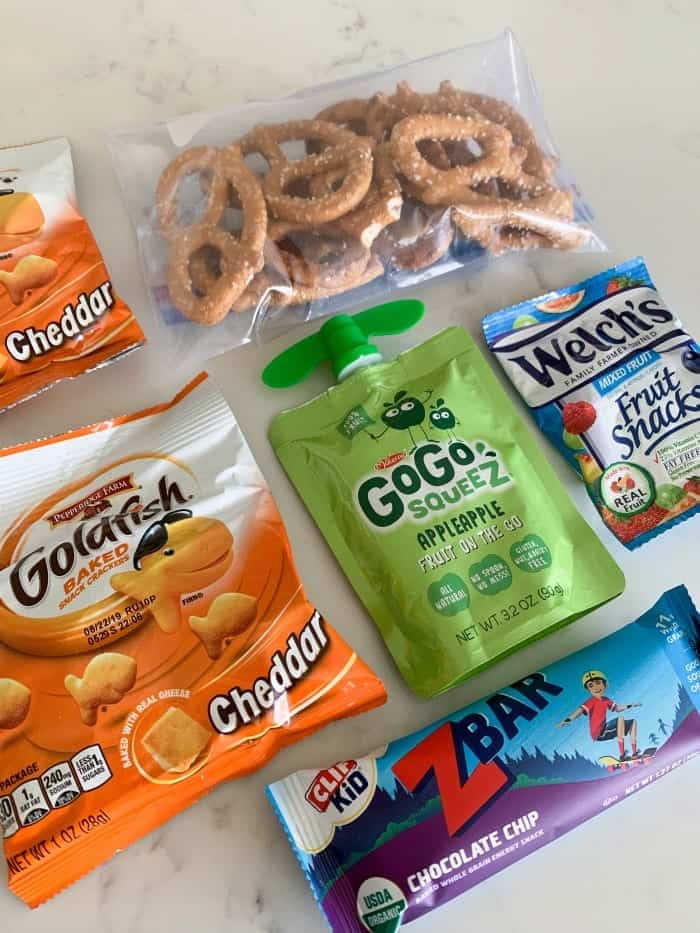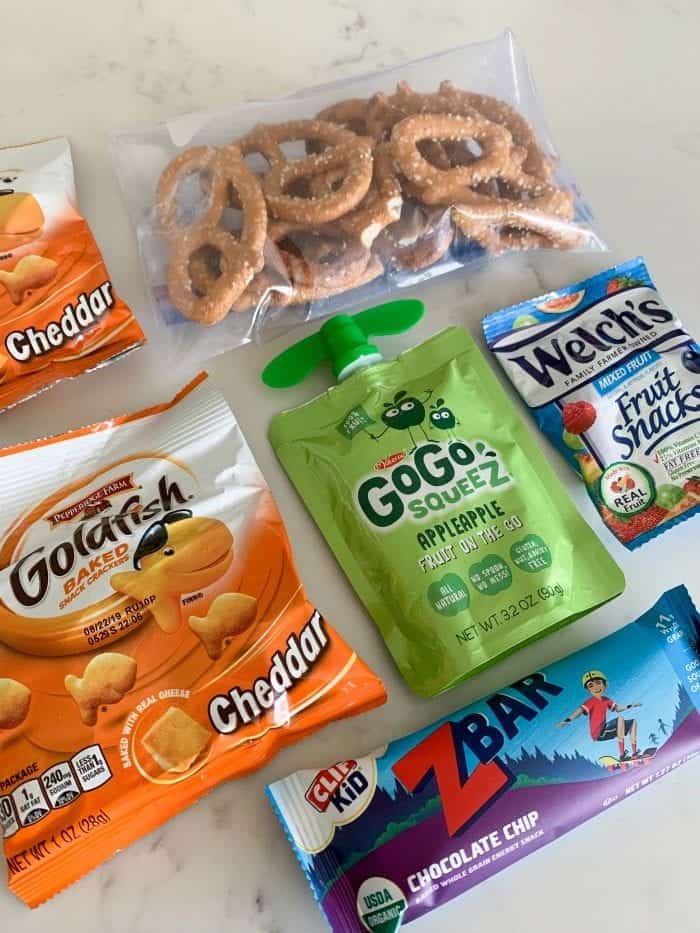 Snacks
I generally will pack a few snacks in my backpack….even though we all know I am eating all day at the Parks so don't need my own personal snacks, lol! When I'm packing for my kids too, 100% snacks are being packed. Good snack options include: granola bars, fruit snacks, Gold fish, pretzels, protein bars, trail mix etc.

Pack A Sweatshirt or Jacket
Even though a sweatshirt or jacket takes up a lot of space in a backpack, I always like to have one for early mornings and once the sun goes down. Found this awesome sweatshirt from BoxLunch Gifts, it's by Her Universe. Love it!
Consider Getting A Disneyland Locker For The Day
Many times I will get a Disneyland locker so I don't have to hold jackets all day. That frees up the space in my backpack too. The locker is great for storing souvenirs and treats to take home too!
This post contains an affiliate link which won't change your price but will share some commission.
Pin To Your Favorite Disney Travel Board