This is a compensated review by BlogHer and Eggland's Best.
Please link to the official site for more information: Visit the Eggland's Best Official site
_______________________________________
Contest is now closed. Congrats to entry #358, Laura, who was chosen from Random.org
I am thrilled to be hosting this Review and Giveaway for Eggland's Best Eggs. Not only am I reviewing this product, but am offering a $100 Visa Giftcard for my readers!
Eggs are a staple in my home as I bet they are in your homes too! I was so impressed to find that Eggland's Best Eggs contain ten times more Vitamin E than ordinary eggs, 100 mg of Omega 3, 25% less Saturated Fat, and 200 mcg of Lutein, shown to contribute to eye health. It was also comforting to find that Eggland's Best Eggs are produced by hens that are fed an all-natural, all-vegetarian diet. Basically, these eggs are more healthy than your typical egg and that rates GREAT with me!! With all the cooking and baking I do, I want nothing but the best eggs for my family.
I was not sure if I would be able to tell a difference when cooking with Eggland's Best Eggs, but I will tell you, there was a difference, they tasted wonderful! I will definitely be a long time consumer of Eggland's Best!
Here are three recipes of mine that feature eggs…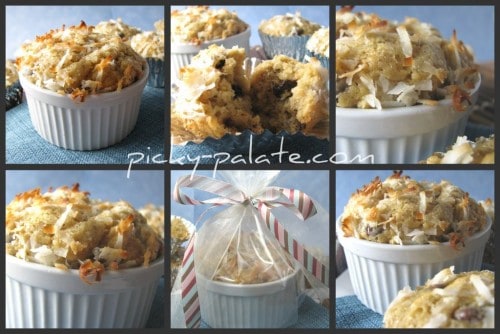 "Healthier" Banana Peanut Butter Chocolate Chip Muffins

4 Tablespoons softened butter
2 Eggland's Best Eggs
2 ripe bananas, mashed
1 Cup plain low-fat vanilla yogurt
2/3 Cup sugar
heaping 1/4 Cup creamy peanut butter
1 1/2 Cups all purpose flour
1/2 Cup whole wheat flour
3/4 teaspoon salt
1/2 teaspoon baking soda
1/4 teaspoon baking powder
1/2 Cup semi sweet chocolate chips
1/4 Cup coarse sugar (I used Turbinado sugar)
1/2 Cup shredded sweetened coconut
1. Preheat oven to 350 degrees F. Place butter, eggs, bananas, yogurt, sugar and peanut butter into a large mixing bowl. Mix to combine. Place all dry ingredients into a separate large bowl and stir to combine. Slowly add to wet ingredients along with the chocolate chips until just combined. Scoop into muffin tins lined with paper cups 2/3 way full. Sprinkle with coarse sugar and shredded coconut. Bake for 20-25 minutes or until toothpick comes out clean from center.
12 muffins
________________________________________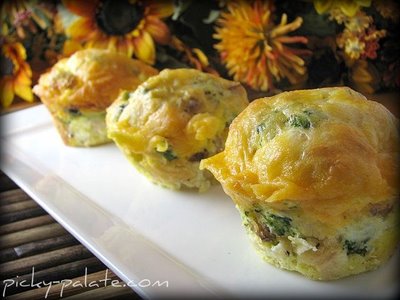 Broccoli Cheddar and Sausage Egg Muffin Pull-A-Parts

6 Pillsbury Buttermilk biscuits (from can, 8 count)
Pinches of kosher salt and fresh cracked black pepper
1 Cup cooked broccoli florets, cut up into small pieces
1/2 Cup cooked sausage links, cut up
4 Eggland's Best Eggs
3 Tablespoons milk
Pinches of kosher salt and fresh cracked black pepper
1 Cup shredded cheddar cheese
Cholula hot sauce
1. Preheat oven to 350 degrees F. Spray a texas size 6 Cup muffin tin with cooking spray. You'll have 2 extra biscuits left over. Bake them separately if so desired. Cut each of the 6 biscuits into 8 triangles and place into each muffin tin. Lightly sprinkle each biscuit cup with salt and pepper.
2. Sprinkle broccoli and sausage evenly over each biscuit filled muffin cup.
3. Place eggs, milk, salt and pepper into a mixing bowl. Whisk until well combined. Pour evenly over each cup. With a fork make sure eggs get to the bottom and around each piece of biscuit. Top each with sprinkles of cheddar cheese and bake for 28-32 minutes or until a toothpick comes out clean from center of biscuits and cheese is golden brown. Let cool for 5 minutes before removing from muffin cup. Remove and arrange onto serving plate. If you like it spicy serve with a nice hot sauce like Cholulla, it's wonderful!! Pull them apart with your fingers or cut with a fork. Enjoy.
6 servings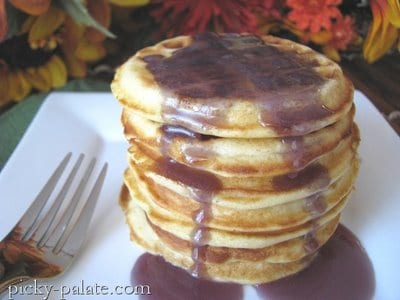 Silverdollar Waffle Pancakes with Blackberry Buttermilk Syrup
Syrup
10 fresh blackberries
2 Tablespoons sugar
1 stick butter
3/4 Cup sugar
1/2 Cup buttermilk
1/2 teaspoon baking soda
1 teaspoon vanilla
1. Place blackberries and sugar into a small saucepan over medium low heat. Stir occasionally for about 10 minutes. Pour into a sieve placed over a small bowl pressing on berries to extract the rest of the liquid. Set aside; discard smashed berries and seeds.
2. Place butter, sugar and buttermilk into a separate small saucepan over medium heat. Stir and melt until mixture comes to a low boil. Remove from heat and add in baking soda and vanilla. Mixture will foam. Mix in blackberry liquid then pour syrup into a serving dish. Cover to keep warm while preparing waffle pancakes.
Waffle Pancakes
2 Eggland's Best Eggs
3/4 Cup buttermilk
1/2 stick melted butter
1/2 teaspoon vanilla
3/4 Cup flour
3/4 teaspoon baking powder
1/2 teaspoon salt
3 Tablespoons granulated sugar
1. Whisk eggs, buttermilk, butter and vanilla into a medium bowl until well combined. In a separate bowl, sift the flour, baking powder, salt and sugar. Mix into wet ingredients until just combined.
2. Place waffle pancake pan (or large skillet) over medium heat and spray with cooking spray. When hot, pour a couple Tablespoons into each waffle mold. Carefully flip after 1-2 minutes or until browned on bottom. Cook second side until golden brown. Continue to cook until all batter is used.
3. Stack waffle pancakes and pour LOTS of syrup over top, enjoy!
_____________________________________________________
Now for the $100 Visa Giftcard Giveaway!
Rules: To enter, leave me a comment below and share with us your favorite egg recipes, just explain them or give us the recipe. Desserts, savory or breakfast, we want to hear it! Make sure that the e-mail address you leave is correct.

No duplicate comments.

You may receive an additional entry by linking on twitter and leaving a link in the comments.

You may receive an additional entry by blogging about this contest and leaving a link in the comments.

This giveaway is open to

Winners will be selected via random draw, and will notified by e-mail.

You have 48 hours to get back to me, otherwise a new winner will be selected.

Please see the official rules here:

Winner will be chosen from Random.org
Contest begins 1/18/10 and ends 2/8/10
Be sure to check out Eggland's pages onNutritional Benefits and Health and Wellness.