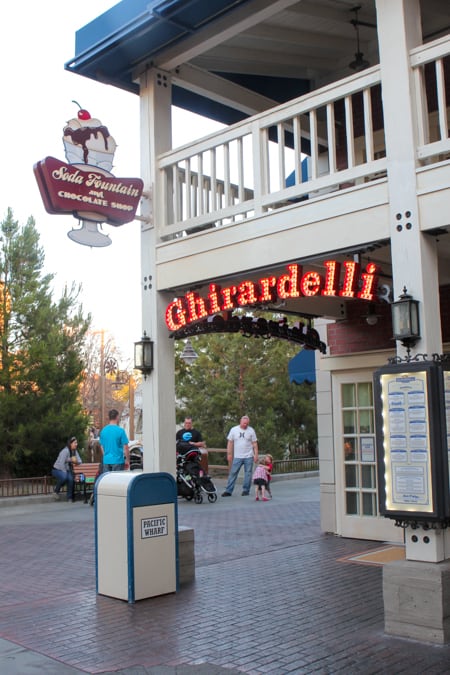 The Ghirardelli Soda Fountain and Chocolate Shop in California Adventure is one of our favorite places to stop for a sweet treat. If you have ever been to the location in San Francisco, there is nothing like Ghirardelli Square. It's the most charming shopping area in San Francisco, a must visit.
California Adventure brought a piece of San Francisco right in the middle of Disney. My boys' favorite thing about the shop is the shiny wrapped Ghirardelli chocolate square you are greeted with at the door.
For a full description of their menu online click HERE.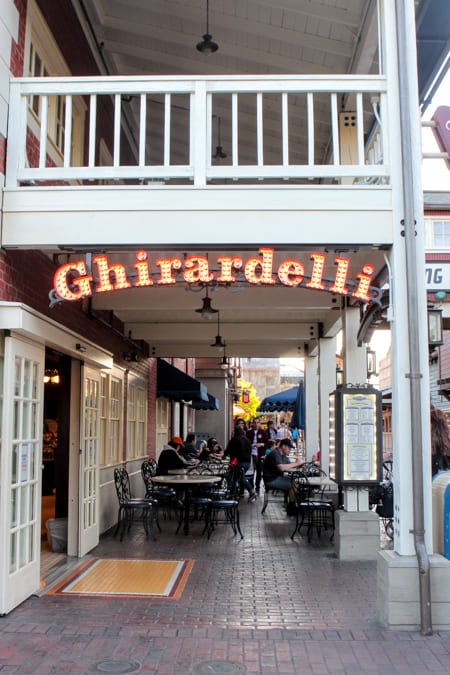 You can find the shop right in Pacific Wharf. Coming from the front of the park, you'll pass by Bugs Land and Cars Land, keep walking and you'll see it straight ahead on your left side.
A few helpful TIPS…take a look at the menu located outside before you go into the shop. It gets a little crazy once you get inside. As soon as you walk through the door the cashier is there waiting for you to place your order, so if you know what you want to order before hand, you'll be better off.
They do not take the annual pass holder card for discounts. We used the annual pass for discounts when we did this review, however Disney's website claims they do not take the cards. On 8/27/13 we called Disney to bring this up and they will correct their website. Thank you Kelli S. for pointing out our mistake.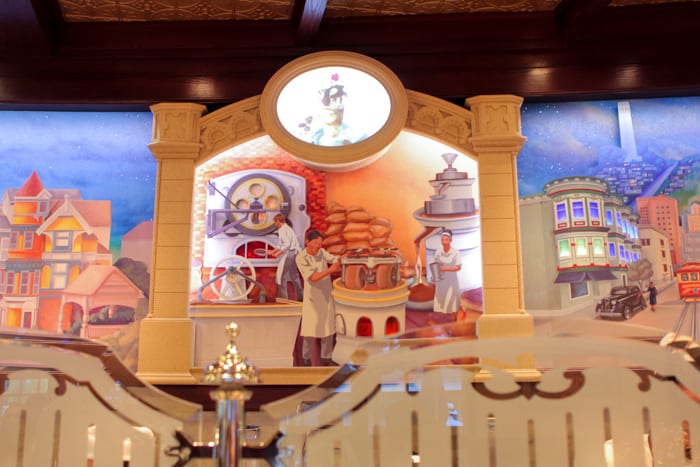 Here's what you'll see on the walls behind the counter, adorable 3-D like artwork with lights, scenes of San Francisco and moving bread makers. It really is adorable.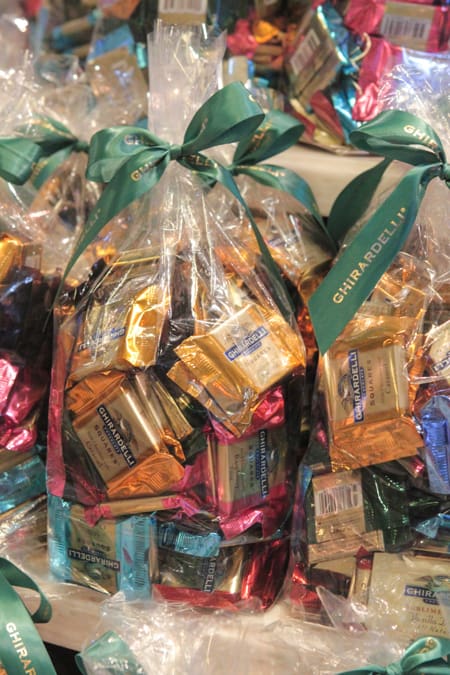 There are giant packages of chocolate all over the shop that make great gifts…..or a gift for yourself, lol!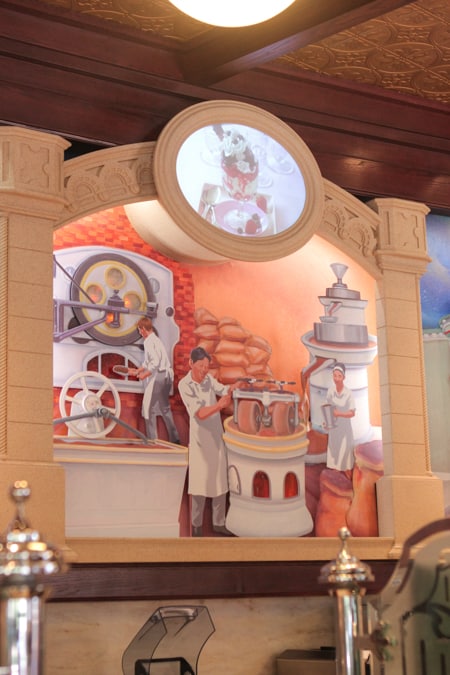 More of the great artwork on the walls behind the counter.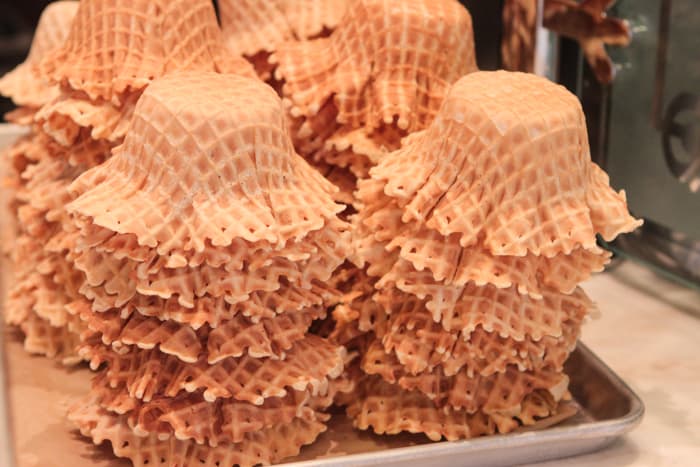 Caught these waffle cone bowls on the counter. They smell so good!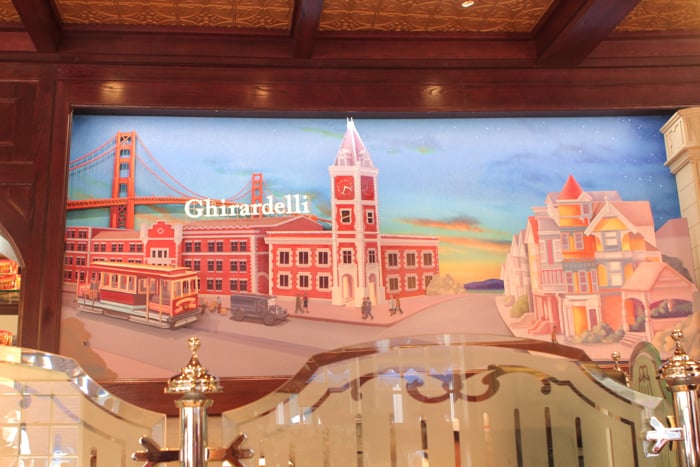 Love this sunset scene of San Francisco behind the counter.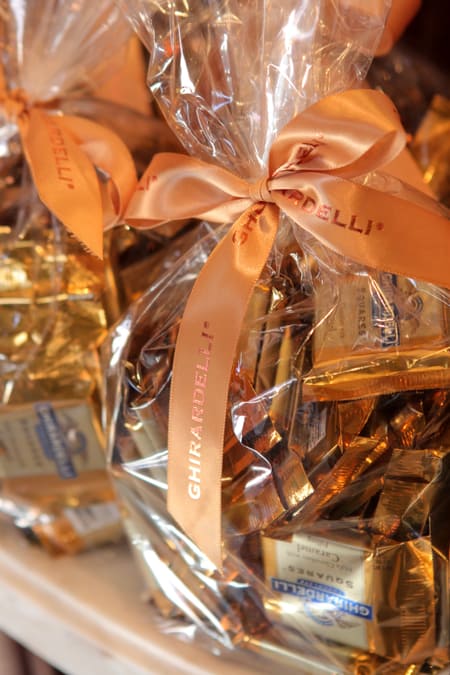 I'll take this giant bag of caramel filled chocolate squares please.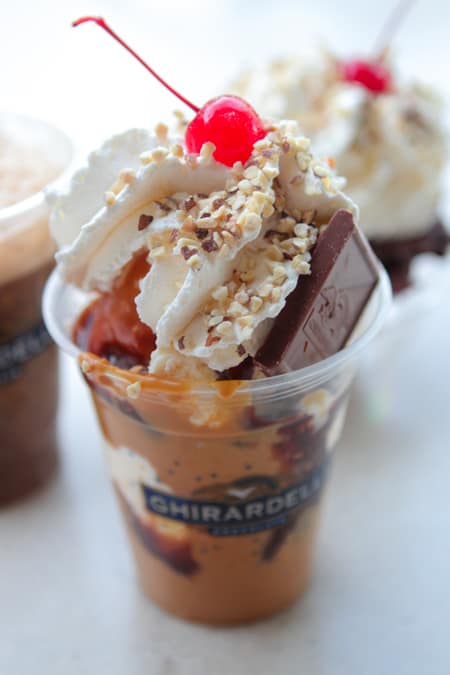 Ok, let's talk ice cream. This is the Gold Rush Peanut Butter Hot Fudge Sundae. It's got vanilla ice cream, hot fudge sauce and peanut butter throughout. This is kind of my dream come true. It was amazing and I highly recommend it 🙂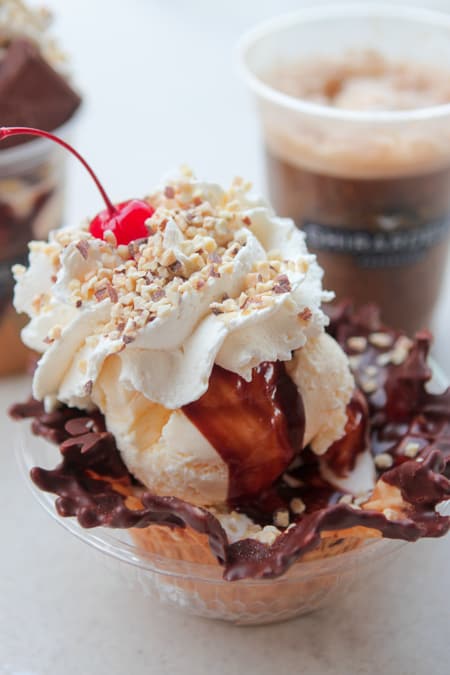 My 8 year old ordered The World Famous Hot Fudge Sundae in a Homemade Waffle Bowl. He was thinking he wasn't going to share with anyone, ha! The kid would have eaten the whole bowl if we let him 🙂 In the background you can faintly see the Root Beer Float. My 10 year old insisted on that one. It was good, but that would be my last choice.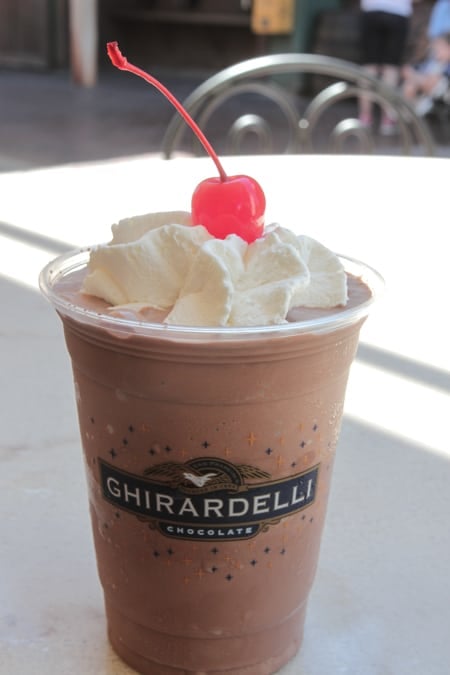 Here's the classic Chocolate Shake. We ordered this and shared it between the four of us. It was gone in about 30 seconds. Keep in mind this is a very deep almost dark chocolate shake. Almost too chocolaty for my husband. It was just right for me.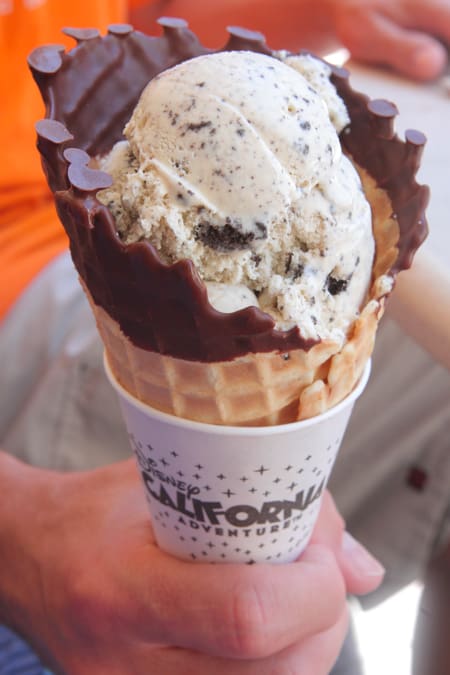 On another trip, my husband and I shared this giant Cookies and Cream Chocolate Dipped Waffle Cone. I don't need to tell you how good it was, I think you can tell by the picture, haha! Do you see the hidden Mickey Ears on the chocolate cone? A reader pointed that out in Instagram!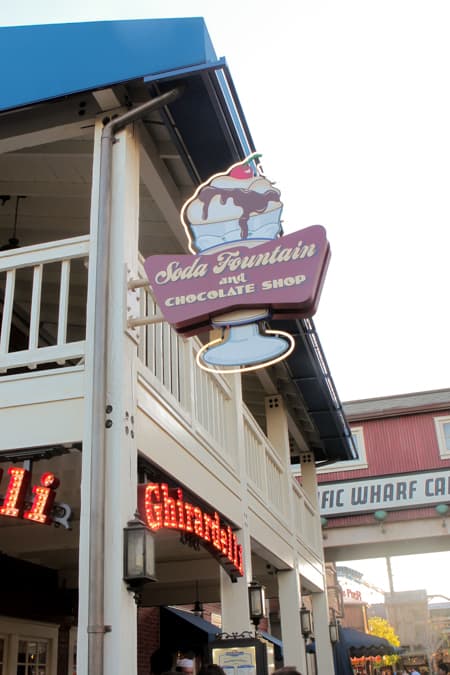 If you are visiting Disney's California Adventure it's a no brainer that you absolutely positively have to visit Ghirardelli's. They give you a free chocolate and everything. Have fun!
Have you tried something from Ghirardelli that we didn't? Tell us about it!
Disclosure: We are in no way associated or sponsored by Disneyland. Just a family who enjoys visiting the parks and giving you our honest reviews 🙂