It's so fun to look back at some of my first posts from 2007! I literally had no idea what I was doing, I just knew I really enjoyed creating recipes, lol!
6 years later and I have my dream job. Just goes to show you never really know where life is going to take you. I went to college to be a dental hygienist and would have never thought I'd turn into a crazy foodie. Well, I love it and am grateful for all of you who take the time to read my blog. Thankful every single day.
I thought it would be fun to pick out a recipe for each year that I have been blogging and reminisce a bit 🙂
Let's start with 2007.
Back in 2007, I sat at my bedroom little desk in AZ looking for a place to share my recipes since I had decided I was hanging up my cooking competition days. From 2004-2007 ish I was a competitive cook and traveled all over. Some of the best years and great memories. My first post on Picky Palate October 11, 2007 I shared my Taco Ranch Chicken Pockets that landed me a spot in the Pillsbury Bake-Off 2004. That's what started my crazy foodie journey. Had a blast.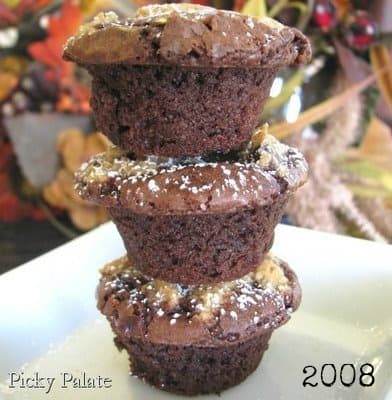 2008, I was still working as a dental hygienist really enjoying this "blogging" thing. Couldn't believe there were people really reading and trying my recipes! My Chocolate Chip Cookie Dough Brownie Cups were one of our favorite creations back in the day 🙂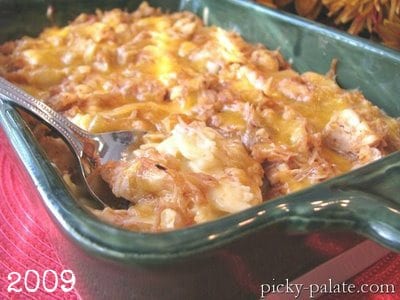 2009 was a big year for us. I was still working as a dental hygienist, LOVING Picky Palate and creating recipes. I created one of our family favorite recipes in 2009, BBQ Mac and Cheese. It's amazing!! Little did I know that we would be moving our family to Southern California in December 2009. I was terrified to leave AZ and our family.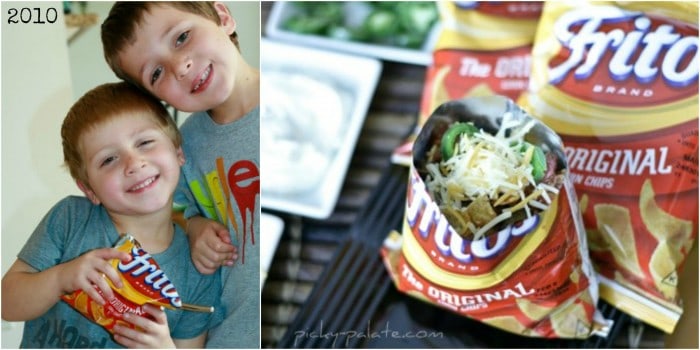 2010 was quite pivotal. We were getting used to our new surroundings in Southern California, new school and new friends. This is the year I decided that I would turn Picky Palate into our Business rather than just a hobby. I am so glad that I did. Late 2010 is when I was contacted to write The Picky Palate Cookbook. Talk about shocker. I couldn't believe how far Picky Palate had come!! What a blessing. I remember making these Walking Tacos with my boys for Superbowl Sunday in our new little home in CA. The boys were so little!!! Love this picture of them 🙂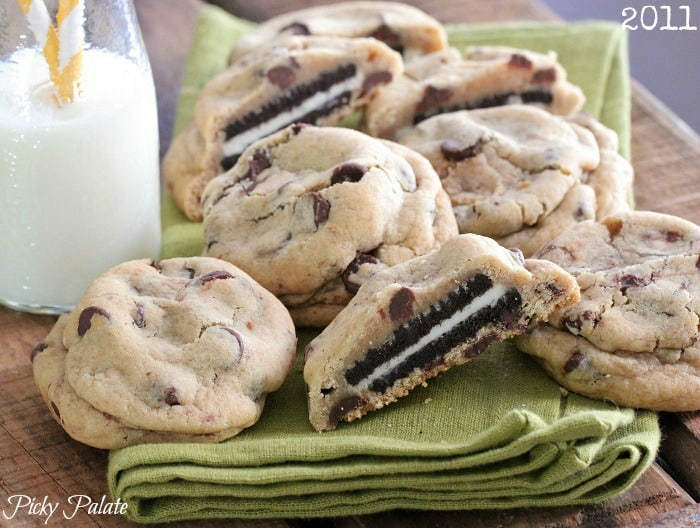 2011 marks the year that my Oreo Stuffed Chocolate Chip Cookies were born 🙂 It was so fun watching these cookies take the internet by storm. 2 years later and we are still making these bad boys 🙂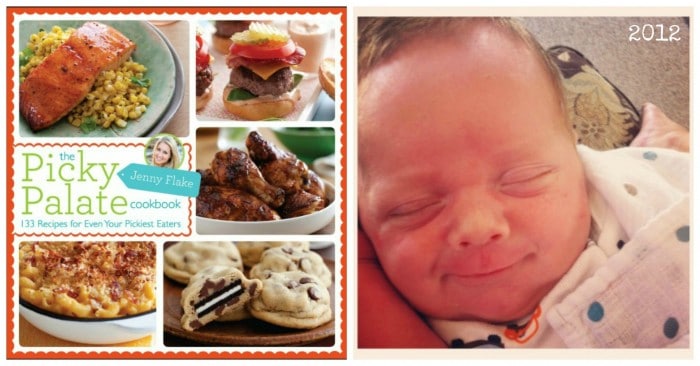 2012, what a year! I could cry just looking at these 2 pictures. The Picky Palate Cookbook after 2 years of sweat and tears was finally available to the world. What a feeling it was to hold it in my hands for the first time. Mr. Pax came into the world literally 1 month before the cookbook release date. He gave us the scare of the century when he was born but came out a fighter. He is the sweetest little boy ever. He is now 13 months old. Can't believe how fast that first year went by!!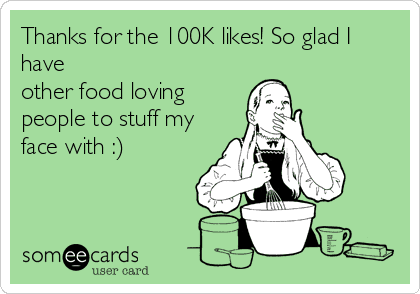 2013 has been awesome! So grateful everyday to be creating recipes for you. Picky Palate even hit 100K Facebook Fans this month. Fun birthday present for Picky Palate.
______________
Y'all want a chance to win this gorgeous stand mixer?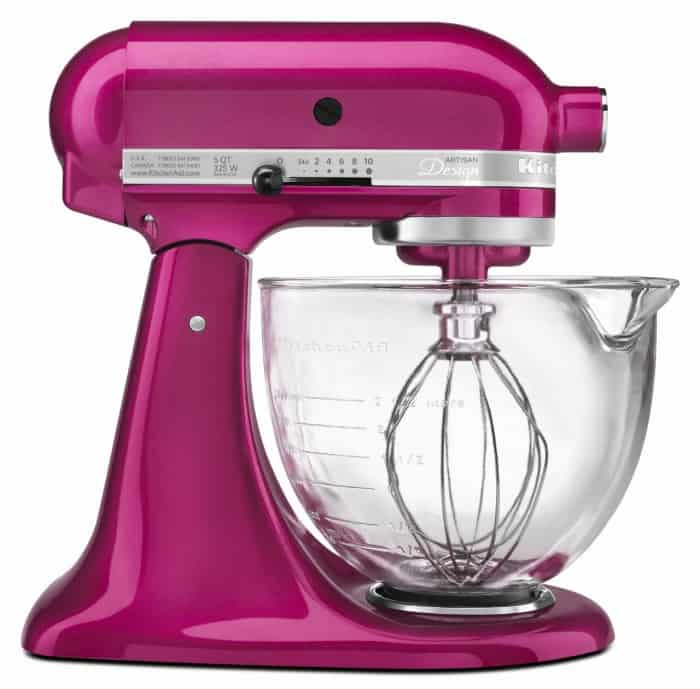 KitchenAid is offering one lucky Picky Palate reader this gorgeous Raspberry Ice KitchenAid with glass bowl. I use this one in my kitchen and it's a dream.
To enter, use the widget below 🙂