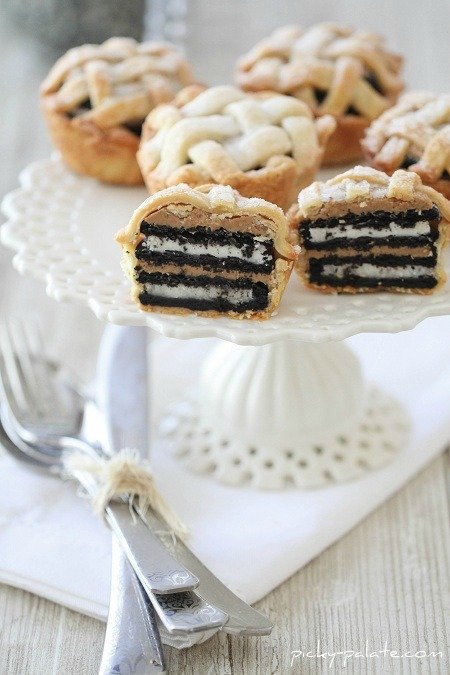 Oh dear, I have no explanation for this dessert. None at all. They should actually be illegal, but what the heck I will share the recipe with you anyway 🙂
Last Sunday night, the boys and I were playing in the kitchen and that's when these pies were born. If you follow me on Instagram (pickypalate) you got a sneak peek of them 🙂
Talk about decadent, cute and wrong! Lol, I give you my Oreo and Peanut Butter Layered Lattice Pies…..enjoy!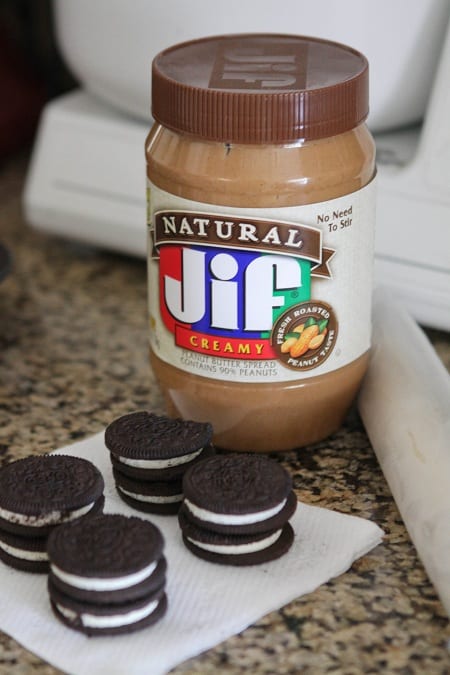 Well, you won't need a whole lot for the recipe, just some peanut butter, Oreo cookies and some pie crust. Well a little melted butter and sugar to brush and sprinkle on top too 🙂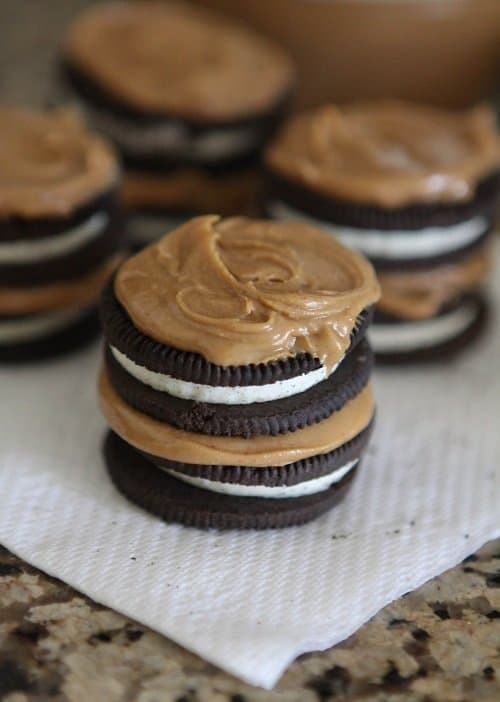 Hello beautiful stack of cookies and peanut butter 🙂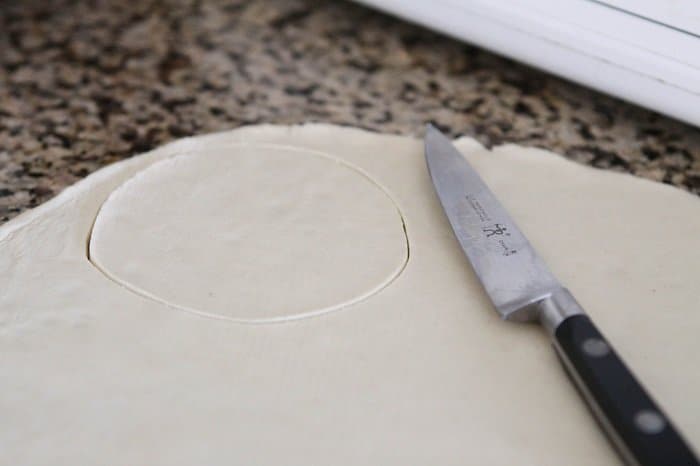 Cut out little 4-inch rounds from your pie dough, no need for perfection, just eyeball it.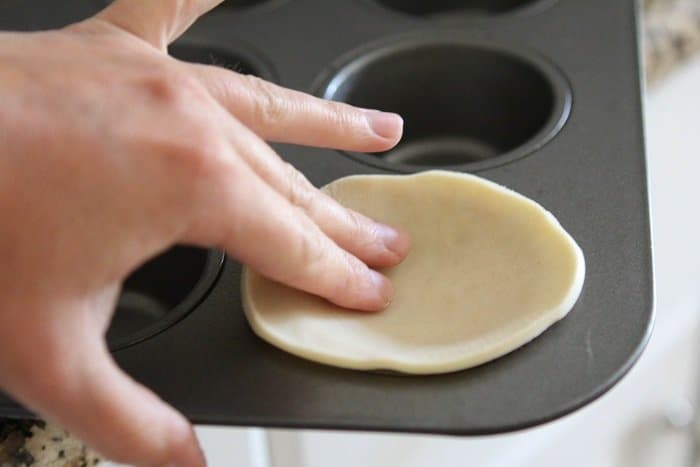 Press those rounds into your muffin pan.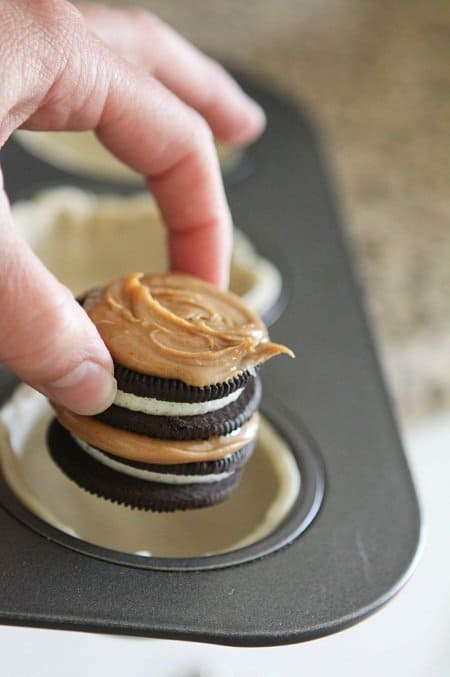 Now, place that little stack right inside the dough. Easy.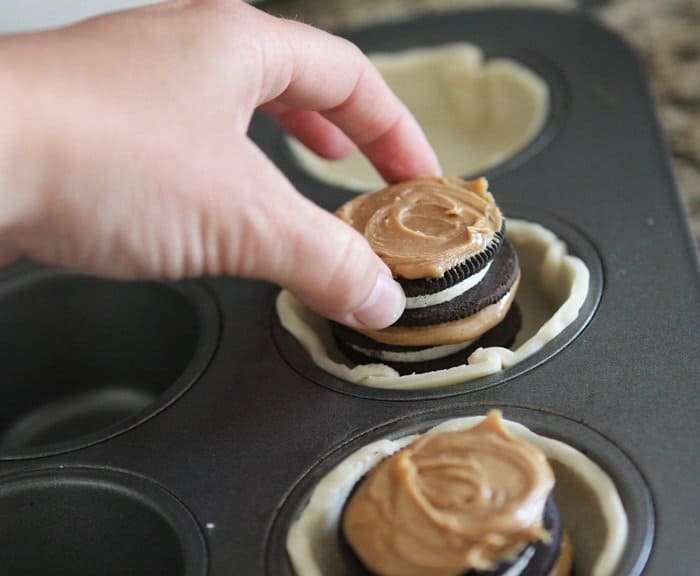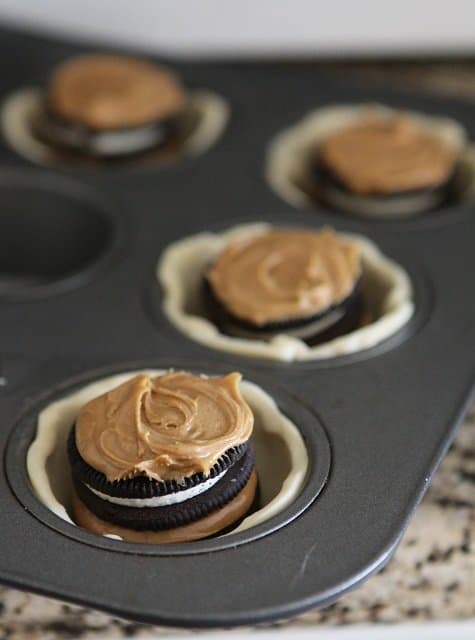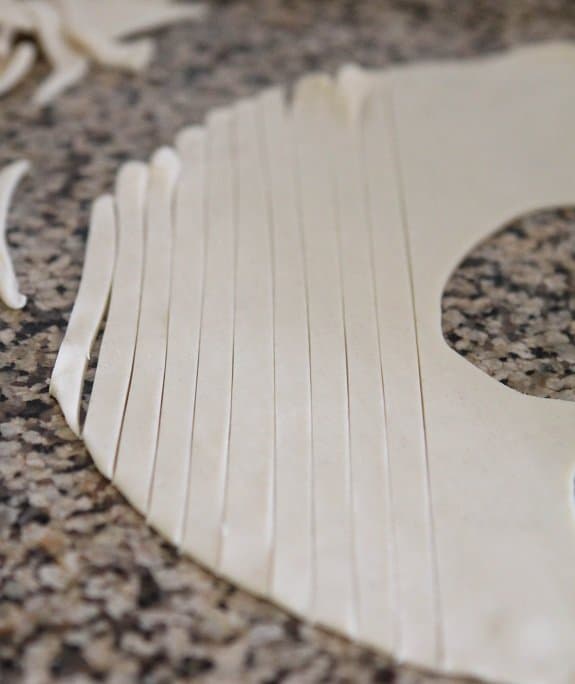 Time for the lattice top. It really is easy, follow my photos below for simple step by step instructions.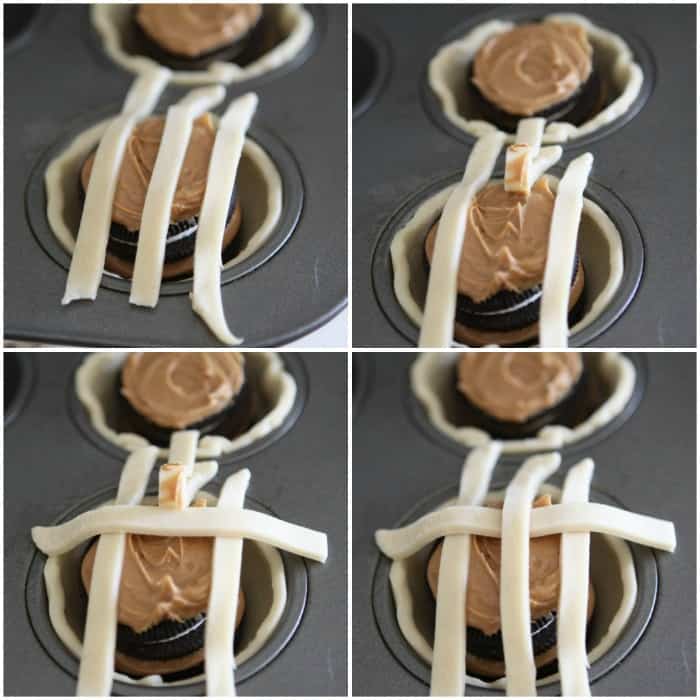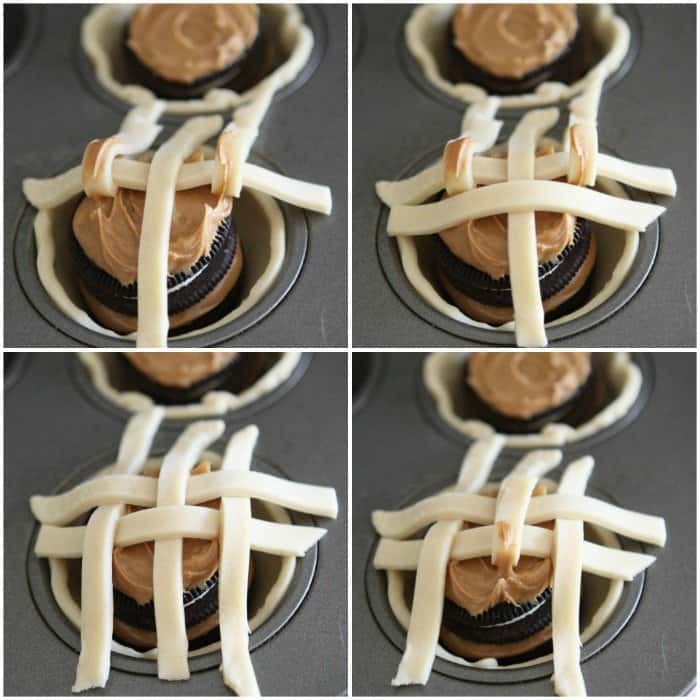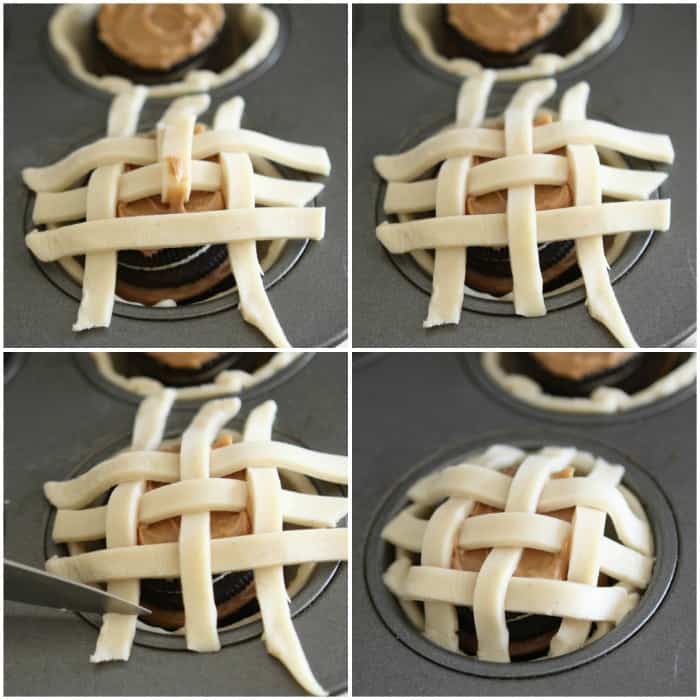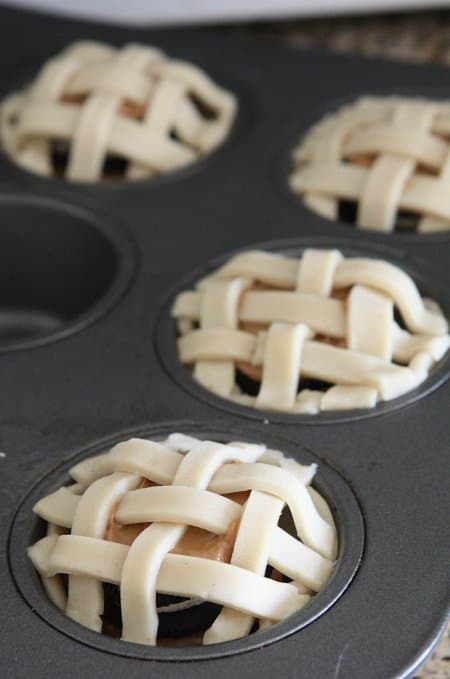 See, that wasn't so bad 🙂 Pretty little lattice tops.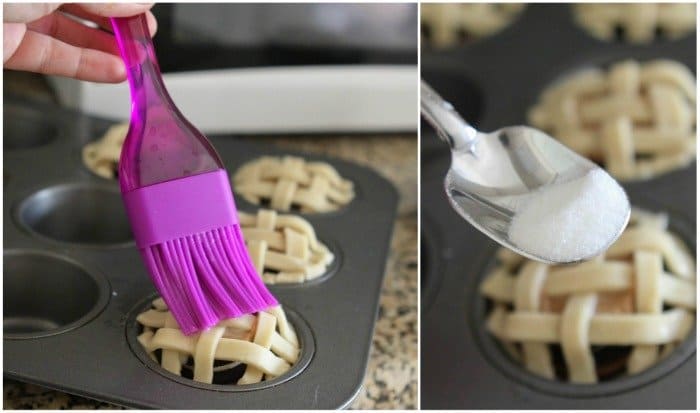 Time for a little melted butter then sugar sprinkled on top!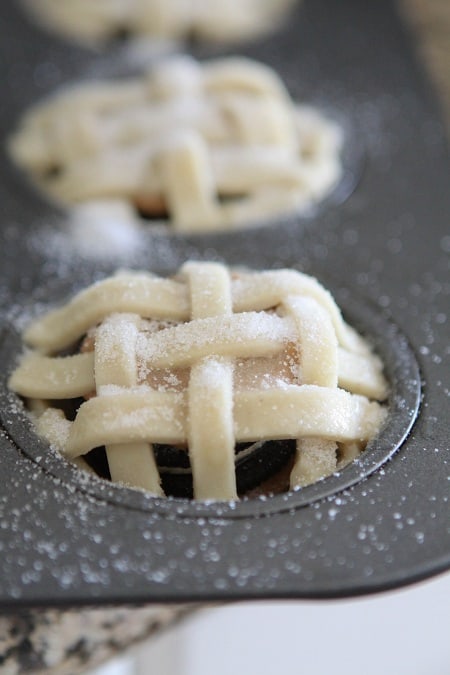 Time to bake em' at 350 degrees F. for about 25 minutes, until golden.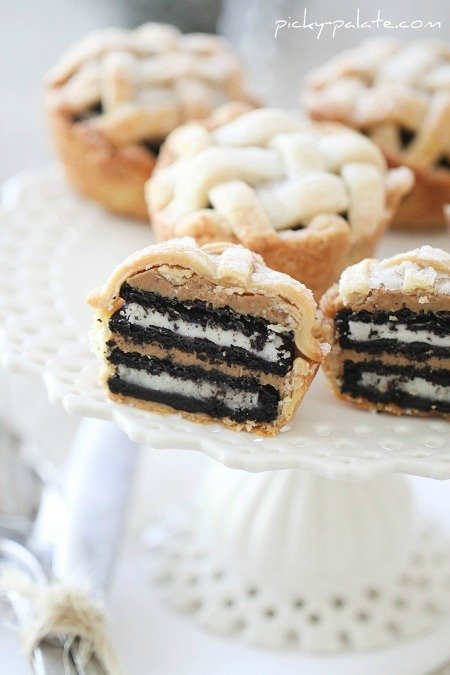 Can you even stand it?! Lol 🙂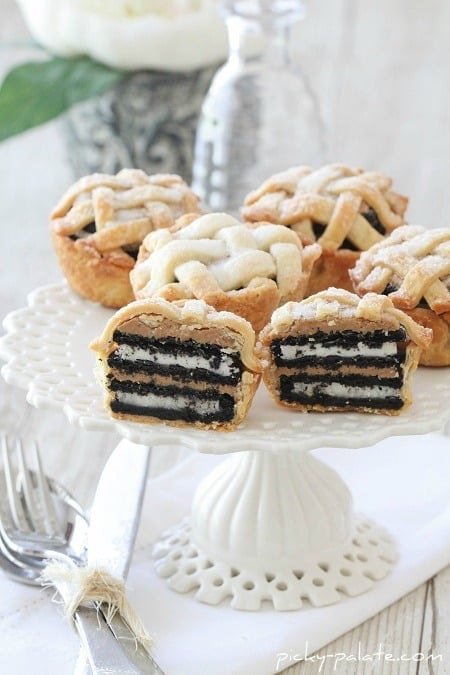 [ziplist]
Oreo and Peanut Butter Layered Baby Lattice Pies
Two refrigerated 9 inch pie crusts
16 Oreo Cookies
1 cup creamy peanut butter
2 tablespoons melted butter
2 tablespoons granulated sugar
1. Preheat oven to 350 degrees F. and spray 8 muffin cups with non stick cooking spray.
2. Unroll pie crusts and cut out eight 4-inch rounds. Press into prepared muffin pan.
3. Spread 1 tablespoon of peanut butter over each cookie then stack 2 cookies on top of each other. Place 2 stacked cookies into pie crusts. With remaining pie dough, cut long thin strips to prepare lattice top. Follow photos to make lattice tops or use a flat piece of dough with slits cut on top.
4. Brush melted butter over tops then sprinkle generously with sugar. Bake for 22-26 minutes, until golden brown. Let cool then remove from pan.
Makes 8 pies
___________________________
Have a great rest of your week! Come back soon!