Today I'm sharing must-know tips for the Star Wars Rise of the Resistance ride! Discover how to beat the masses and get a boarding pass for your group on this ground breaking Disney attraction!
Rise of the Resistance Ride at Disneyland
Rise of the Resistance opened December 5, 2019 at Disney's Hollywood Studios and just recently opened January 17, 2020 at Disneyland Park. If you've been watching via Instagram and online, you know what a buzz the ride is making across both coasts. Having experienced the ride for myself, I'm here to tell you the hype is real. It's an experience like no other experience you'll have with a Park Attraction. Let's break down how to get your party a boarding group on the virtual queue.
Be sure to also read my post, The Ultimate Guide To Star Wars: Galaxy's Edge. Follow Disney Hungry on Instagram for tips and BEST Eats at Disney Parks.
How To Get A Boarding Group For Rise of the Resistance Ride
This is the million dollar question. I need to start by saying, even if you do everything right, there are NO guarantees, however, the more you know before you go, the better chance you have to get a boarding group.
First things first, you absolutely 100% have to download the Disneyland or Walt Disney World's My Disney Experience in advance. Not the day before your trip if possible, get yourself familiar with the app, click on the different areas so you are comfortable navigating. Make sure you are signed in and know your password just in case you need to re-enter for any reason.
When you've got a good handle on the app you need to link the park tickets to everyone in your party to your app. Note, if you do not do this, you likely will not be riding in the same boarding group. If you have to do this while at the Parks, give yourself plenty of time before Park opening as it takes a couple minutes. See the photos below on how to link/scan tickets.
How To Link Park Tickets To Your Disneyland App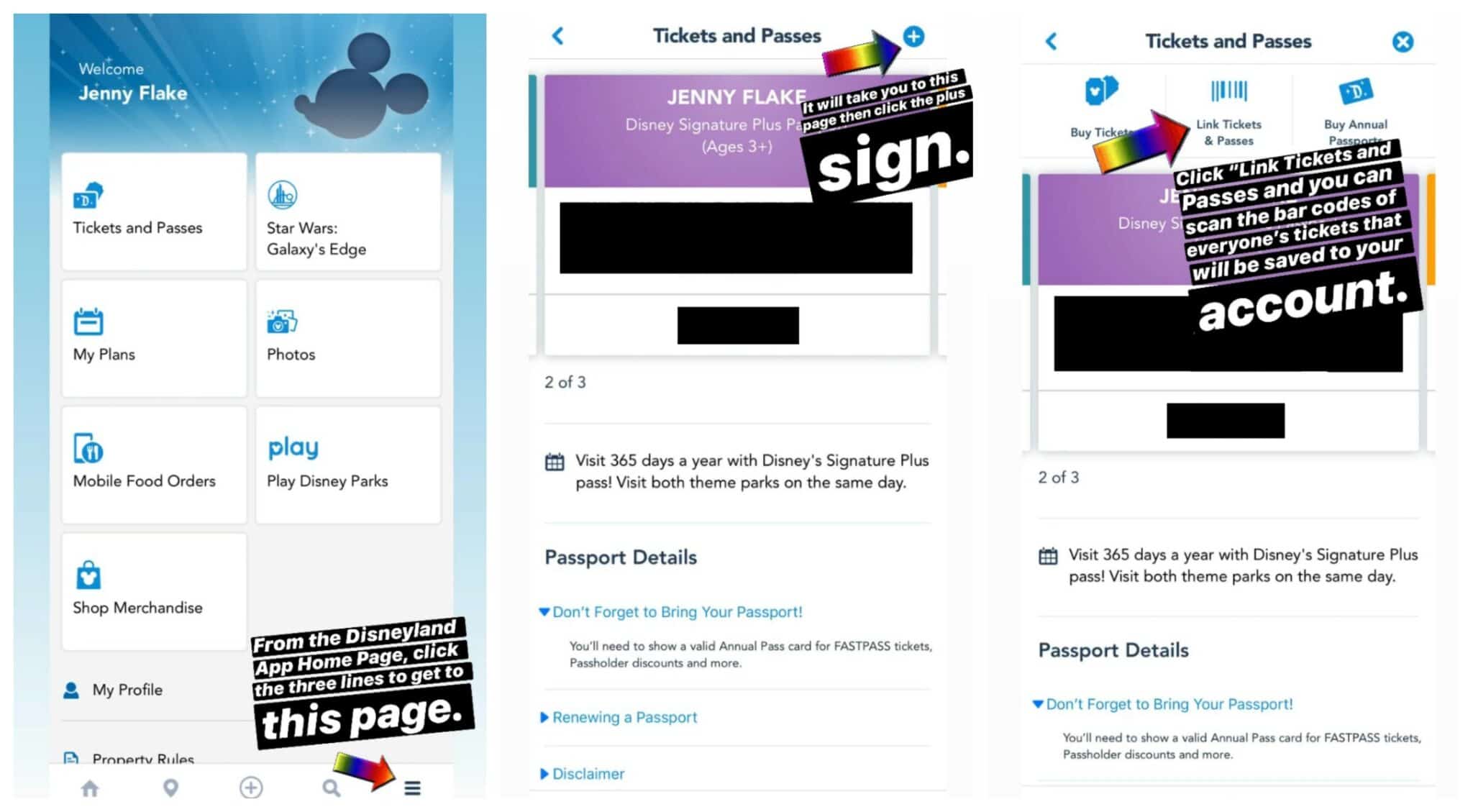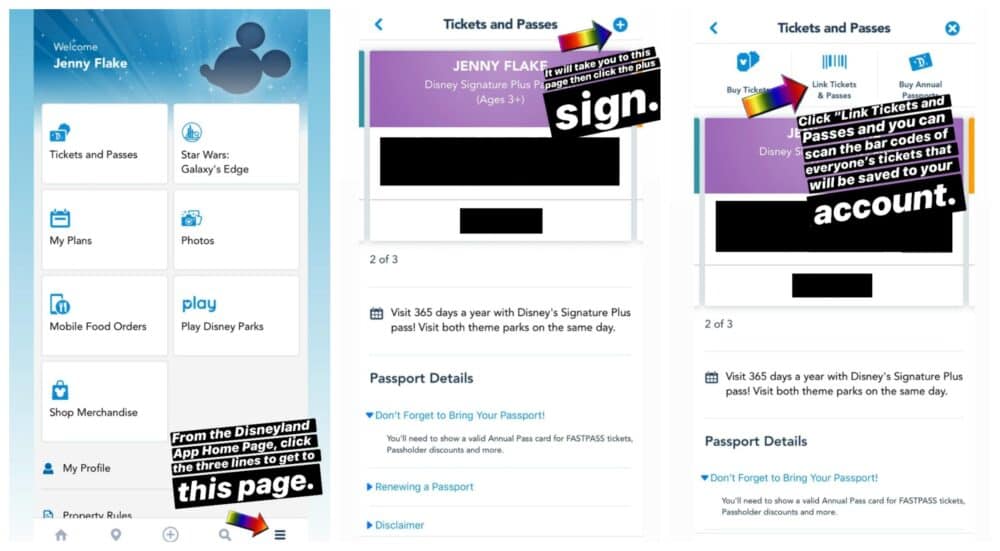 Double check Disneyland Park Hours for the date you are going and give yourself time to Park, walk through security and get into the Park before the Park opens. If the Park opens at 8am, you want to be inside the Park by 7:30am to be safe. Keep in mind, the lines to get in are going to be long, so give yourself plenty of time. For your reference, on opening day We got to Disneyland at 6am with the Park opening at 8am. They were letting guests enter the Park early that day, but the days after guests were still lined up at 7:30am. You won't be able to predict this, so just be prepared.
Other option to consider. There have been bloggers who have checked in at the entrance, scanned their ticket, then exit and try for their boarding pass in between the parks, the "esplanade." I have witnessed it working for a number of people. Just another option to consider. Half of your party could be inside the park, and a couple can try being in the esplanade right at opening to try.
Once you are inside the Park before opening time, make sure your app is ready to go. It seems like it's worked out best to turn off your WiFi and bluetooth, exit out of other apps too. The very second it's Park opening have your app open and here's what you do:
What To Look For When You Open The Disneyland App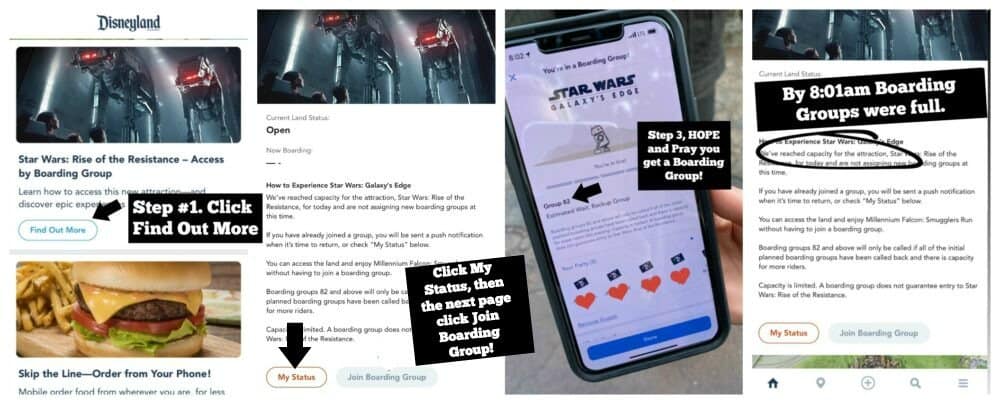 At 2 minutes before Park opening open your Disneyland App. The very second the Park opens (have someone counting down to the second) click on find out more (photo 1 above), then click on My Status (photo 2 above), then click on Join Boarding Group. You'll select your group and GO! You'll then get your boarding group number (photo 3 above).
Next, one of two things has happened- you are cheering with the rest of the people around you who got a boarding pass, or you are feeling let down because you didn't make it within the one minute before the boarding groups are gone. Keep in mind, sometimes the app glitches and there's just nothing you can do about it. If you didn't get a boarding group, hang in there and try again as frustrating as that is. Trust me, I come in from out of town and had it happen to me one of the days. Try try again. If you did get a boarding group, make sure your Notifications are turned on and keep an eye on the "My Status" part of the app as shown in the photos above.
If you follow the above steps, this assures you have just as much of a chance as anyone in the Parks. Doesn't matter if you camp out over night or just barely squeak in before opening, everyone has the same shot the very second the Park officially opens. Give yourself a pep talk, get prepared with all of my tips and go for it! Let's talk about some more details. See below for other helpful tips.
Now That You Have Your Boarding Group, What Next?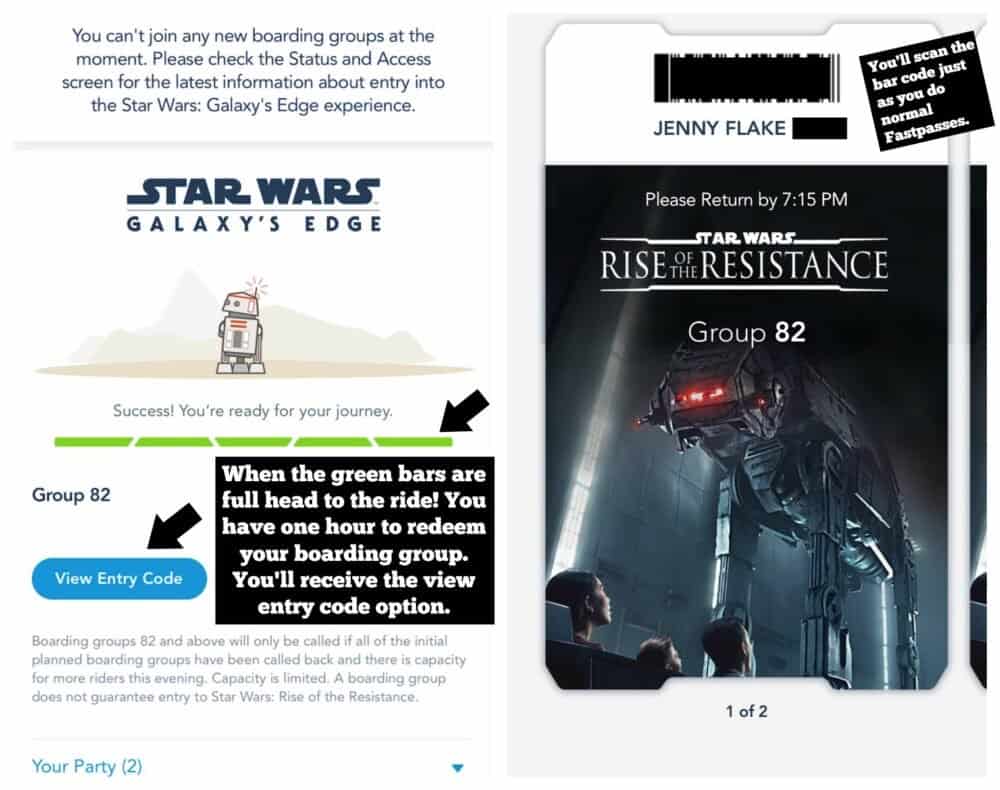 For your reference, at 8am I was issued the boarding group #82. At 6:15pm we were notified that it was time to head to the ride queue. We scanned our pass at 7:05pm and exited the ride at 7:40pm. The line moved quick and there's lots to do and see while you're walking through.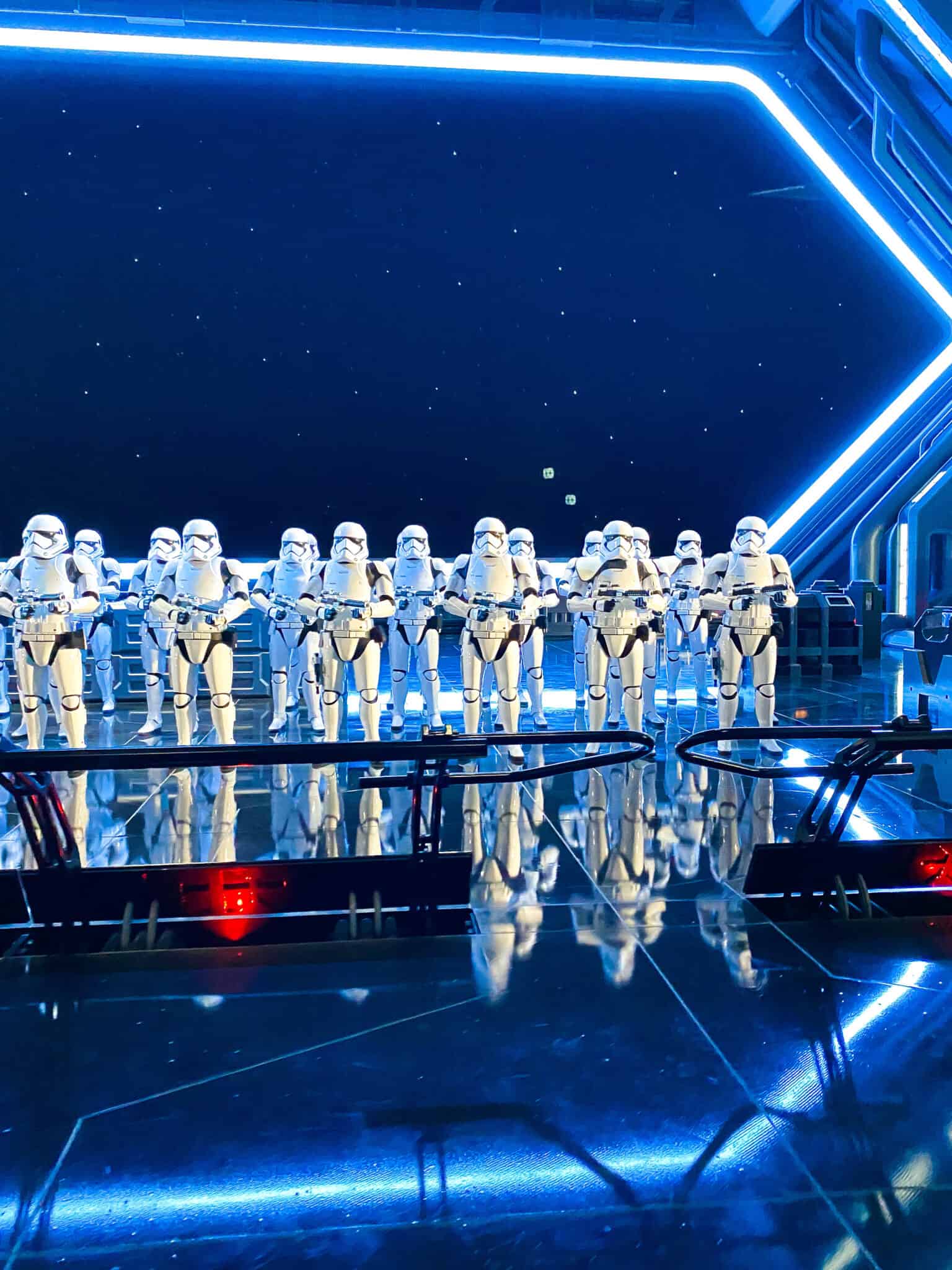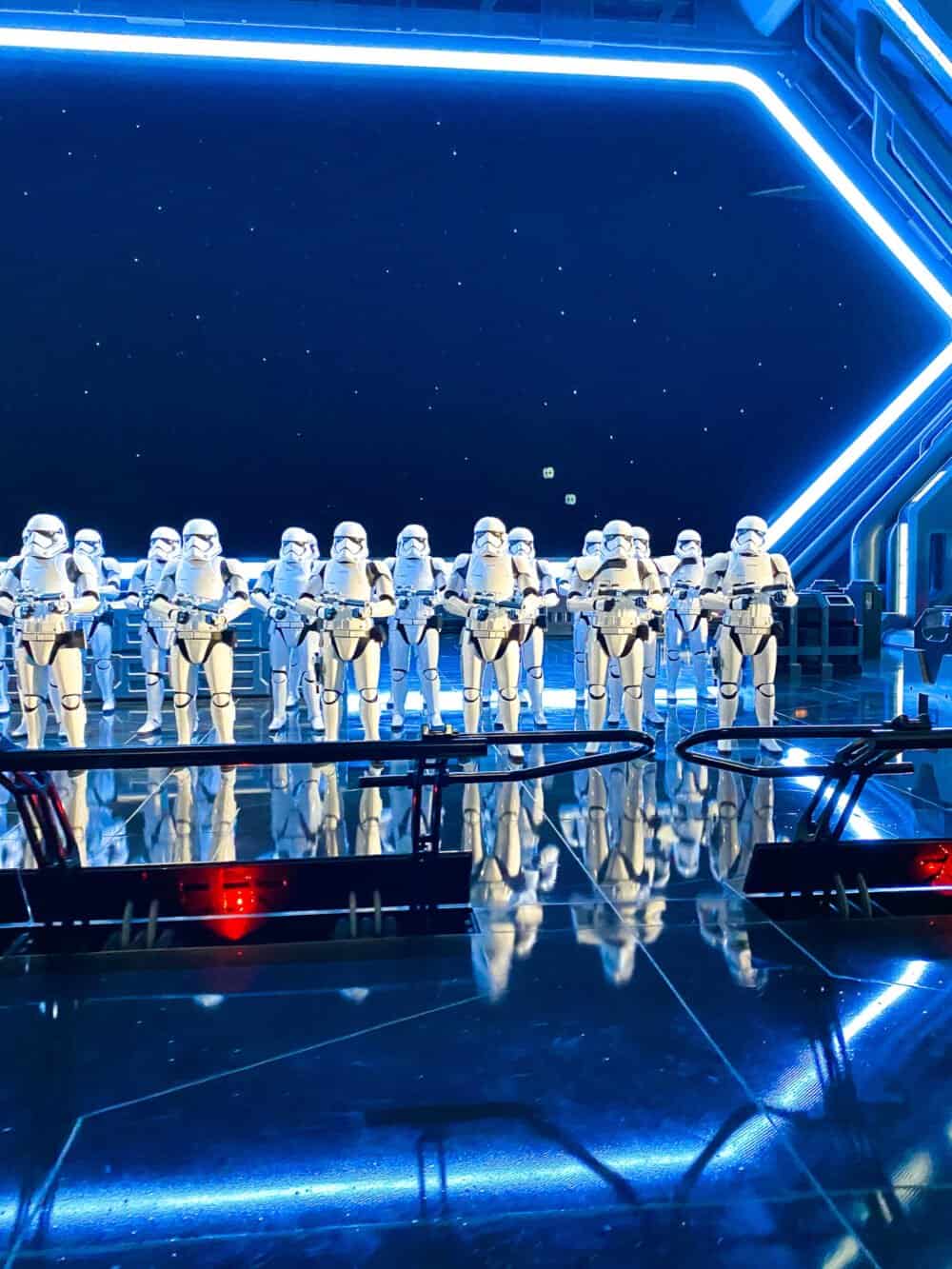 What Can I Expect Riding Rise of the Resistance?
From Disneyland website, Star Wars: Rise of the Resistance is a massive attraction with multiple ride systems that is unlike anything you've ever experienced at the Disneyland Resort… or anywhere else in the galaxy!
The Resistance needs your help! Hidden in the forest outside Black Spire Outpost, the Resistance is gathering recruits for a secret mission.
With the First Order desperate to extinguish the spark of the Resistance, the mission is bound to have unexpected twists and turns. When your transport is captured by an imposing First Order Star Destroyer filled with legions of stormtroopers—and even Kylo Ren!—you're going to need all the help you can get. Fortunately, a covert team of Resistance fighters—including Rey and BB-8—is at the ready to give you a fighting chance to escape… and a chance for the Resistance to rise.
Where Is Rise of the Resistance Located?
The ride is located in Star Wars Galaxy's Edge. If you enter through the Critter Country entrance, using the walkway right before Hungry Bear Restaurant, you'll walk right to Rise of the Resistance.
How Tall Do You Have To Be To Ride Rise of the Resistance?
Your need to be at least 40″ tall to ride. There are small drops, it's considered a thrill ride for your reference.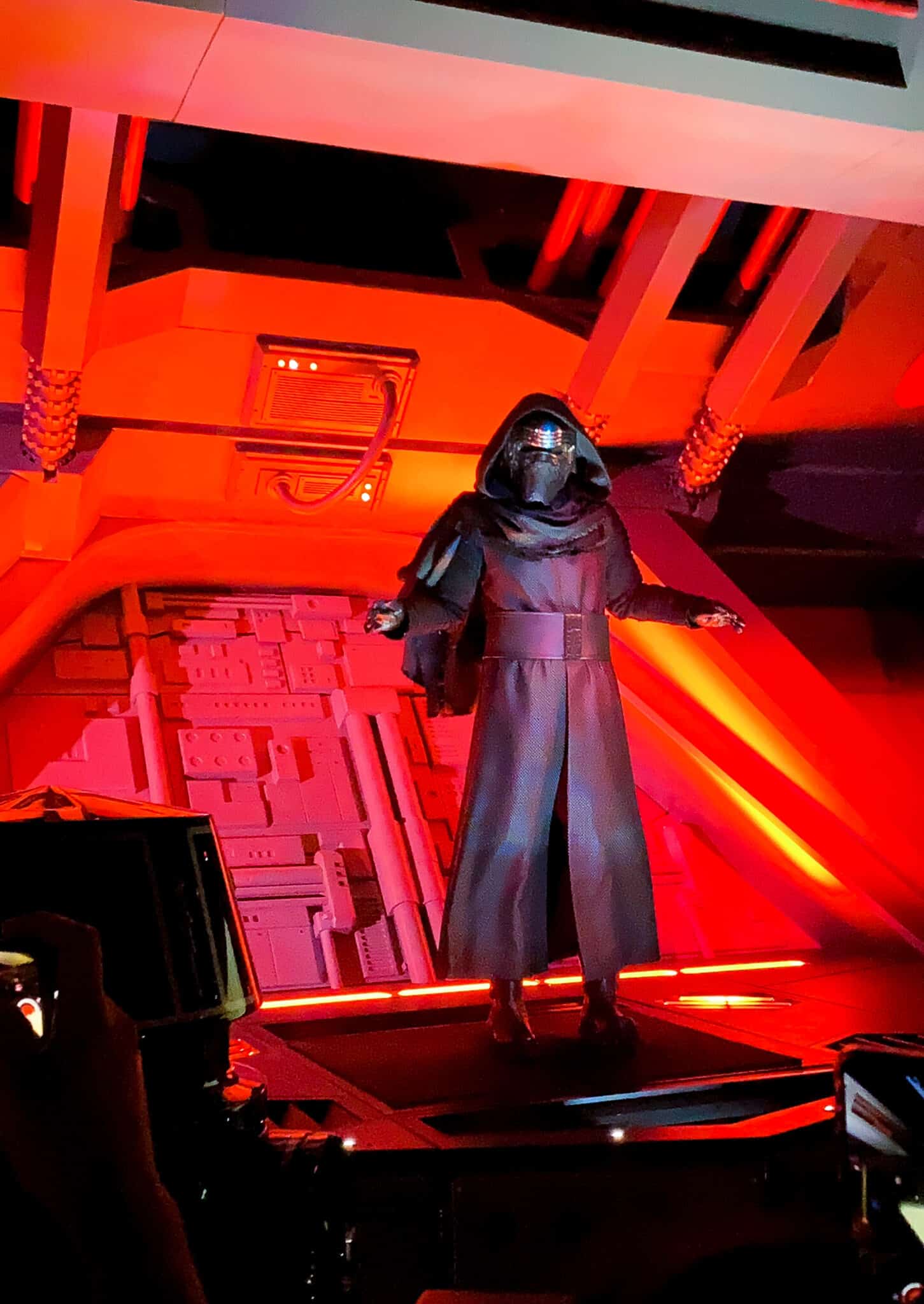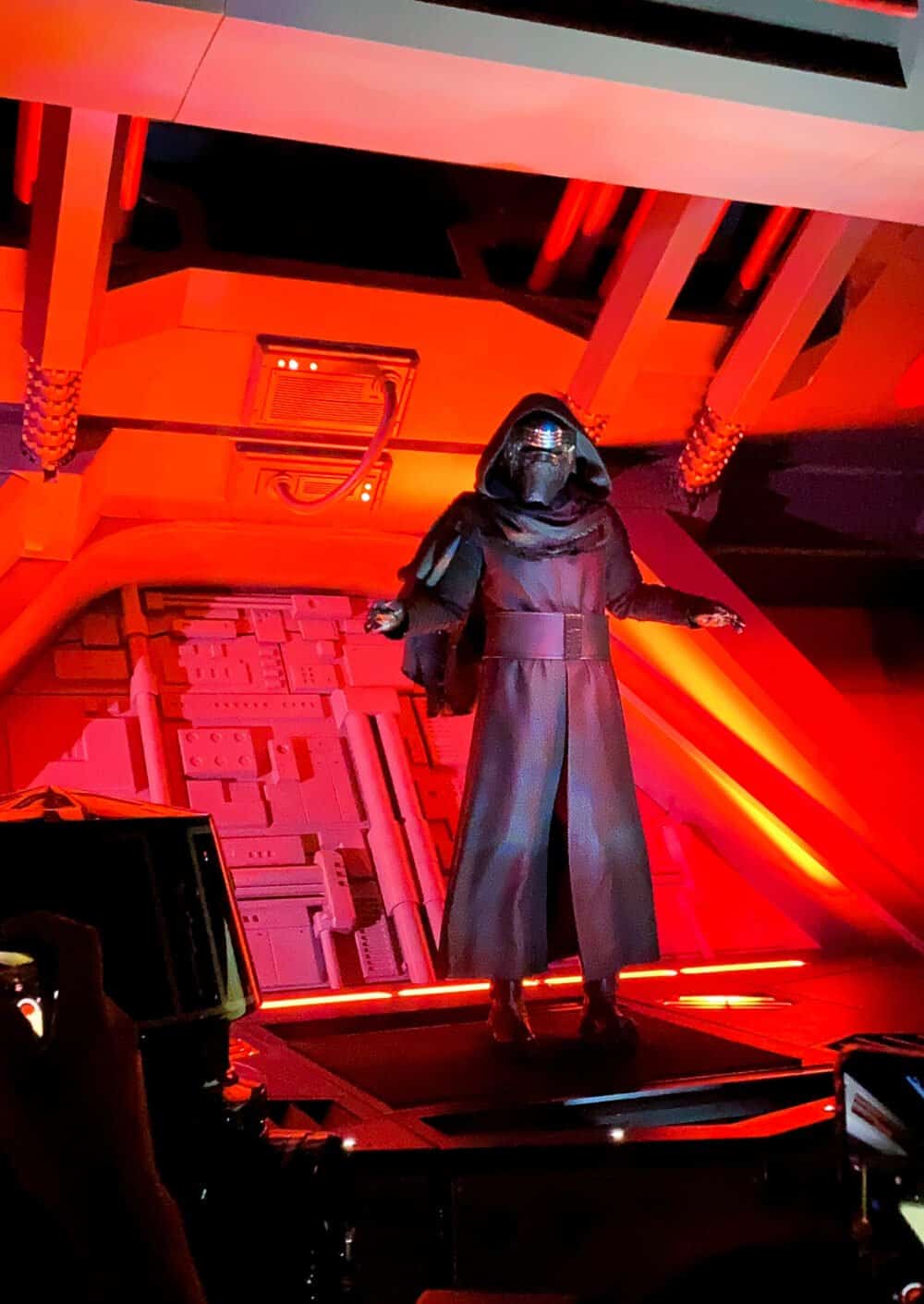 Is Rise of the Resistance Scary?
As an adult who's been on the ride, I'm telling you I was actually scared in some parts, lol! The Cast Members are very much in character, and make you feel as if you are really in a movie scene, some pretty scary moments. If your child is anxious about dark, scary rides, definitely take these things into consideration.
Is Switch Rider Available?
Yes it is. Talk to the Cast Member to get the switch pass you need.
Is There A Single Rider Line?
No, not yet. Will update if/when that becomes available.
If I Have Magic Morning or Extra Magic Hour Do I Get Priority?
No, you will wait until official Park opening to the public and have the same chance as everyone.
Is DAS Offered?
Yes, but you will have to get a boarding group from the App just like everyone else. Once you get your boarding group, talk to a CM.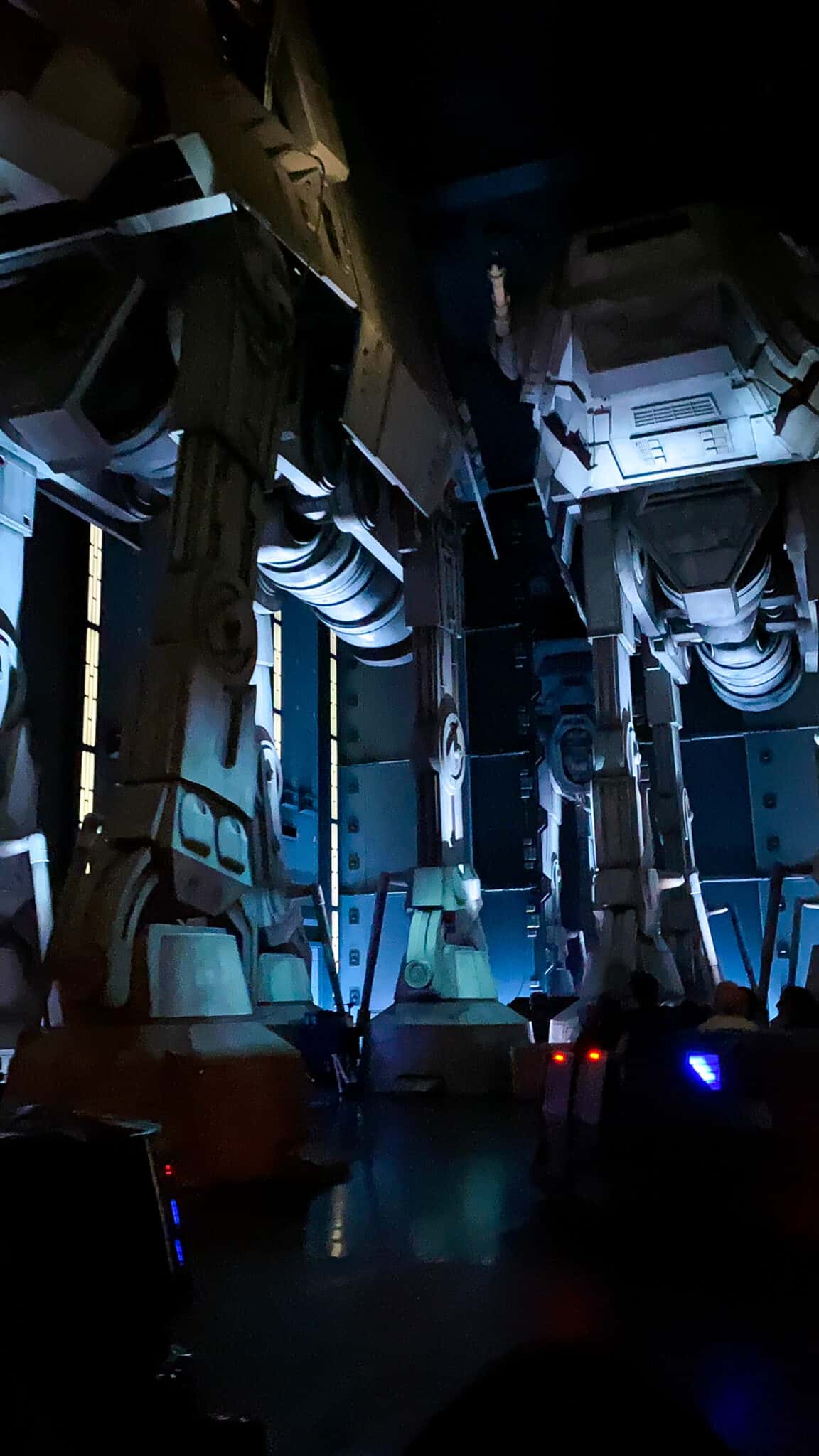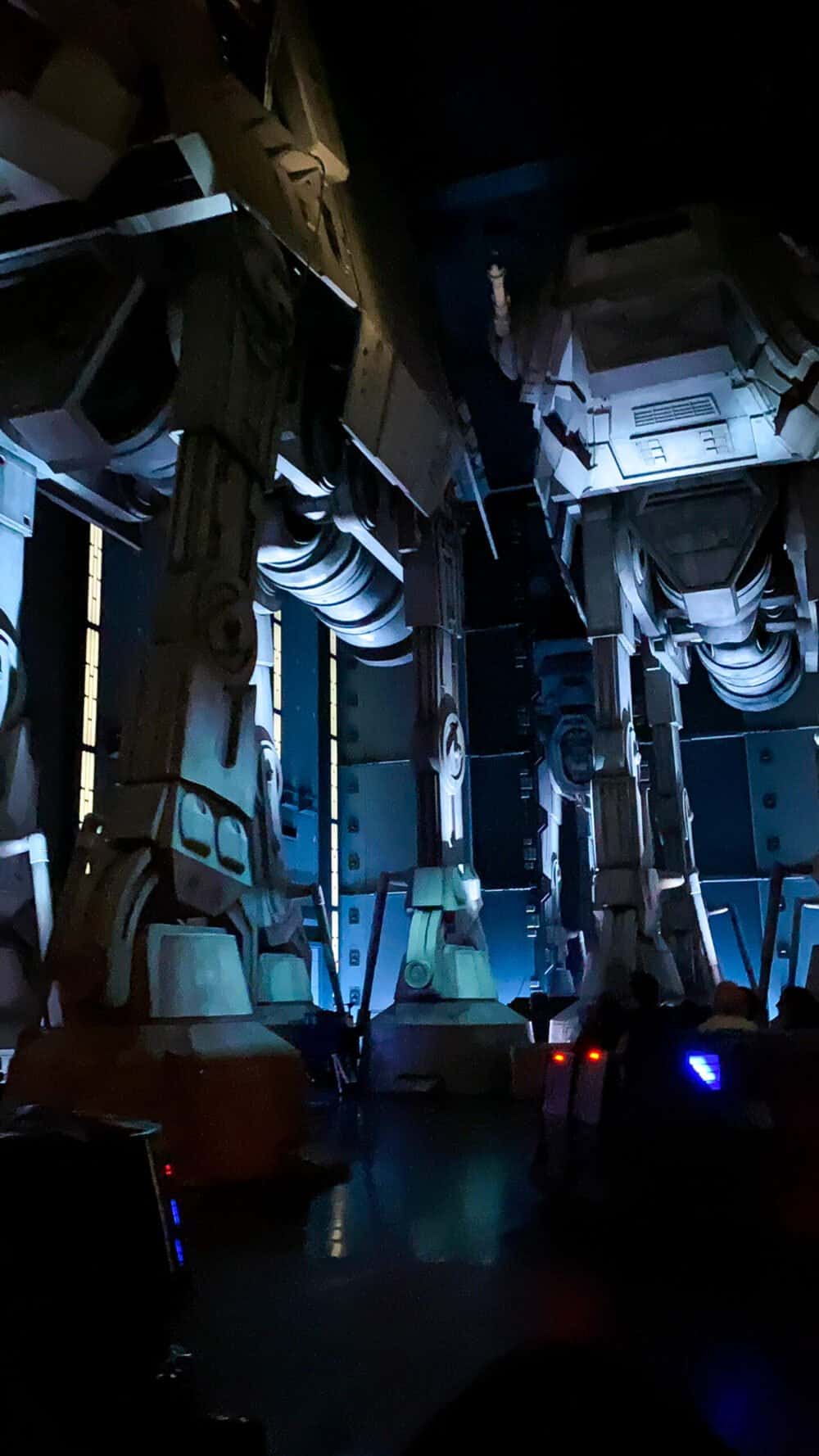 Can I Enter DCA To Get My Boarding Group?
No, currently you must be inside Disneyland to get your boarding group.
Can Everyone In My Group Have The Same Tickets Scanned and Be Trying To Get Boarding Groups?
Yes, as many people that have the Disneyland App downloaded, make sure everyone has your party's tickets scanned. This gives you all a chance to get a boarding group together. As soon as one member of your party gets a boarding group, that is the one you get. The system will not allow another person in your party get more boarding groups.
Is There Any Way To Choose What Time For My Boarding Group.
No, right now, you get what you get. Things may change later, but there's no choosing time periods.
What If The Ride Breaks Down During My Boarding Group?
This definitely can happen, don't panic, you will be issued a pass to come back to ride when it's up and running.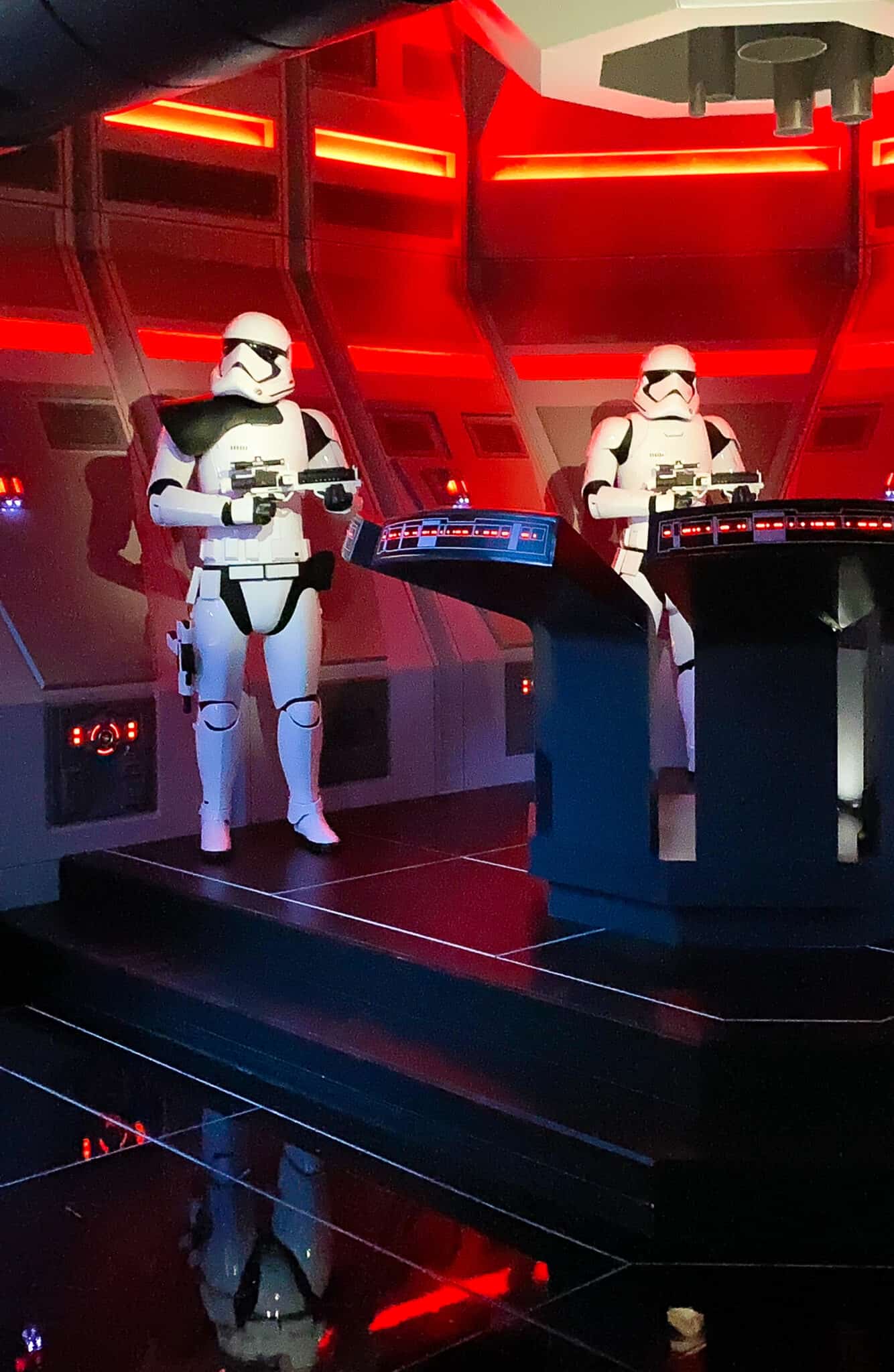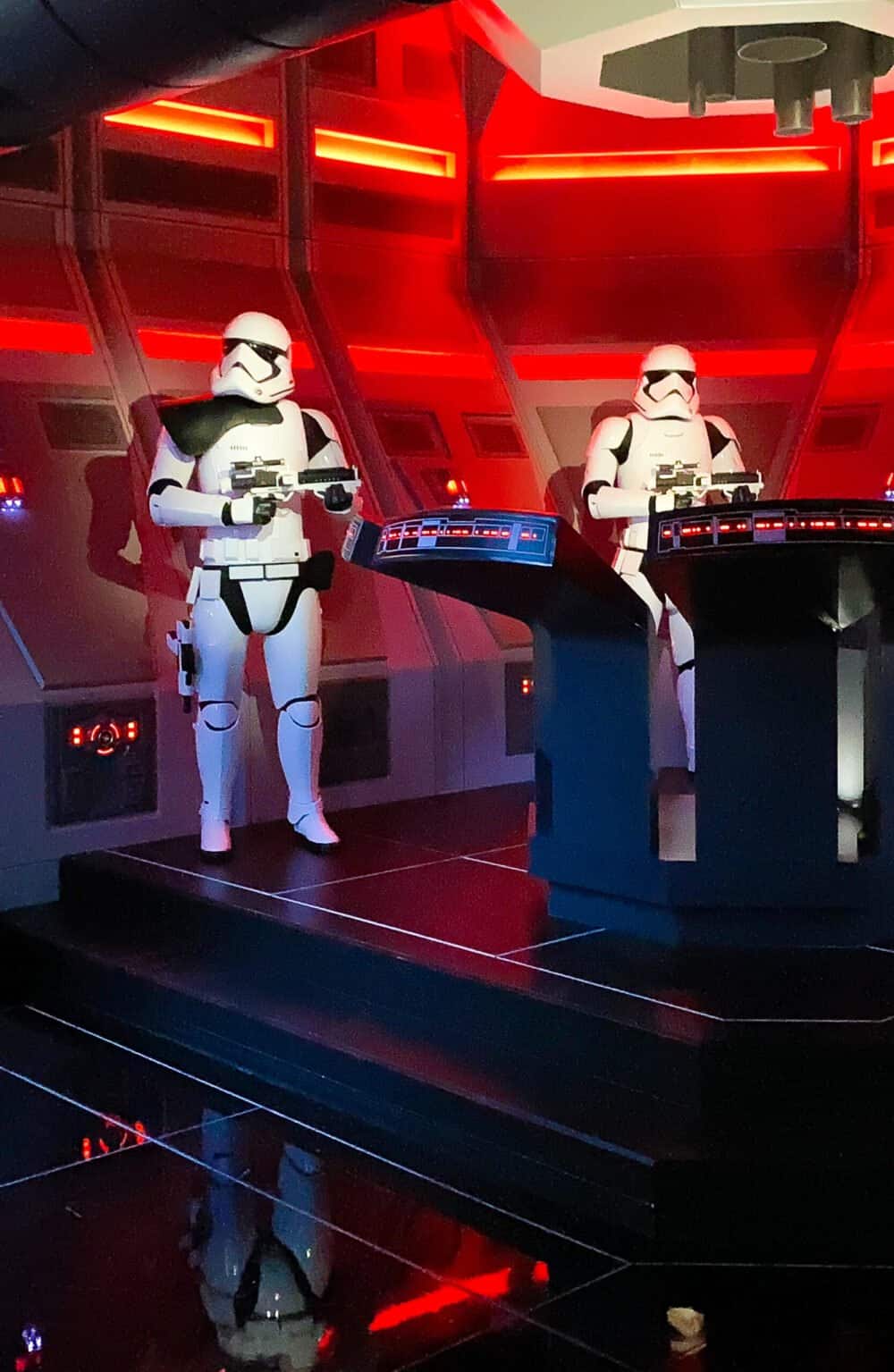 Can I Get More Than One Boarding Group On The Same Day?
No, the system will allow for one boarding group per visit as of now. If this changes, will update.
How Many Boarding Groups Get To Ride Each Day?
This will vary from day to day. During my visits I was seeing boarding groups 114 make it to the end of the day. Again, it could be more or less depending on the day.
Once I'm Inside Disneyland, Do I Need To Be In A Certain Area To Get My Boarding Group?
No, anywhere inside Disneyland is just fine. You'll see guests scattered throughout the entrance, Main Street and near Sleeping Beauty Castle.
Are There Physical Fast Passes Available Anywhere If I Don't Want To Use The App?
Yes, these locations may change, so check with a CM that you see that morning. When I was visiting, there was a location in Tomorrowland and Critter Country. Definitely confirm when you arrive. These work just like the normal Fast Pass kiosks around the park, you'll get a paper ticket boarding group instead of one via your app.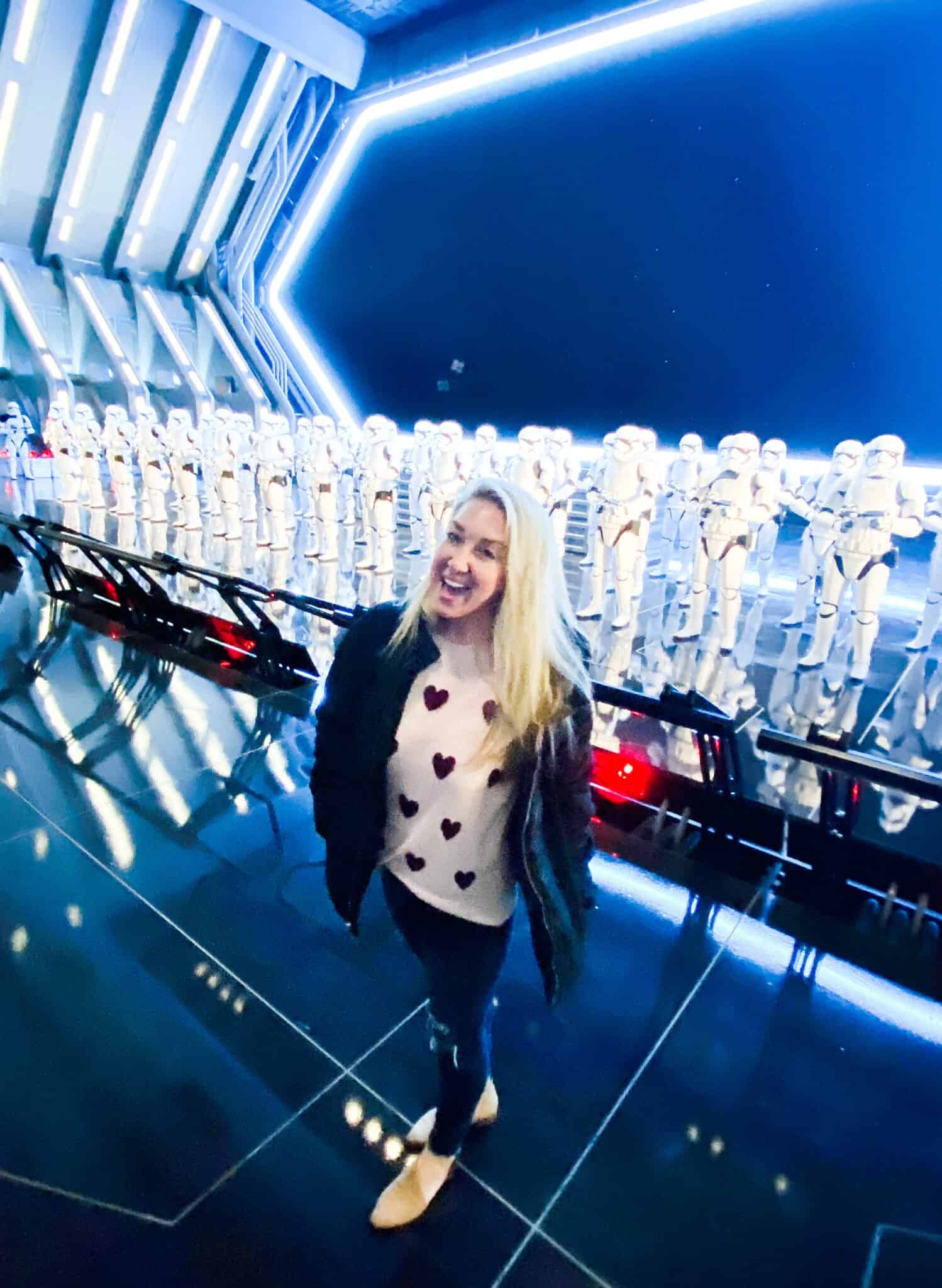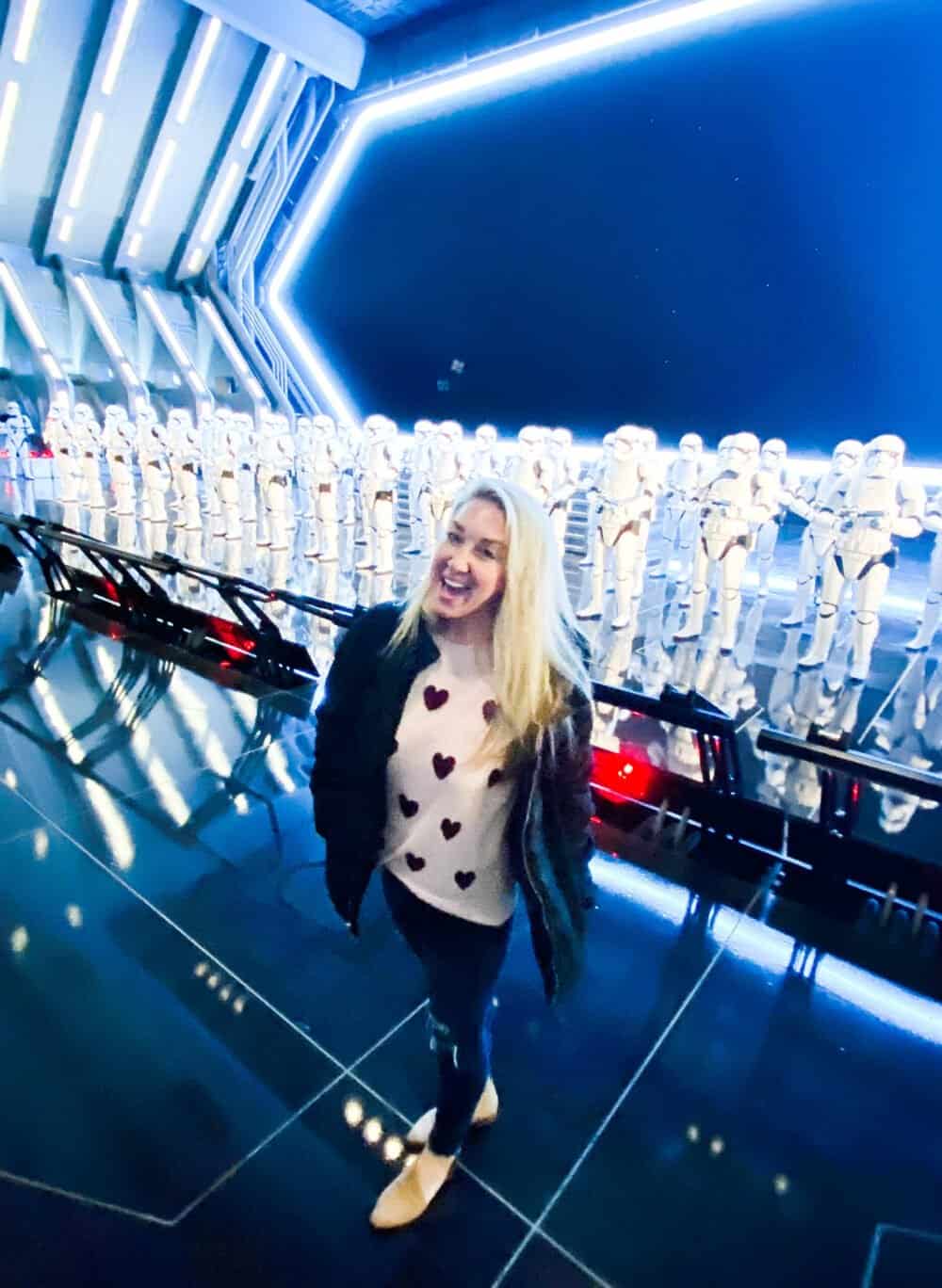 Can I Take Photos During The Ride?
Yes! When you walk into this room with all of the Storm Troopers, you are in awe, but if you move quickly, you can snap a photo. The Cast Members are telling you to keep moving, so don't take your whole family to do a photo shoot. I think quick shots are fine. You can see mine is blurry, but hey it's something 🙂
Final Tips and Thoughts
The ride is an unbelievable experience that I hope we all get to enjoy. It really is like no other attraction I've ever done before and I can't wait to try to ride again soon! The way the Cast Members are so in character make the experience so real. Felt like I was literally in a movie scene, and was even afraid for my life a few times, lol! Loved the whole experience from the second I stepped inside the queue line to the time I exited.
To re-cap, here are your quick reminders:
Download the Disneyland App.
Link your party's tickets to your App.
Get to Disneyland EARLY, in plenty of time to be inside Disneyland before Park Opening.
The very second the Park opens, have your App already opened and ready to click on Join Boarding Group.
When you get a boarding group, turn on your notifications and check your ride Status every so often to see how the boarding groups are moving.
Watch for your time to head to the ride. You have 1 hour to redeem.
Get the code and scan at the entrance. You'll see the CM's there to help.
You Can do it! Wishing everyone the very best of luck.
Pin To Your Favorite Disney Board