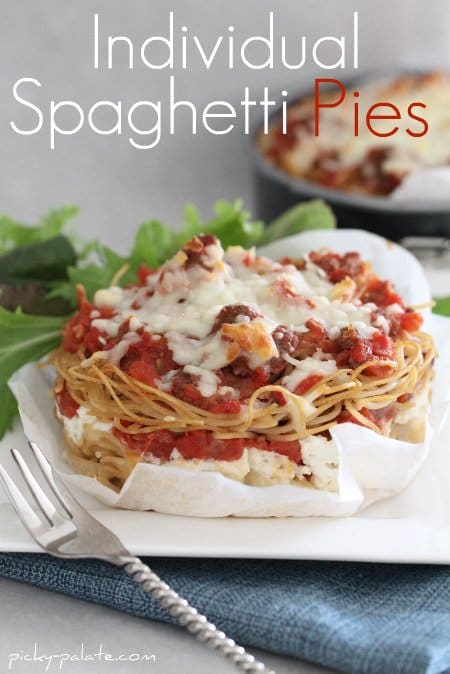 Wait until you serve these adorable spaghetti pies up for dinner. I whipped up a fabulously simple pasta sauce, took some nice whole wheat thin spaghetti noodles and a Ricotta cheese filling to create these individual little pies. Just wait until you try them. I baked them in these adorable 5 inch springform pans that I found at Sur La Table. You can also do one large 9 inch springform pan if you'd rather for one large pie 🙂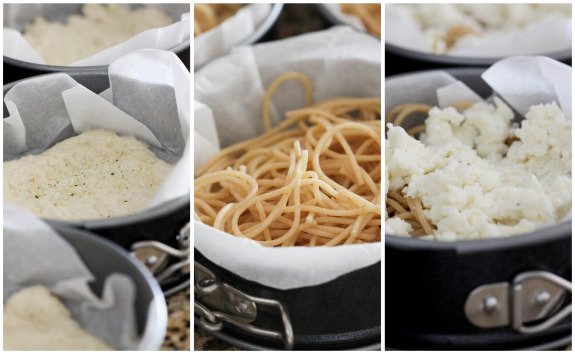 So, you start with a small piece of french bread dough (I used Pillsbury) and press it into the bottoms of 8 parchment lined springform pans. Then, top with spaghetti noodles and a layer of ricotta cheese mixture.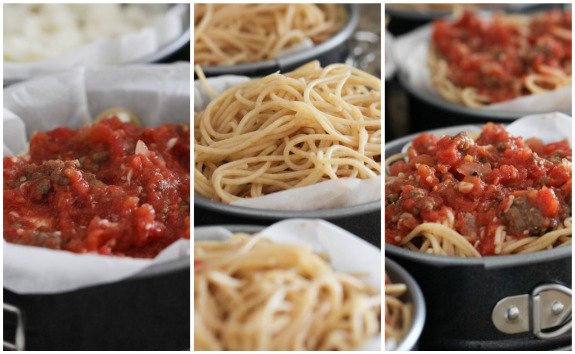 Time to add your sauce, more noodles, press down…add a little more sauce…..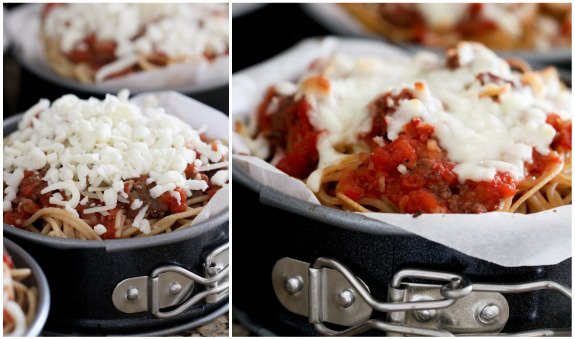 And the cheese….don't forget the cheese 🙂 Bake and Voila', cheesy and gorgeous!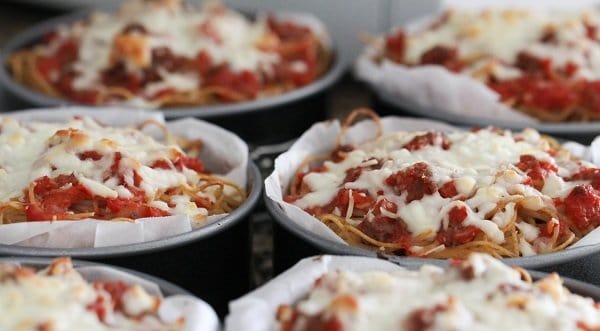 Mmmmm!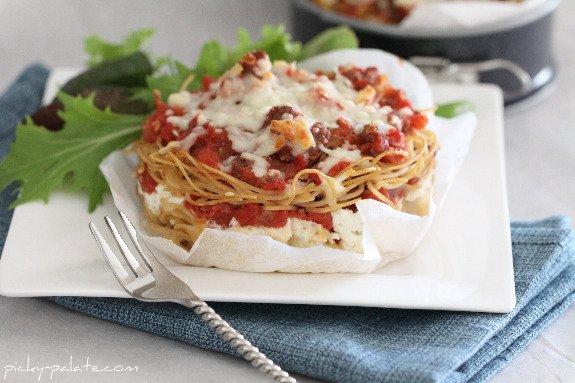 Remove these beauties from the springform pan and enjoy! Hope you love these as much as I do 🙂
2 Tablespoons extra virgin olive oil
1 Cup finely chopped white onion
2 Tablespoons fresh minced garlic
1/2 lb lean ground beef
1/2 teaspoon kosher salt
1/4 teaspoon fresh cracked black pepper
28 oz diced tomatoes
8 fresh basil leaves, chopped
1/4 Cup fresh grated Romano Cheese
____
2 Cups Ricotta Cheese
1/2 Cup shredded mozzarella cheese
1/2 Cup fresh grated Romano cheese
1/4 teaspoon kosher salt
1/4 teaspoon fresh cracked black pepper
1/4 teaspoon Lawry's garlic salt with parsley
_____
1 lb whole wheat pasta noodles
1 roll French Bread dough
1/4 Cup fresh grated Romano cheese
1 1/2 Cups shredded mozzarella cheese
1. Preheat oven to 350 degrees F. Heat oil into a large skillet over medium heat. Saute onions for 5-7 minutes or until softened. Stir in garlic and cook for 1 minute then add ground beef. Cook until crumbled and browned.
2. Place diced tomatoes into food processor until nearly smooth. Pour into meat mixture, add basil leaves and Romano cheese. Reduce heat to low to simmer.
3. Place Ricotta, mozzarella, Romano, salt, pepper and garlic salt into a large bowl and mix to combine.
4. Cook pasta according to package directions, drain and run under cold water to stop cooking. With kitchen scissors, cut noodles into smaller pieces.
5. Unroll French Bread dough and cut 3 inch pieces. Stretch and press into the bottom of 5 inch springform pans that have been lined with parchment paper. Bake for 10 minutes then remove from oven. Layer a heaping 1/4 Cup pasta noodles evenly over bread, layer with 1/4 Cup Ricotta mixture and top with 1/4 Cup meat sauce. Top evenly with an additional 1/4 Cup pasta noodles, Romano cheese and mozzarella cheese. Bake for 25-30 minutes or until cheese is melted and hot.
8 servings
__________________________