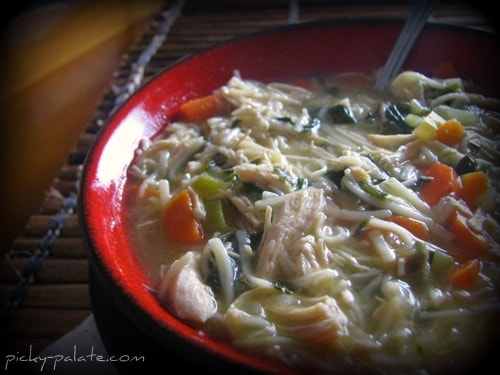 So, I'm taking a very short break from Christmas baking for this wonderful warm, hearty, stick to your ribs kinda soup. It's been COLD here in CA (I know it doesn't snow, but I am freezing!!) and I knew I wanted to make a good piping hot soup. I started throwing things together and I'm telling you this is one of my newest favorites. Lots of great vegetables and I love the noodles I chose. They are actually a stir fry/chow mein style noodle. You must try it. Go to the asian section of your grocery store and pick some up. They make for the perfect thin homestyle noodle. I cut them up into small bite size pieces to make it easier to spoon up!
Take a peek and enjoy some soup!!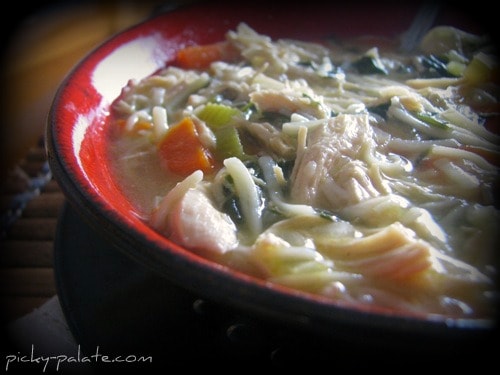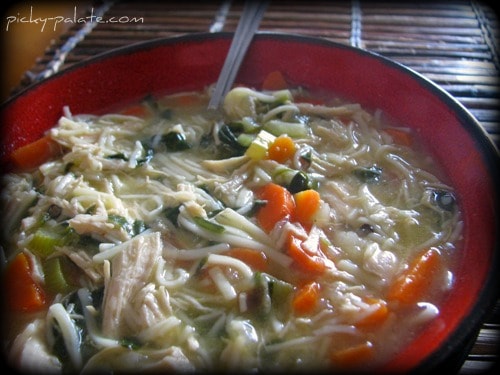 Warm Homestyle Chicken Noodle Soup
2 Tablespoons extra virgin olive oil
1 large onion, diced
1 green bell pepper, finely diced
4 celery stalks, diced
6 large carrots, peeled and diced
4 Cups fresh baby spinach leaves, coarsely chopped
4 cans chicken broth
4 boneless skinless chicken breasts, cooked and shredded
6 oz dry chow mein noodles (they work awesome in soup!!) I used THIS brand, but any similar noodle will do!
Pinch of salt and fresh cracked pepper
Pinch of Lawry's Garlic Salt with Parsley
1. Heat oil in large dutch oven over medium heat. When hot, saute onion, bell pepper, celery, carrots and spinach for 5 minutes or until vegetables are softened. Pour in chicken broth and add chicken breast. Bring to high heat until just starting to boil. Reduce heat and add in noodles. Stir until softened, about 5 minutes. Reduce heat to low, season according to taste with salt, pepper and garlic salt. Simmer until ready to serve!!
8-10 large servings
_________________________________________________
Don't forget to check out the GIVEAWAY, it's awesome and a wonderful opportunity to feed others in need!!
Have a wonderful weekend!!