Sharing my experience and recommendations on what to eat at Docking Bay 7 Food and Cargo, Star Wars Galaxy's Edge! You are going to love this perfectly Star Wars themed quick service restaurant.
Docking Bay 7 Food and Cargo Star Wars Galaxy's Edge
What a thrill it is being in Batuu! I'm telling you, you've got to get yourself out to Disneyland Park to experience the Galaxy for yourself. Sharing my favorite menu items from this fantastic quick service restaurant and a tour inside/outside too! When you arrive, there is a Cast Member at the entrance handing out menus as photo'd above.
Check out my post The Ultimate Guide To Star Wars Galaxy's Edge for more information!
Where Is Docking Bay 7 Located?
Docking Bay 7 is located right up the stairs near the Millennium Falcon. There are lots of Cast Members around the Galaxy if you need pointed in the right direction.
Docking Bay 7 offers breakfast, lunch and dinner. They offer Mobile Ordering plus you get your AP discount.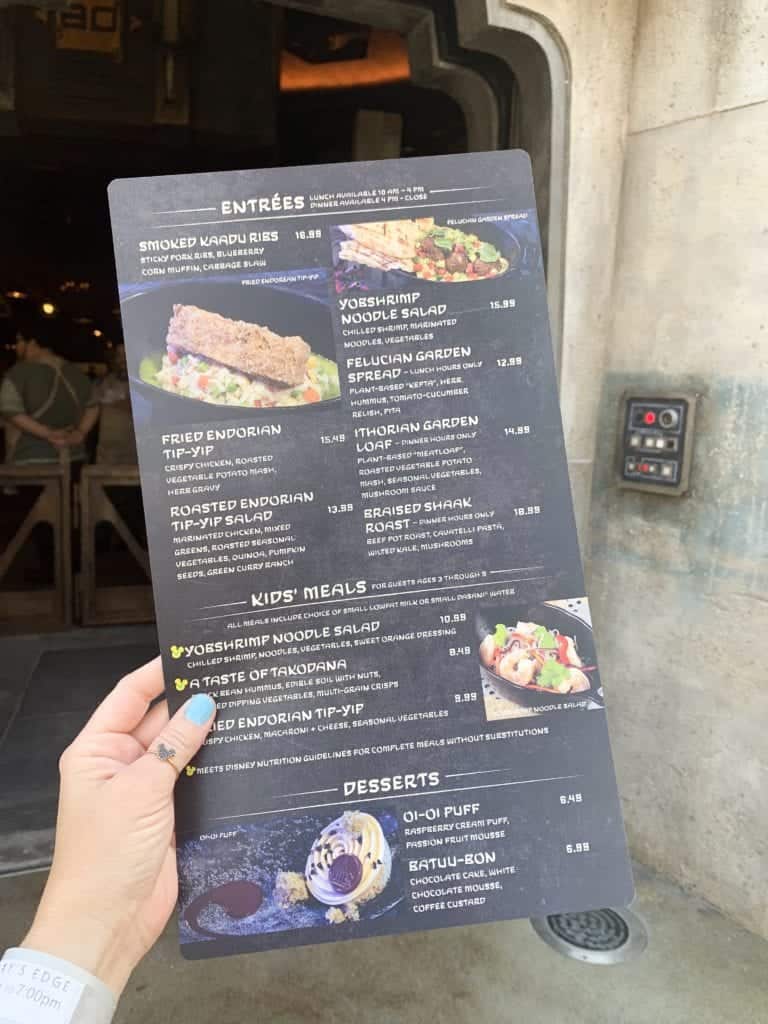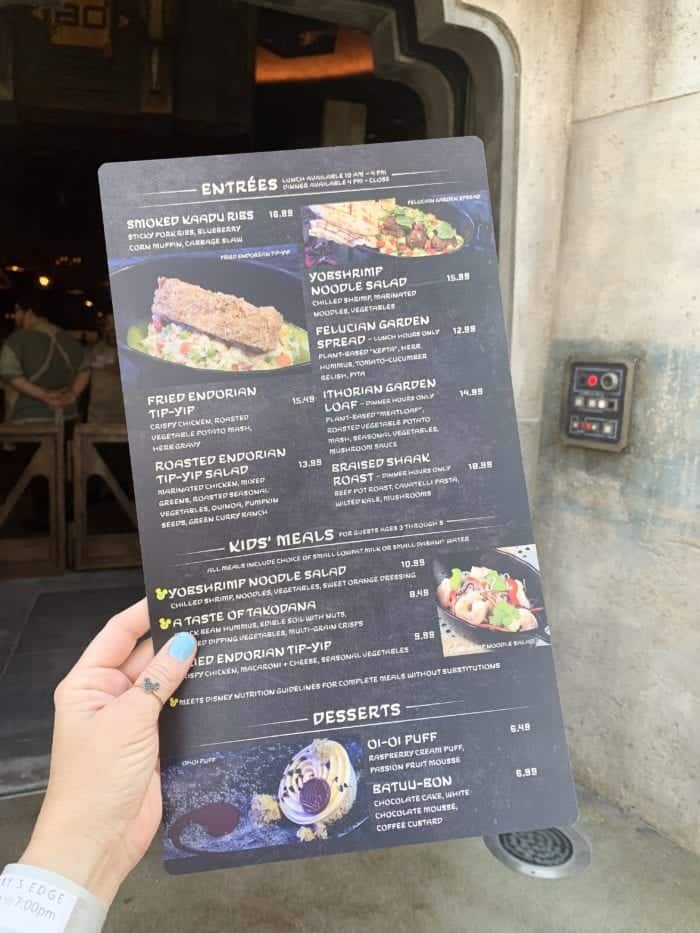 Note, as of late 2019, some menu names have changed, but food is the same.
PRO TIP 1: Docking Bay 7 offers Mobile Ordering, so place your order as soon as possible. You can enter your pick-up time ahead of time. If you wait until you are ready to eat, there's a chance mobile ordering won't have current times available.
Docking Bay 7 Star Wars Galaxy's Edge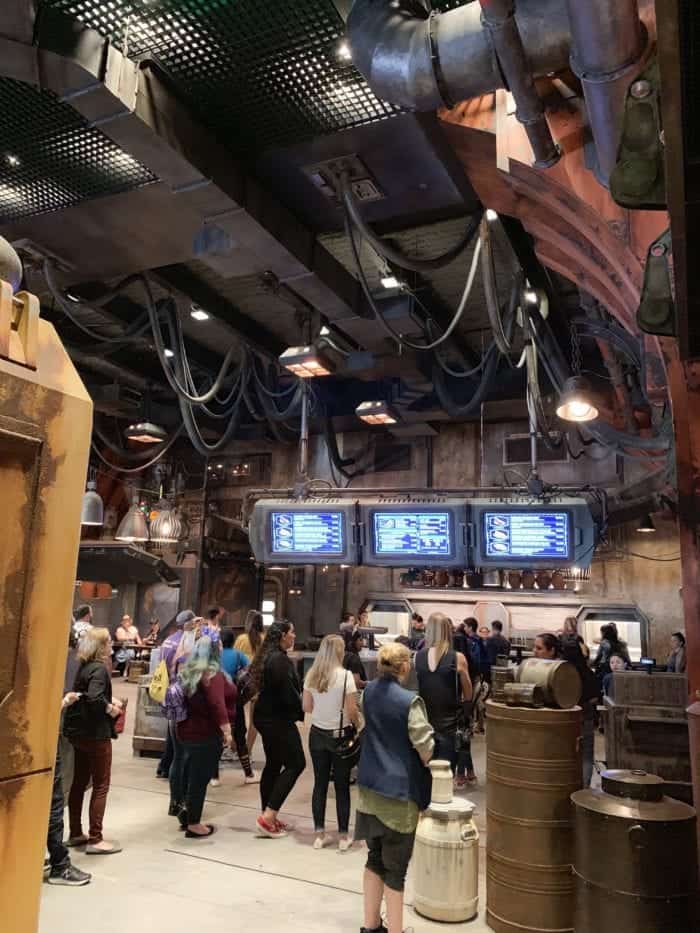 As you make your way through the entrance, you'll walk up to a number of Cast Members at registers ready to take your order. You've got more menu's above for your reference.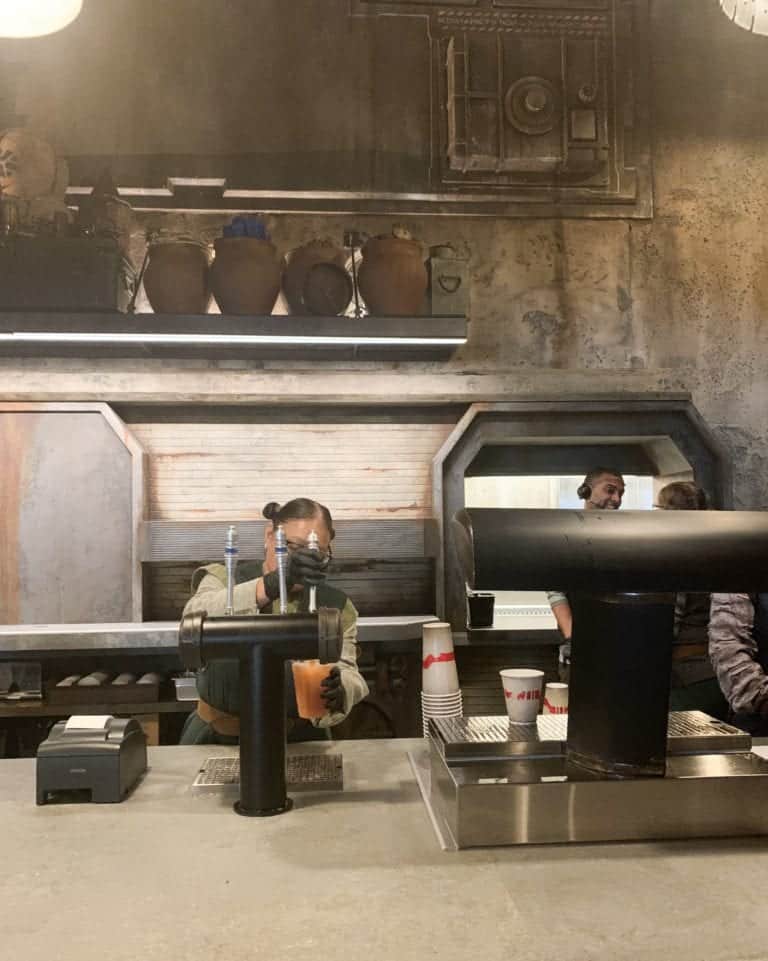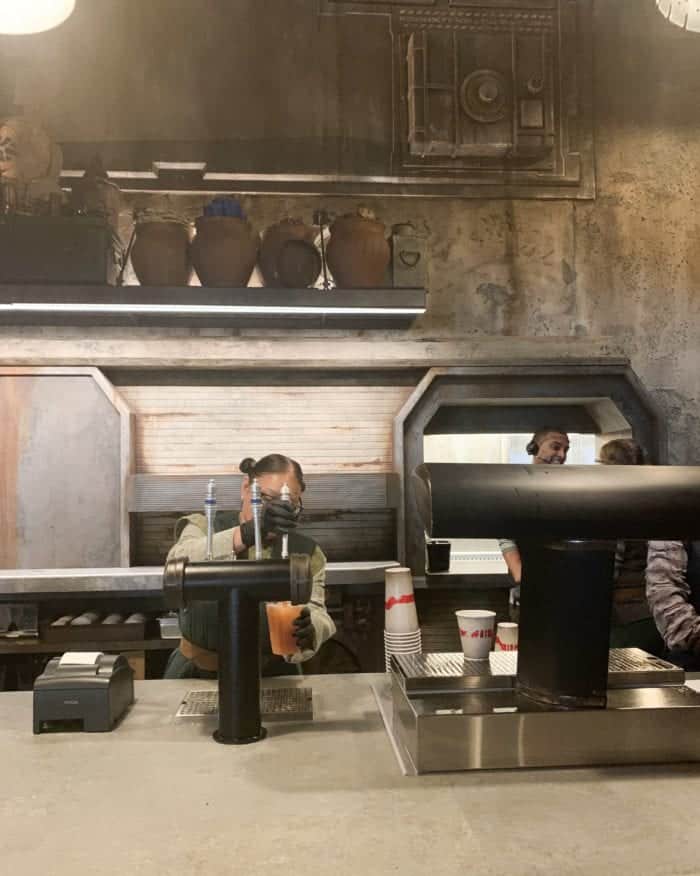 Once your order is placed, you walk up to the counter here and wait for your items.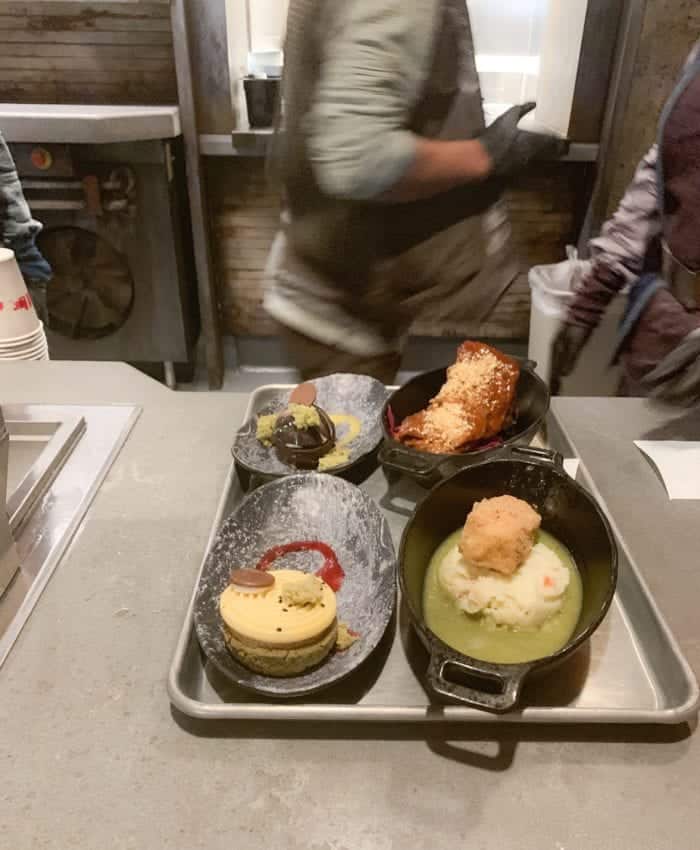 The food is beautifully served. I was very impressed with this being a quick service restaurant. Keep in mind, the dishes range from $12.99 to $18.99. Definitely higher prices than most Disneyland restaurants I frequent. I will say they were all worth it in my opinion.
Docking Bay 7 Menu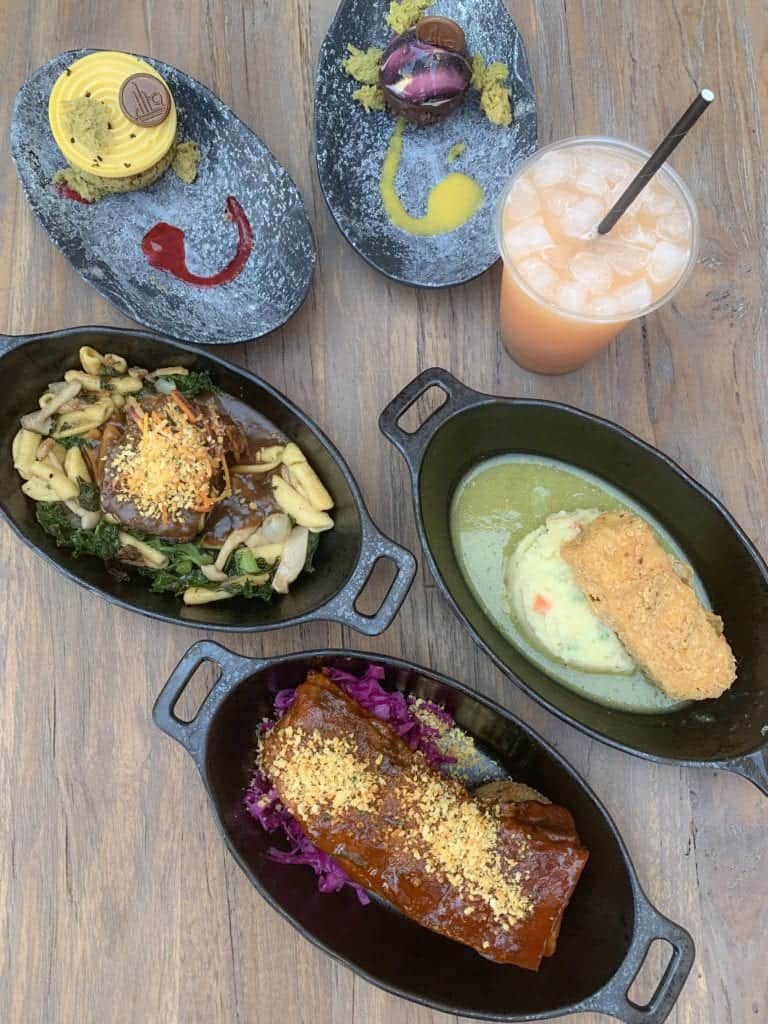 Here's the beautiful spread we ordered from the dinner menu. Details about each one are listed below. Before my AP discount, this was about $75 for your reference.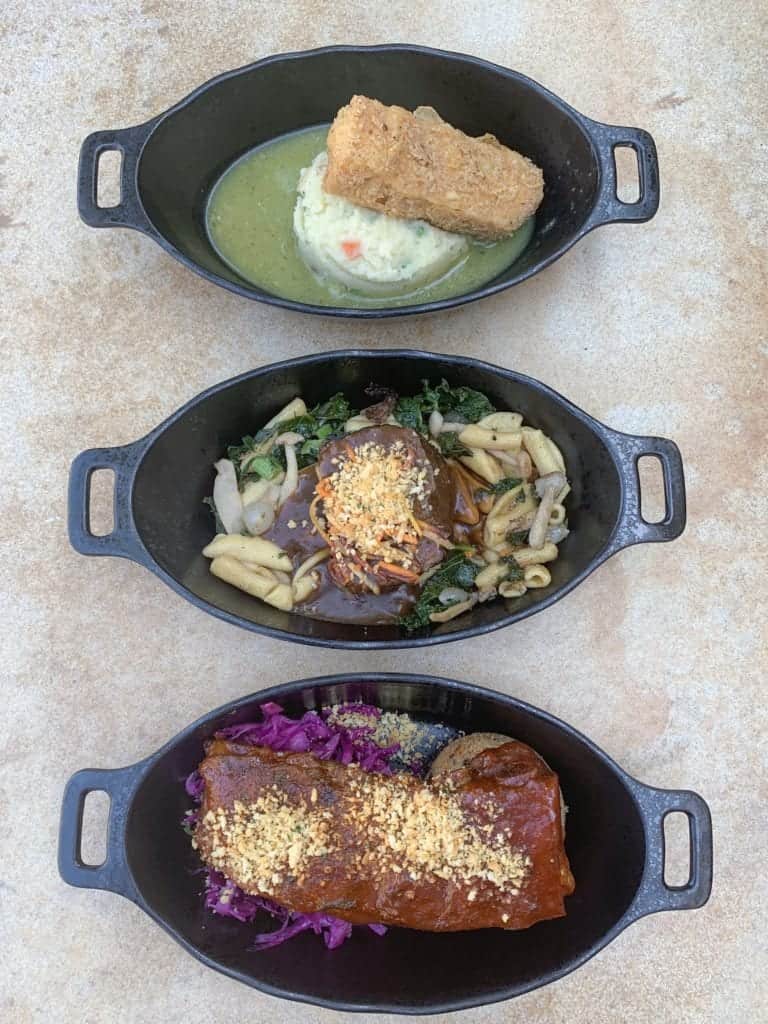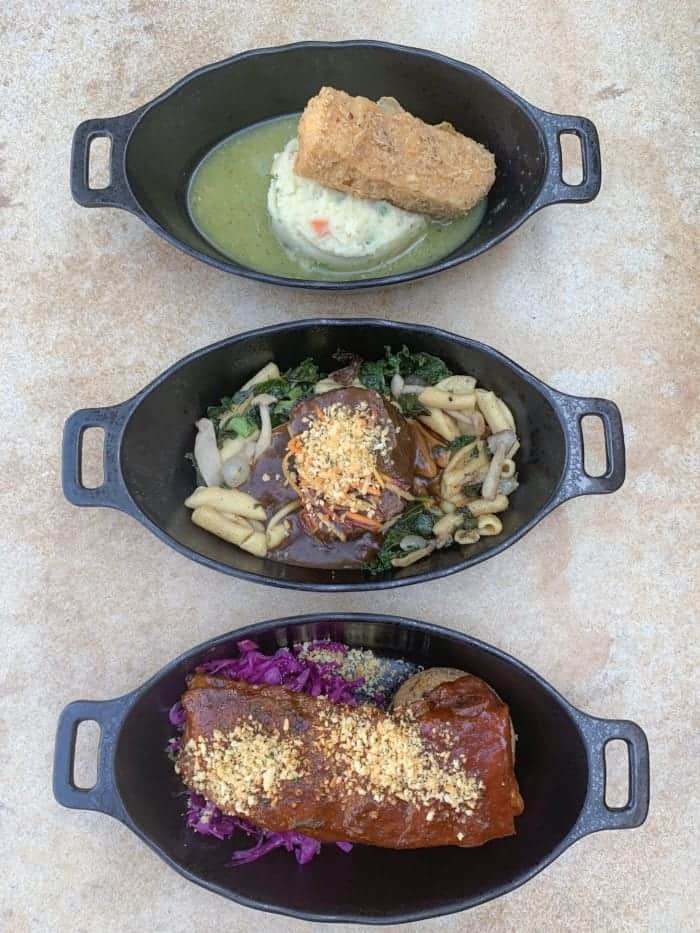 Our three entrees we ordered. From the top, you've got the Fried Endorian Tip-Yip, the Braised Shaak Roast, and the Smoked Kaadu Ribs.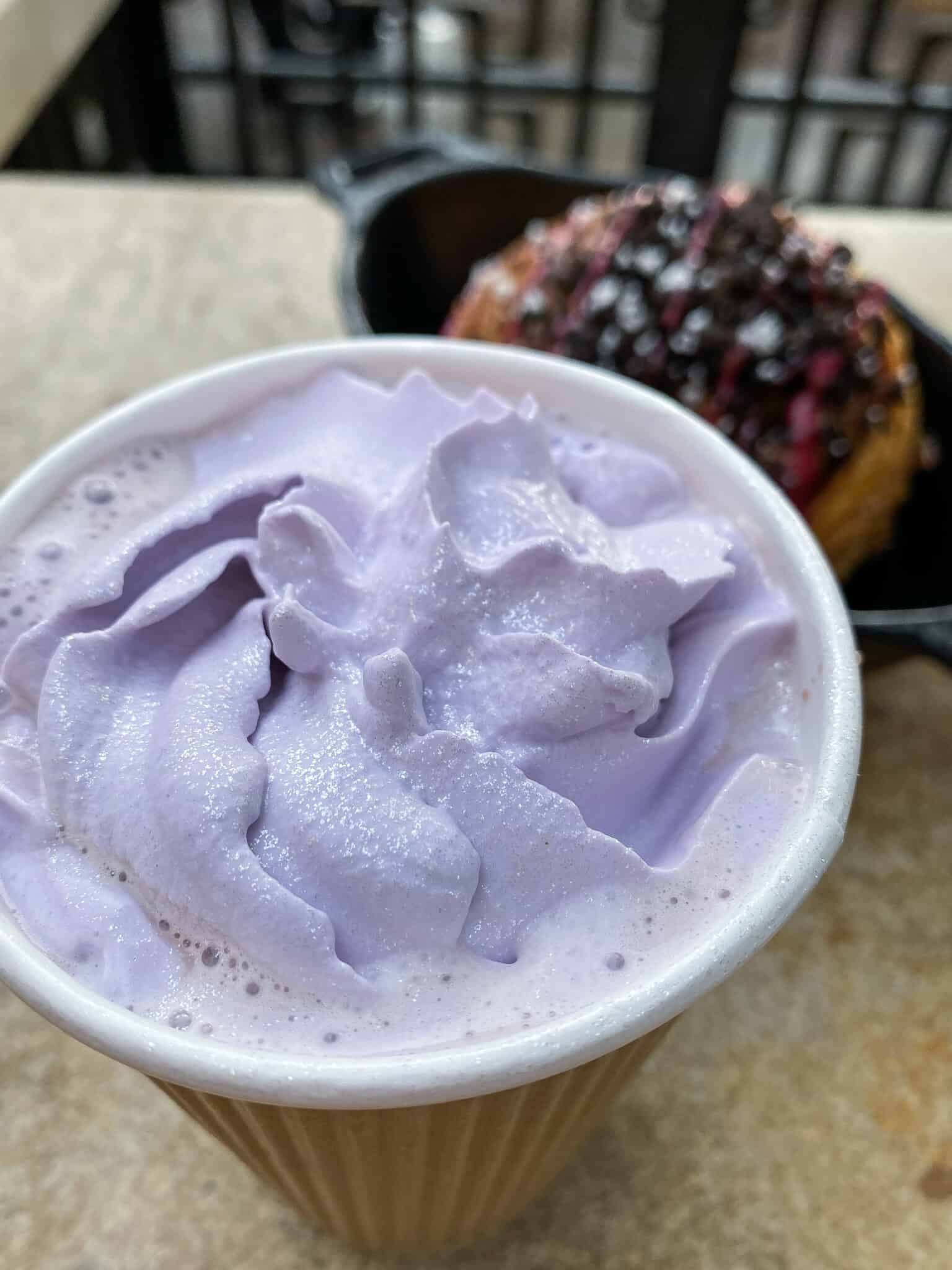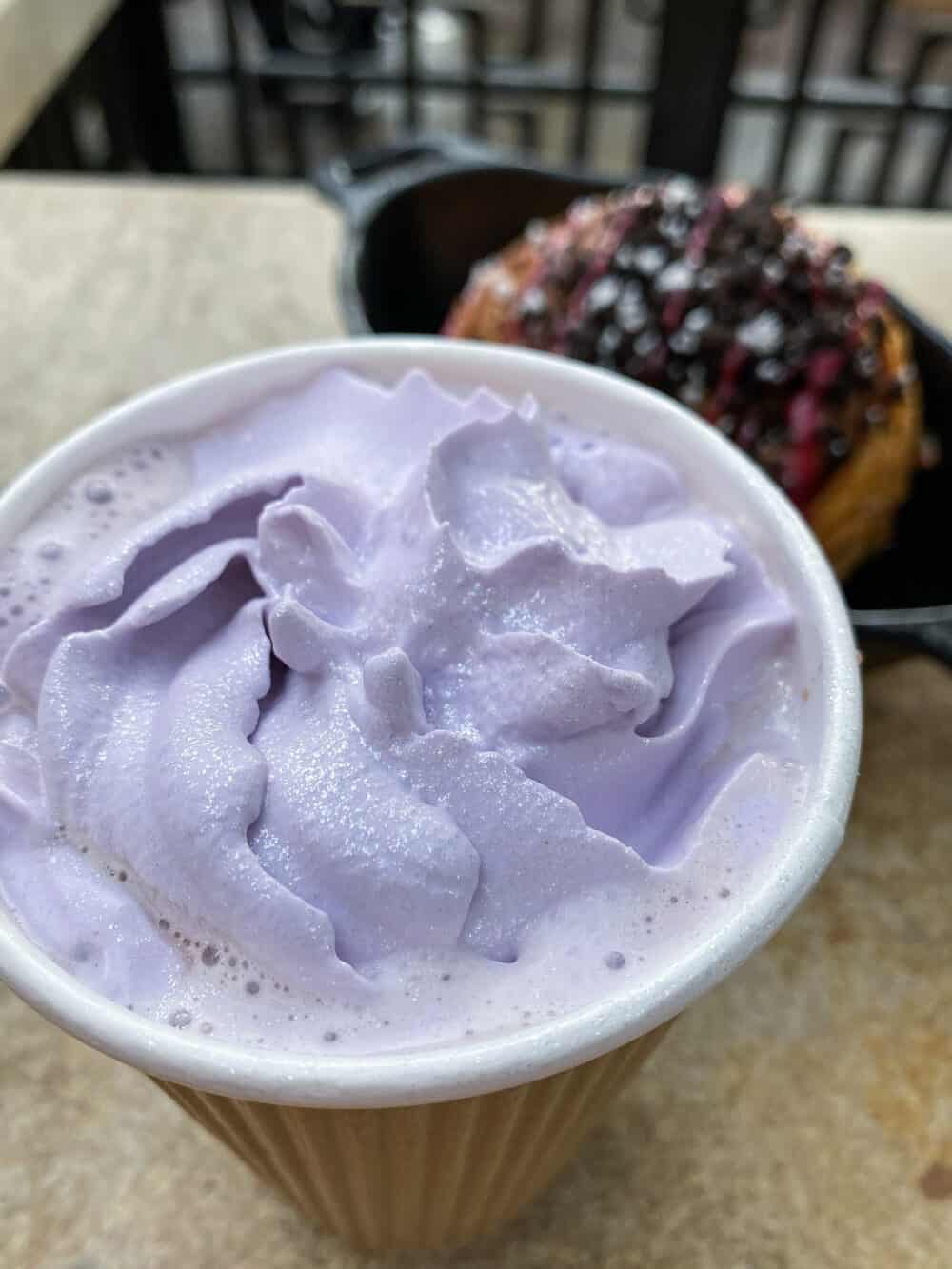 Black Spire Hot Chocolate
Creamy Hot Chocolate with hints of orange and spices. It's delicious and creamy for $3.79
All Day Entrees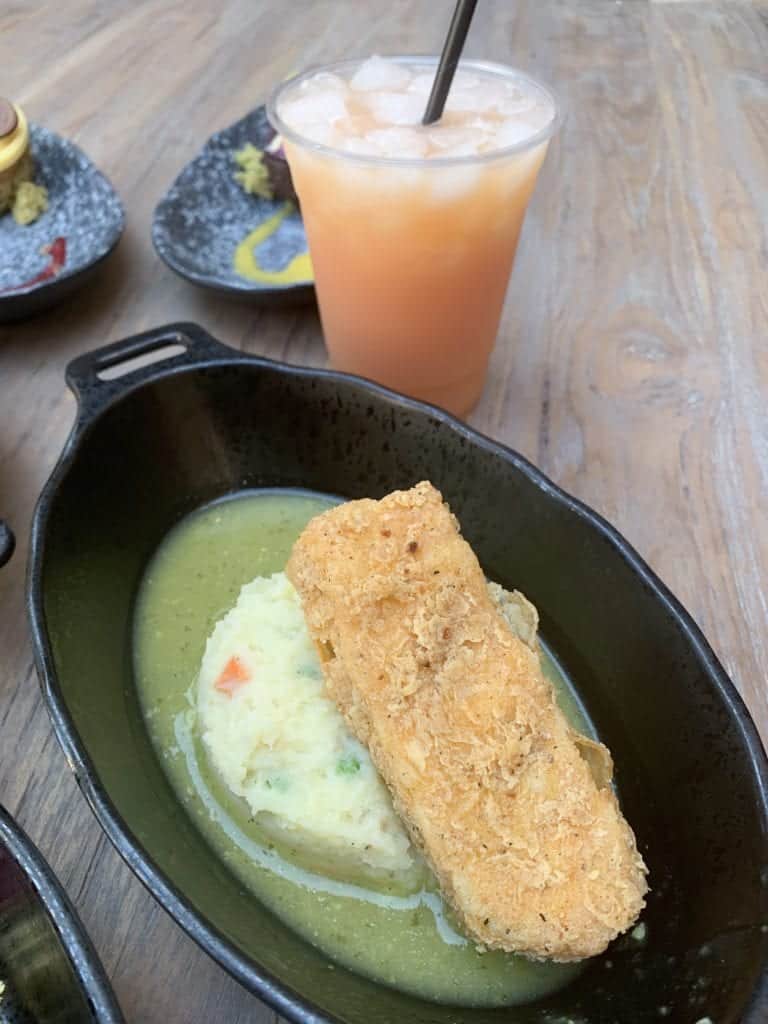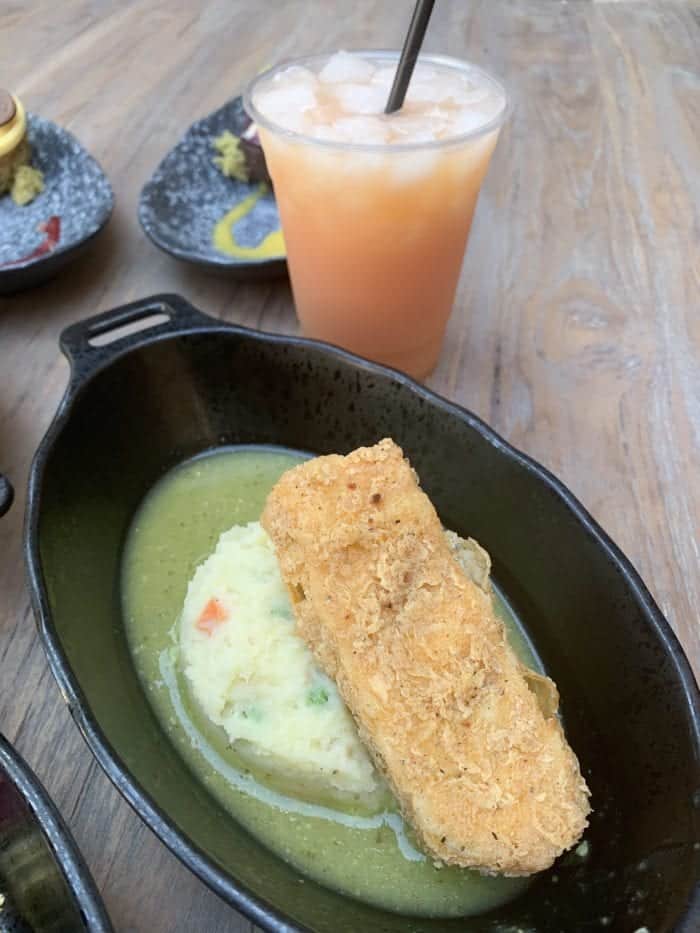 Endorian Fried Chicken Tip-Yip $15.49
Here's a better look at the Crispy Chicken, Roasted Vegetable Potato Mash and Herb Gravy. I really enjoyed the flavors of this dish. The chicken is thick and tender with a light crispy tempura like outside coating. The mashed potatoes were nicely seasoned and the herb sauce reminded me of thin salsa verde/tomatillo sauce. I preferred my bites of chicken with a little mashed potato dipped in the sauce. I give this one an 8/10.
Moof Juice $5.49
The Moof Juice is made of: Simply Fruit Punch®, Simply Orange® with Pineapple, and Chipotle-Pineapple. This was good, not mind blowing. Glad I got to try it, but most likely won't order again. Sweet and tasty, but I'd prefer my Coke Zero. I give it a 7/10.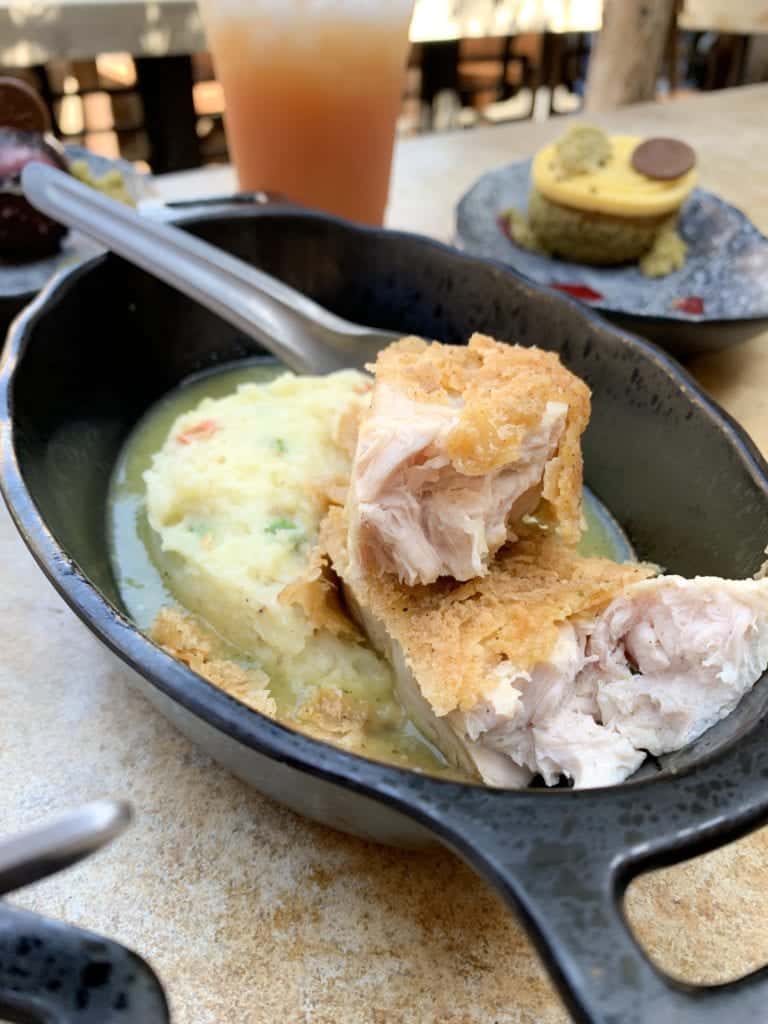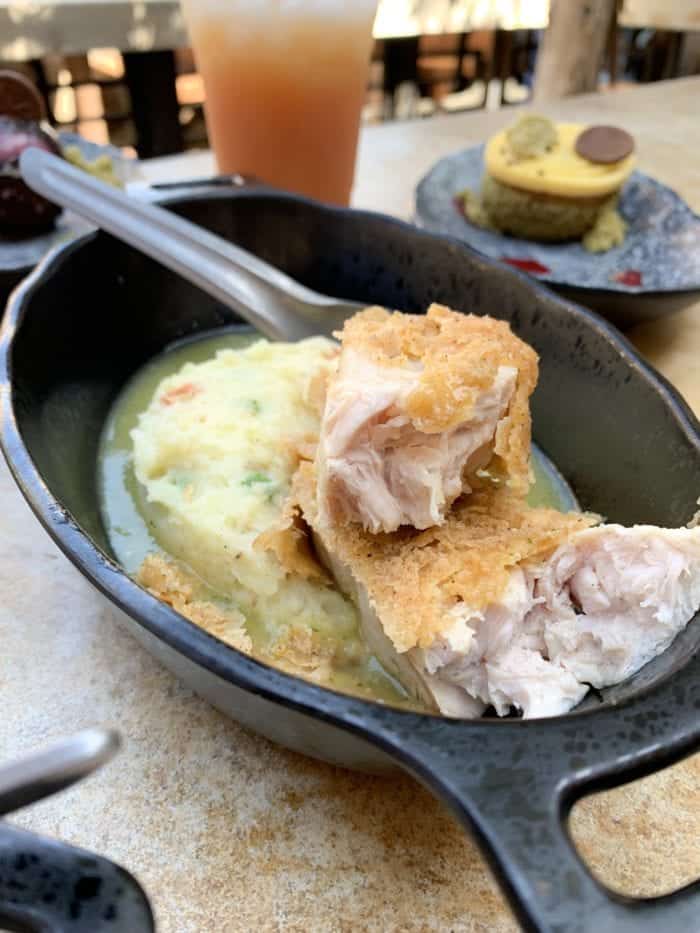 Here's a better look at the inside of the chicken of the Fried Endorian Tip-Yip.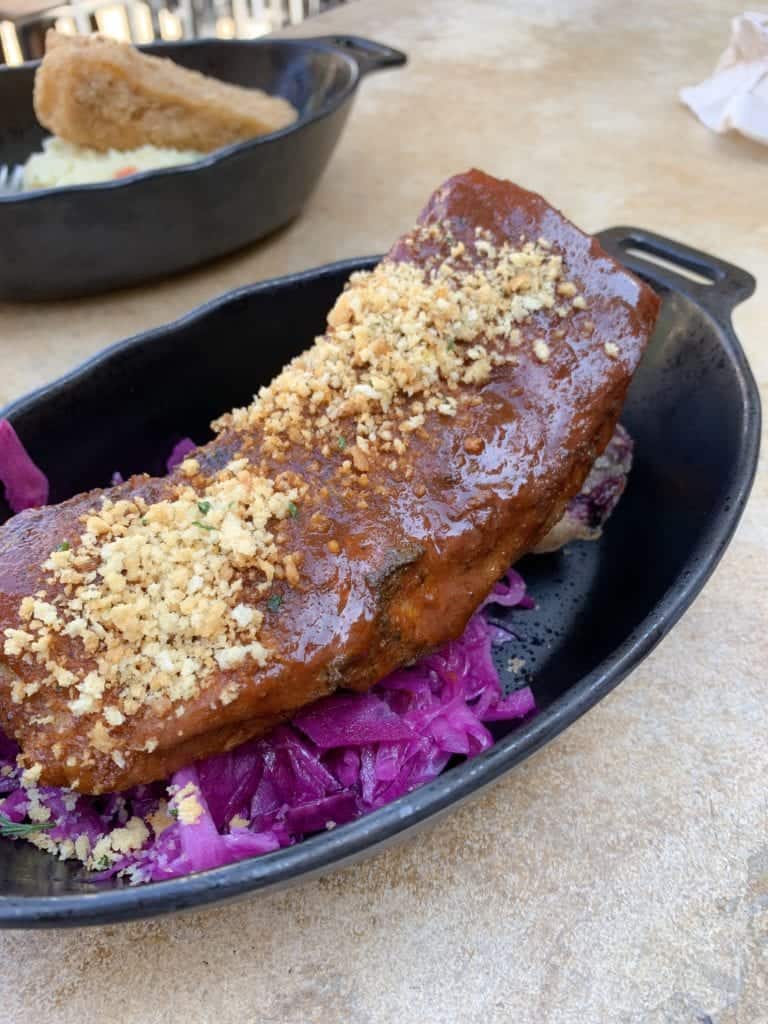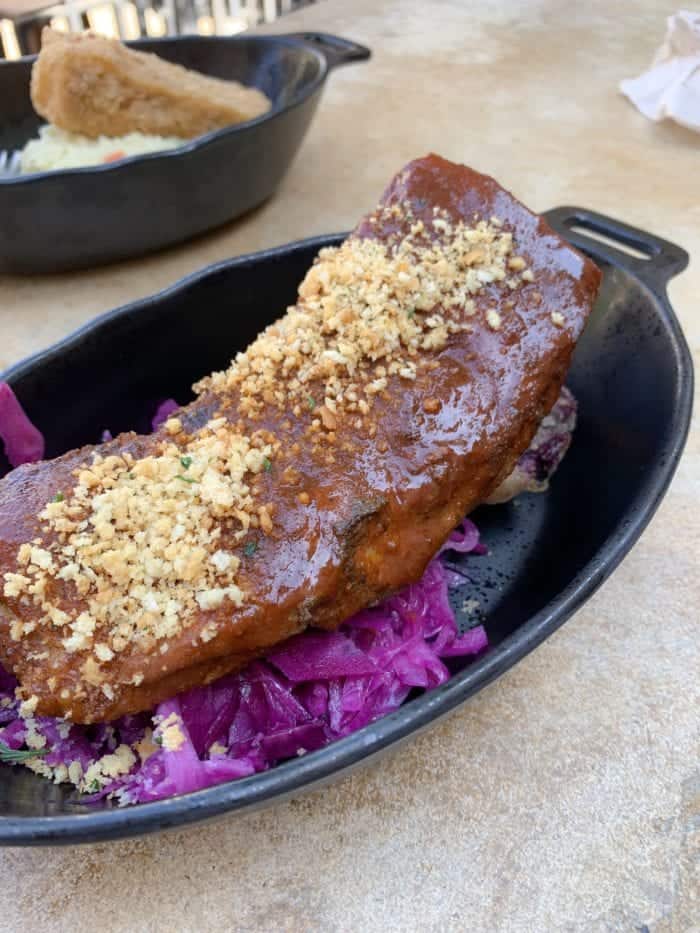 Smoked Kaadu Ribs $16.99
Sticky Pork Ribs, Blueberry Corn Muffin and Cabbage Slaw. This was good, but because they were so messy to eat and we didn't have a knife, it was my least favorite of the entrees. the cabbage slaw and muffin were amazing. I'll give this one another try and hunt down a knife to help the process. This one gets a 7/10 rating in hopes it goes up next time 🙂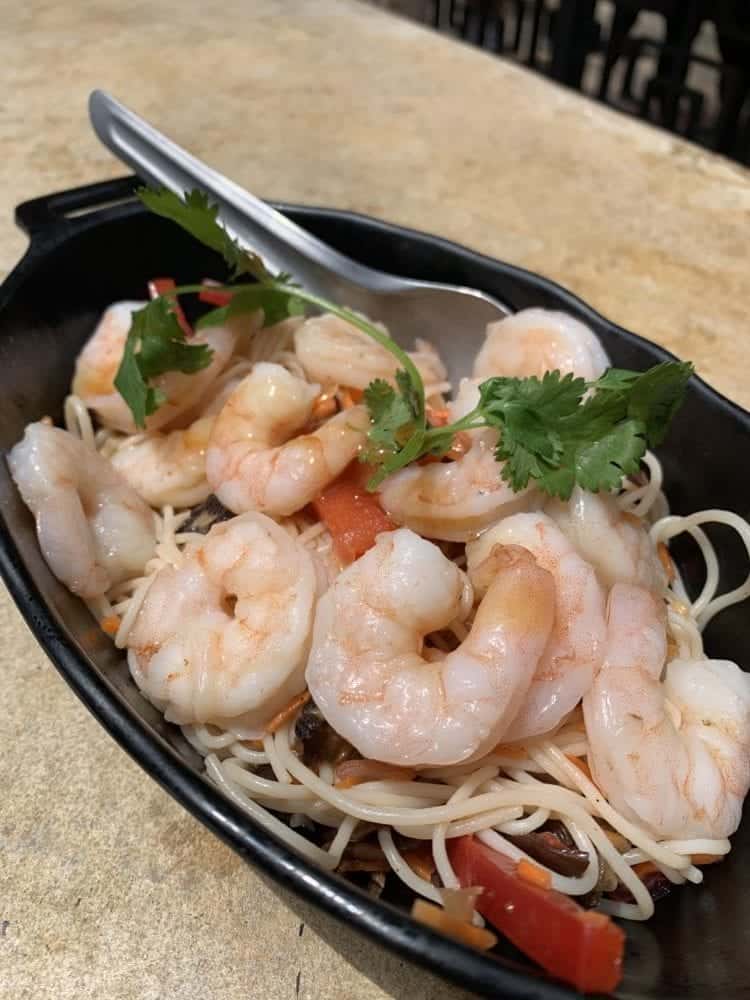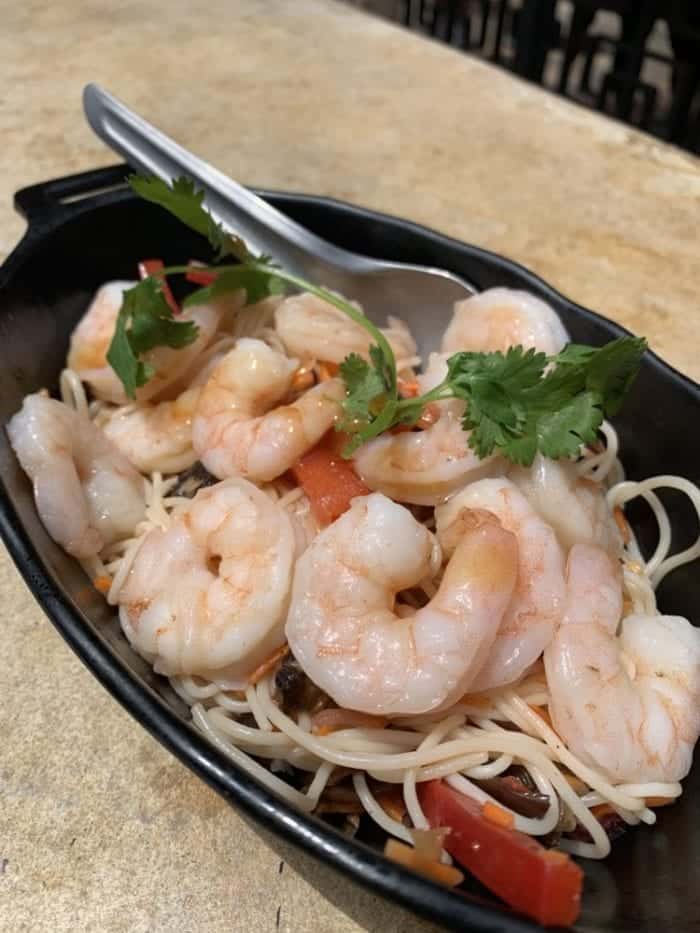 Yobshrimp Noodle Salad $15.99
Chilled Shrimp, Marinated Noodles, Vegetables, Cilantro. Loved this one!!
Lunch Menu Only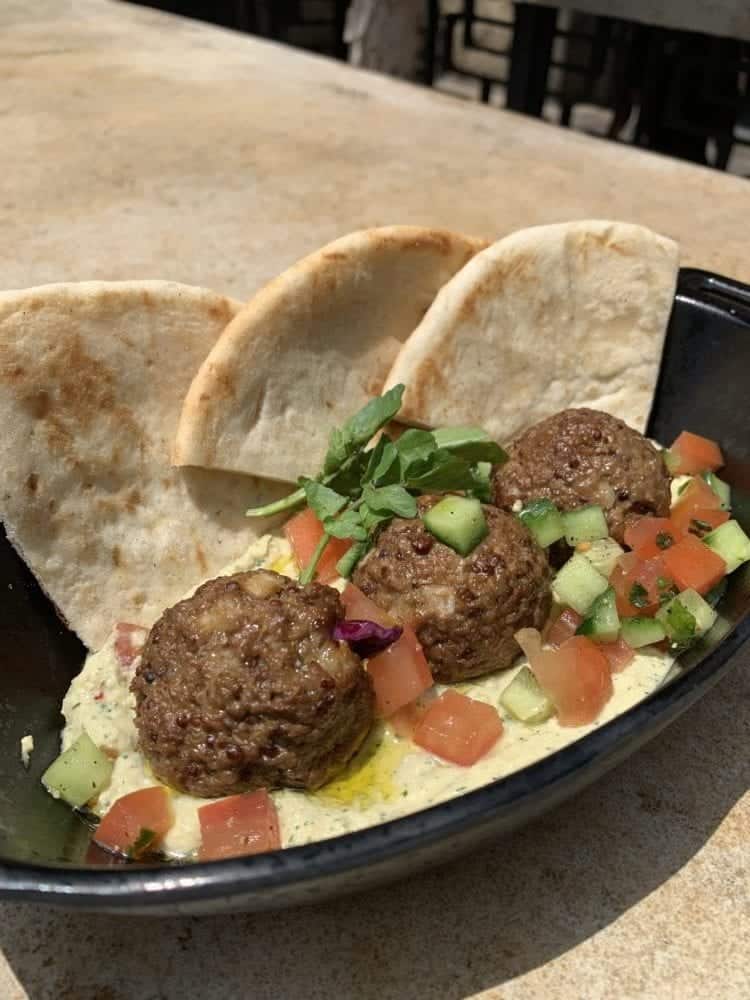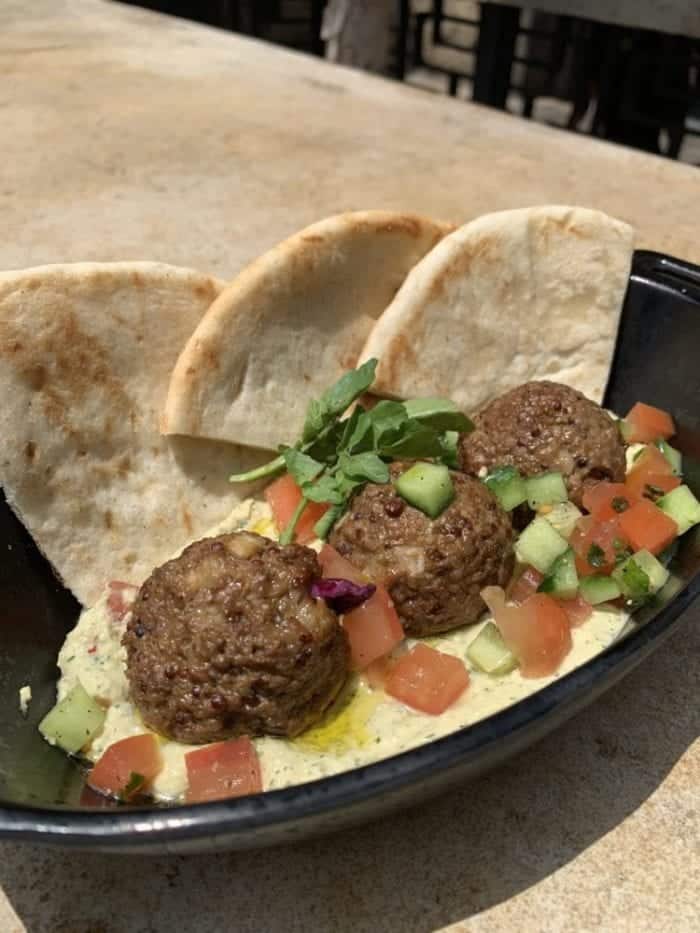 Felucian Kefta & Hummus Garden Spread $12.99
Plant-based "Kefta", Herb Hummus, Tomato-Cucumber Relish, Pita. This was really delicious. Would order again for sure.
Dinner Menu Only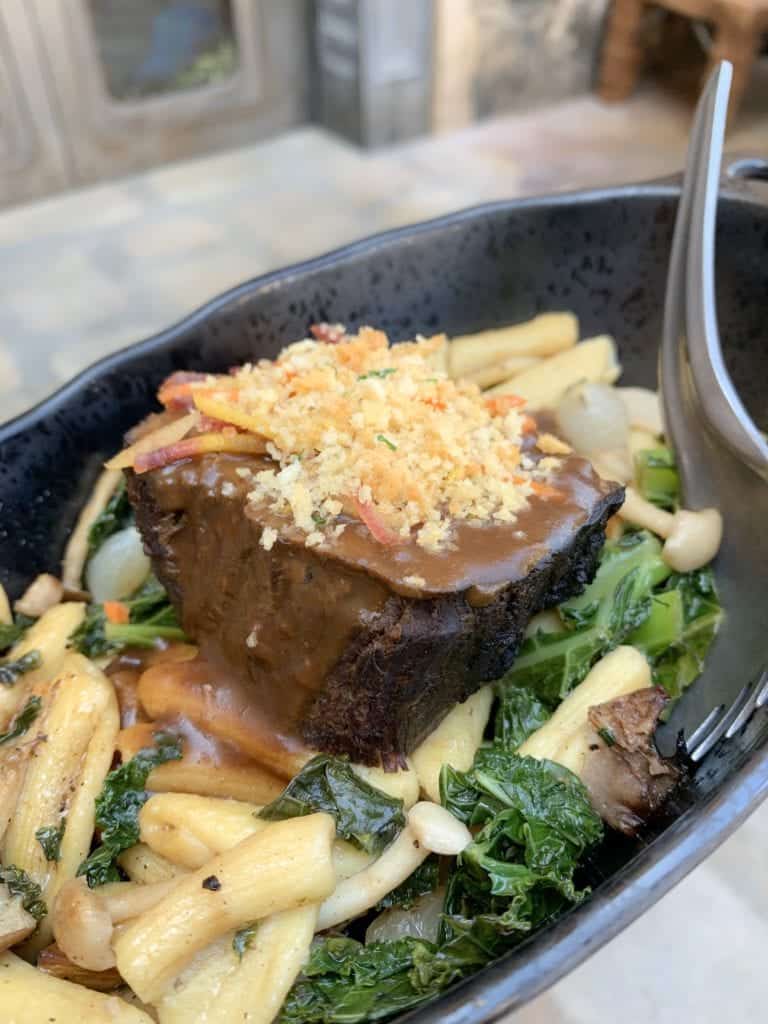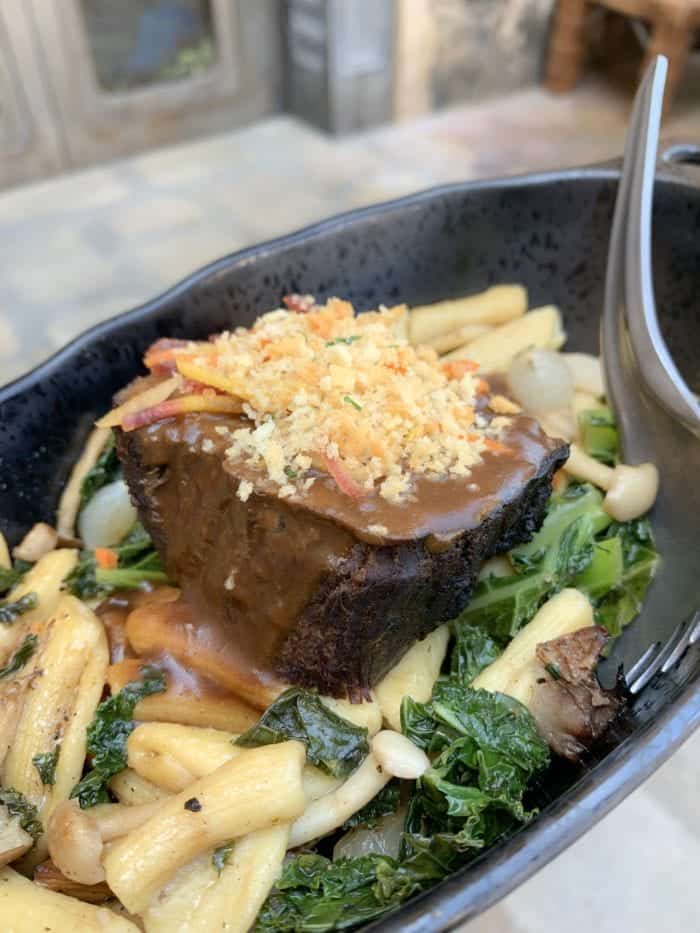 Batuuan Beef Pot Roast $18.99
My favorite of the three entrees we ordered was by far the Batuuan Beef Roast. Description: Beef Pot Roast, Cavatelli Pasta, Wilted Kale, and Mushrooms. It was tender, perfectly flavorful and loved the pasta underneath. I'd definitely order again. 10/10 rating from me.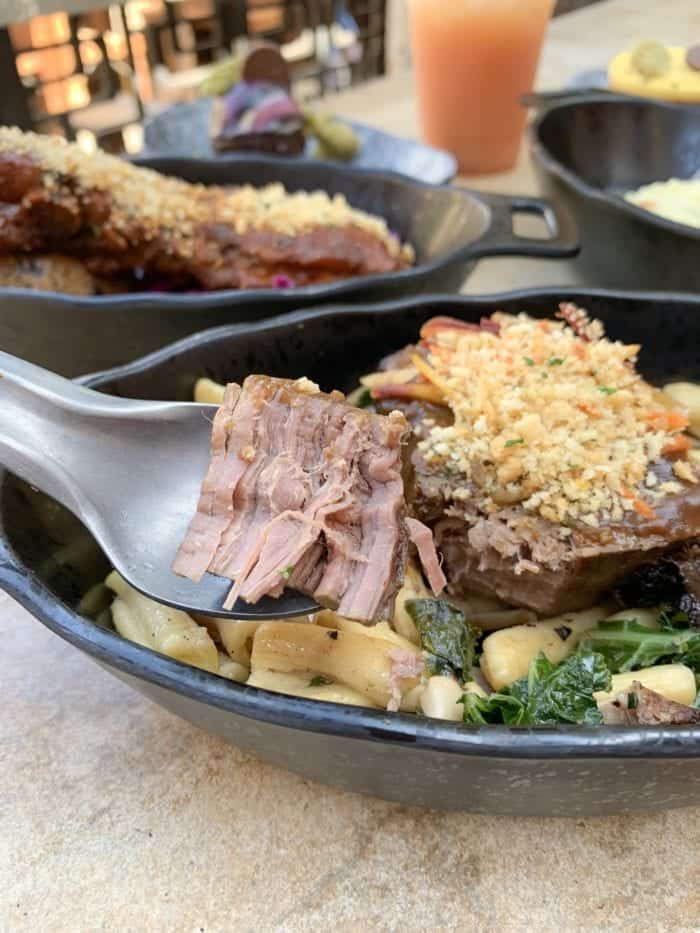 Here's a better view of the Roast. All of the flavors were spot on.
Kids Meal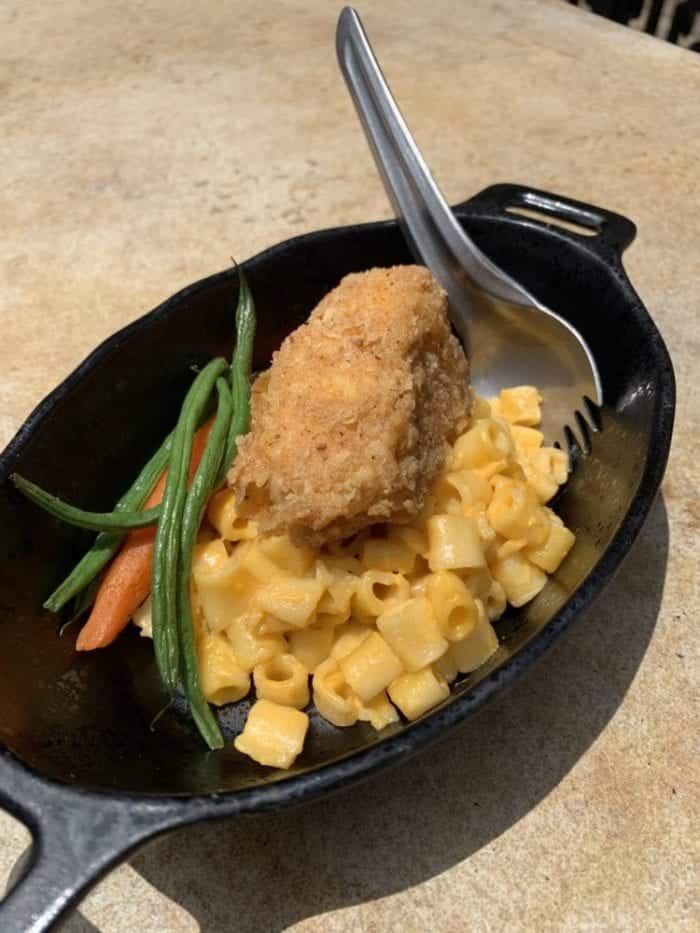 Fried Chicken Tip-Yip Youngling Meal $9.99
Crispy Chicken, Macaroni and Cheese and Seasonal Vegetables served with choice of Small Lowfat Milk or Small Dasani® Water. This one was great too! It's a simple mac and cheese, but tasty.
Desserts at Docking Bay 7 Food and Cargo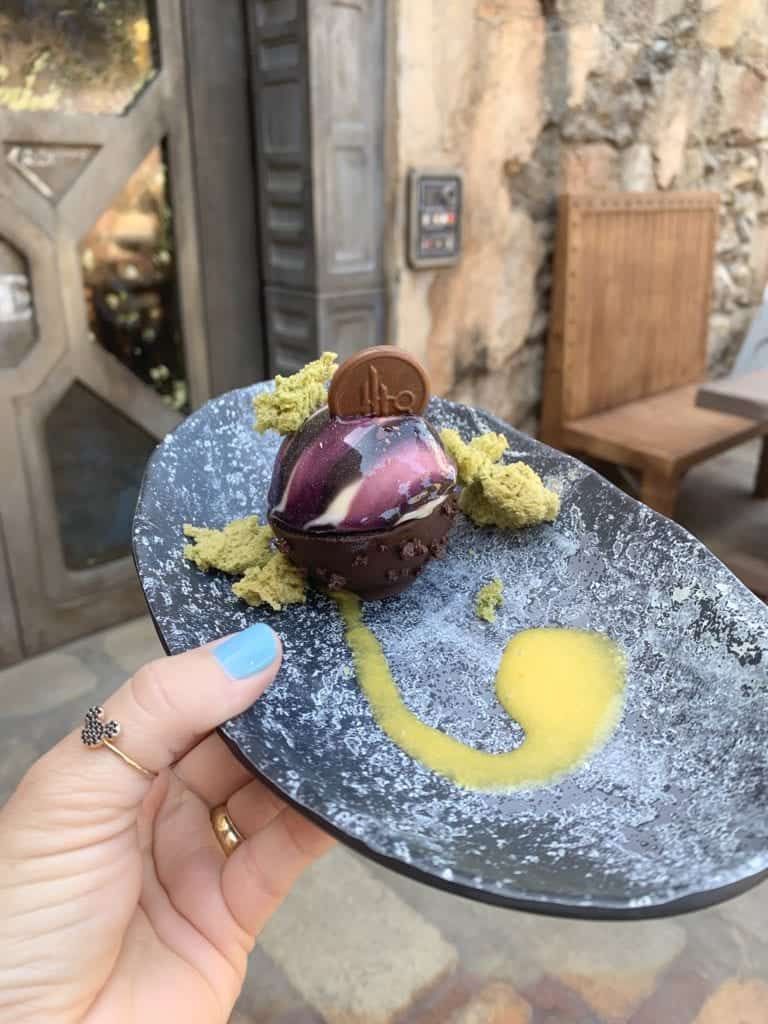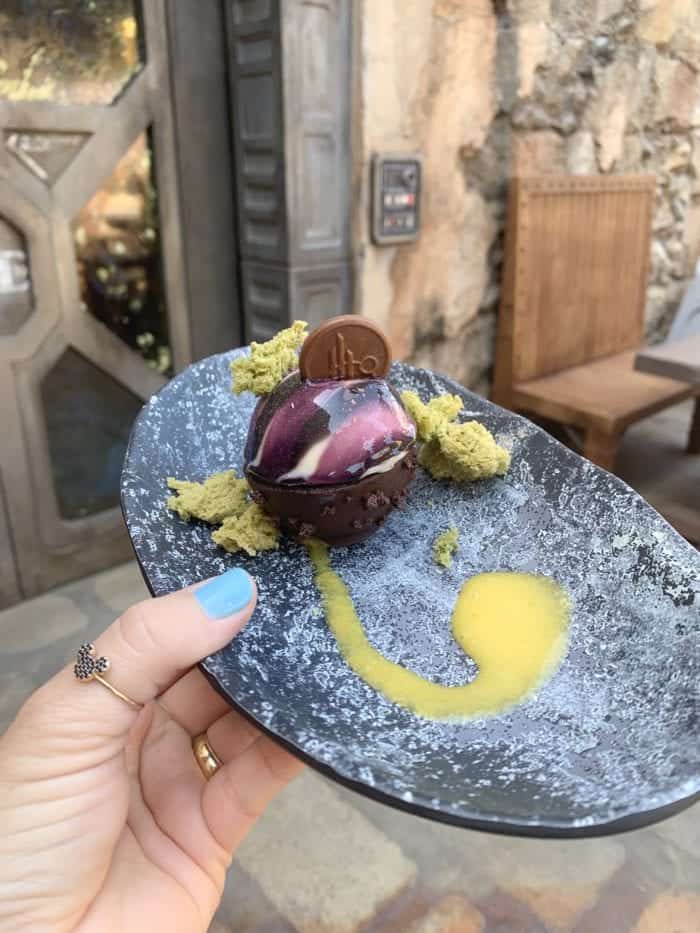 Batuu-bon $6.99
My FAVORITE was hands down the Batuu-bon. Chocolate Cake, White Chocolate Mousse and Coffee Custard. I didn't get much coffee flavor coming through. These flavors were perfection. Will be ordering this again very soon.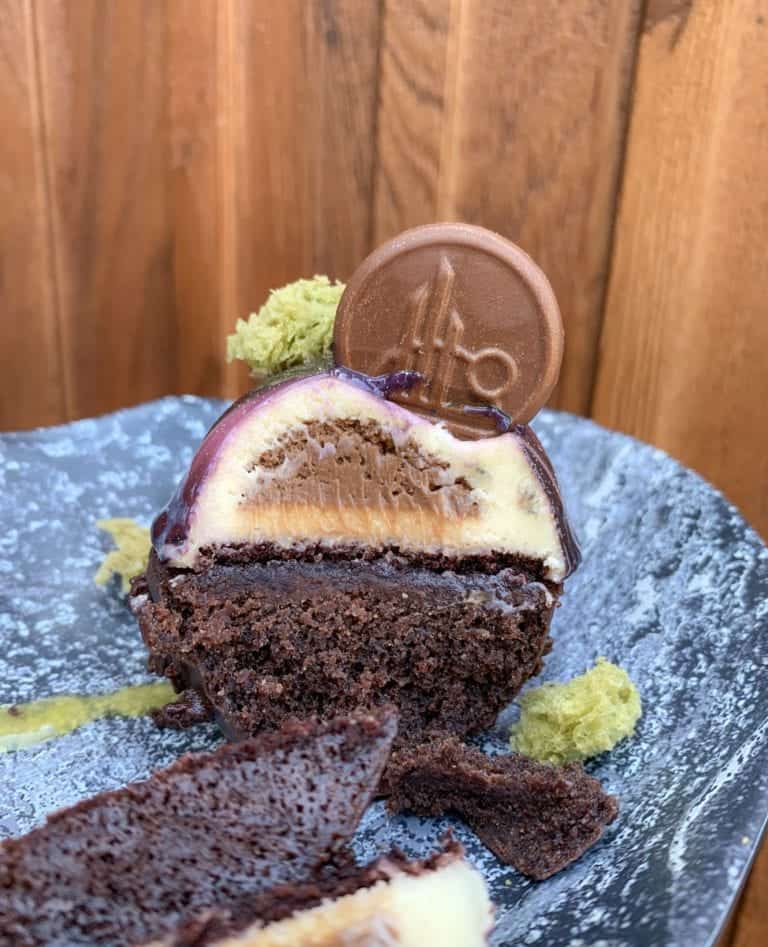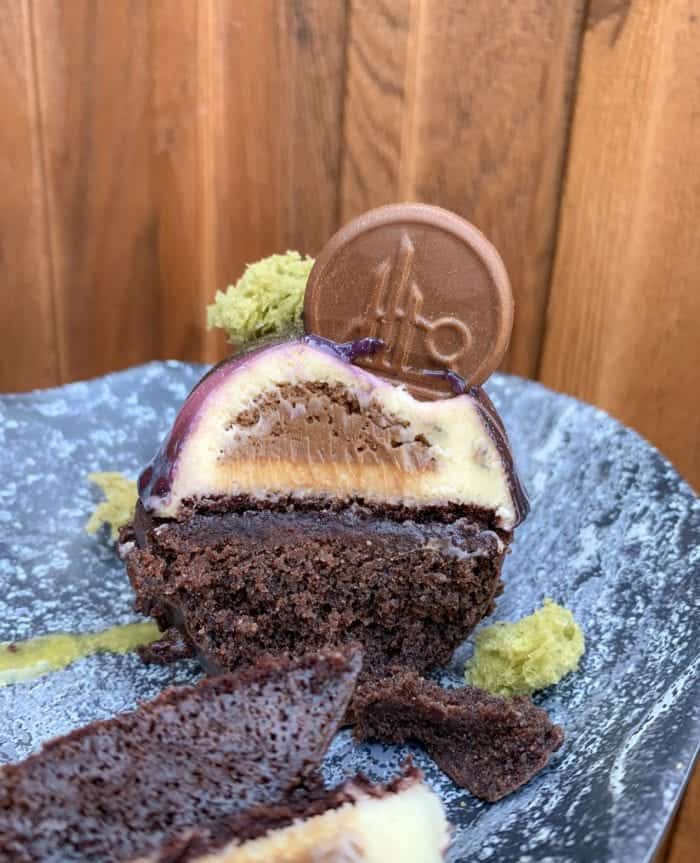 A look at the inside of the Batuu-bon. How delicious does this look?!!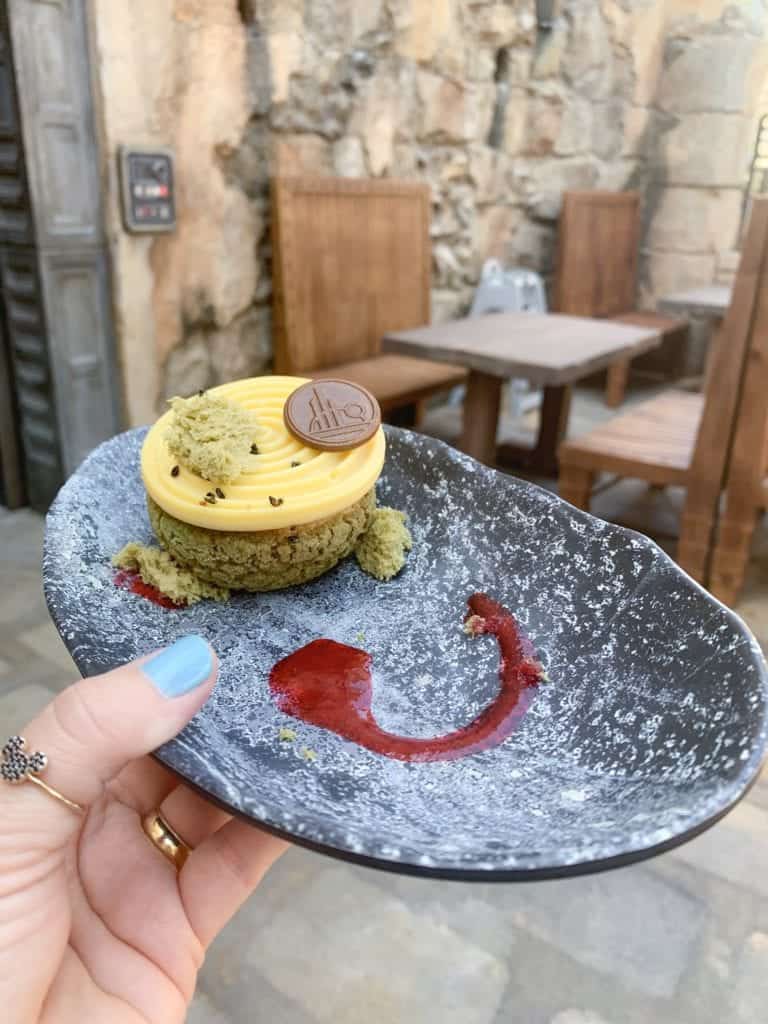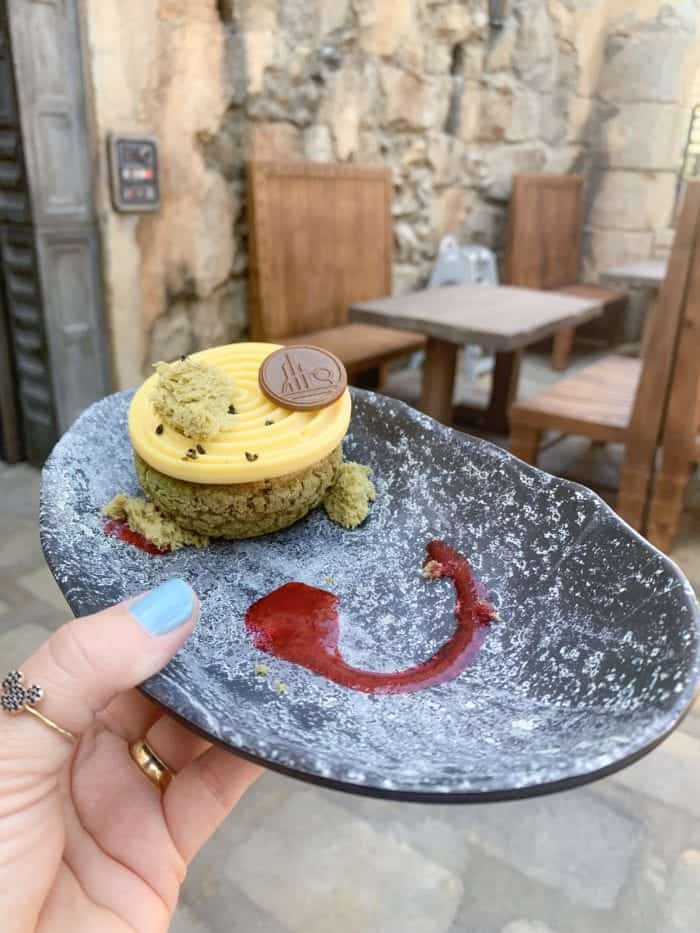 Oi-Oi Puff $6.49
Still a delicious option is the Oi-Oi Puff. It's a Raspberry Cream Puff with Passion Fruit Mousse. I'm more of a chocolate girl, but I will say this was tasty too!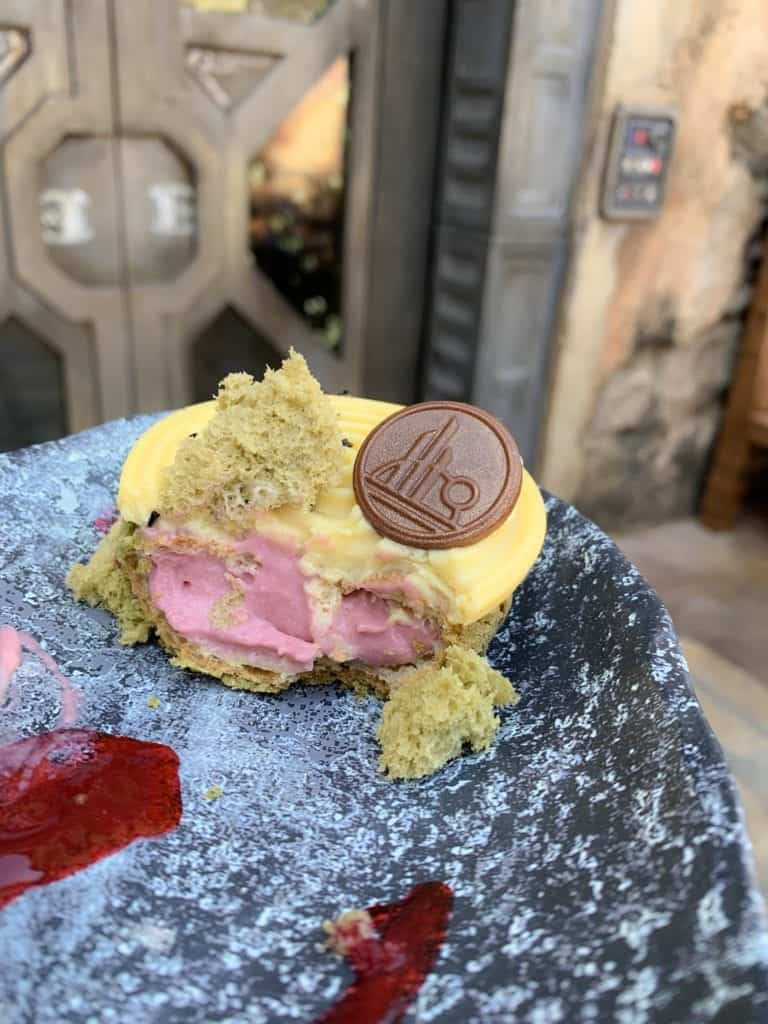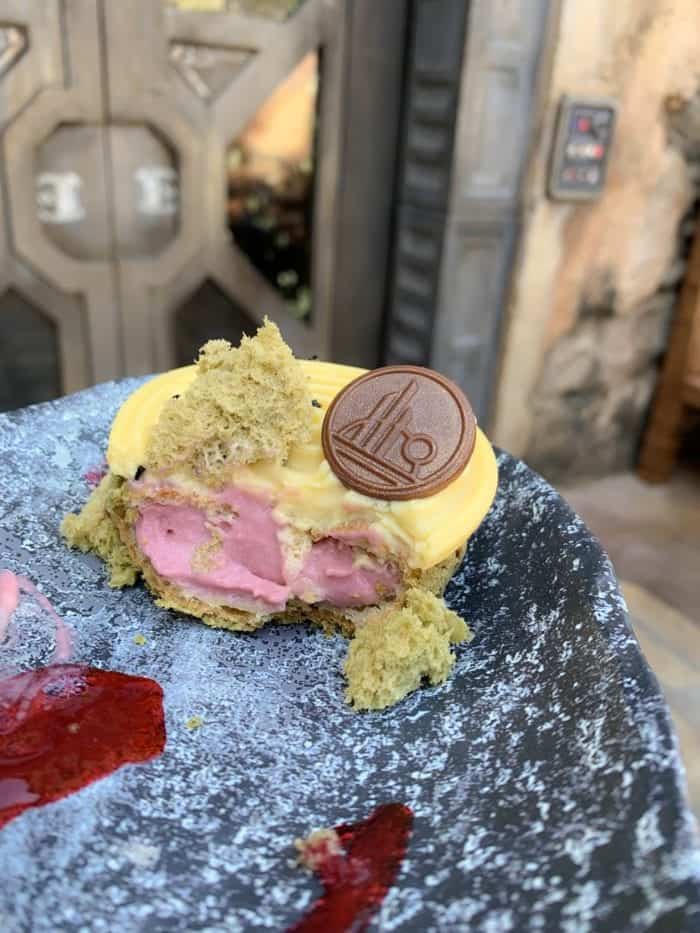 A look at the inside of the Oi-Oi Puff.
Tour of Inside Docking Bay 7 Food and Cargo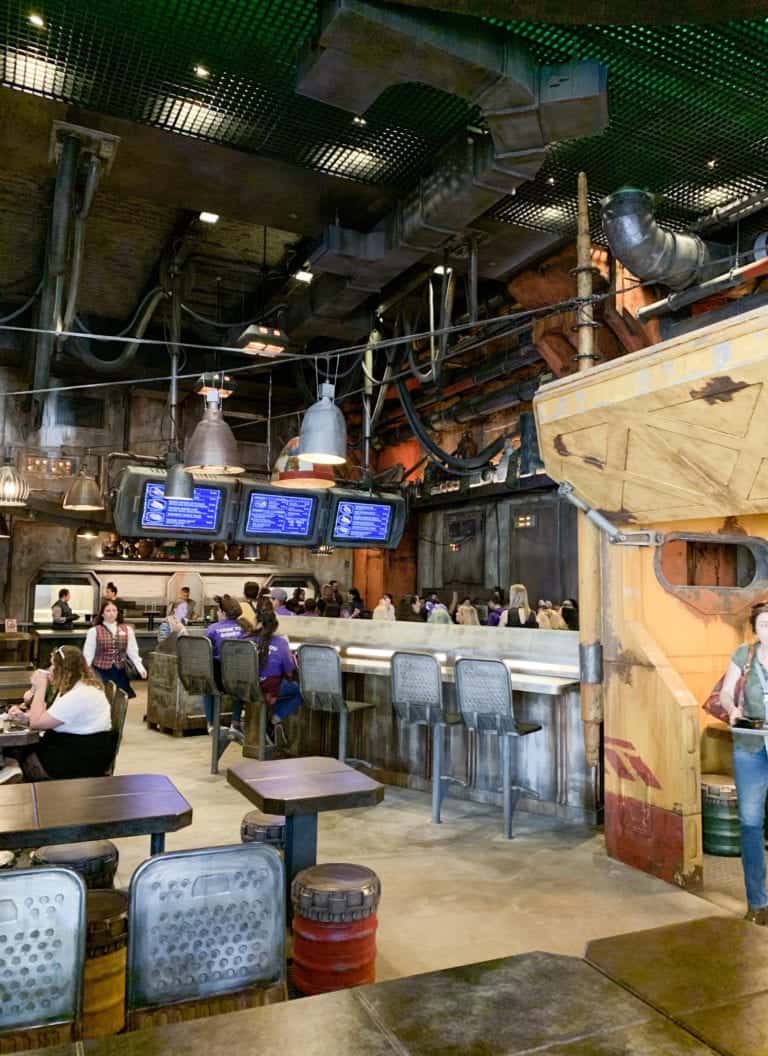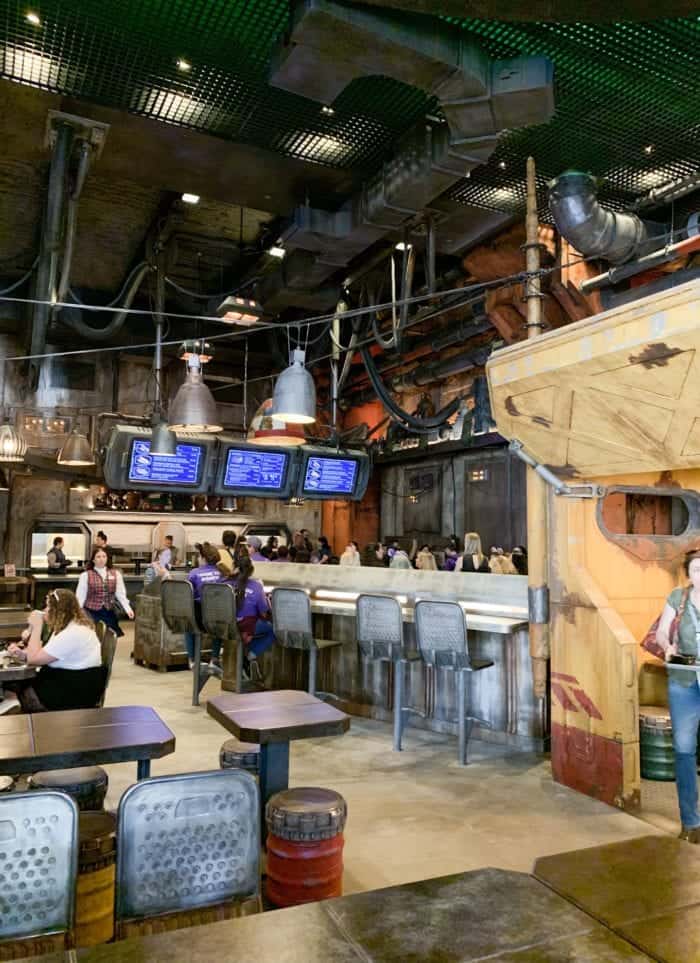 Lots of indoor seating….pretty awesome atmosphere too.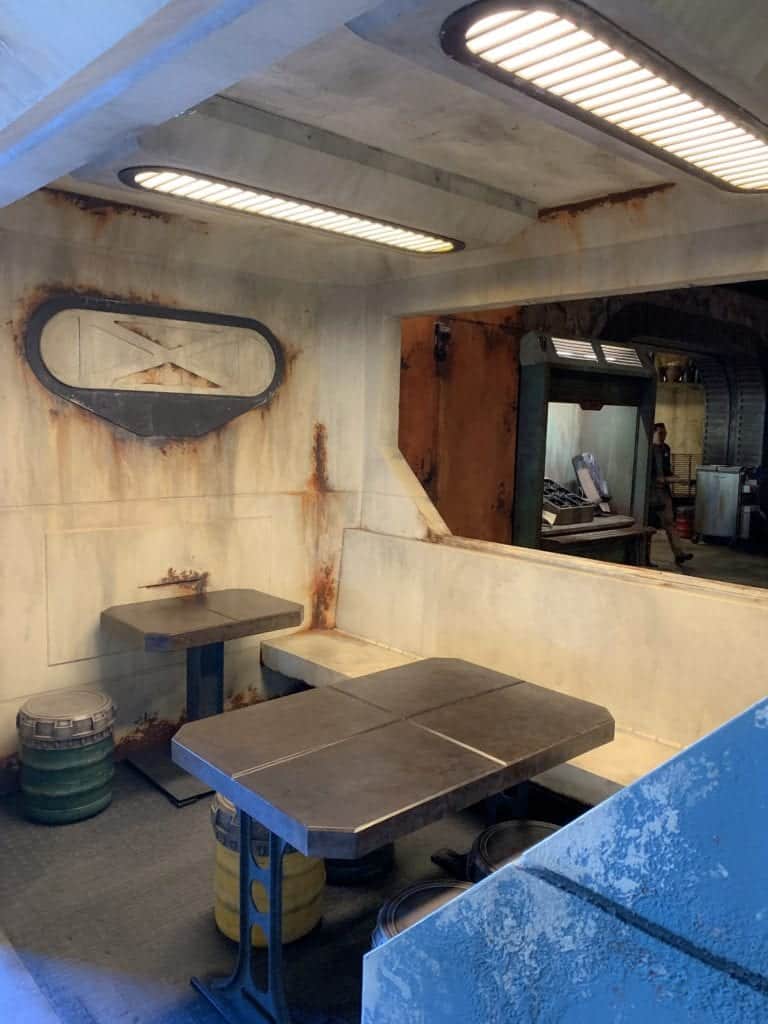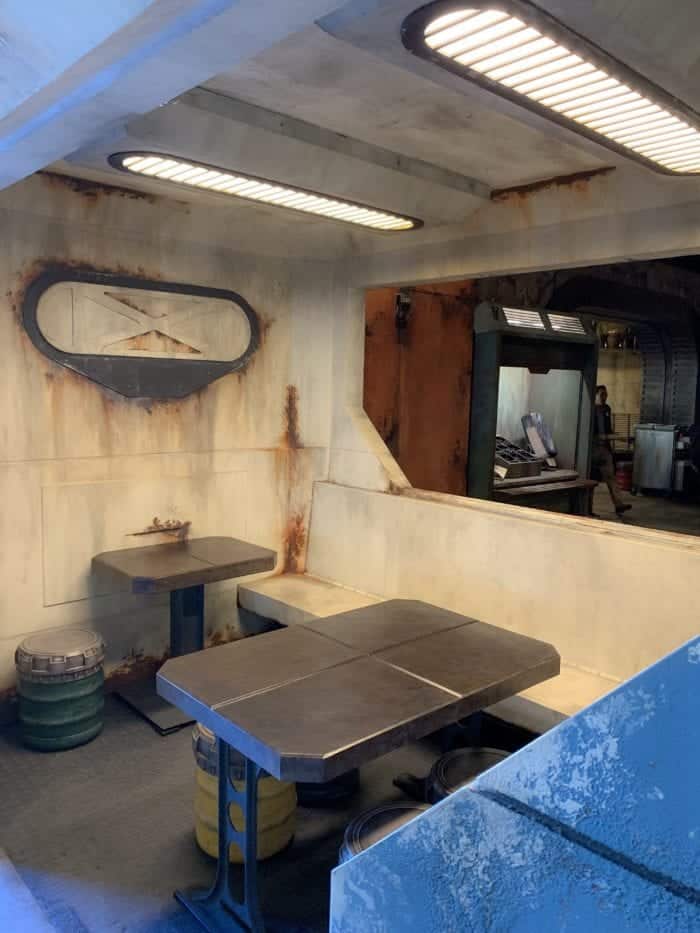 Loved this private little table area in the open dining room.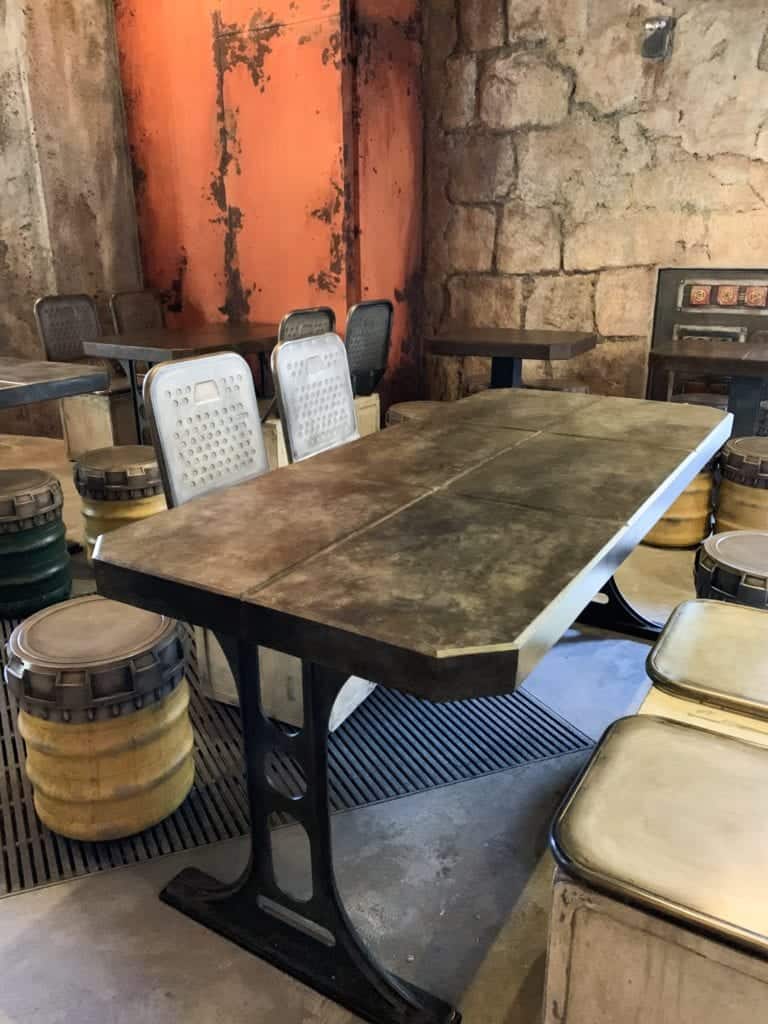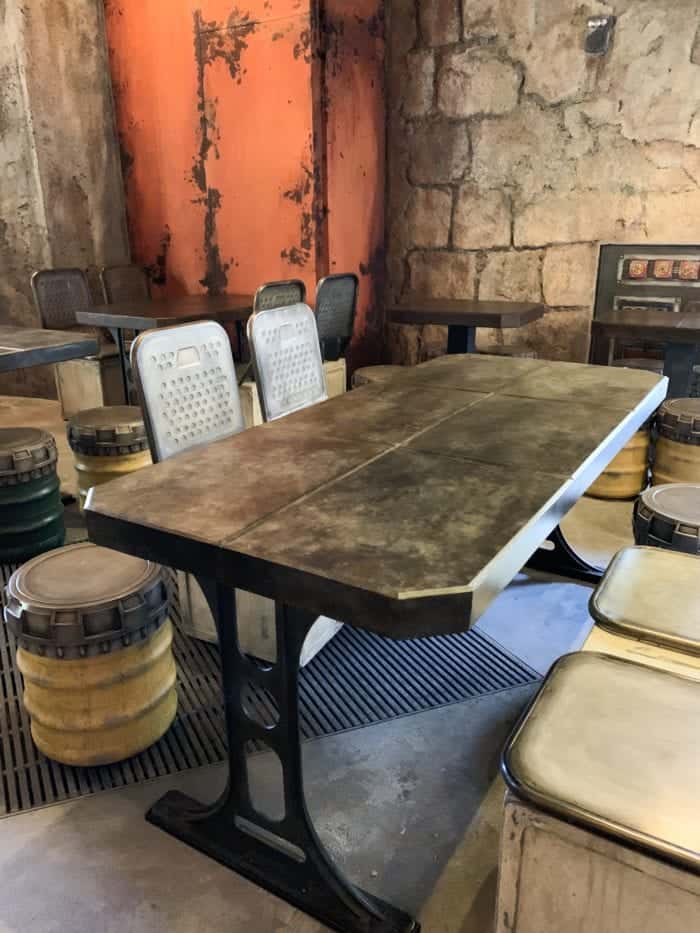 Details are spot on.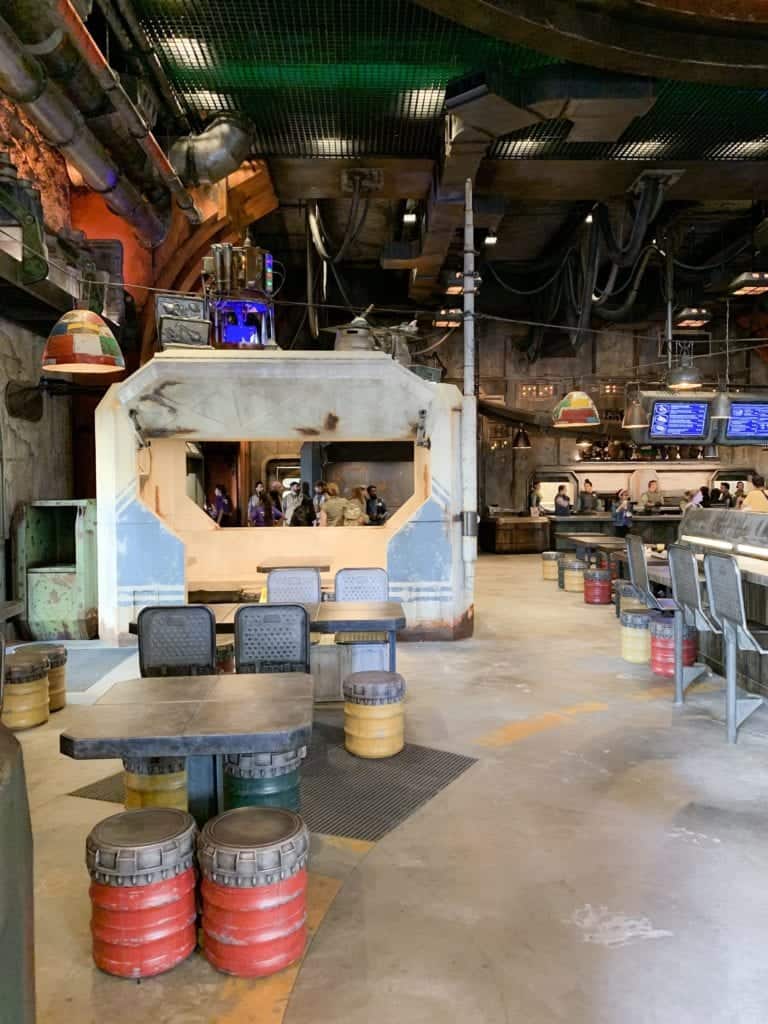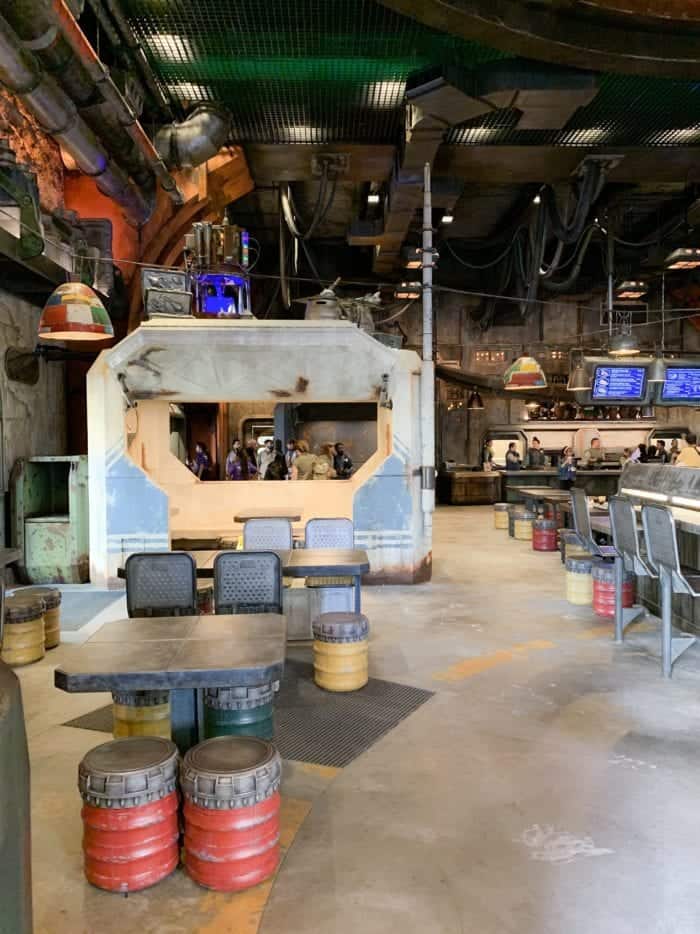 Those stools. Make sure you walk around to see all of these fun details.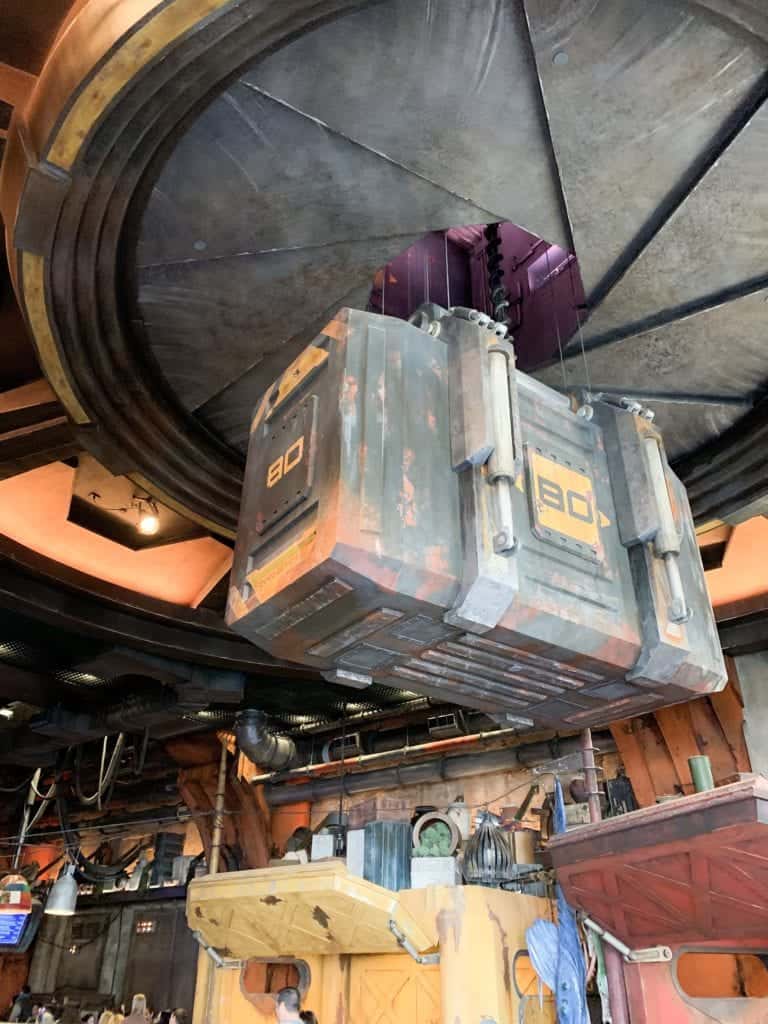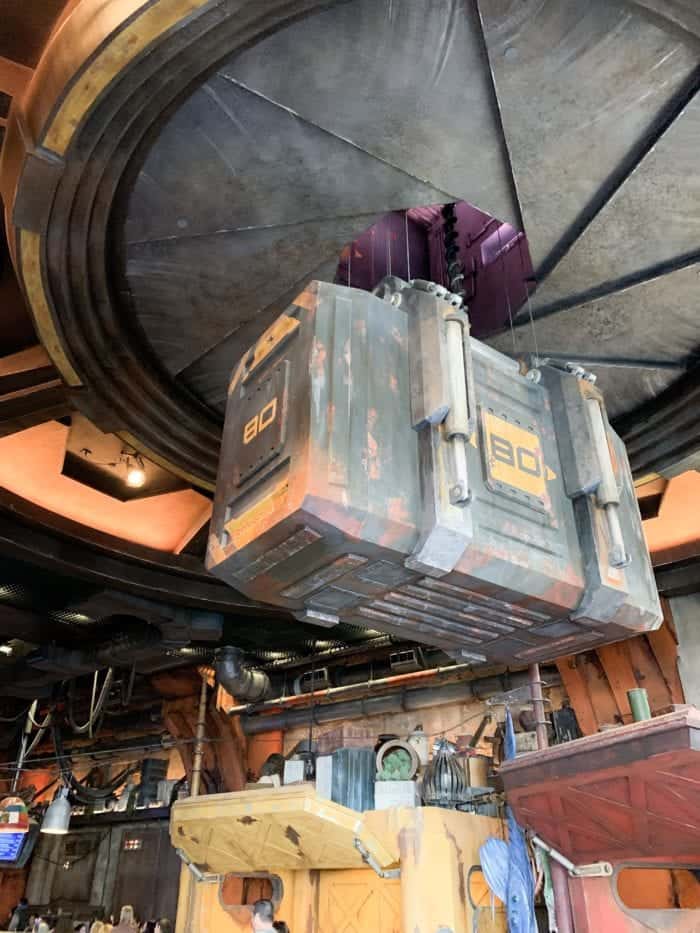 Don't forget to look up too. More details overhead.
Outside Seating at Docking Bay 7 Food and Cargo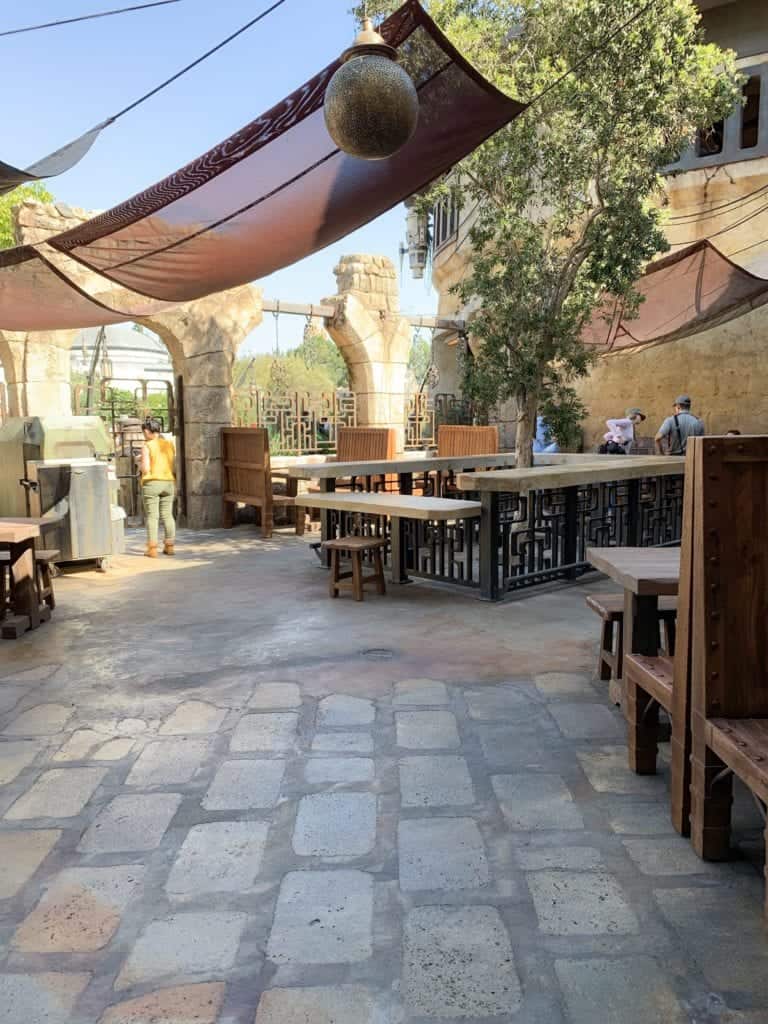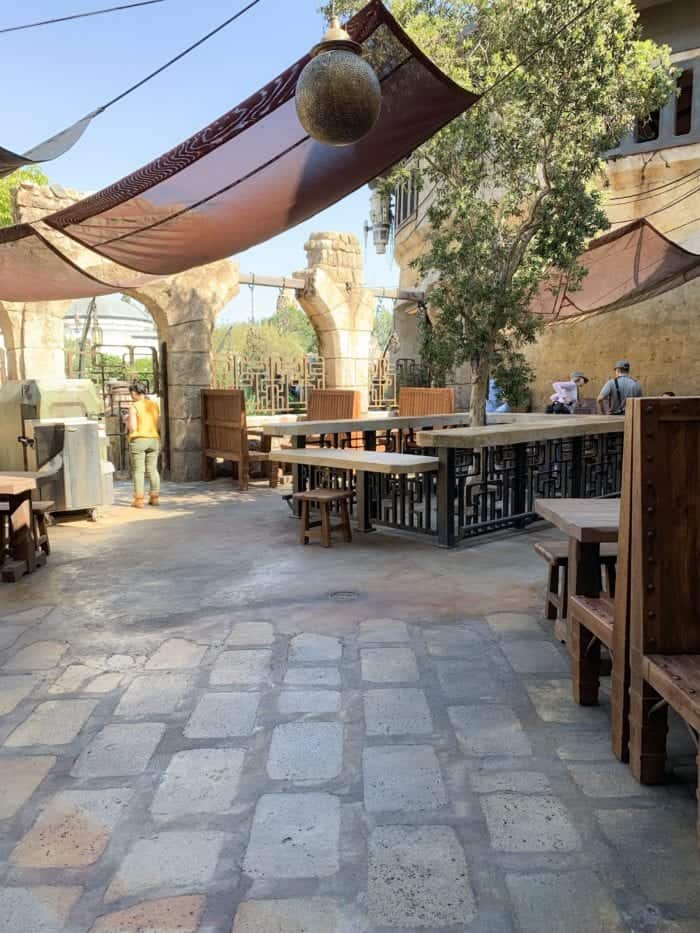 We enjoyed our meal outside and it's fantastic. Such a great space.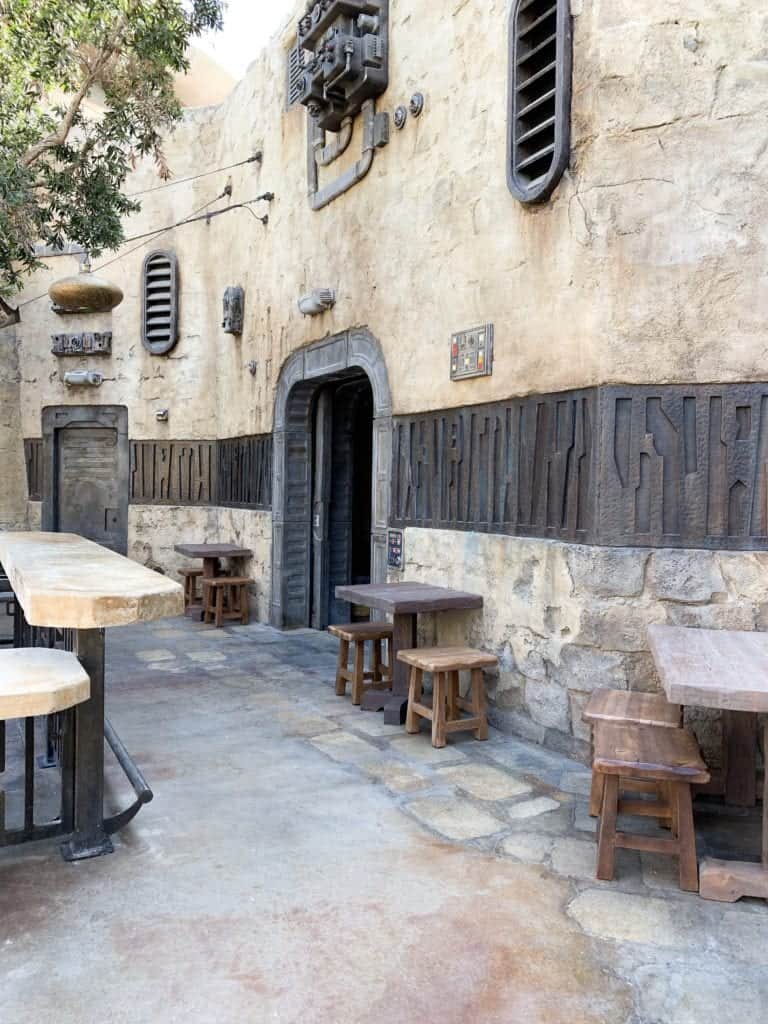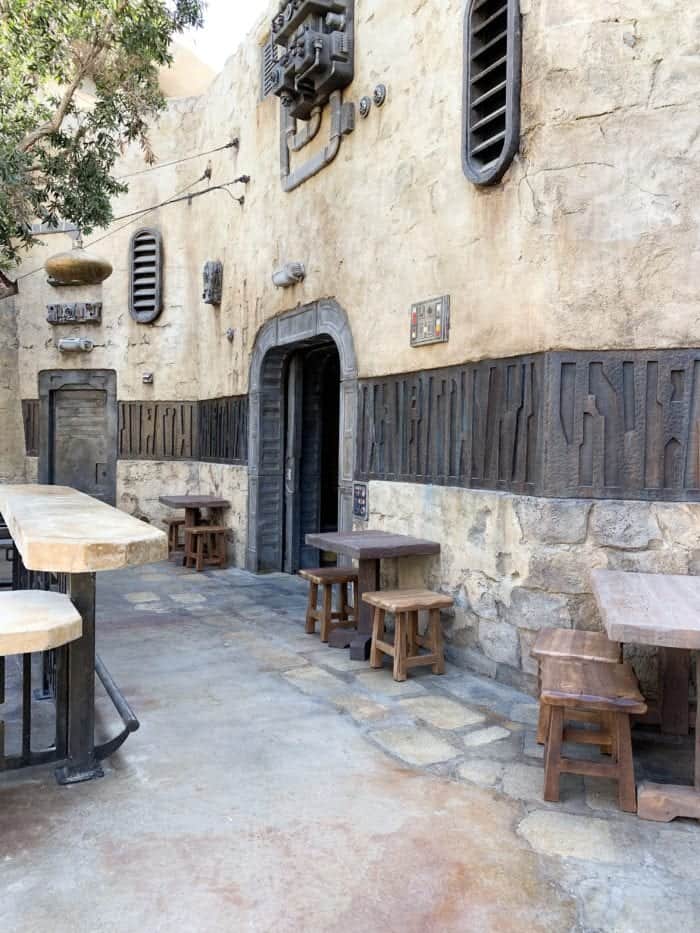 More views of the outside seating.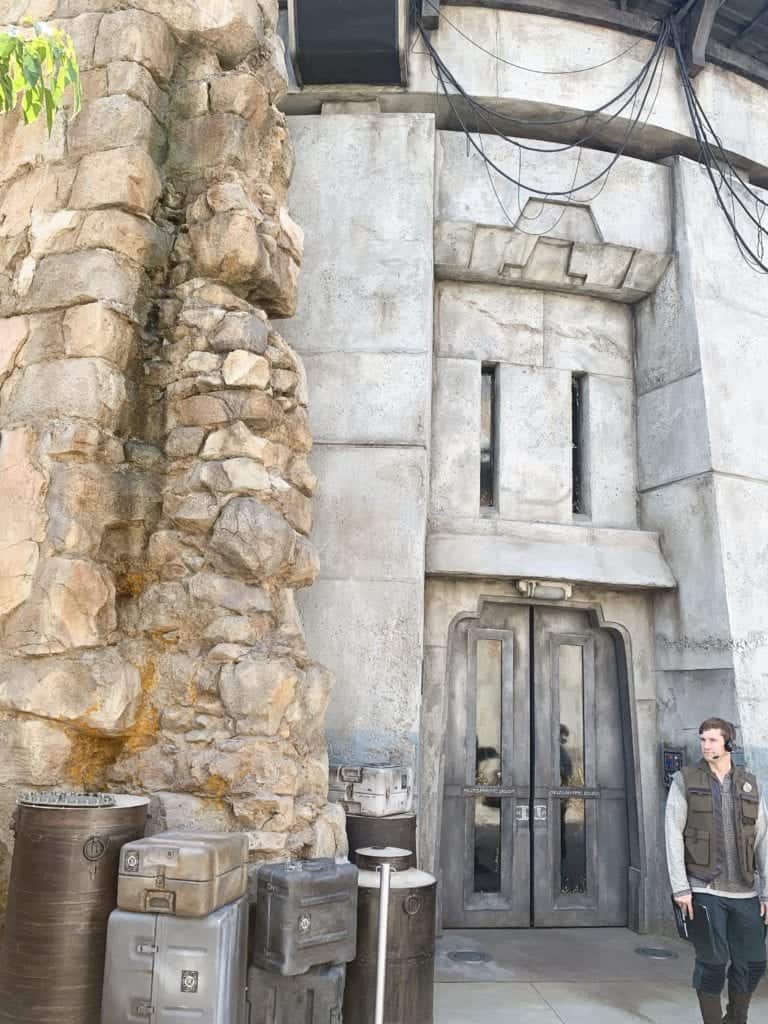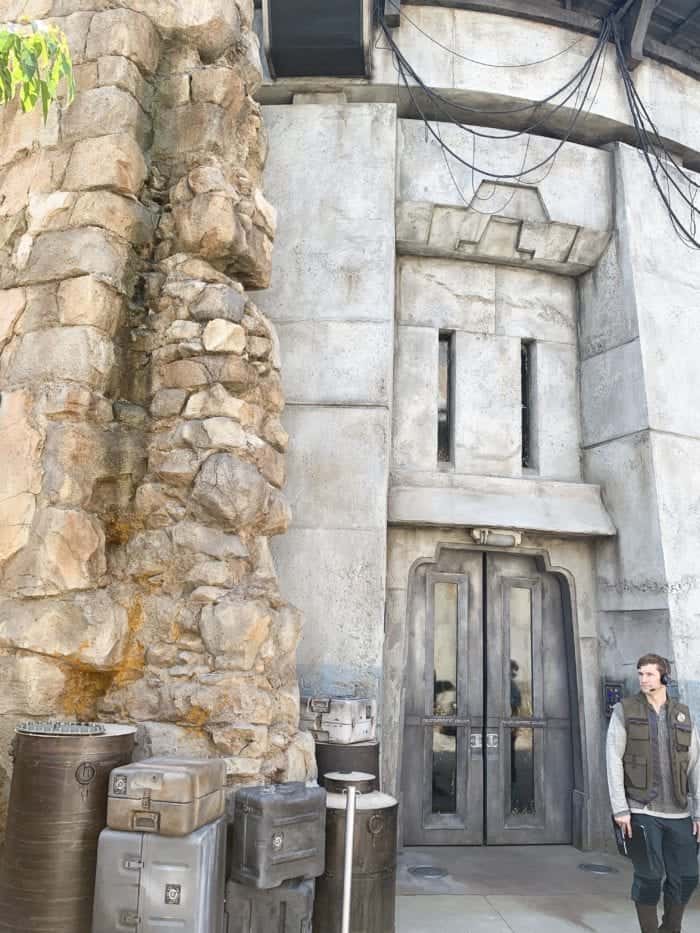 Hope you've enjoyed my review of Star Wars Galaxy's Edge Docking Bay 7 Food and Cargo. Some amazing menu items to choose from, I'll be adding to this post as I sample my way through every dish!
Disclosure: Disney provided my park ticket and gifted me a dining gift card for this Media Event, however thoughts and opinions are 100% my own.
Pin To Your Favorite Disney Board