Sharing my favorite brussels sprouts recipe today! These roasted brussels sprouts have such great flavor you'll forget they're healthy!
Brussels Sprouts Recipe
If you would have asked me a couple years ago to create a brussels sprouts recipe voluntarily, I would have started laughing hysterically. Brussels have a bad reputation for some reason for being one of those vegetables you don't want to have to finish before getting to leave the dinner table.
I'm telling you, this recipe will change your mind. As I stated, my husband couldn't stop eating these, and he doesn't even like Gorgonzola cheese. You prepare them right on the stovetop in a nice large skillet. Takes under 15 minutes, so you could prepare these right before your guests show up. Hope you enjoy!
Try my Brussels Sprouts Bacon White Pizza too! Follow Picky Palate on Instagram for daily recipe inspiration.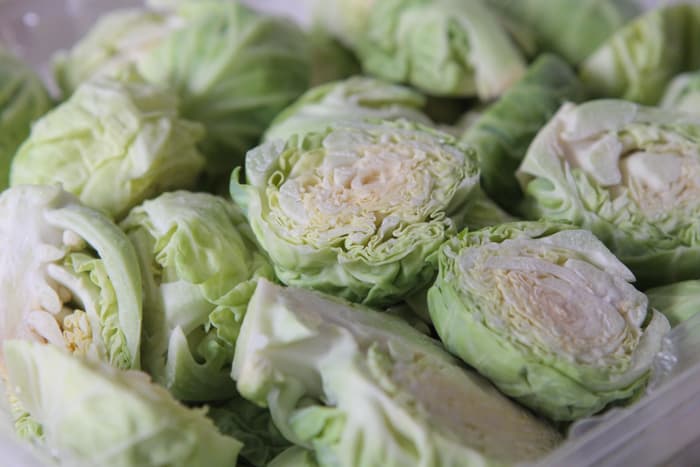 You can purchase brussels sprouts a number of ways. You can buy them still on the vine, individually or already halved for you in some grocery stores. I found a package already halved for me, so I picked that one up. If you purchase yours whole, simply just cut each of them in half before starting the recipe.
How To Prepare Brussels Sprouts
No matter what kind of Brussels sprouts you get, it's a good idea to wash them. Washing the sprouts helps gets rid of any dirt, insects and pesticides that might still be on the surface or inside the tightly packed leaves.
You can let the Brussels sprouts soak in lukewarm water for about 10 minutes. Any dirt will just sink to the bottom. You can gently stir the sprouts once or twice to help dislodge any dirt, but be careful not to agitate the water too much – you want the dirt to stay at the bottom!The disadvantage with this method is that your sprouts can end up being a bit waterlogged. If you're planning on sautéing them or roasting them, you'll need to let them dry first.
Trimming Brussels Sprouts
You'll want to remove any yellow or brown leaves from your Brussels sprouts. They're wilted and won't be any good. Just keep the nice, tight, bright green sprout.
Any Brussels sprout that has a diameter much bigger than an inch and a half should be cut in half.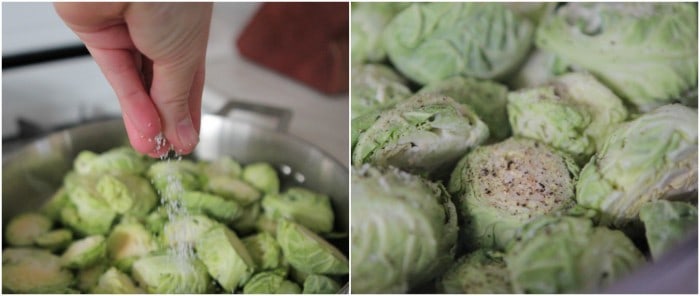 How To Cook Brussels Sprouts – Sauteeing
In a pan big enough to hold the sprouts in a single layer, heat some oil over medium heat.
Once the oil is hot, add the sprouts to the pan and stir them to coat them in oil.

Try to get the cut side down so that the maximum surface possible is in contact with the hot pan – it'll help get more of the sprout caramelized.

Cook the sprouts until they're browned, but not burnt, stirring every so often. It'll take 10 to 15 minutes to cook them.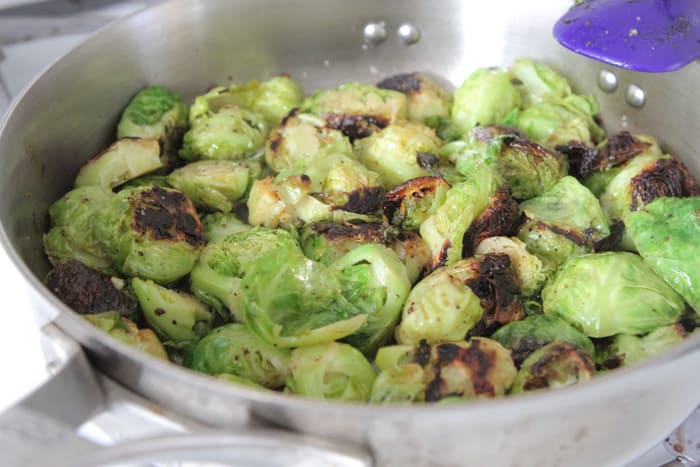 Give a gentle stir to see those lovely browned sides. Stir in some fresh minced garlic at this point.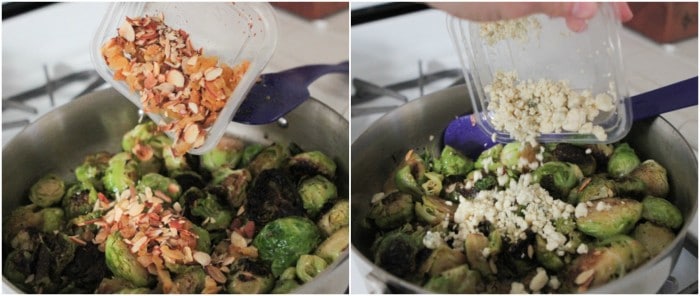 I used about 2 tablespoons of each.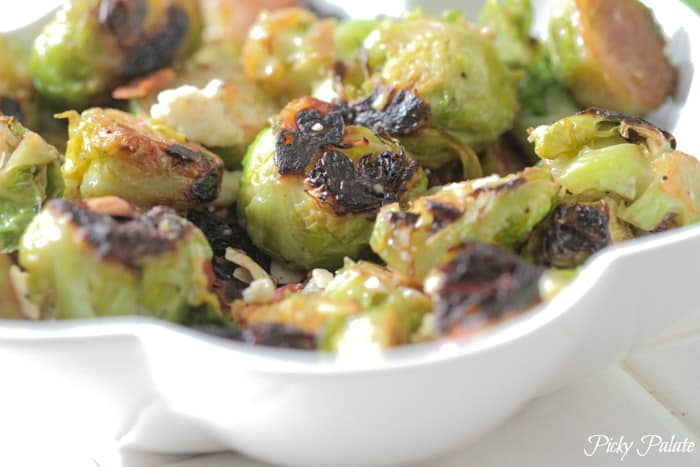 Can't wait for you to try these! Enjoy 🙂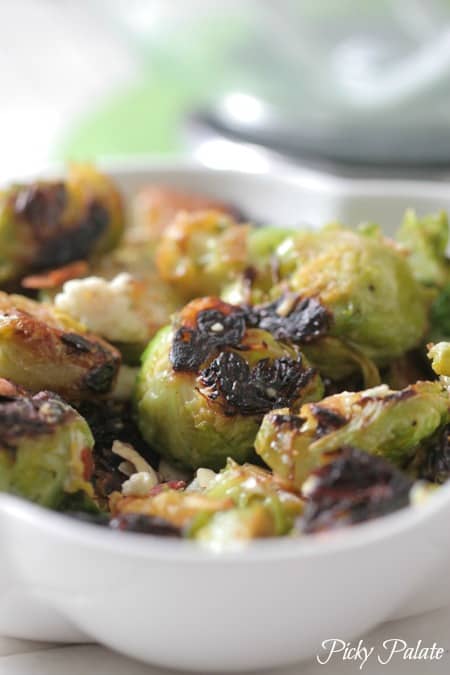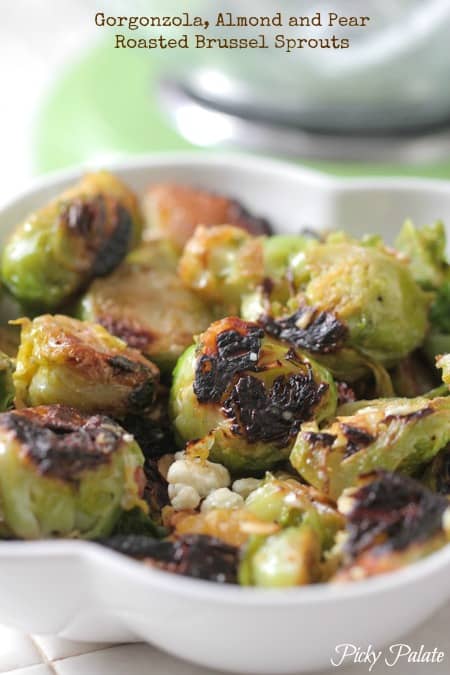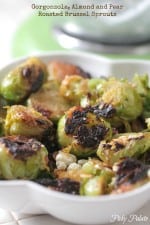 Roasted Brussels Sprouts
These Roasted Brussels Sprouts are the perfect side for any main dish and great for Holidays!
Print
Pin
Ingredients
3

tablespoons

extra virgin olive oil

1

pound

brussel sprouts

halved

1/2

teaspoon

kosher salt

1/4

teaspoon

freshly ground black pepper

1

tablespoon

fresh minced garlic

2

tablespoons

sliced almonds

2-3

tablespoons

gorgonzola
Instructions
Heat oil in large 3 quart skillet over medium heat. Add brussel sprouts and season with salt and pepper. Let cook without stirring for 3 minutes. Close with lid and let cook for 5-7 minutes. Remove lid, and stir in garlic. Brussels sprouts should be browned. Stir in almonds, and gorgonzola cheese. Serve warm.
Nutrition
Calories:
134
kcal
|
Carbohydrates:
9
g
|
Protein:
4
g
|
Fat:
10
g
|
Saturated Fat:
2
g
|
Cholesterol:
4
mg
|
Sodium:
278
mg
|
Potassium:
340
mg
|
Fiber:
3
g
|
Sugar:
2
g
|
Vitamin A:
606
IU
|
Vitamin C:
65
mg
|
Calcium:
70
mg
|
Iron:
1
mg
Keywords:
brussel sprout, brussel sprout recipe, brussels sprouts, brussels sprouts in oven, brussels sprouts recipe, how to cook brussels sprouts, roasted brussels sprouts, roasted brussels sprouts recipe