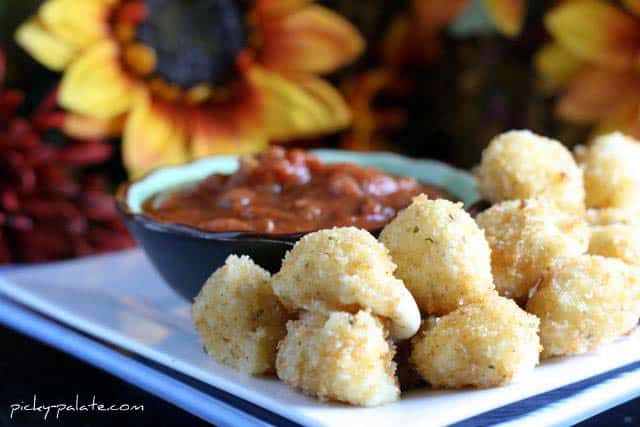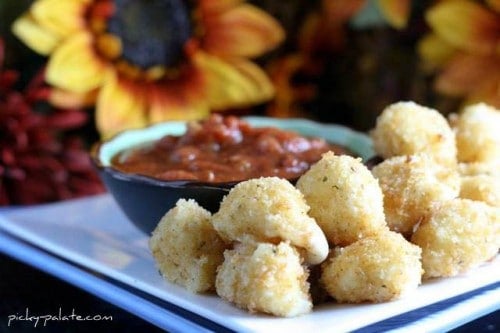 Happy Friday everyone! It's a soggy Friday here in CA, hope it let's up, we want to go back to Disney tonight!
I couldn't resist sharing this perfect game day recipe that I posted last year. These Smokin' Mozzarella Balls are seriously so incredible, I could quite possibly eat all of these in one serving!
Hope you all have a wonderful weekend 🙂
Reminders on Picky Palate Giveaways:
Win $100 Visa Giftcard with Eggland's Best HERE
Win $100 Visa Giftcard with V8 V-Fusion HERE
Win $50 Giftcard from Safeway and it's family stores for free groceries HERE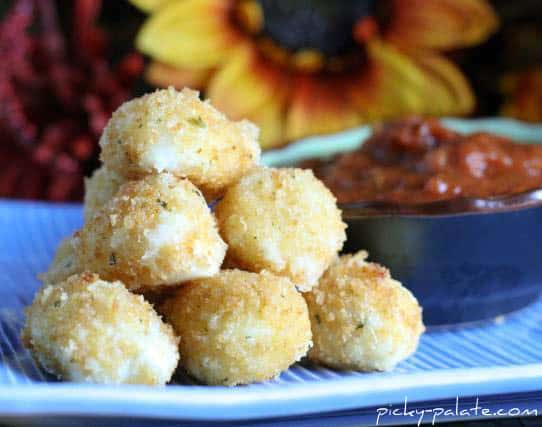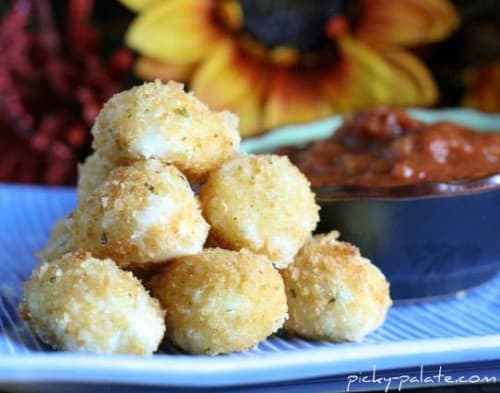 Smokin' Mozzarella Balls
Vegetable oil for frying
8 oz container Fresh Mozzarella "Ciliegine" (cherry tomato size)
1/2 Cup flour
1 teaspoon salt
1/2 teaspoon pepper
1 egg
2 teaspoons adobo sauce from can of chipotle peppers (add more if you like it spicy)
½ Cup Italian Bread Crumbs
¼ Cup Panko Bread Crumbs
¼ Cup fresh grated parmesan cheese
1 Cup of your favorite marinara or pasta sauce, warmed
1. Pour a couple inches of oil into a medium saucepan over medium heat. Bring to 350 degrees F. with an appropriate thermometer.
2. Drain liquid from mozzarella balls and pat dry with paper towels. Place flour, salt and pepper into medium size bowl. Place egg and adobo sauce into a second bowl; whisk to combine. Place bread crumbs and parmesan cheese into a 3rd bowl; mix to combine. Roll mozzarella into flour, then into eggs, then press into bread crumb mixture.
3. Carefully place 4-5 coated balls at a time into hot oil. Use a "spider" to constantly move them around in oil. Cook for 30-60 seconds or until golden. Transfer to a paper towel lined plate. Continue until all have been fried.
4. Place all balls onto a serving plate along with a bowl of marinara sauce. Serve warm.
4 servings
_______________________________________
Oh baby I could go for some of these today! Happy Football Watching, see you soon for Valentine's Day Baking!! Woo Hoo!