Sharing one of our favorite healthy breakfast smoothies today! Packed with all kinds of goodness, this smoothie is a great way to start your day!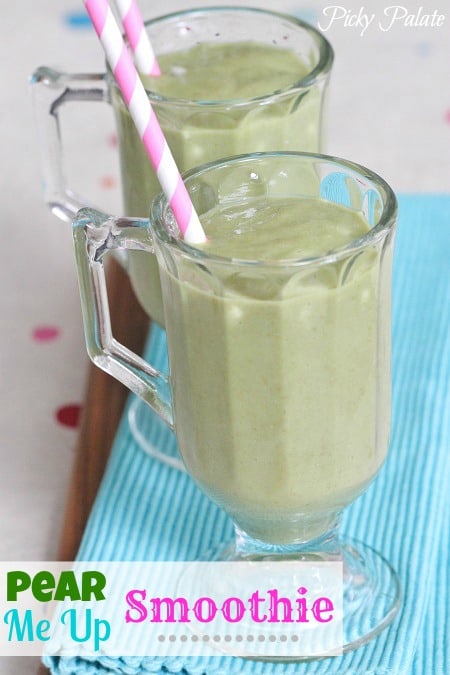 Healthy Breakfast Smoothies
You are going to love this healthy breakfast smoothie with fresh pear, apple, avocado, banana, kale and more. Such a great way to start your day!
Try my Make Ahead Freezer Smoothie Packs too! Follow Picky Palate on Instagram for daily recipe inspiration.
Hi, Cullen here, Picky Palate's husband. This is my debut recipe on Picky Palate. I've been hounding Jenny for months to add juicing or blending to the website. The hounding took it's toll and she agrees that we should implement juicing and blending. The first Juice recipe was posted in January 2012 HERE, and we're pleased to post this blend recipe with a hope of many more to come.
We all know that eating fruits and vegetables are vital for our health. How many servings are we supposed to get each day? 10, 15, 20? I don't know anymore and don't care to google it. Juicing or blending is a great way to achieve the serving threshold. Juicing on one hand is fun but leaves much to be cleaned on the juicer. It also leaves out the fiber. Blending is quicker and easier to clean. Not to mention we can take advantage of the fiber.
Smoothie Recipes
My kick with getting healthy started in early 2008 when we were living in Gilbert, AZ. The previous year I had finished college so in 2008 my excuses were out. It became to real to me when I couldn't play more than 10 minutes in a basketball game and Jenny and I started watching our first season of Biggest Loser. It all clicked, and immediately I started going to the local high school to run bleachers 2 to 3 times a week. 5 years later, I hit the gym 4 to 5 times a week and run–although, I admit I don't have a desire to run a marathon nor a 1/2 for that matter. 8 miles has been my max thus far. But, I've come a long way, since as a child I despised running. Many people ask Jenny and I, "why aren't you 100 lbs overweight?" Well, we don't eat every single crumb that Jenny creates; we sample here and there, and share with others. We realize that fun treats are a joy to entertain with and to enjoy in moderation. It's all about balance.
Sometimes when I blend, the goal is to include enough nutrients while keeping the taste mild enough for our boys to not gag at the moment it hits their tongue. This smoothie accomplished such. Pears have garnered much of my attention lately. A perfectly ripe pear has just the right texture and taste, so I wanted to try a blend incorporating pears.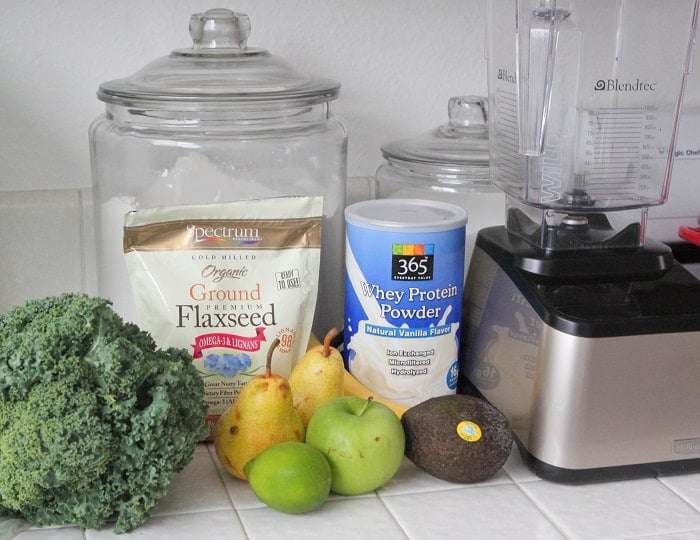 How To Make Breakfast Smoothies
Here is your basic ingredients… pears, apple, avocado, kale, flaxseed, banana, and protein powder. I found our protein powder and ground Flaxseed from Whole Foods, but you can find it at about any healthy grocery store. Place your ingredients in a high powered blender and blend until smooth. Please note, I did not use the lime that is photographed here.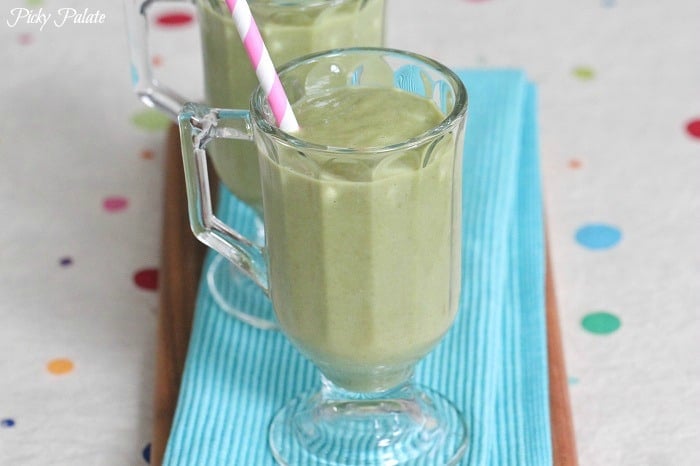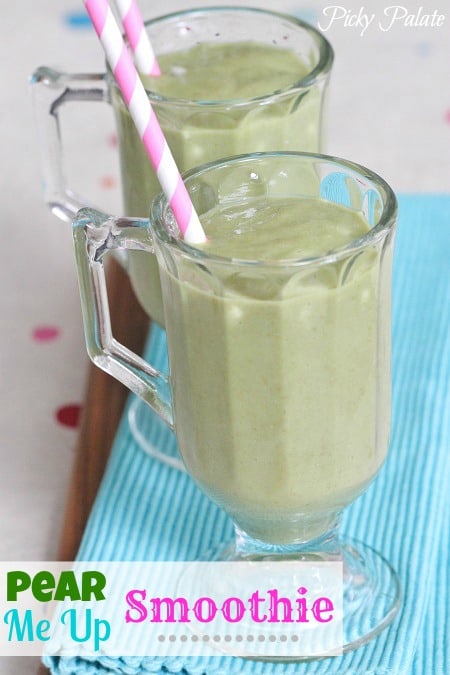 Protein Pear Smoothie Recipe
This Protein Pear Smoothie Recipe is the perfect smoothie to start your day! Great flavor, packed with goodness.
Print
Pin
Ingredients
2

pears

pit removed

1

banana

1/2

avocado

pit removed

1

Granny Smith Apple

1

large kale leaf

no stem

1

cup

packed baby spinach leaves

2

cups

filtered water

4

tablespoons

ground flaxseed

1/2

scoop protein powder of your choice

I used vanilla

2

handfuls ice
Instructions
Place all ingredients into your high powered blender, ice at the top and blend for about 50 seconds or until desired consistency. Please note we use the Blendtec, all blenders may be a little different.
Nutrition
Calories:
187
kcal
|
Carbohydrates:
32
g
|
Protein:
3
g
|
Fat:
7
g
|
Saturated Fat:
1
g
|
Sodium:
23
mg
|
Potassium:
548
mg
|
Fiber:
8
g
|
Sugar:
17
g
|
Vitamin A:
2229
IU
|
Vitamin C:
30
mg
|
Calcium:
64
mg
|
Iron:
1
mg
Keywords:
best smoothie recipe, best smoothie recipes, breakfast smoothie, breakfast smoothie recipes, breakfast smoothies, fruit smoothie recipes, healthy smoothie recipes, protein shake, protein shake recipe, smoothie recipe, smoothie recipes