Sharing all about Savi's Workshop Handbuilt Lightsaber Experience today! Such a special thing to do at Star Wars Galaxy's Edge!
Star Wars Galaxy's Edge
We had such a special experience at Savi's Workshop. A couple notes. You need a reservation in advance. Currently, they're allowing you to make your reservation 60 days in advance via the Disneyland app or Disneyland website. The light sabers will cost you $199 plus tax and you prepay before entering the experience. It includes a carrying case and the experience lasts about 20 minutes. We had a late reservation during our visit at 9:20pm.
See my Ultimate Guide to Star Wars Galaxy's Edge too! See our Droid Depot Experience too. Follow Disney Hungry on Instagram for Disney trips and BEST eats at Disney Parks.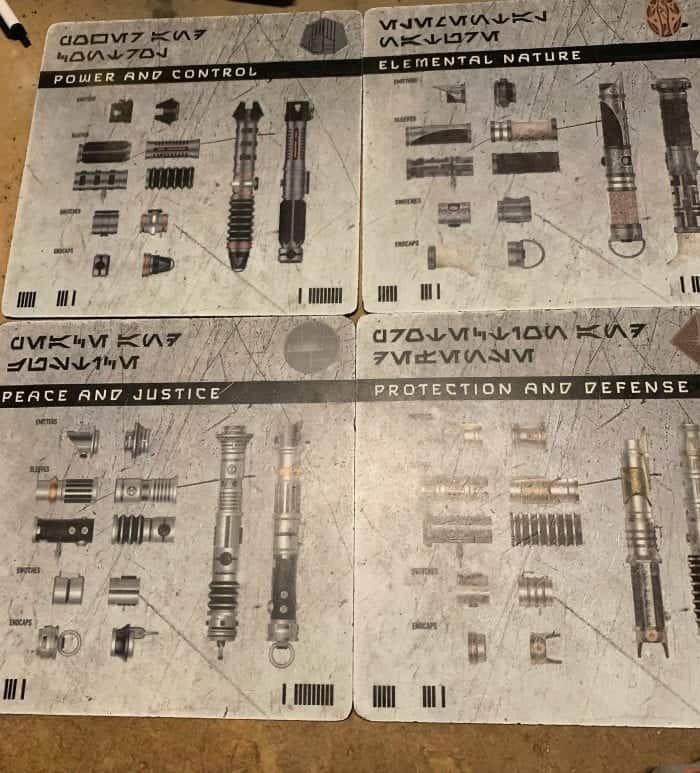 When you are at the register, paying for your lightsaber, you get to choose out of 4 styles listed below.
Peace and Justice- Salvaged scraps from fallen Jedi temples and crashed starships in these Republic-era designs honor the galaxy's former guardians.
Power and Control- Originally forged by dark side warriors, this style features rumored remnants from the Sith homeworld and abandoned temples.
Elemental Nature- This theme embodies the Force—an energy created by all living things, like Brylark trees, Cartusion whale bones and Rancor teeth.
Protection and Defense- Hilt materials bear mysterious motifs and inscriptions that reconnect users with the ancient wellspring of the Force.
Savi's Workshop Handbuilt Lightsabers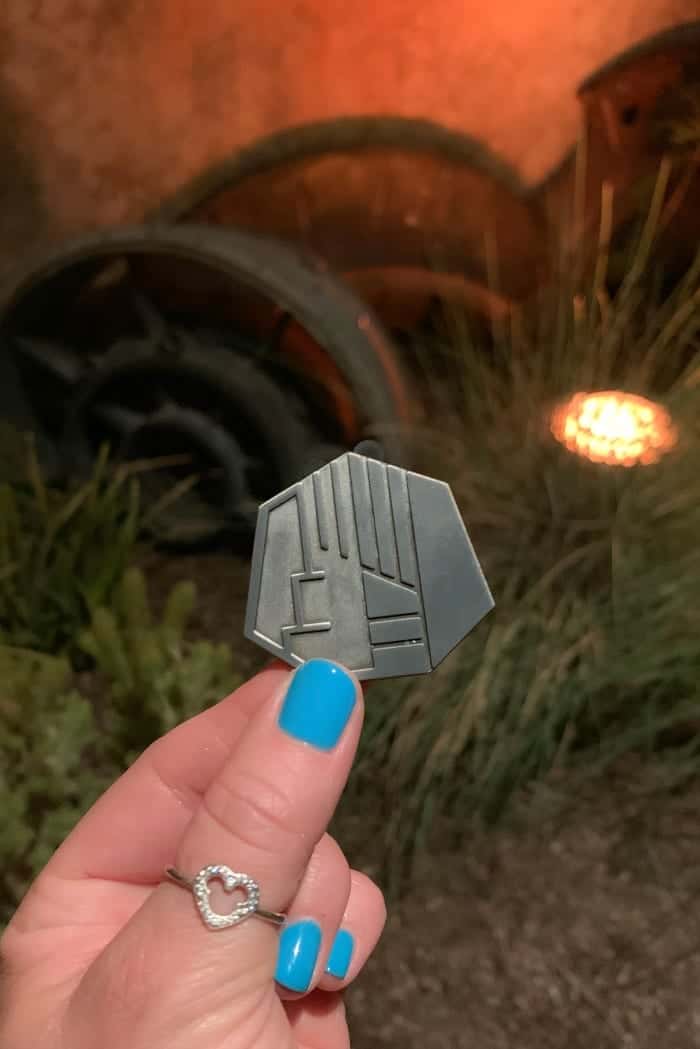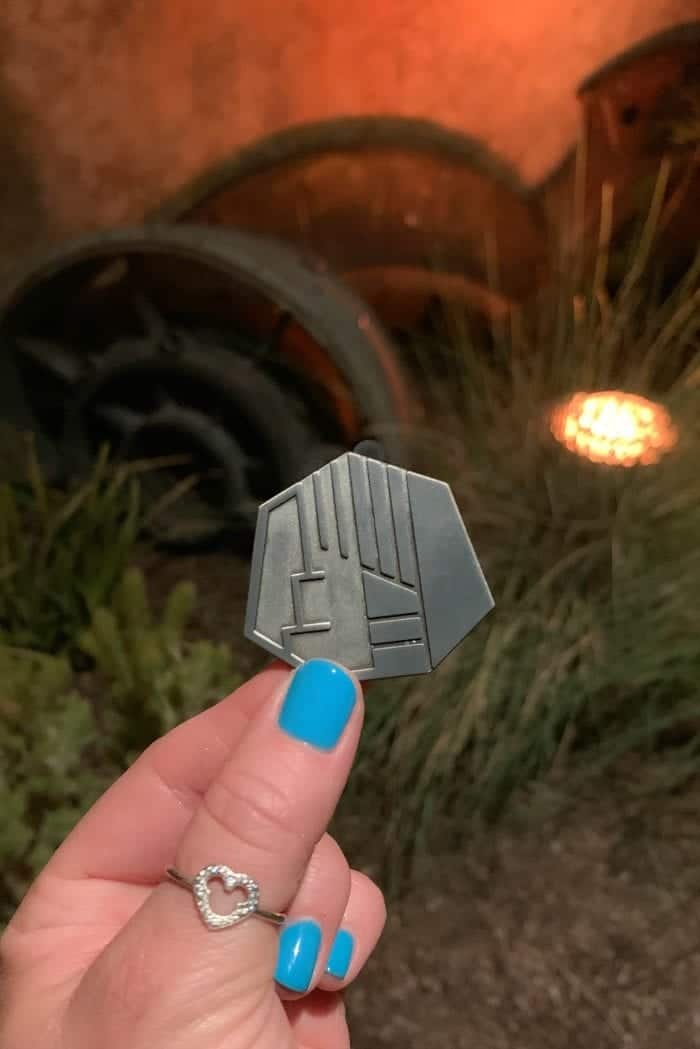 Once you've paid for your lightsaber, you will be given your pin as well as a credential (below) that will serve as your group number. The pin is your "key" to enter the experience and it also represents 4 different story themes that correspond to different lightsaber options. Since my son chose the Power and Control style of lightsaber, he was given this Silver Pin.
Who Are The Gatherers?
The Gatherers are the individuals who will oversee the lightsaber-construction process, helping guests pick the right materials and craft the exact product they desire. What's important to note here is that they apparently constitute a brand-new organization within the Star Wars universe, one that was co-founded by Savi himself and one that has been designed expressly for Galaxy's Edge – although it's entirely possible they are simply an outgrowth of the Church of the Force.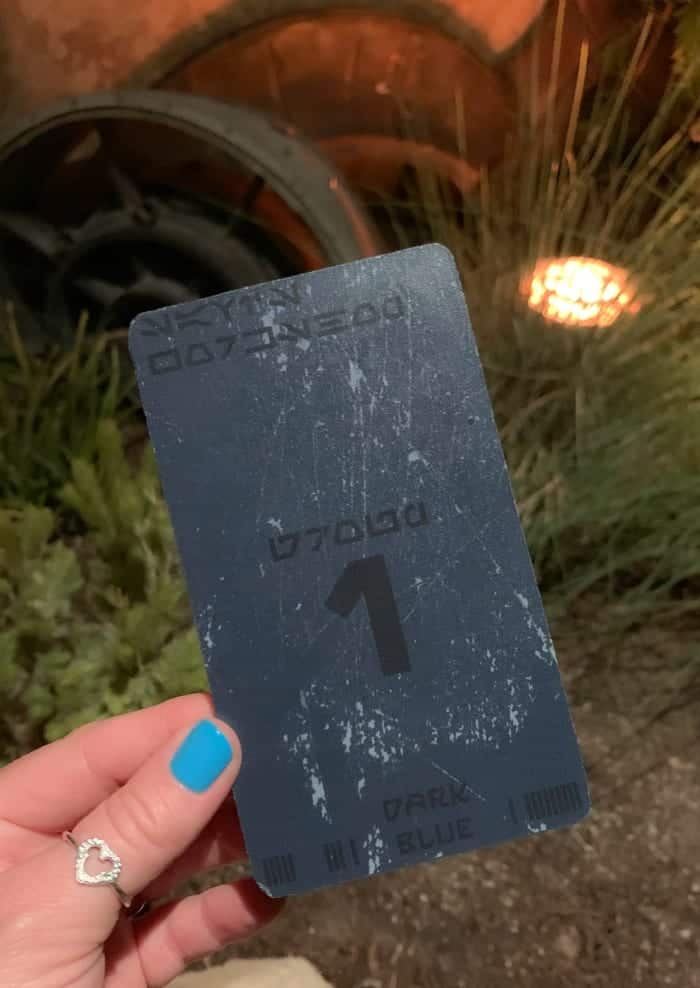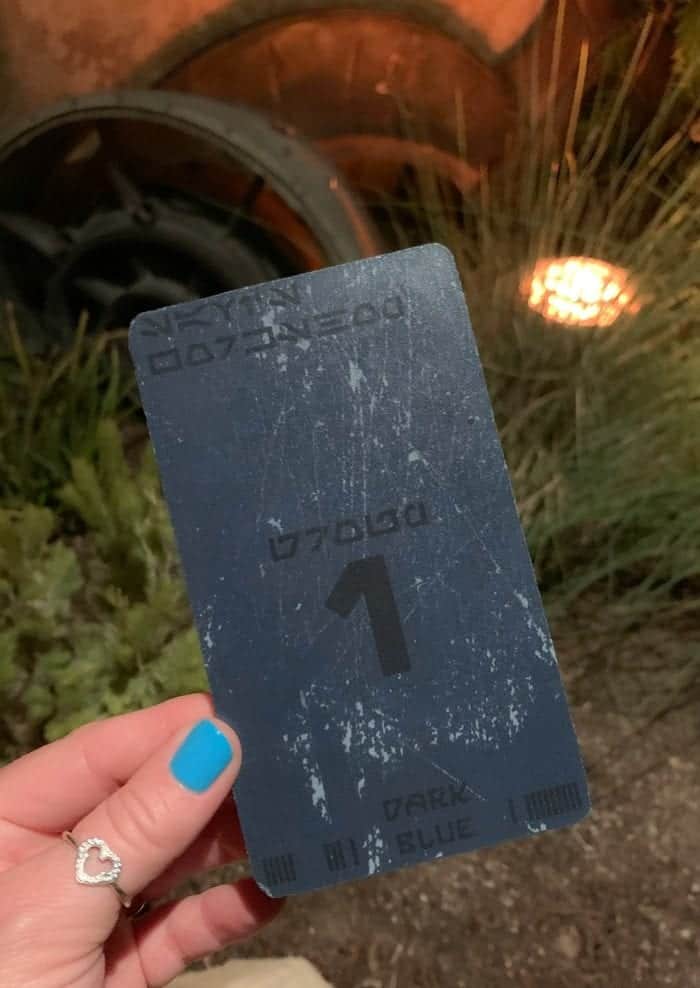 This is your credential or boarding number to enter the experience once you've paid as well. Keeps the different groups organized.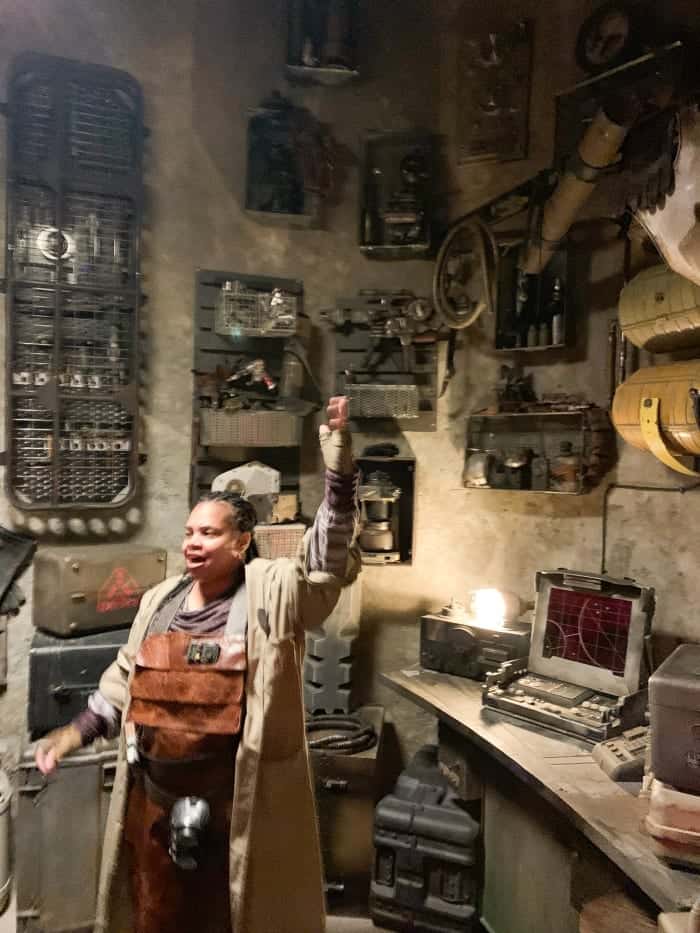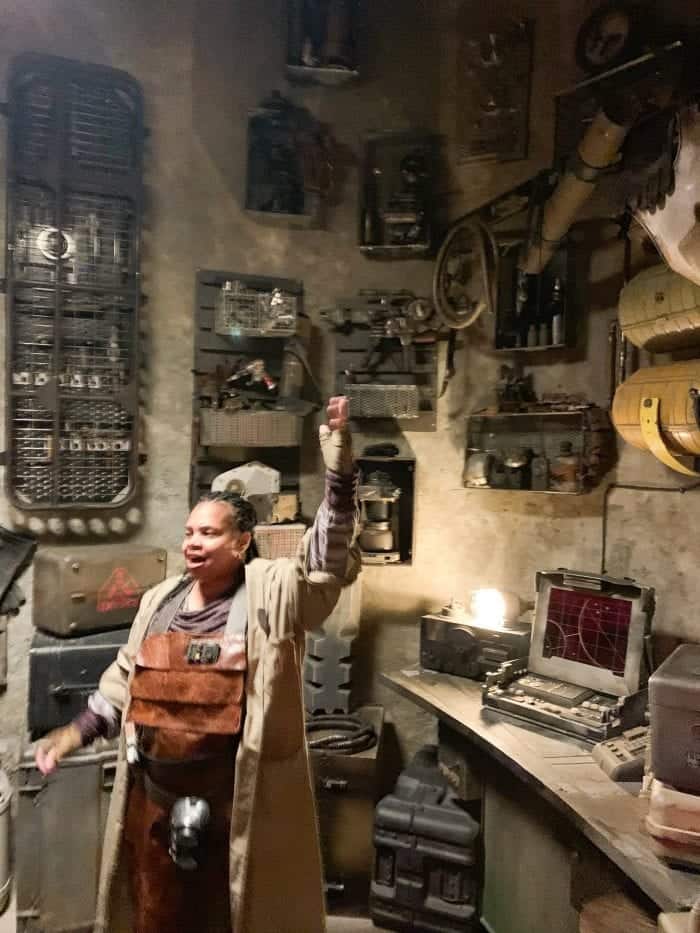 As soon as your boarding group enters the experience, you are greeted by one of the Gatherers (Cast Member) who is in full costume and character. The whole room is completely detailed and so dramatic.
Star Wars Galaxy's Edge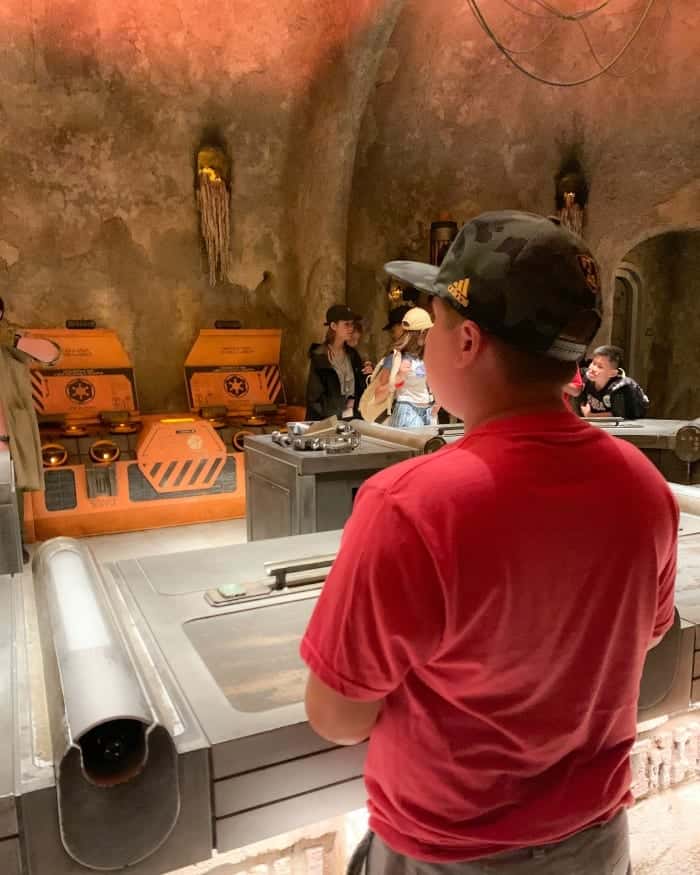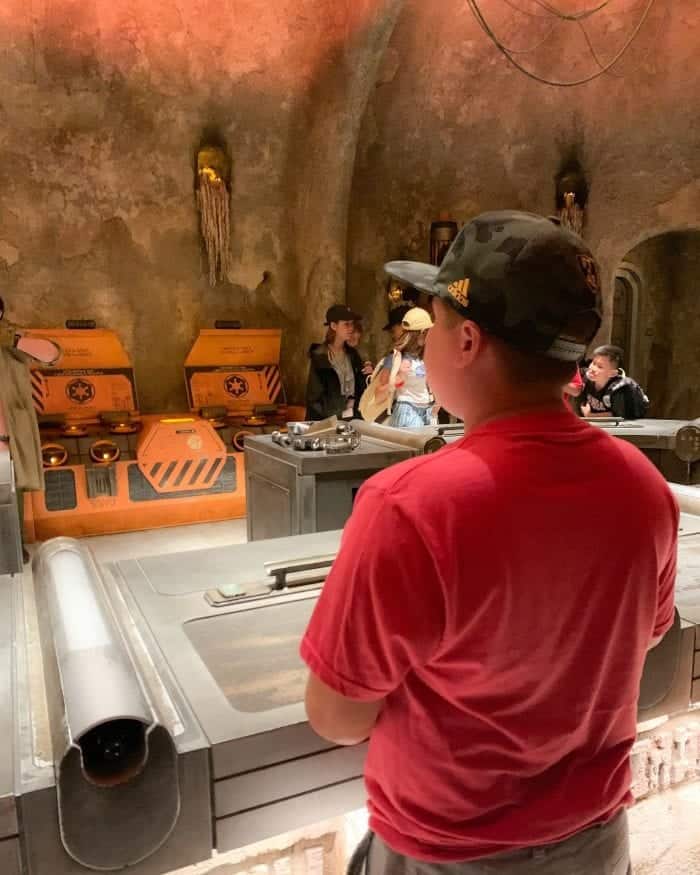 Each person takes their spot at a lightsaber building station. There were about 16 spots in this room if I remember correctly. I appreciated the small more intimate setting.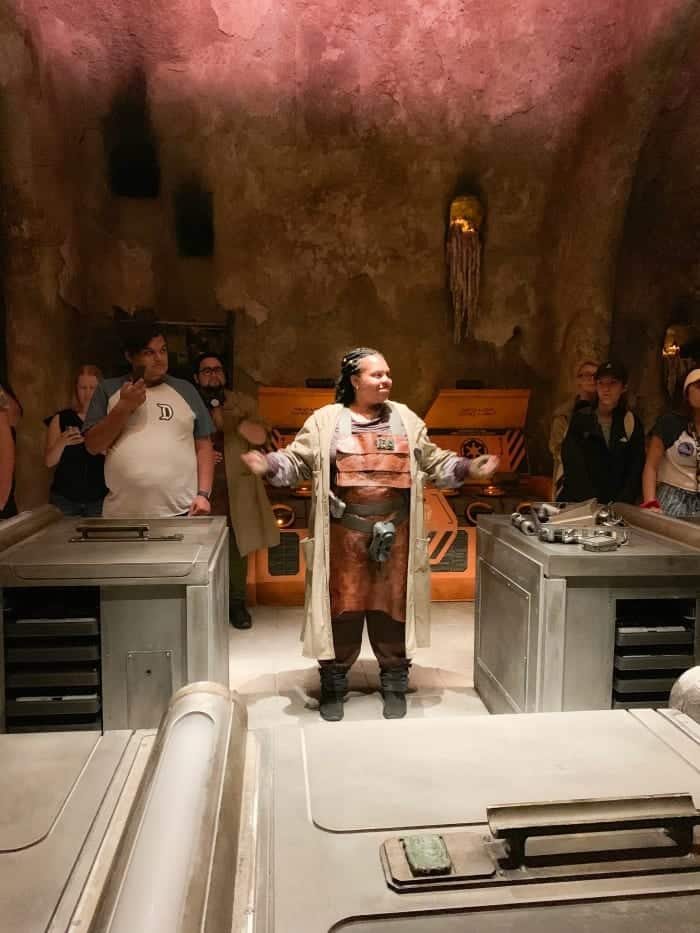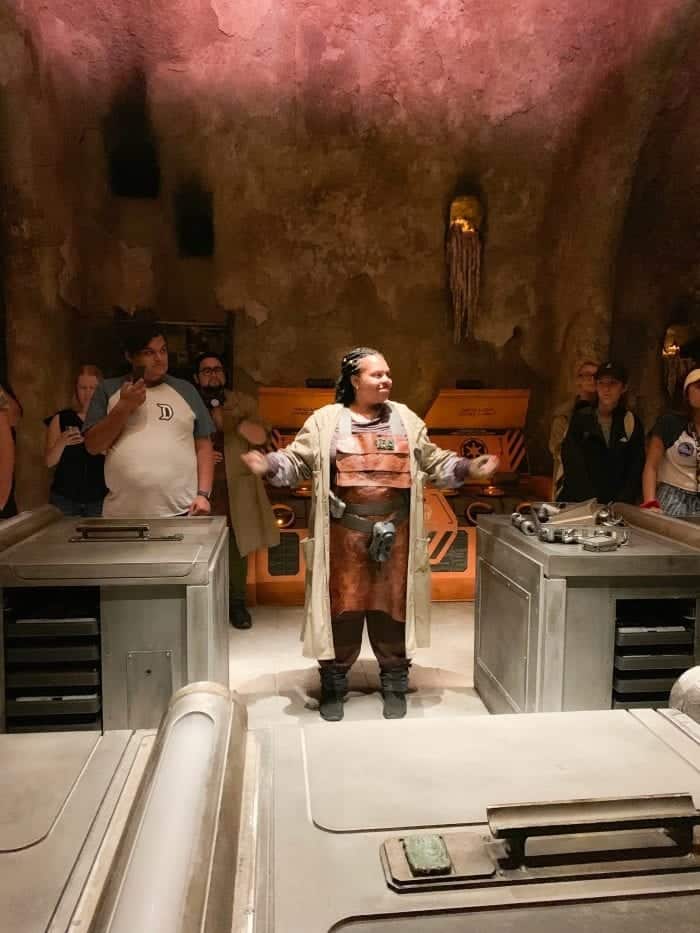 I loved our Cast Member. She was was perfectly in character and made everyone feel so special.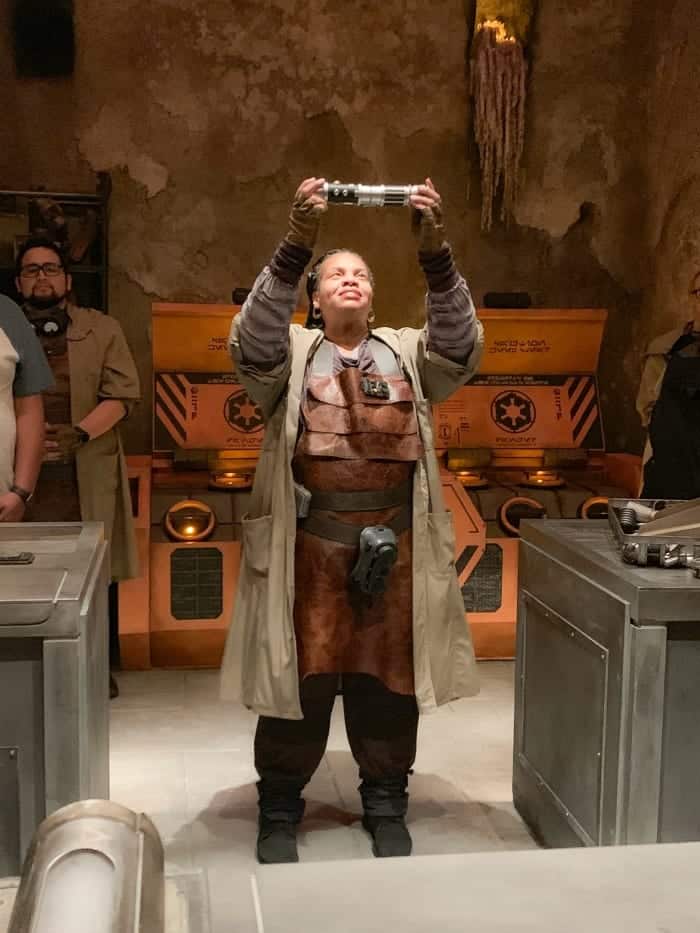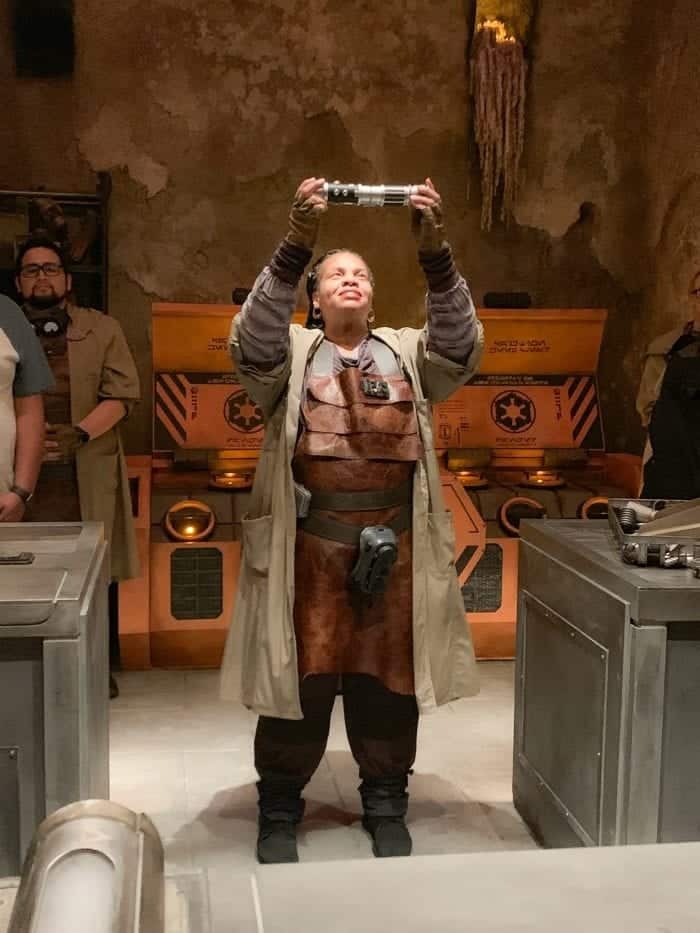 This presentation was so special. I even got emotional listening to her explain everything. Wasn't expecting it at all, ha!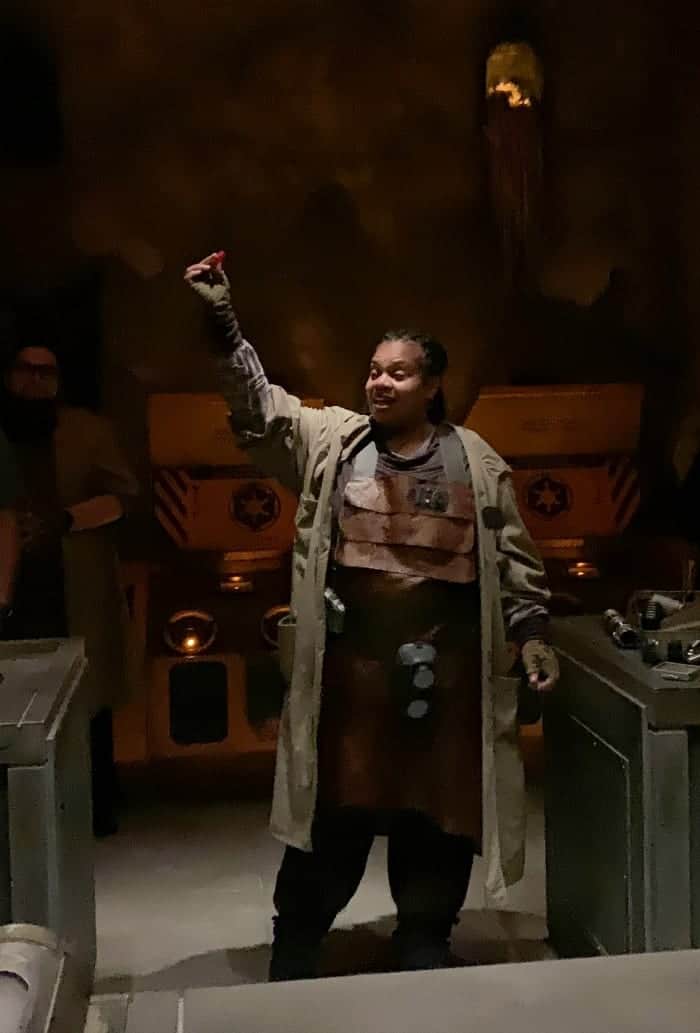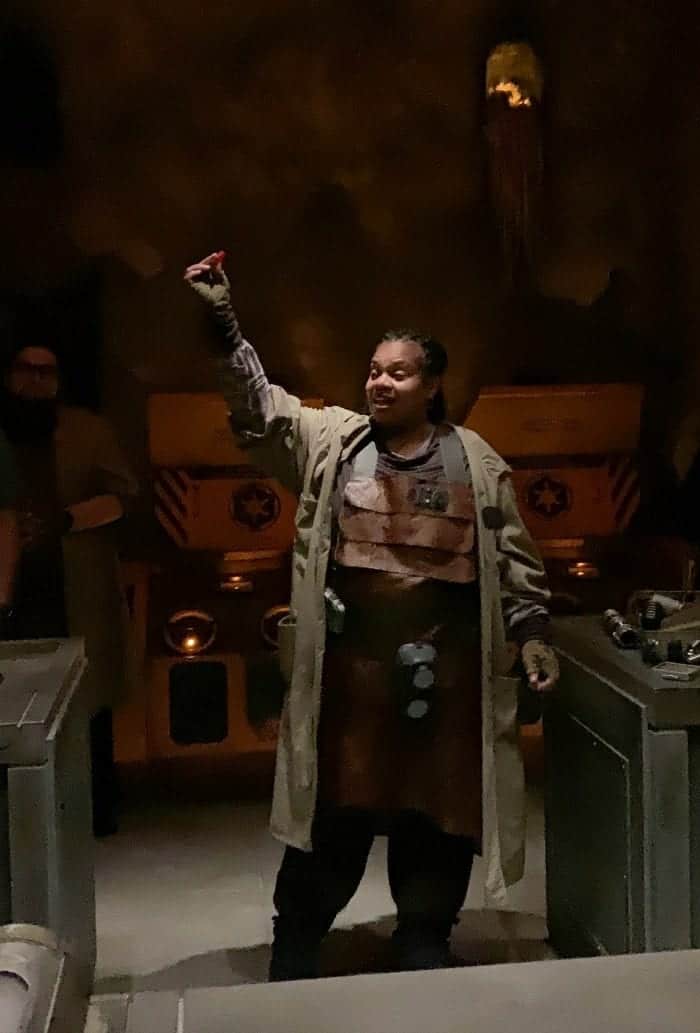 When the Gatherer finishes the initial presentation, the first thing you'll do is choose your Kyber Crystal. The options are red, blue, green, or violet.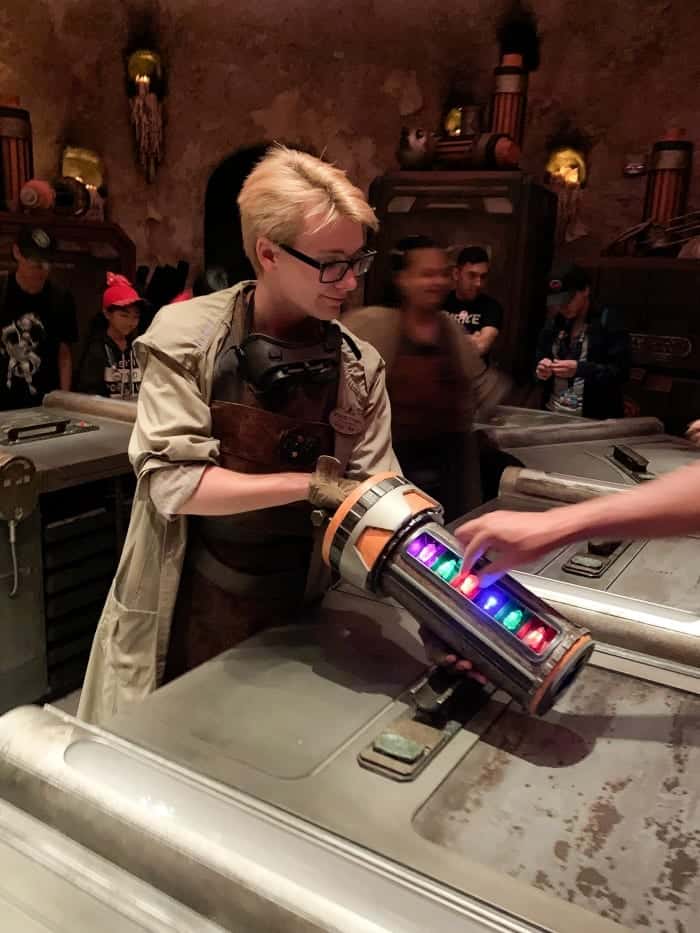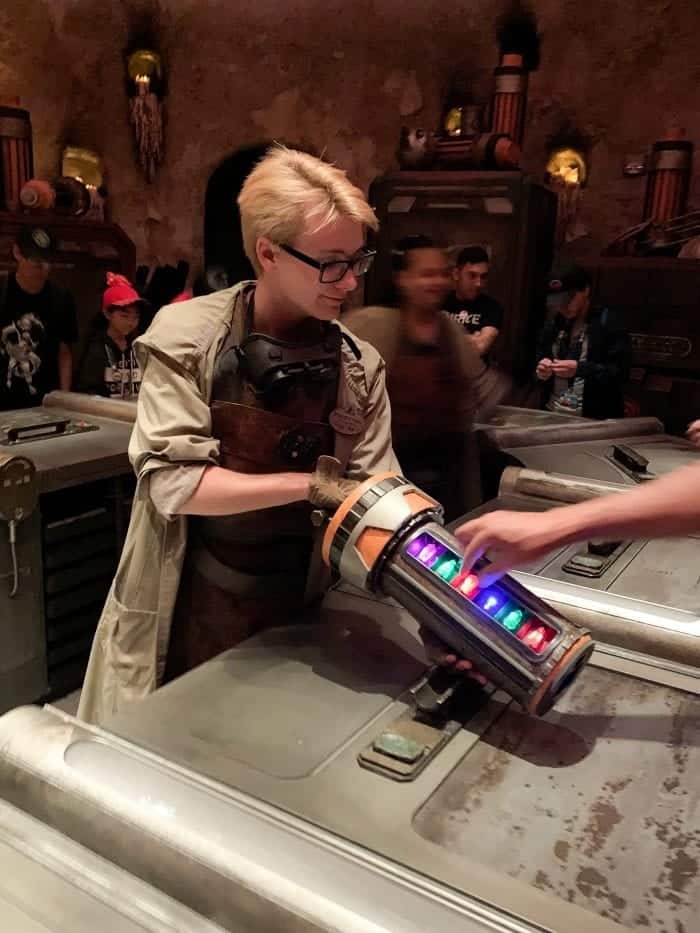 One of the Gatherers brings around this bright glowing case of crystals to each guest. You choose your favorite. Each color has a meaning behind it that they explain in the initial presentation.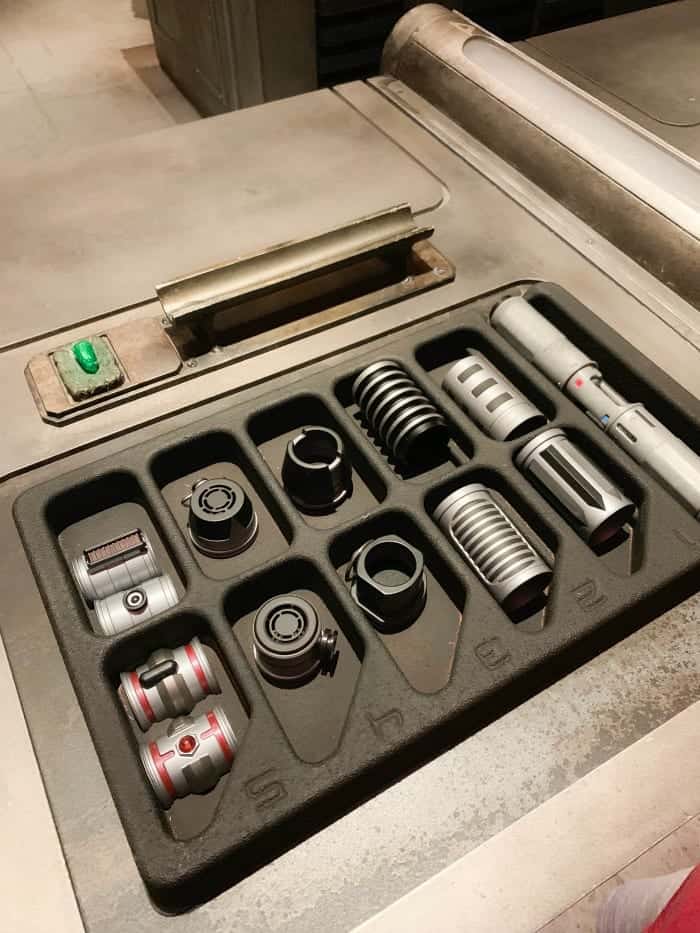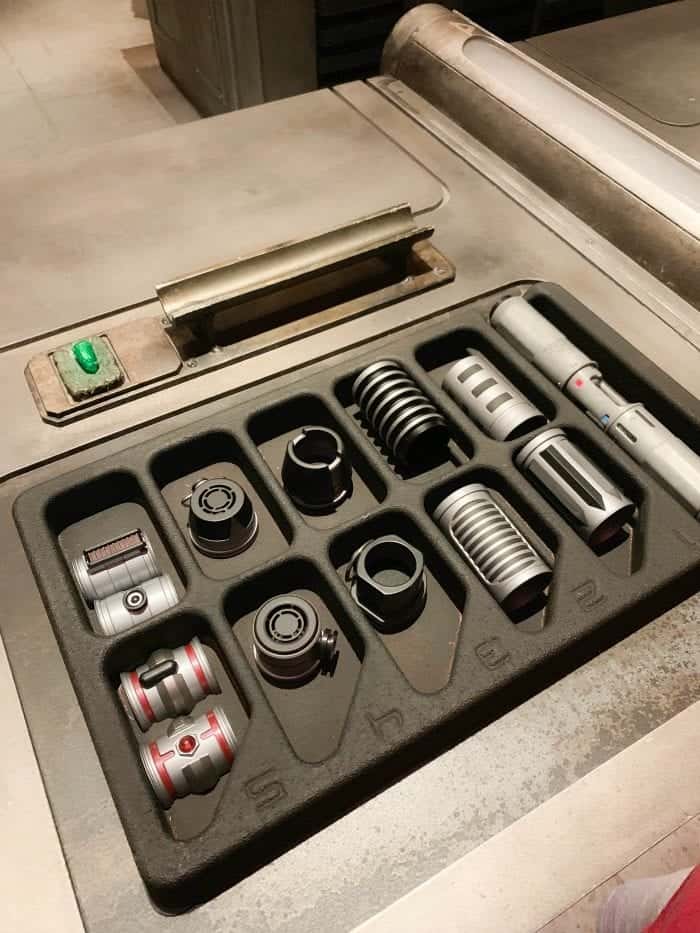 When you have selected your crystal, this hilt kit will be given to you based off of the pin that you are wearing. The Gatherers (Cast Members) are there to help assemble your hilt. My son chose the Power and Control style Lightsaber, so this is the hilt kit given for that.
Each hilt kit of parts includes:
1 hilt
4 sleeves (pick 2)
2 emitters (pick 1)
2 pommel caps (pick 1)
2 sets of activation plates and switches (pick 1 set)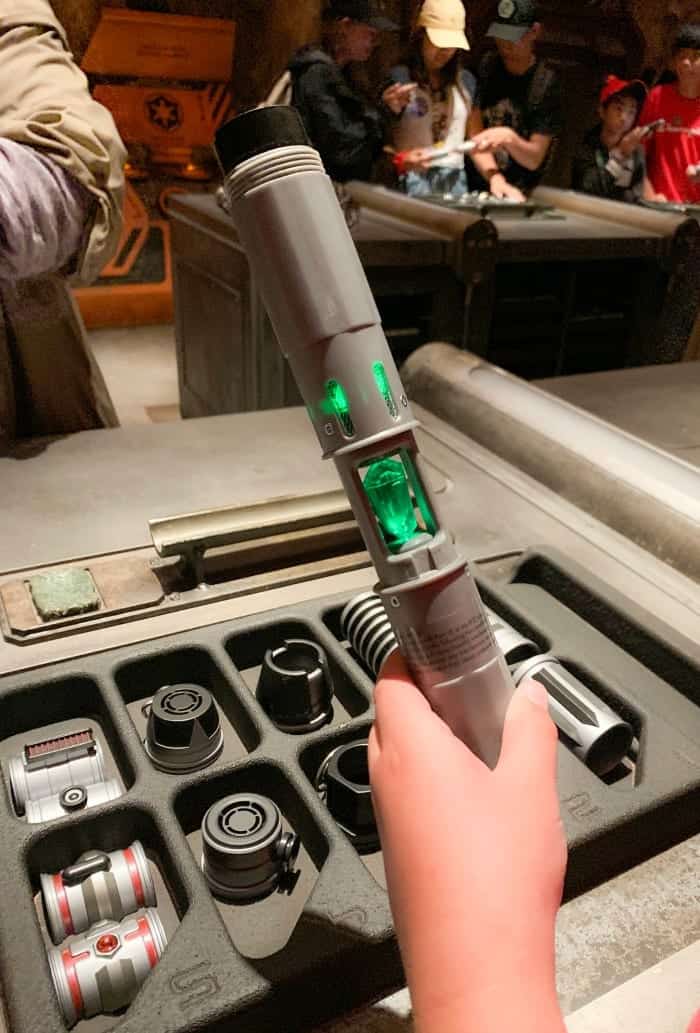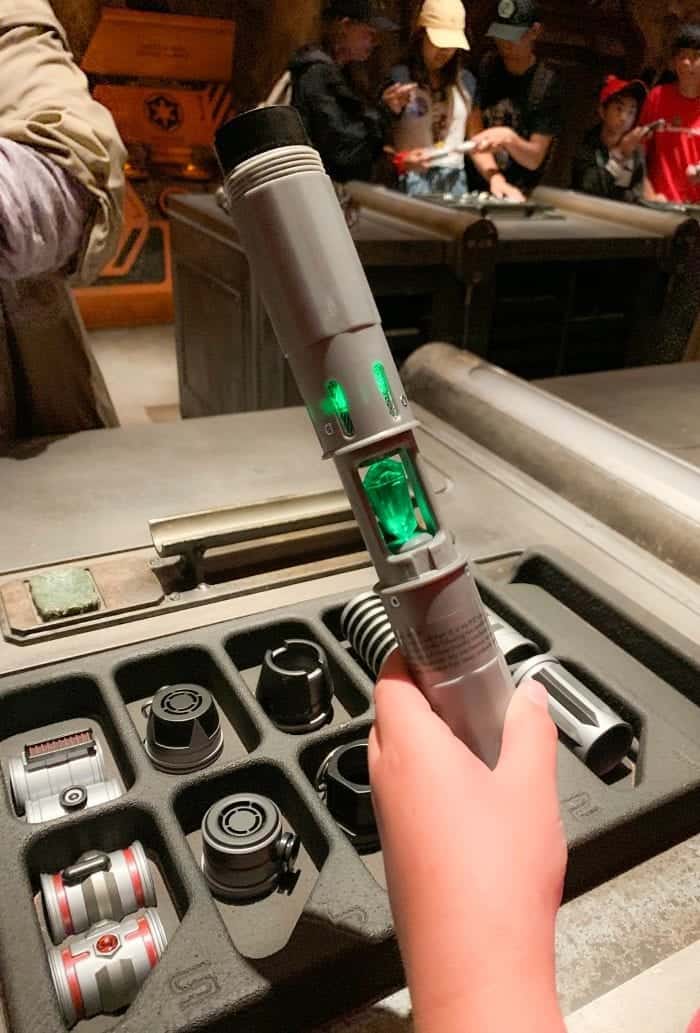 The Kyber crystal fits inside the lightsaber like so. The Gatherers are there to help everyone.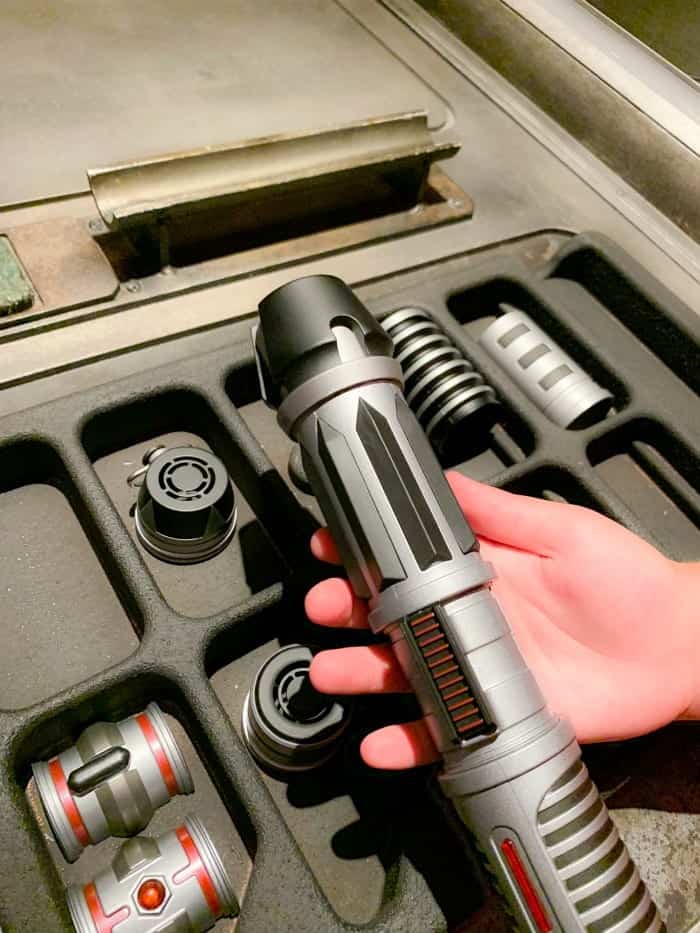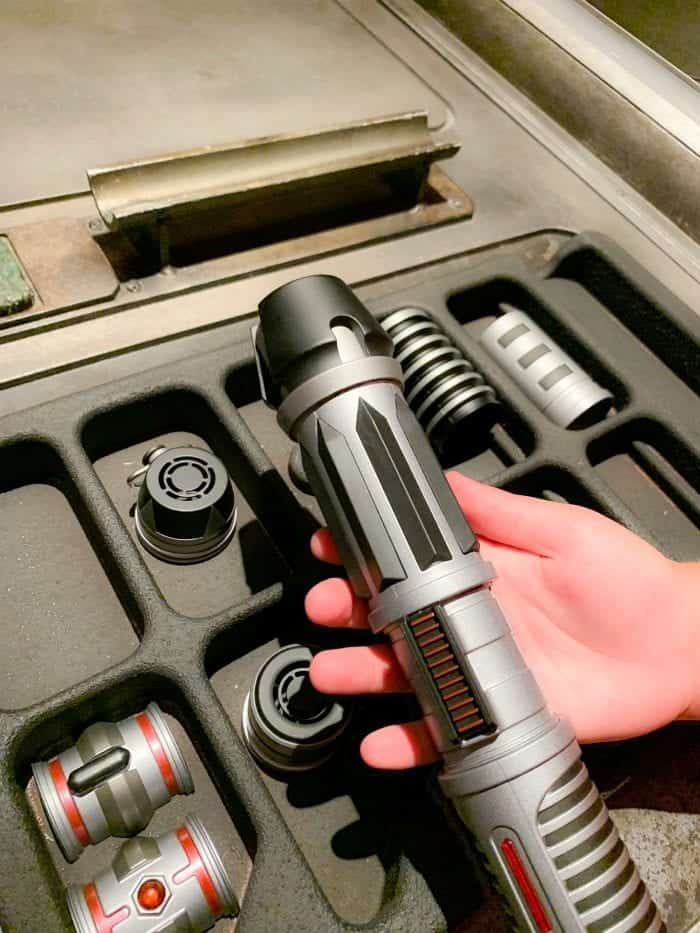 Putting all of the hilt pieces together!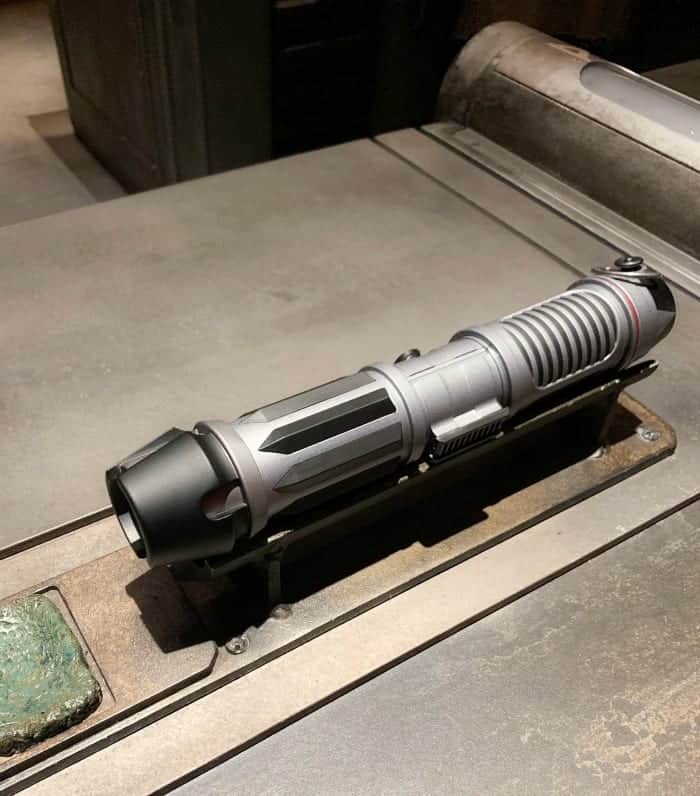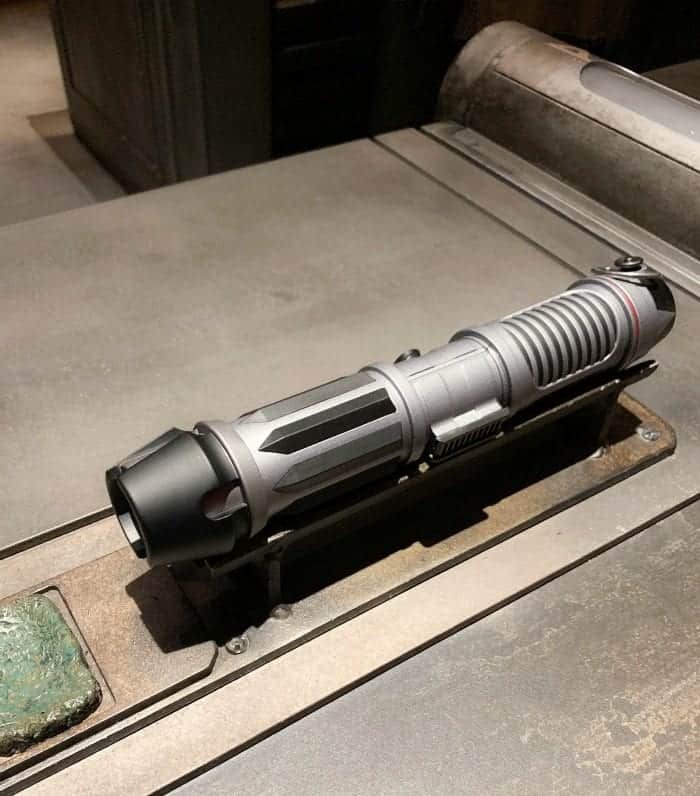 You place your lightsaber on your table when you're ready to get the blade attached.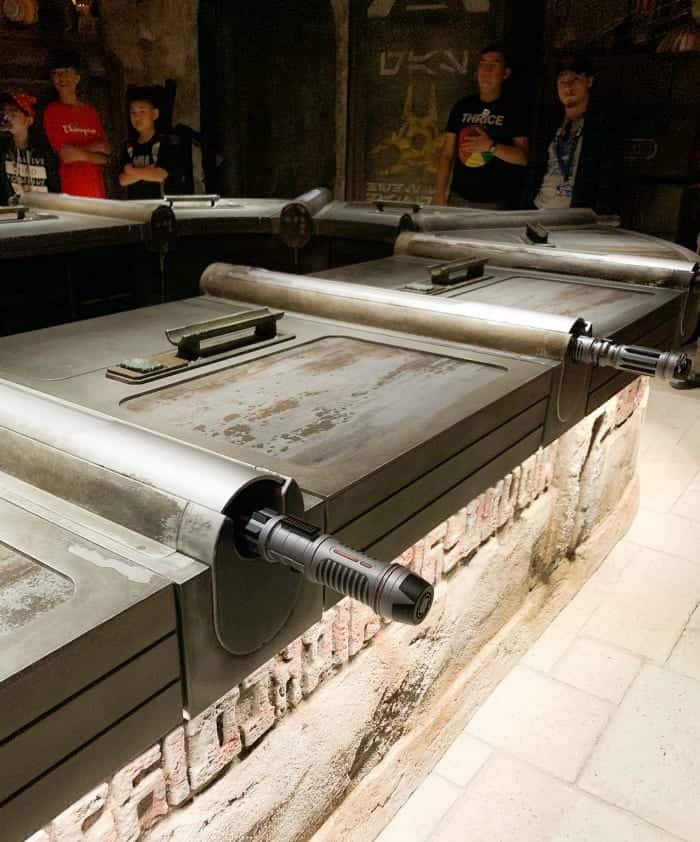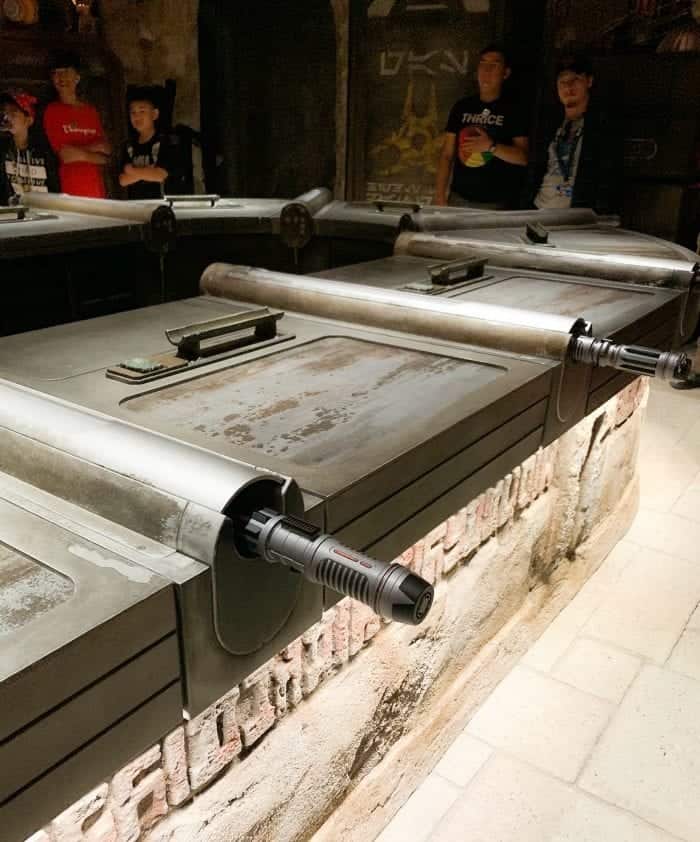 The Gatherers will attach the 36″ blade in a bonding ceremony once you have finished assembling your hilt.
Savi's Workshop Handbuilt Lightsabers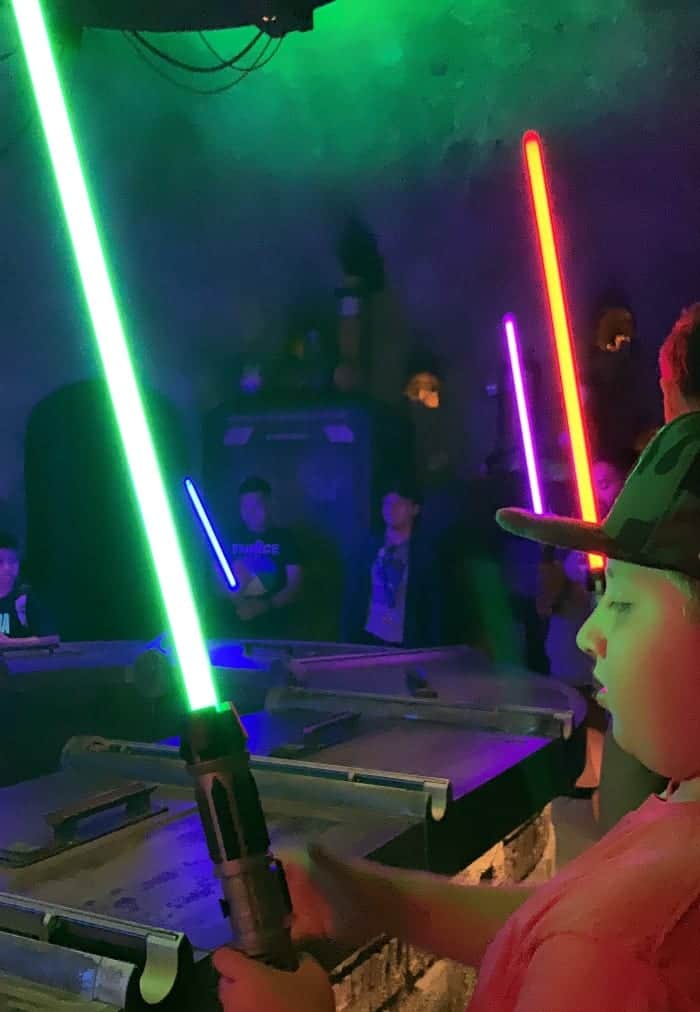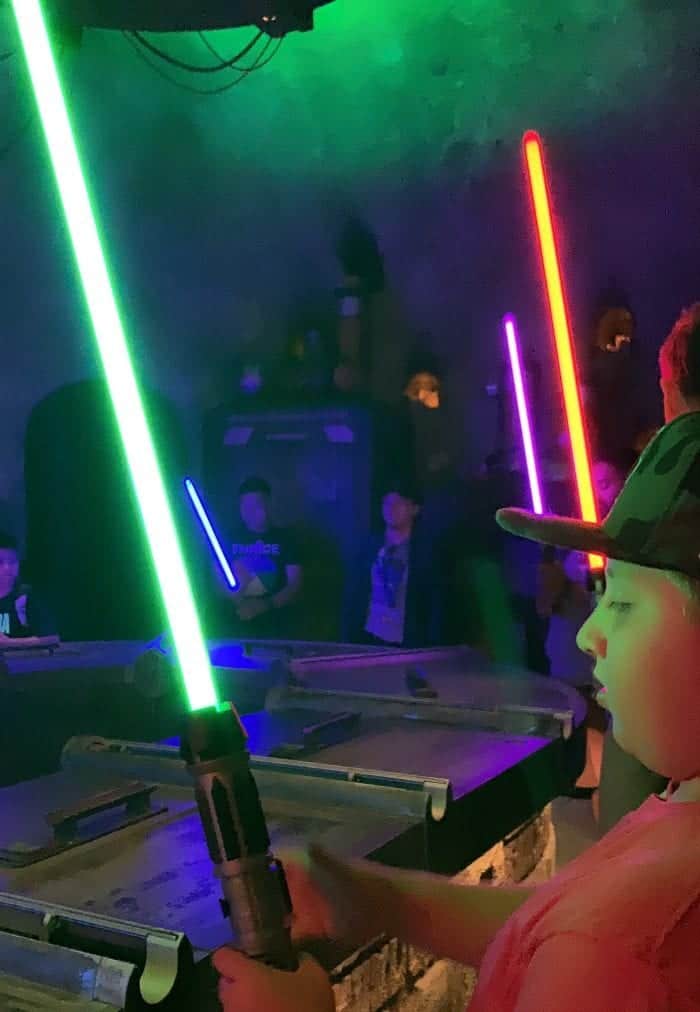 Everyone rises their lightsabers in unison as the voice of Yoda enters the chamber and offers wise words as you depart Savi's Workshop.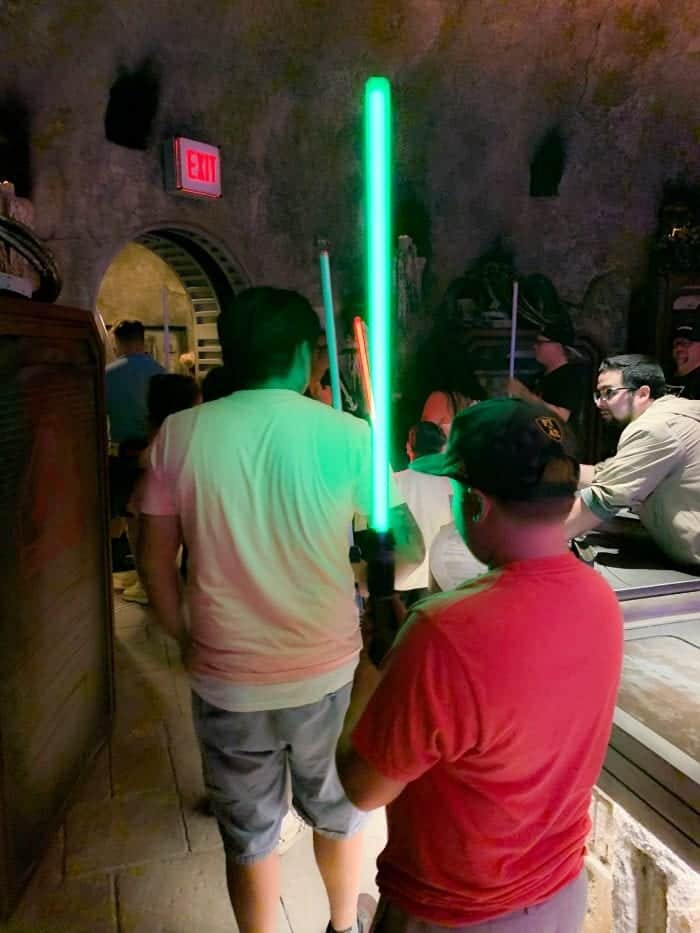 The whole experience from start to finish was about 20 minutes. It did feel a bit longer than that, but it's good to know how much time you'll be spending beforehand. I didn't feel like it was too short or that they rushed us out. It was a good overall experience.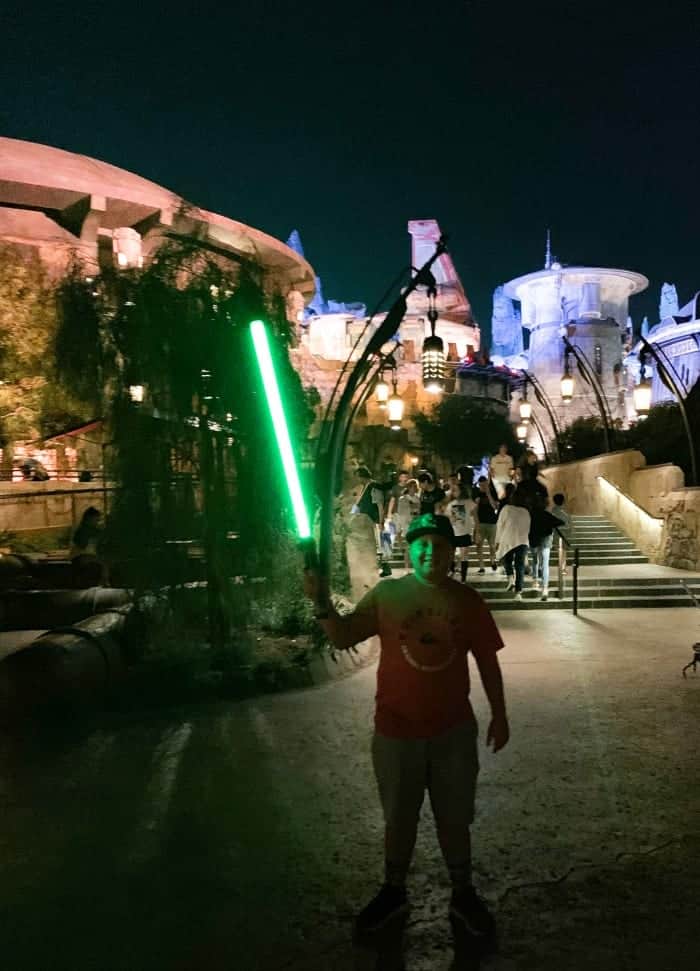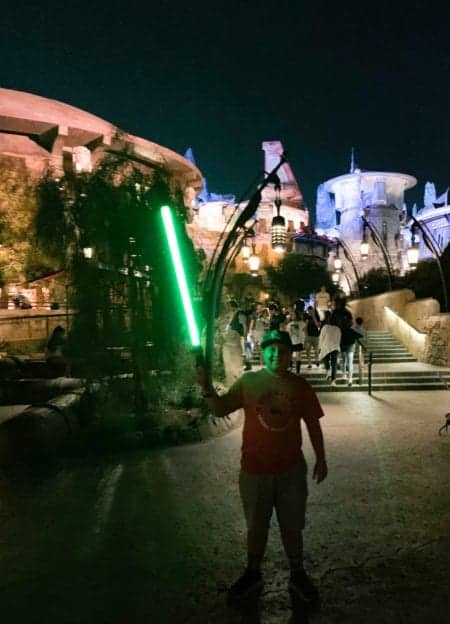 Of course we had to try out the lightsaber at night in Batuu! I have to say it's pretty awesome to see all of the glowing lightsabers throughout Star Wars Galaxy's Edge at night.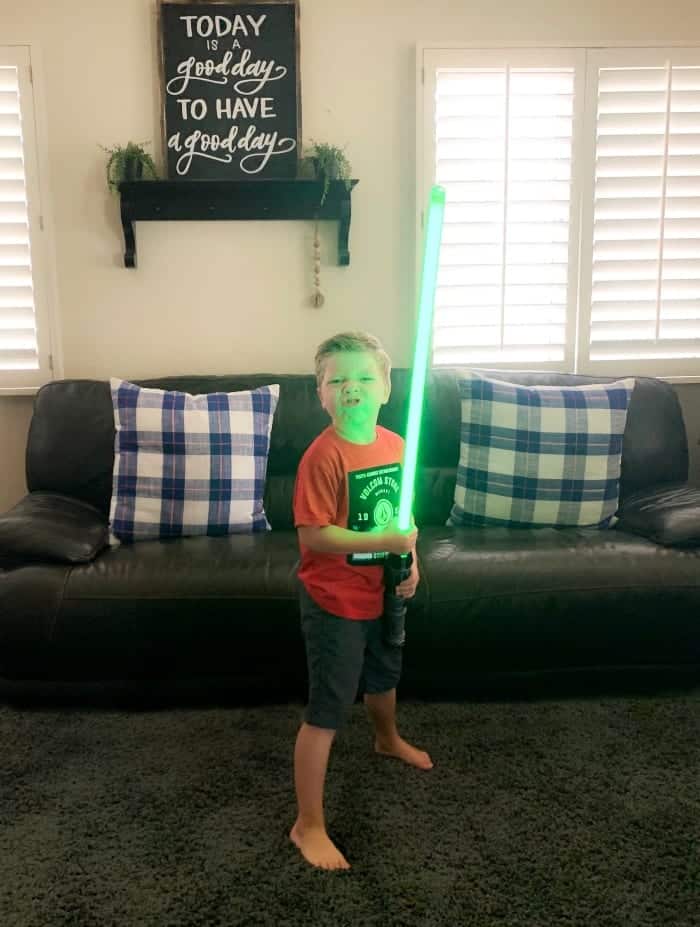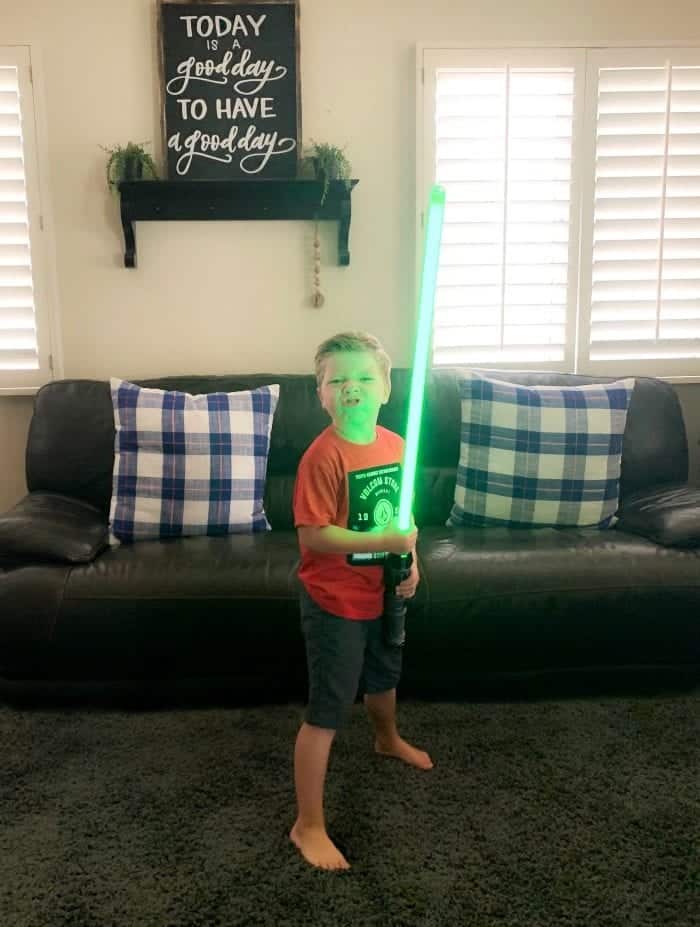 I was pretty confident that my youngest would claim the lightsaber his….I was right, ha! It's also good to know that this lightsaber has some weight to it. My son is almost 7 and has no trouble handling it, but I'd say at the minimum 5 years old because it is pretty heavy.
Overall Thoughts
I am so glad that we experienced Savi's Workshop at least once. Because of the $199 price tag for the experience, I can't imagine doing it again. All three of my boys will not have their own lightsaber, they'll share this one 🙂
The second you walk into the experience, you are taken to a whole new world as cheesy as that sounds. The Gatherers/Cast Members make you feel so special and make the whole experience perfectly detailed and so dramatic.
The quality of the lightsaber is awesome. Heavy duty materials and heavy in weight. I appreciated that it came with a carrying case to wear on your back.
If you can budget this experience I say go for it. You won't regret it. Don't forget to get your reservation 14 days in advance currently. Will be 60 days soon.
Pin To Your Favorite Disney Board