Back To School Dinner Recipes
Back to school time means we need dinner on the table for our busy family time, lol! Something about Summer makes it ok to have cold cereal and frozen waffles for dinner, right?! With most of the country back at school….us next week, it's time we get cooking 🙂
Well, I've got some of my favorite Picky Palate dinner recipes to share with you that will make those weeknights a little easier when deciding what to make for the family.
Enjoy!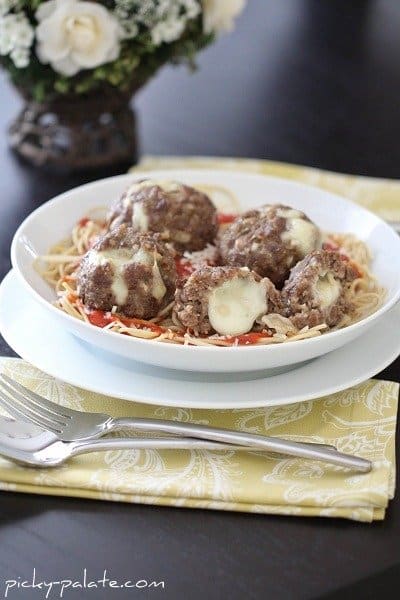 These stuffed mozzarella meatballs are good enough to eat by themselves, but throw in some nice pasta and pasta sauce and dinner could not be better! Mozzarella Stuffed Meatballs
I remember asking everyone if they'd ever had Hawaiin Haystacks growing up and it was about 50/50! If you haven't it's basically a big plate of rice with a homemade chicken gravy on top with some of your favorite toppings. The kids love preparing their own little mountain of dinner. Homemade Hawaiian Haystacks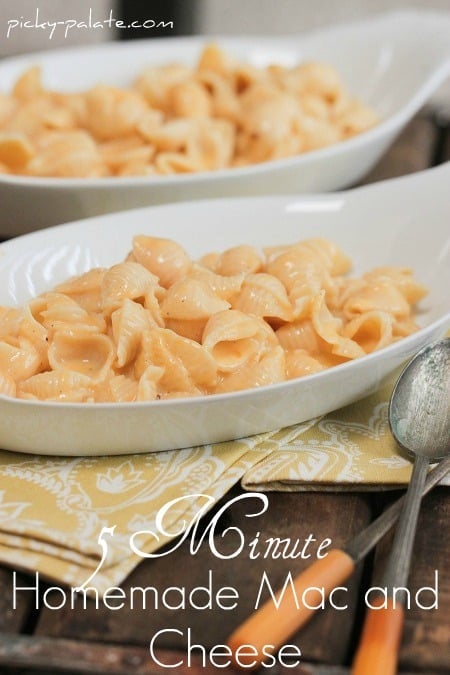 Well, the name says it all right? The key to this recipe is do not alter the recipe. You need milk with fat and good shredded cheese. Serve with some grilled chicken and vegetables and you are good to go. 5 Minute Homemade Mac and Cheese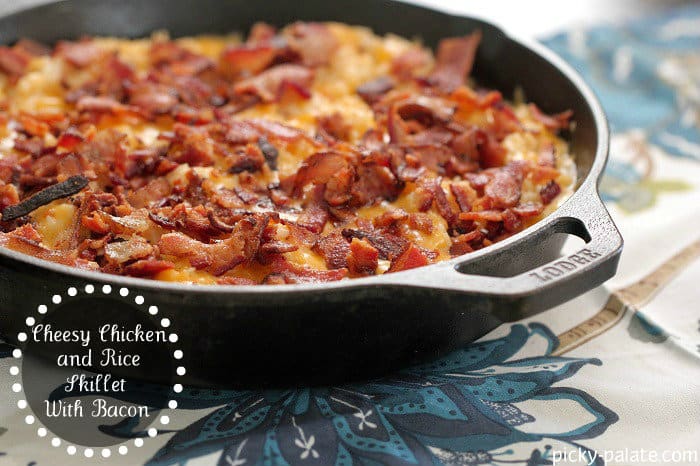 This dinner in a skillet doesn't last long once it's set on the table so be prepared for it to go quickly. Topped with crispy bacon and lots of cheddar cheese, this one pleases even those picky little eaters! Cheesy Chicken and Rice Skillet With Bacon Dinner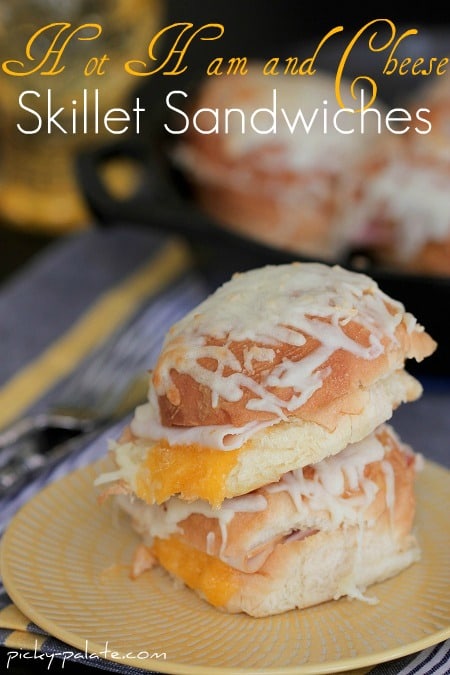 There's something about a hot melty ham and cheese sandwich that is downright delicious. These little sandwiches do not disappoint. Serve with soup and salad for a quick meal. Hot Ham and Cheese Skillet Sandwiches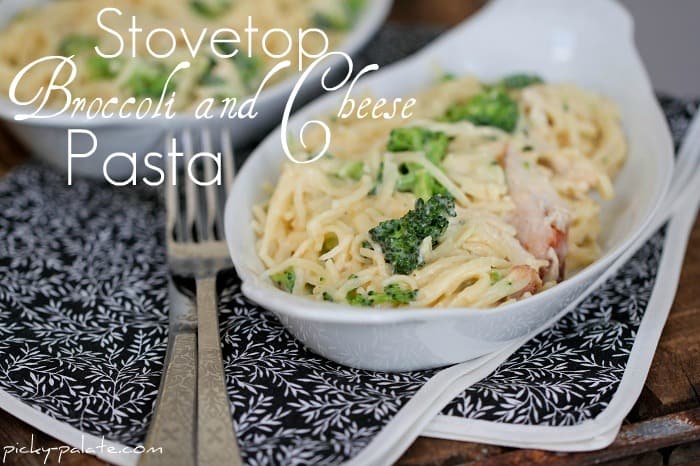 My family loves this simple broccoli and cheese pasta. It's quick to prepare and full of great flavor with bites of chicken breast throughout. Stovetop Broccoli and Cheese Pasta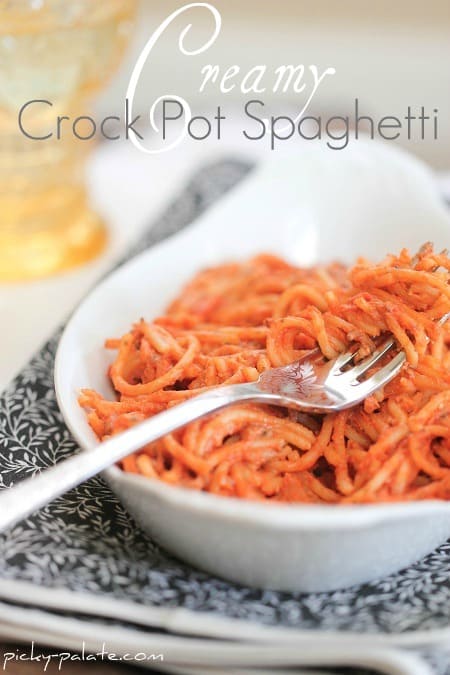 Have you ever made spaghetti in the crock pot? It's quite fun. Be sure to not let this one over cook, you don't want your noodles to get mushy. When cooked just right, you've got a flavorful spaghetti that's hard to resist! Creamy Crock Pot Spaghetti
I love making casseroles for dinner! They are quick and easy to feed the whole family! This Mexi-style casserole has flavor that impresses everyone! Queso Taco Pasta Bake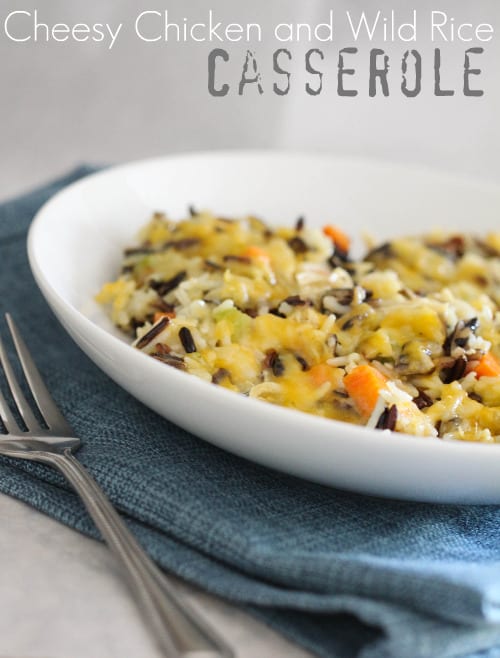 You may have seen this recipe on Pinterest if you are a Pinterest fan 🙂  It really is comfort food on a plate. Full of rice, vegetables chicken and cheese….this one is a hit! Cheesy Chicken and Wild Rice Casserole
[ziplist]
Be sure to visit each individual recipe to add to your recipe box!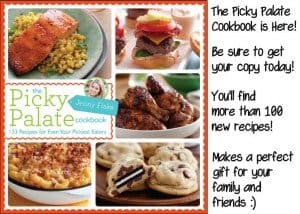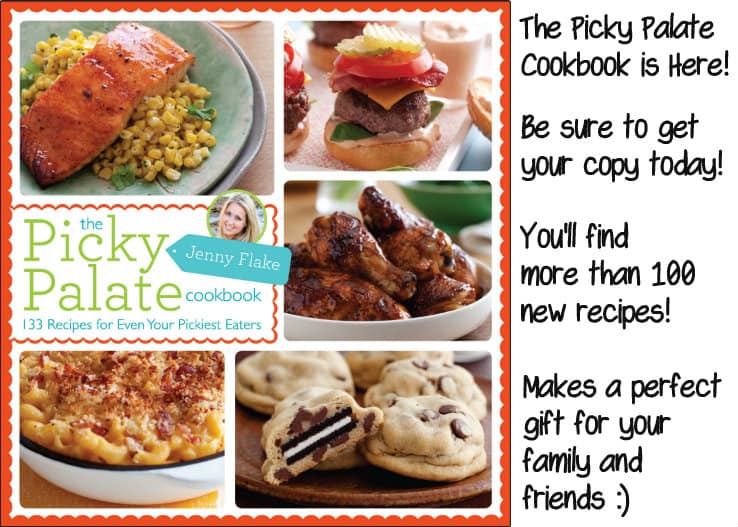 FOLLOW PICKY PALATE ON INSTAGRAM! Show me what recipes you're making from Picky Palate by using #pickypalate.
Other recipes you may enjoy...
Comments