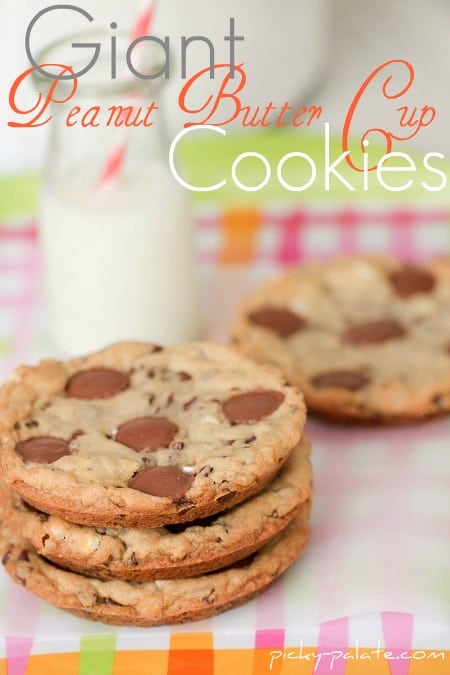 With Easter right around the corner I thought it's be fun to use some Easter candy I found at Target last week. Reeses Peanut Butter Cup Minis! Have you seen them? They are absolutely adorable and come in a bag individually unwrapped. Perfect for some fun festive cookies 🙂
I also used my Muffin Top Pan that has been a favorite of mine since last year. If you haven't picked up a muffin top pan yet you absolutely must. It makes the best giant cookies ever!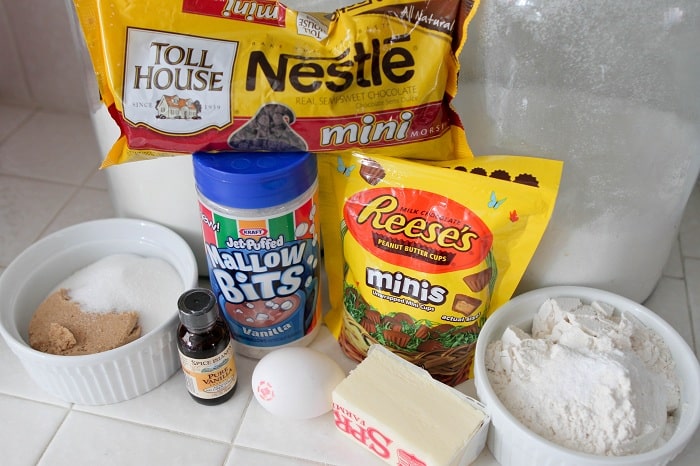 Here's your line up of ingredients….and those cute PB cup minis 🙂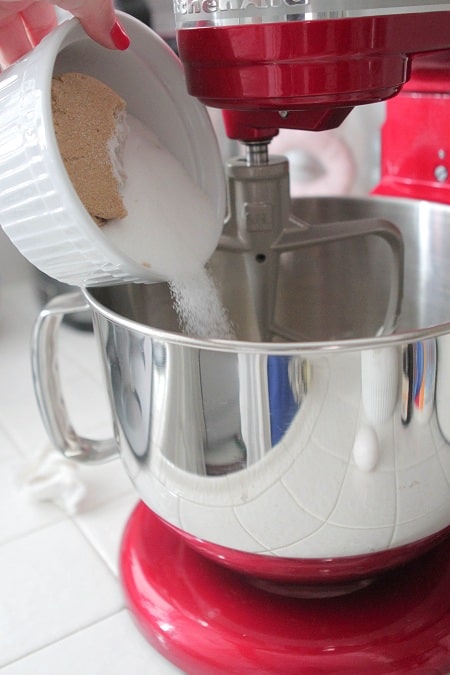 Let's cream the butter and sugars to start.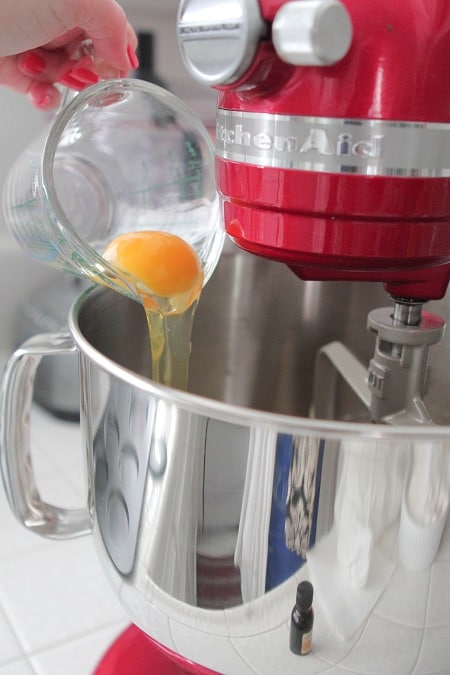 Add a lovely egg.
Some vanilla.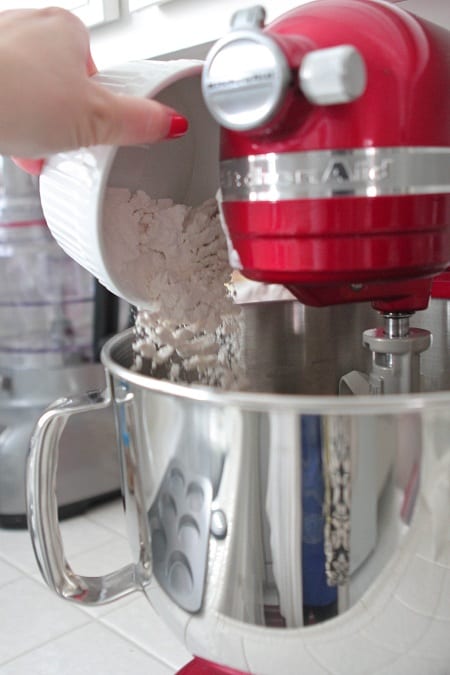 Time for the dry ingredients!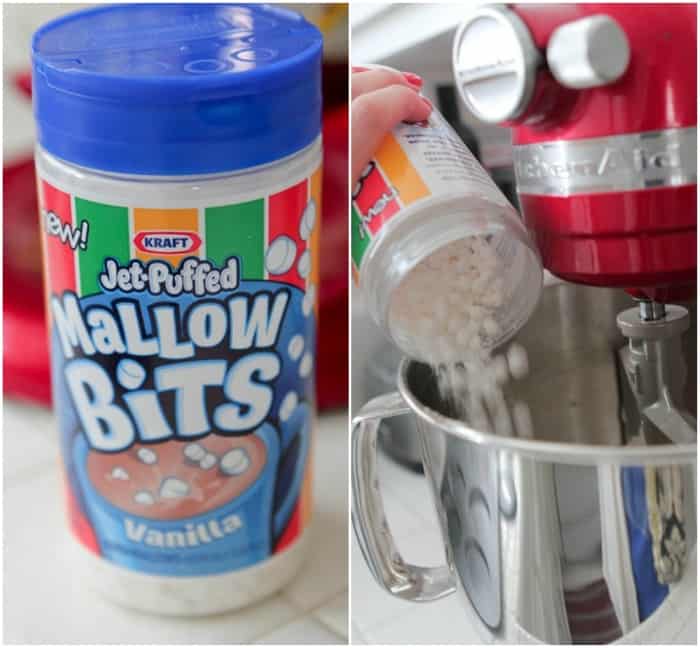 Love, Love, Love these Marshmallow bits in cookies. You can find them at Target.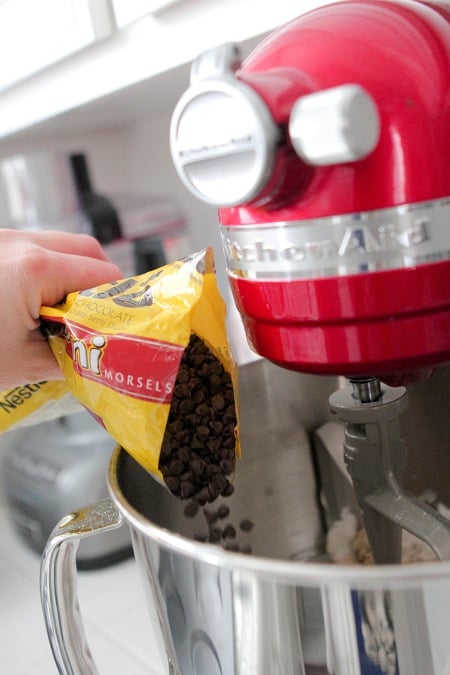 Add some chocolate chips please 🙂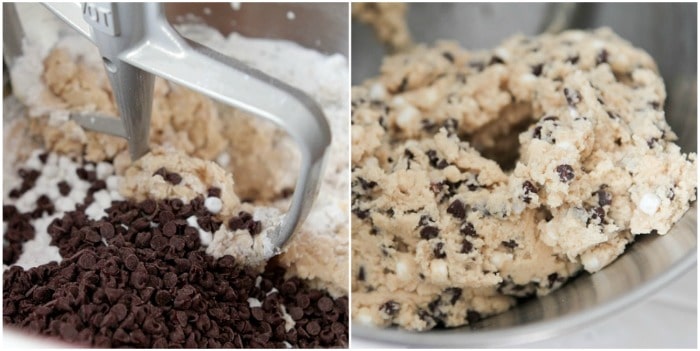 Time to give her a good mix.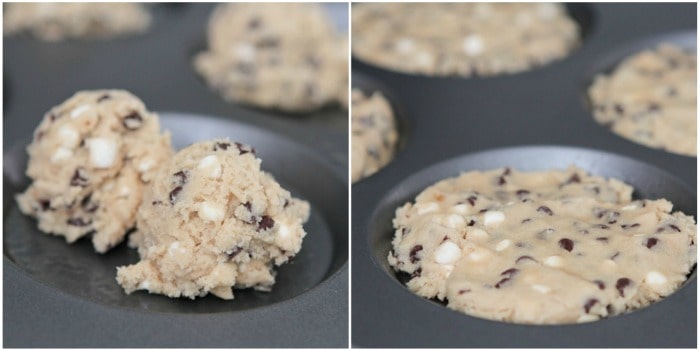 Scoop 2 scoops of dough into your muffin top pan and press to flatten.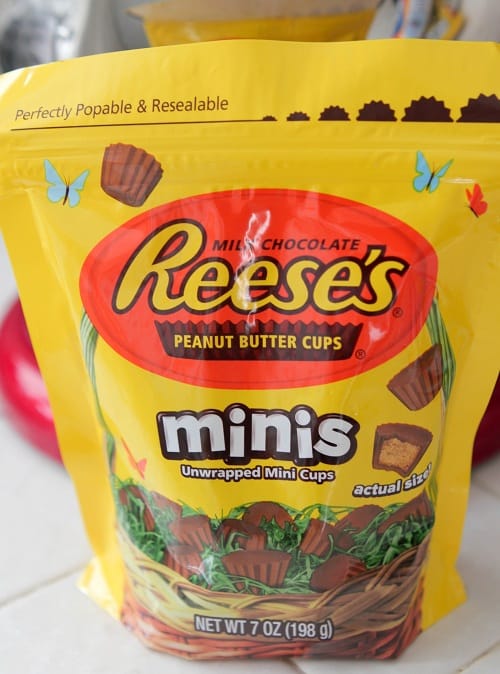 Ahhhh, here they are! Love these.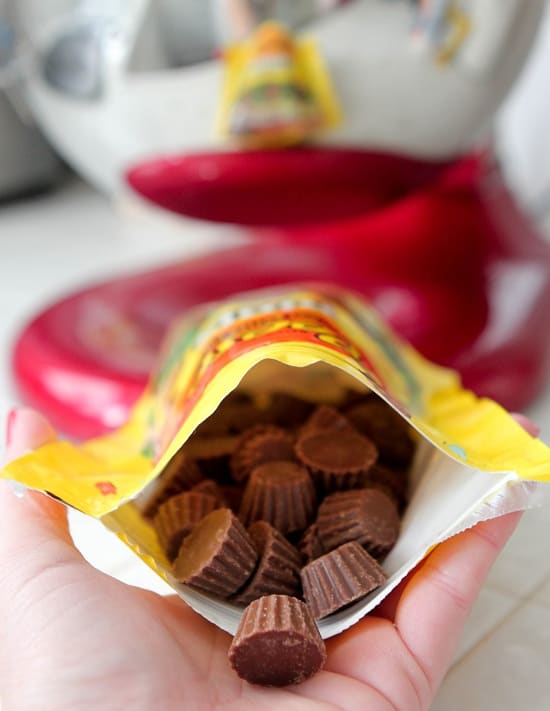 Aren't they cute?!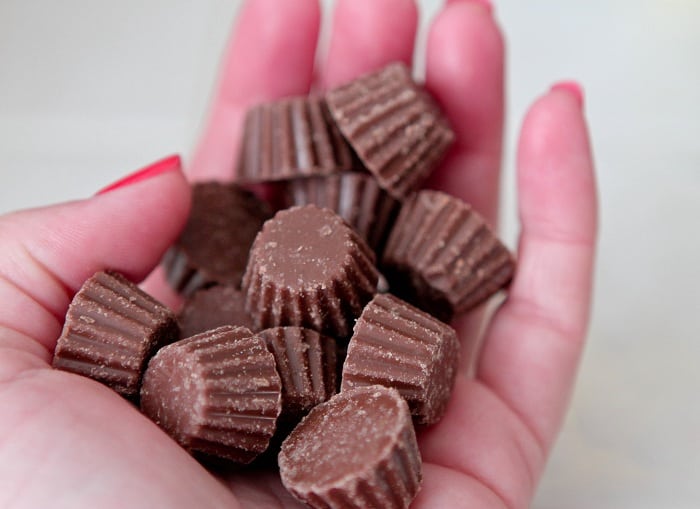 Love.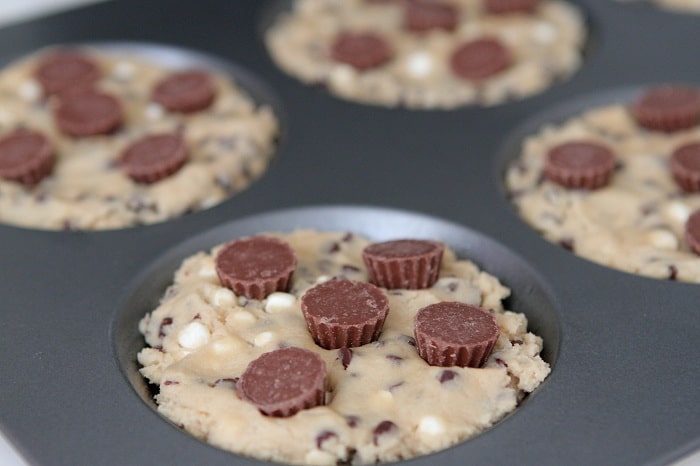 Press about 5 cups into each cookie and time to bake.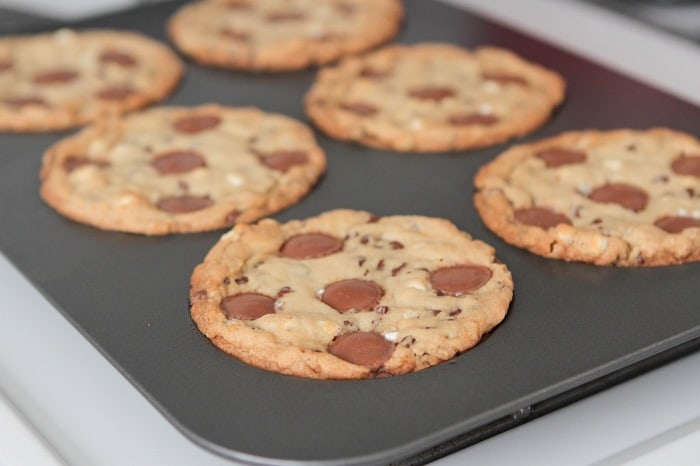 You get perfectly round giant lovely cookies. Enjoy!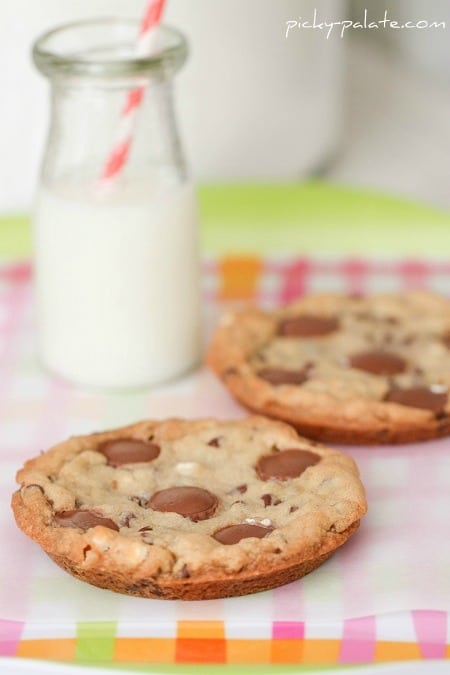 Can't wait for you to try these!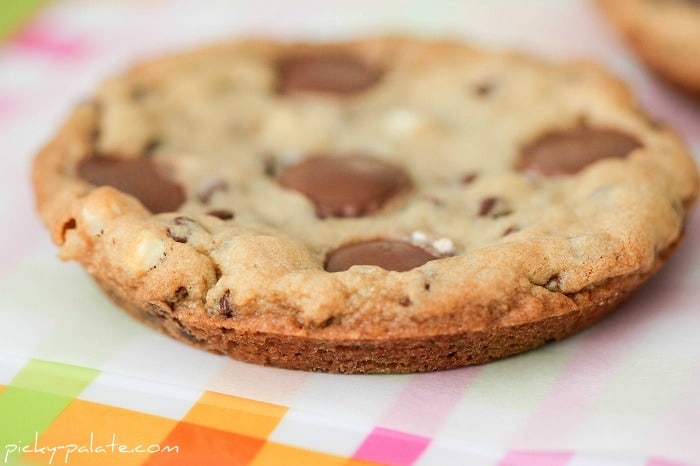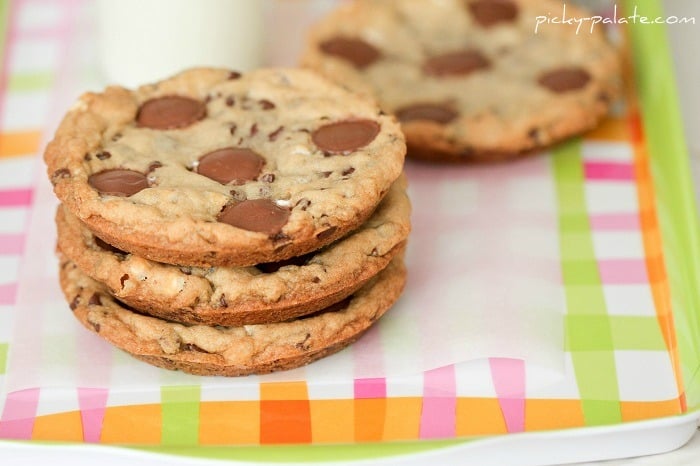 [ziplist]
Giant Peanut Butter Cup Marshmallow Cookies
1 stick, (8 tablespoons) unsalted butter, softened
1/2 cup granulated sugar
1/2 cup packed light brown sugar
1 large egg
1 teaspoon pure vanilla extract
1 1/2 cups all purpose flour
1/2 teaspoon baking soda
1/4 teaspoon kosher salt
1 cup mini chocolate chips
1 cup Marshmallow Bits
7 ounce bag Reeses Peanut Butter Cup Minis
1. Preheat oven to 350 degrees F. and spray two 6 count muffin top pans with non stick cooking spray.
2. Cream butter and sugars into a stand or electric mixer until creamy and smooth, a minimum of 2 minutes. Add egg and vanilla, beating until combined.
3. Place flour, baking soda and salt into a medium bowl, mixing to combine. Slowly add dry ingredients to wet ingredients along with mini chips and marshmallow bits. Mix until just combined. With a medium cookie scoop, place 2 scoops of dough into each muffin top cup. Press dough flat then top each cookie with 5 mini peanut butter cups each. Bake for 12-14 minutes or until baked through. Let cool for 10 minutes before transferring to cooling rack. Serve and enjoy!
Makes 12 Giant cookies
__________________________________
Other Picky Palate Muffin Top Pan Cookies that you might like!
XXL M&M Chocolate Chip Cookies
Salted Caramel Dark Chocolate Chunk Cookies
Snicker's Caramel Cheesecake Cookies
Blueberry, Caramel and White Chocolate Chip Cookies
Have a great day! Come back soon 🙂