I'm a huge fan of Reese's Peanut Butter Cups! This is a fun round-up of my favorite peanut butter treats over the years. Let's take a look at some of the best Reese's recipes!

The Best Reese's Peanut Butter Cup Desserts
These candy bar cookies came about shortly after my Oreo Stuffed Chocolate Chip Cookies. January 17th 2011 to be exact. These are equally as delicious and the peanut butter cups inside make for a giant crazy good cookie. ….and you can stuff about any of your favorite candy bars inside. Be prepared, these babies are big! Follow Picky Palate on Instagram for daily recipe inspiration. Check out my Reeses Peanut Butter Cup Stuffed Chocolate Chip Cookies!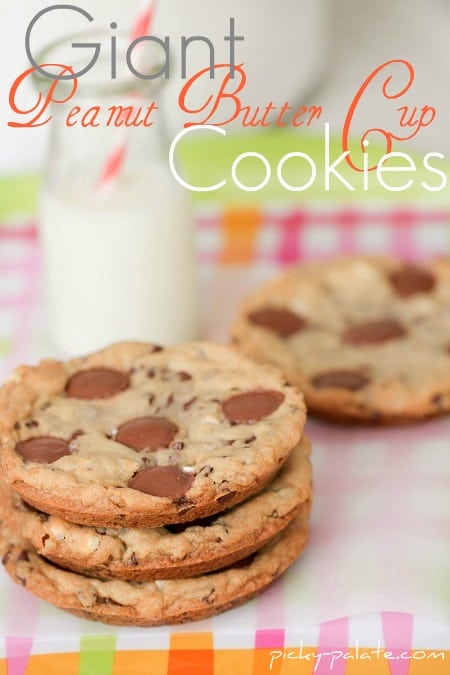 Have I mentioned how much I love baking cookies in my muffin top pan? It really makes for a fun perfectly round large cookie that's great for packaging up for gifts. I used the mini peanut butter cups for this cookie and even added some mini marshmallow bits for a fun touch. These do not disappoint.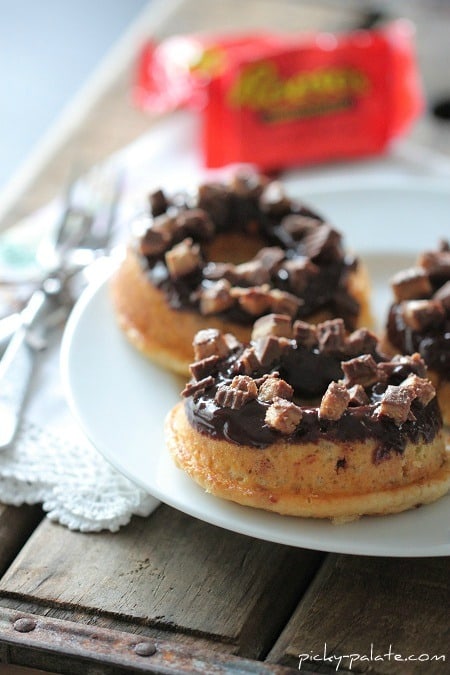 I have a big thing for baked donuts especially when they are topped with chocolate ganache and Peanut Butter Cups. These soft cake-like donuts are simple to whip up and taste like a dream. Enjoy!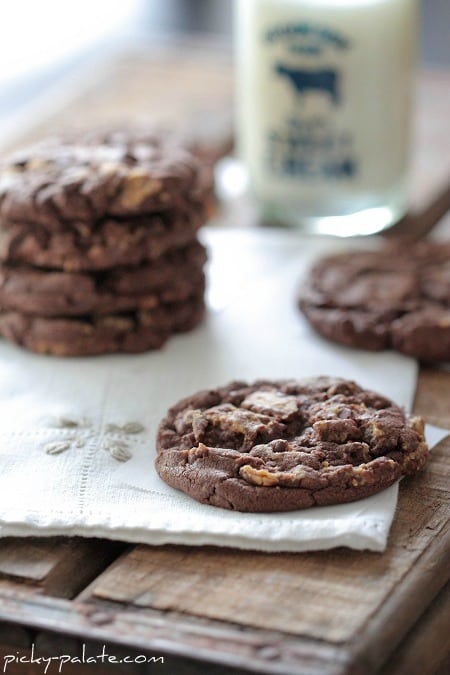 These Chocolate Cake Peanut Butter Cup Chunk Cookies are one of my favorite cookies. They take no time at all to prepare and are great for bringing to friends and family. They'll be all smiles when they see these show up.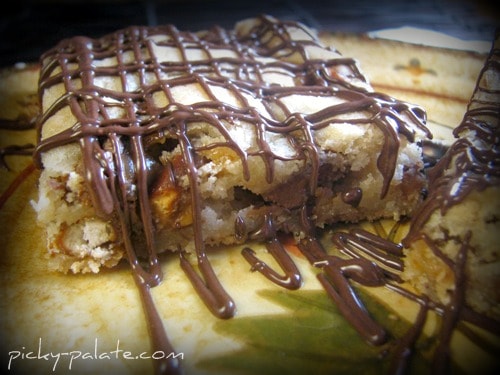 These fun Crunchy Caramel Reeses Cookie Bars were created waaaay back in 2009. They are packed with pretzels, caramel, Reeses Peanut Butter Cups and sugar cookie dough. These babies will satisfy any sweet tooth.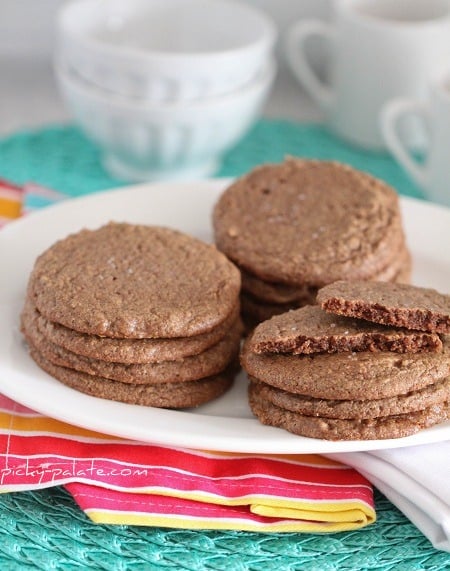 I remember when I had this crazy idea to make cookies out of smashed Peanut Butter Cups and an egg. Sure enough it totally worked! They are crispy and peanut buttery delicious. Try it out for yourself!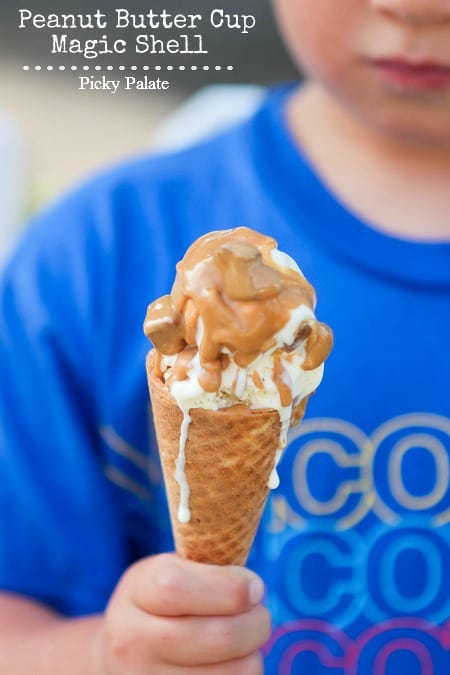 My newest Peanut Butter Cup recipe is this so very simple magic shell. It is perfect for these hot summer months and makes any ice cream cone 10 times better 🙂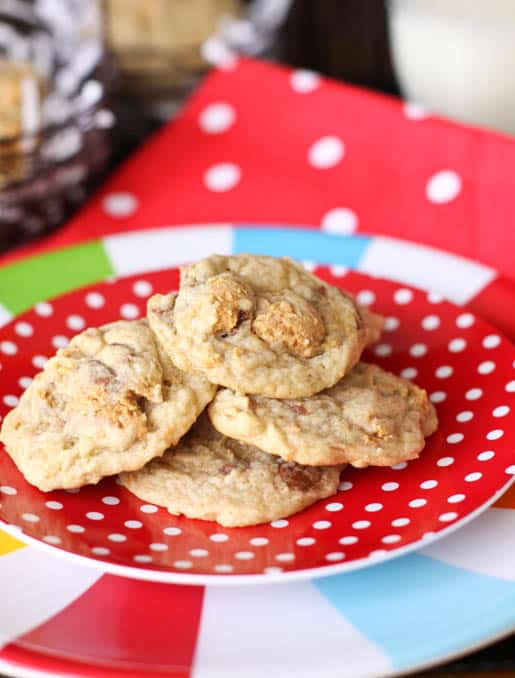 I have to admit that those darn Reeses Eggs that come out at Easter make me crazy. They are so incredibly good it's hard to just eat one. Mix those inside these cookies and you've got yourself one good irresistible cookie.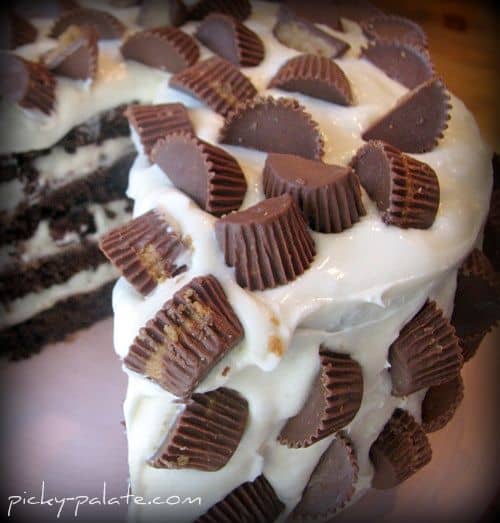 Way back in September 2009, I created this decadent layered chocolate cake packed with mini peanut butter cups for my Dad's birthday. Let's just say it will make anyone's birthday sweet! This one is a must make.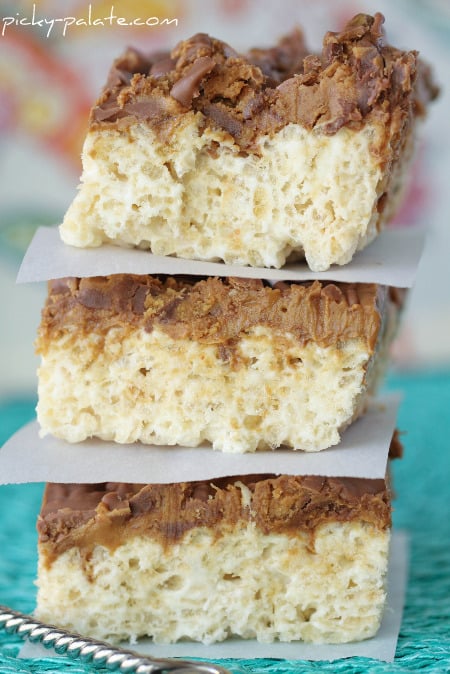 Rice Krispie treats topped with a thick layer of chocolate and semi melted Peanut Butter Cups?! Trust me, you've got to try them to know how good they are 🙂
Be sure to click each individual recipe to save to your recipe box!