How To Make and Eat Walking Tacos

Hey everyone, only one week until Superbowl Sunday, do you know what you are making?  Let me help 🙂  In fact, all this week I will be posting fabulous Superbowl Sunday recipe ideas for you.  All of this party food is so much fun to make!!

MY LATEST VIDEOS
So, a month or so ago one of my friends was telling me about these "Walking Tacos," I said what on earth is a walking taco!?  Come to find out, they make the perfect party food.  It's a taco in a bag people!!  And you can take them anywhere!  No washing dishes afterwards either!  I thought is was hilarious and the perfect idea, so here you have my take on the perfect
walking tacos 🙂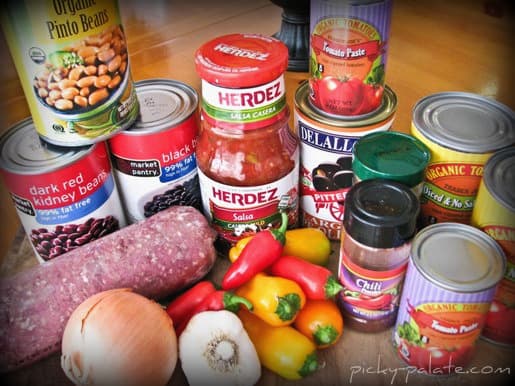 Here are most of your ingredients for the Taco Chili.  Not pictured is the lime and hot sauce.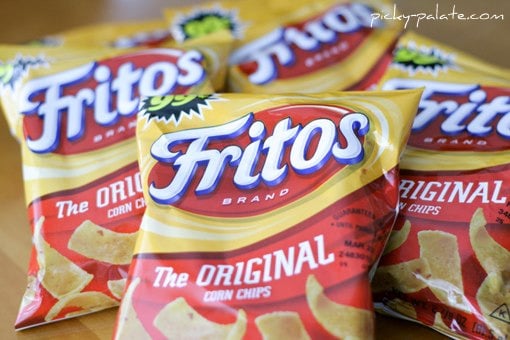 Go pick up how ever many small bags of Fritos you need.  My grocery store only had the bigger 99 Cent bags, the small ones are perfect, so find those 🙂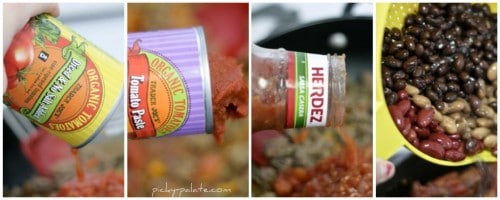 Making the chili, dump it all in!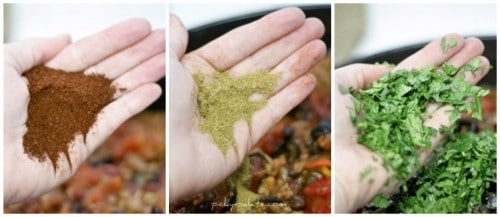 Seasonings that make the chili mmmm!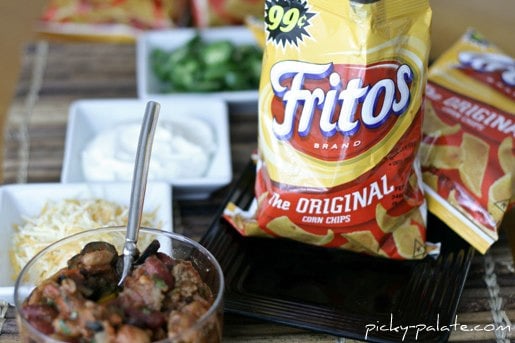 Here is your set up.  Open up your Frito Bags, get your chili and all your fixin's in order…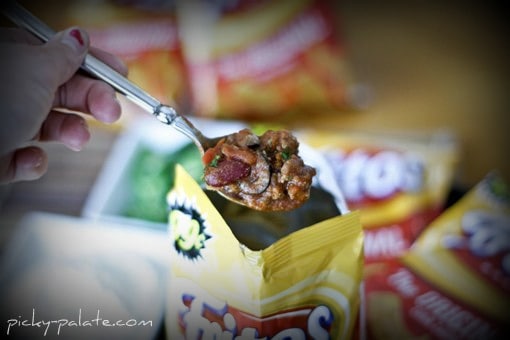 Now the fun begins, spoon in your taco chili….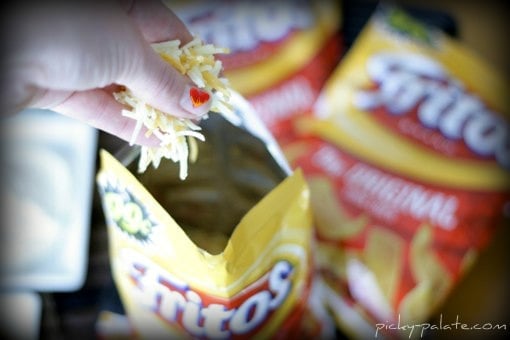 Add your cheese…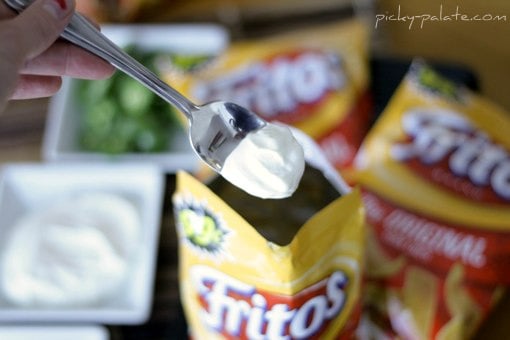 Add your sour cream…..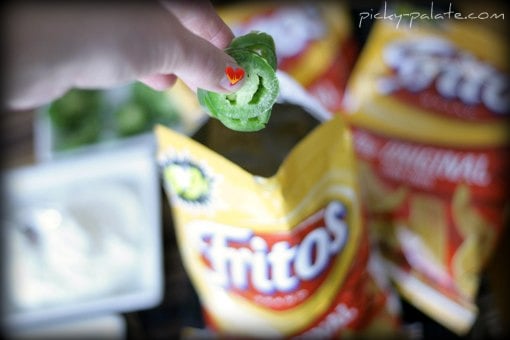 Add your jalapenos, or green onions if you can't take the heat 🙂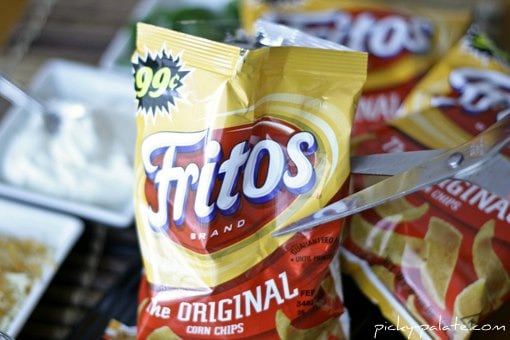 My bags were a little big, so I cut the extra bag off the top to be able to eat my tacos better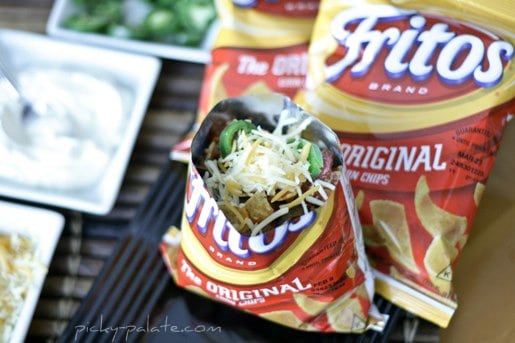 Here you have it, your perfect little bag of "Walking Tacos!"
_______________________________
Ingredients
2 Tablespoons extra virgin olive oil
1 medium onion, chopped
6-8 little sweet peppers or 1 green and 1 red bell pepper, chopped
4 cloves fresh garlic, minced
1 lb lean ground beef
Pinch of kosher salt and black pepper
2 cans diced tomatoes
1 Cup Herdez Salsa or your favorite salsa
1 small can tomato paste
1 Cup warm water
3 cans of beans, drained (I used black, pinto and red kidney)
1 can black olives sliced
2 Tablespoons chili powder
1 Tablespoon ground cumin
1 Tablespoon hot sauce, Tabasco
1 Tablespoon fresh lime juice
Pinch of Kosher salt, fresh cracked black pepper and Lawry's Garlic Salt with Parsley (to taste)
1/2 Cup fresh chopped cilantro
Bags of Fritos
Shredded cheddar cheese
Sour cream
Jalapenos, or green onions
1. Heat oil in a large dutch oven over medium heat. Saute onion and peppers for 5 minutes or until softened. Add garlic and cook for 1 minute. Add ground beef, salt and pepper. Cook until browned. Drain if needed. I usually don't need to for the lean beef. Pour in tomatoes, salsa, tomato paste then stir to combine. Add 1 Cup warm water to thin out slightly then add in beans, olives, chili powder, cumin, hot sauce, lime juice, salt, pepper and garlic salt. I start with just a pinch of salt then keep tasting until it's to my liking. Add chopped cilantro and reduce heat to low to simmer until ready to serve.
2. Open bags of fritos. Spoon in chili, cheese, sour cream and jalapenos. Stick a fork in it and eat!!
__________________________________
Here are my guys loving their Walking Tacos!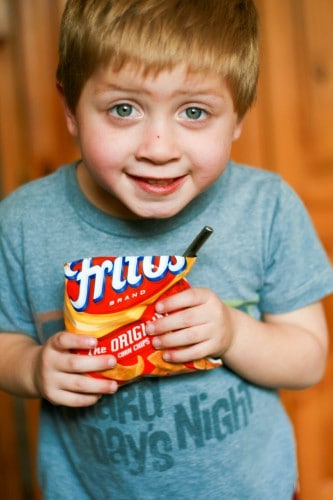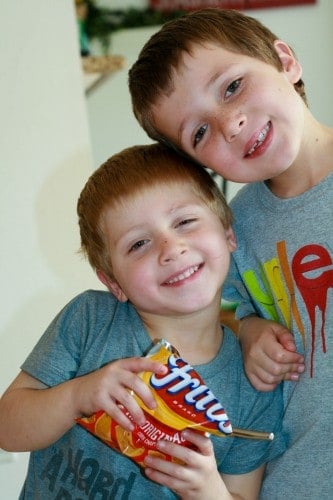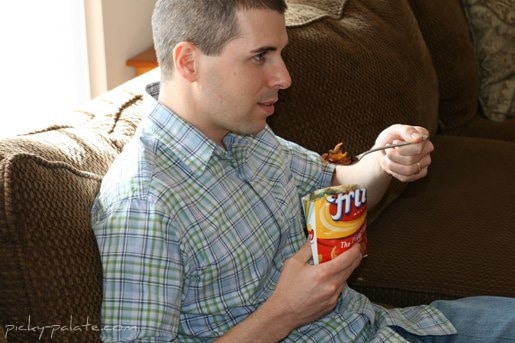 Walk your tacos to the couch and watch the big game!!
___________________________________
So have you guys heard of these, or did I just live in a bubble?!  See y'all soon for more Game Day Eats!!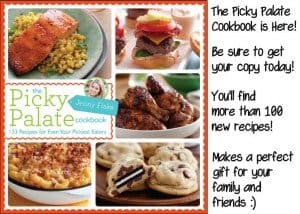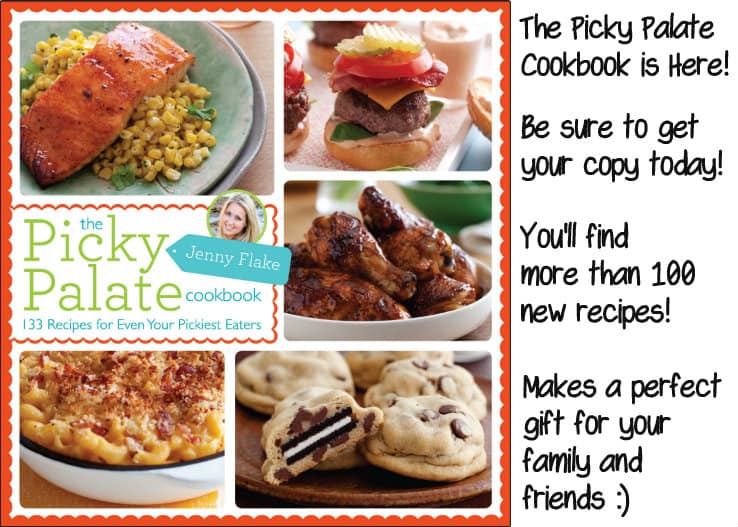 FOLLOW PICKY PALATE ON INSTAGRAM! Show me what recipes you're making from Picky Palate by using #pickypalate.
Other recipes you may enjoy...
Comments