Sharing Ten Weeknight Chicken Dinner Recipes with you today! These are some of my very favorites from Picky Palate!!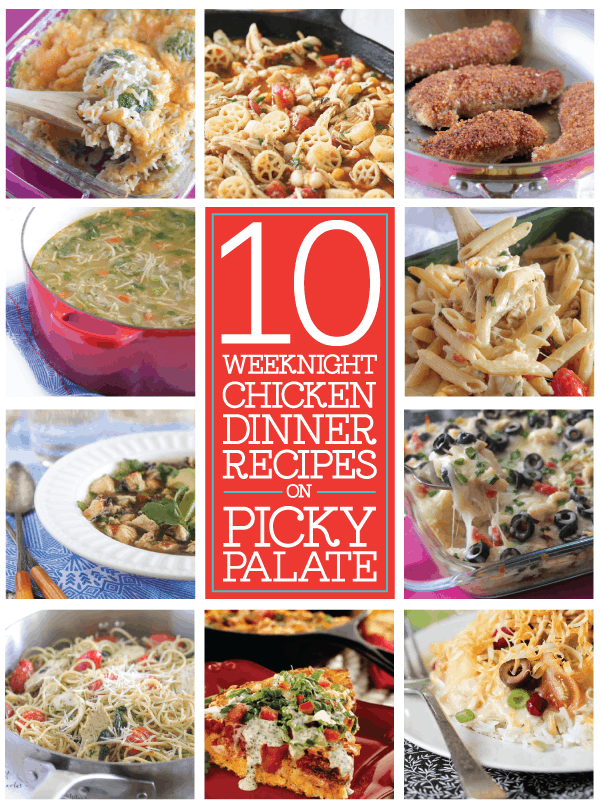 Chicken Dinner Recipes
Chicken dinner recipes are a must around our house! I know how crazy it can get trying to please the whole family for dinner time. Sometimes it feels like you just can't please everyone….ever! I've put together some of my favorite chicken dinner recipes that will put smiles on everyone's faces. From soup to pasta, to rice dishes to mashed potatoes, you're going to love these! Hope you enjoy!!

Creamy Garlic Chicken Rice Bake
These crazy simple to prepare rice dish could not get more perfect for busy weeknights. Great flavors and easy clean up too!
It's no secret we love our Southwest style meals. This recipe has become a Picky Palate fan favorite and I can absolutely see why.
Parmesan Pecan Chicken Tenders
Who needs to buy chicken tenders when you can make your own amazing and much healthier ones at home. These are kid approved!
I love a good pasta recipe. This one has so many of my favorite ingredients, it's hard not to be a huge hit!
Mexican 7 Layer Mashed Potato Bake
My kids go nuts when I make mashed potatoes. How fun is this 7 Layered bake?
Hawaiian Haystacks are so great to serve so everyone can create their own plate personalized just for them.
This cornbread recipe won me the Grand Prize at The National Cornbread Cook-off! You've got to try it.
Roasted Chicken and Tomato Pesto Spaghetti Florentine
Another amazing pasta recipe packed with great flavors
Salsa Verde Chicken and Wild Rice Soup
One of my favorite simple to prepare soup recipes.
One Pot Mexican Style Chicken Noodle Soup
This giant pot of chicken noodle soup is bursting with great Mexican style flavors.