This Chicken Taco Rice Skillet makes the perfect flavor packed weeknight dinner!
It's always a pleasure partnering with Old El Paso to bring you simple Mexican style meals.  These flavorful chicken thighs over taco rice could not be more delicious.  Perfect for busy weeknights and even great for Sunday dinner to serve family style.
Continue Reading »
My Healthier Chocolate Chip Cookies make the perfect afternoon snack with less guilt than your typical cookie!

For the last couple weeks I've been perfecting this "healthier" chocolate chip cookie.  I've been looking for just the right texture but less of the "bad stuff" in everyday cookies that I love so much.
Continue Reading »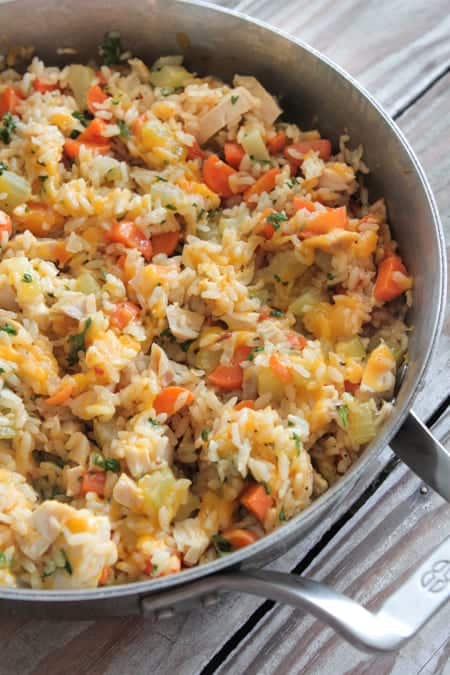 My Weeknight Cheesy Chicken and Rice makes the perfect dinner for the whole family!
I love making quick and simple weeknight dinners.  My family goes nuts for this flavor packed one pot dinner.  Love that you won't be making a huge mess in the kitchen with this one.  One pot dinners are my favorite!  I used a rotisserie chicken for the chicken in this recipe.  Feel free to cook your own if you desire.  Pre-chopping your veggies helps with your prep time.  Hope you enjoy!
Continue Reading »
These Chocolate Hazelnut Sweet Rolls make the perfect surprise for your family and friends.
It's a pleasure partnering with Fleischmann's® Yeast today to bring you these gorgeous Chocolate Hazelnut Sweet Rolls.
There's something so special about making homemade rolls.  Especially in the winter, when it's oh-so cold outside and you just want to get cozy.  It's the kind of 1-dish recipe that puts a smile on everyone's faces when they see them sitting on the counter and that smell – so delicious!  They are perfect to bake for any occasion and since baking is one of my favorite ways to show how much I care, I couldn't wait to make these and share them.
Can you imagine how perfect these would be for Valentine's Day coming up?  I was inspired from Feischmann's Beginner's Caramel Rolls and decided to shake up the sweetness by adding chocolate hazelnut.
Continue Reading »
More Meal Plan ideas for you.  Enjoy!
Monday: Sausage Basil Rigatoni
Tuesday: Perfect Weeknight Chili
Wednesday: Chicken Caprese Pasta Bake
Thursday: Creamy Garlic Chicken Rice Bake
Friday and Saturday this mama takes a break in the kitchen.
Sunday: Southwest Buttermilk Baked Chicken Thighs
Dessert Idea: Kitchen Sink Skillet Cookie

Sharing my One Bowl Chocolate Chunk Brownies today. Perfectly chocolatey, chewy and simple to prepare!
I made another fun video showing step by step how to make my favorite brownies.  Doesn't get easier or more delicious than these babies!  Hope you enjoy!
Continue Reading »

Sharing my Perfect Chocolate Chip Pudding Cookies with you today! Perfect texture every time, say goodbye to flat or too puffy cookies!
It's no secret I am obsessed with baking cookies…practically on a daily basis, ha!  Had to share my favorite recipe for a classic chocolate chip cookie.  Buttery edges with soft chewy centers.  Can't beat these.
Continue Reading »

This Loaded Potato Soup with Cheesy Garlic Toast makes the perfect weeknight dinner for the whole family!
It's a pleasure partnering with Idahoan® featuring their Premium Steakhouse® Potato Soups today!  I'm always a fan of a delicious meal that just takes minutes to prepare.  So perfect for busy weeknights with the kids.  Love that I can bring the steakhouse to my home any day of the week!  Break out the nice plates and silverware and bring the steakhouse to your home!
Continue Reading »