These Kitchen Sink Cookie Bars could not be more delicious and simple to take to your upcoming parties!

These cookie bars literally have everything but the kitchen sink in the dough….they are epic!  The nice thing is, you can add your favorite cookie dough ingredients, pretty much anything goes!  Hope you enjoy this fun bar perfect for transporting to any party.
Hope your summer is off to a great start!  Here's another group of recipes that will be great to help plan your meals for the next week!
Monday:  Taco Totchos
Tuesday:  Breakfast for dinner with my Overnight Breakfast Casserole
Wednesday:  Classic Homemade Meatballs
Thursday:  Weeknight Cheesy Chicken and Rice
Friday and Saturday this mama takes a break from the kitchen 🙂
Sunday:  Spicy Apple BBQ Grilled Chicken
Dessert Idea:  Peanut Butter Fudge Stuffed Brownies

These Rold Gold Pretzel Peanut Popcorn Brownies make the perfect sweet treat for a Summer Dessert Picnic along with countless other occasions!
It's a pleasure partnering with Frito-Lay to bring you a sweet and simple dessert recipe that will help you say YES to more Summer fun!  These brownies could not be more delicious with Rold Gold Pretzels, peanuts and popcorn on top.  Kids as well as adults are in for a sweet surprise when these are served at your upcoming Summer parties.  From Summer picnics to Fourth of July parties, these brownies will be a huge hit.
There's such an excitement around the end of the school year and start of Summer.  Bring on Summer celebrations with family and friends!
Continue Reading »

My Cheesy Chicken Enchilada and Rice Soup makes the perfect quick fix weeknight dinner!
It's always a pleasure partnering with Old El Paso to bring you new Mexican style recipes.
This soup is such a great quick and simple weeknight dinner.  We love enjoying soup all year round, a favorite for sure!
Continue Reading »

My Peanut Butter Fudge Stuffed Brownies are jaw dropping gorgeous and delicious.
These brownies are literally GINORMOUS.  They are so fun to serve at parties.  Stuffed with a creamy peanut butter fudge, everyone love this!  I started with a brownie mix, however use your favorite homemade brownie recipe.  Hope you enjoy these bakery style brownies that steal the show 🙂
Continue Reading »

My Funfetti Candy Birthday Cake makes your birthday boy or girl so happy!!
I made this little individual Funfetti Candy Birthday Cake for some of my boys friends and it turned out so cute I just have to share it with you.  It was so easy to put together, trust me I am no cake decorator!  You'll need some 4-6 inch cake pans and the rest is easy!
Continue Reading »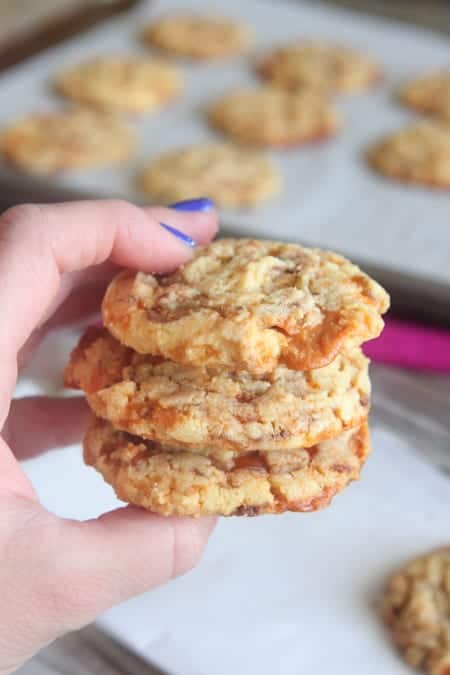 These Butterfinger Cake Cookies are so simple and a huge hit at every gathering!
I have to admit, I love a good cake mix cookie!  Honestly the options are endless and they have a great texture to them.  When you add Butterfinger bits to the mix, magic happens.  You get these chewy peanut buttery deliciousness!  So excited for you to try this simple cookie that everyone loves.  Enjoy!
Continue Reading »

This colorful Rainbow Hummus makes the perfect snack anytime of the day!
It's always a pleasure partnering with Sabra to bring you new recipes ideas!  Did you know National Hummus Day is coming up on May 13th?  What a delicious day and I will be celebrating along with Sabra!
For years, my entire family loves to gather around a plate of hummus and our favorite vegetables, crackers, bread and hummus.  It has become a tradition that is not only delicious but healthy too.
Continue Reading »