Treat yourself to these White Chocolate Cherry Pie Crescents that will have you grinning from ear to ear! Great for your Holiday dessert table too!

I love putting together simple dessert recipes ideas.  Especially for the Holidays when there's so much to do!  These beautiful crescents take a whole 5 minutes of prep work then they bake for 12-15 minutes.  Can't beat that!  Let's take a look.
Continue Reading »
These Gooey Caramel Pecan Brownies are sure to make your day a little brighter not to mention look amazing on your Holiday table!
It's always a pleasure partnering with Fisher Nuts to bring your new delicious recipes for your family and friends.  I've put together one chocolate lovers dream of a brownie.  Gooey marshmallows, buttery caramel and perfect pecans will have you smiling from ear to ear.
Get the kids in the kitchen to help make this sweet treat.
I always love using Fisher Nuts in my recipes. I choose to work with Fisher nuts because it is one of the only brands of recipe nuts entirely without preservatives…. Continue Reading »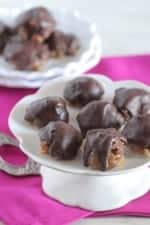 These Chocolate Covered Pecan Pie Bars are the perfect dessert to bring to your Holiday table.
What a pleasure partnering with Karo® Syrup today to bring you a Holiday treat that will wow all of your guests! The texture Karo Syrup brings to your baking is like no other.  It's always stocked in my pantry for all of my Holiday baking.
After I baked a fantastic pecan pie with Karo® Syrup, I used a cookie scoop to make little pecan pie mounds.  Drizzle with melted chocolate, let set and you've got yourself an adorable Holiday dessert that looks great on your table!
Continue Reading »

This Sausage and Gravy Breakfast Pizza makes a fun breakfast, brunch or even dinner!
Not even kidding, this pizza is one of our favorite things in the whole world.  Sausage gravy as the "sauce," sunny side up eggs, mozzarella cheese and garnish with chopped green onions….out of control good.
Just you wait until you try it.
Enjoy!
Continue Reading »
These Butterfinger Dessert Pancakes are the perfect show stopping sweet treat to entertain your family and friends!
Have you ever seen a more sinful stack of pancakes?  Butterfinger, peanut butter and warm chocolate sauce?  Heaven help me.
After my travels to Chicago last weekend ordering fun pancakes motivated me to create a gorgeous stack of dessert pancakes for this Holiday season!
Hope you enjoy!
Continue Reading »
So excited to share The BEST Pacake Recipes with you today from Picky Palate!
Making pancakes on the weekends is one of my very favorite things to do with the kids. The great thing is, you can add just about any of your favorite ingredients to make a delicious and fun pancake! Get creative and have fun!
Hope you enjoy my favorites.

Banana Nutella and Oatmeal Pancakes
These pancakes are packed with so many of my favorite ingredients.  I mean, banana and nutella?!  Heaven!
Continue Reading »
This Chicken Lasagna Bagel Bake is the perfect weeknight dinner the whole family is going to love!
It's always a pleasure partnering with Thomas Breads to bring you new family friendly recipes.  I've put together a weeknight dinner recipe for you today that I can't wait to share.  All of your favorite lasagna ingredients, but I use Thomas bagel pieces instead of the noodles.  Cheesy goodness!
You don't need too many ingredients to get started.  Be sure to see ingredient list below for more details.

Start by cutting up four Everything Bagels into 1 inch pieces.
… Continue Reading »
These Peanutty Pumpkin Spice Toffee Bars are festive, no-bake and crowd pleasers!
It's a pleasure partnering with Karo® Syrup today to bring you a new festive quick and simple recipe the whole family loves!  These bars can be whipped up in about 10 minutes.  Wait until you sink your teeth into these bars, you are in for a treat!
Here are your ingredients to get started.  Be sure you have Karo® Syrup! Karo's sweetness and texture will transform your recipe, provides the perfect amount of sweetness that allows your ingredients to stand-out.  
Baking is a way to show how much you care for someone, so bake a little extra … Continue Reading »