I've got Ten Perfect Summer Dinner Recipes for you today!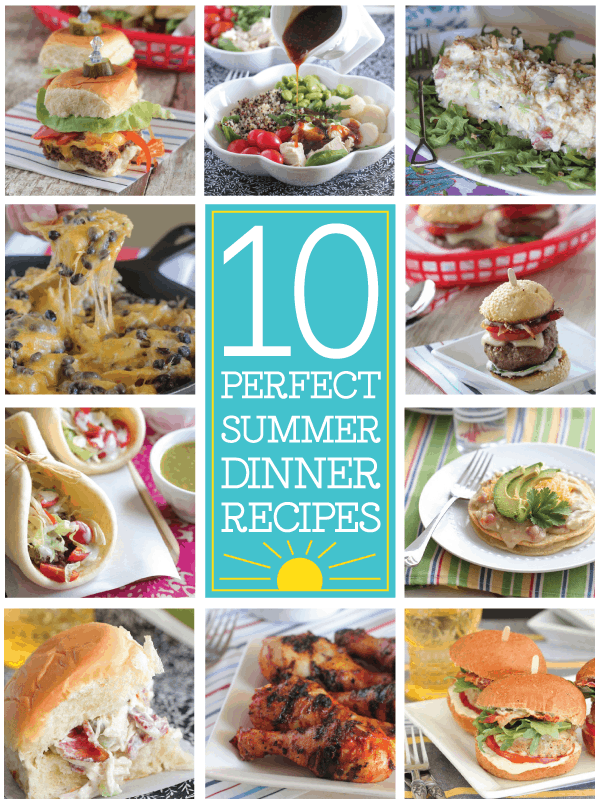 It's so hard to believe Summer is practically here. Summer camps, swim lessons, vacations, it's all upon us which means busy busy trying to get dinner done.
My kids get are in their last week of school! Crazy. Is it me, or does summertime for the kids get shorter and shorter every year? It seems like when I was a kid, we had 3 nice months of summer before school started again, now we have just June and July with school starting early August. It's so hot here in AZ, I always feel bad for the kiddos sweating it out the first month of school, lol!
Summer can be tricky to get dinner on the table every night, so I've put together some of my favorites that will make summertime even more fun and delicious. From burgers, to salads to nachos and tacos, there's a little something for everyone in this line up.
The last thing we want to do is spend all day in the kitchen. No worries, I've got you covered 🙂
Hope you enjoy!
clockwise from top left: Baked Fajita Sliders – Teriyaki Chicken Quinoa Power Bowl – Skinny Greek Yogurt Chicken Salad – Bacon & Ranch Cajun Baby Burgers – Chicken, Bacon & Ranch Stacked Enchiladas – Adobo Feta Turkey BLT Sliders – Garlic Lime Taco Grilled Chicken Drumsticks – Bacon Gorgonzola Chicken Salad – The Best 5-Ingredient Salsa Verde Beef Tacos – Skillet Nachos with Spicy Salsa Verde Chicken