My Twelve Perfect Valentine Day Recipes make the best sweet treats for all of the special people in your life. It will be hard to choose just one!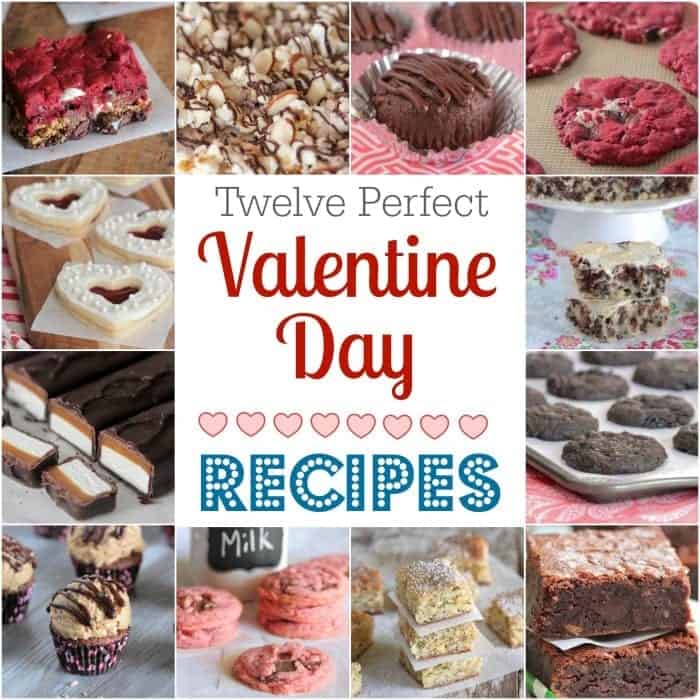 Now that Super Bowl Sunday is behind us, it's on to Valentine's Day! Let's not talk about how much food was consumed yesterday. Good grief, I should just have a water fast today.
Valentine's Day is so much fun to spoil everyone that is special to you. I've come up with twelve of my favorite dessert recipes that will have your family and friends over the moon. The theme here is chocolate, pink and red! So much goodness!!
Looking forward to putting together the boys' Valentines for their classmates. We always have so much fun doing that together. They always make sure they don't give the girls love-y dove-y ones 🙂 So much fun being a mom to these boys. Now I'm getting all mushy. Haha!
Hope you enjoy all of these sweet treats!
Brownie Red Velvet Gooey S'mores Bars
Marshmallow Chocolate Chip Shortbread Magic Bars
Double Chocolate Chunk Zucchini Muffins
Pink Velvet Strawberry and Chocolate Chunk Cookies
One Bowl Homemade Chocolate Chunk and Toffee Chip Brownies
White Chocolate Lemon Poppyseed Blondies
Homemade Chocolate Cupcakes with Peanut Butter Toffee Chip Cookie Dough Frosting
Double Chocolate Junior Mint and Chip Cookies
Almond Toffee Double Chocolate Popcorn
Malt Ball and Chocolate Chunk Red Velvet Cookies