My Superbowl Party Food will make your football party a huge success! Party food is some of my favorite recipes to create. They are usually smaller in size and more fun to eat!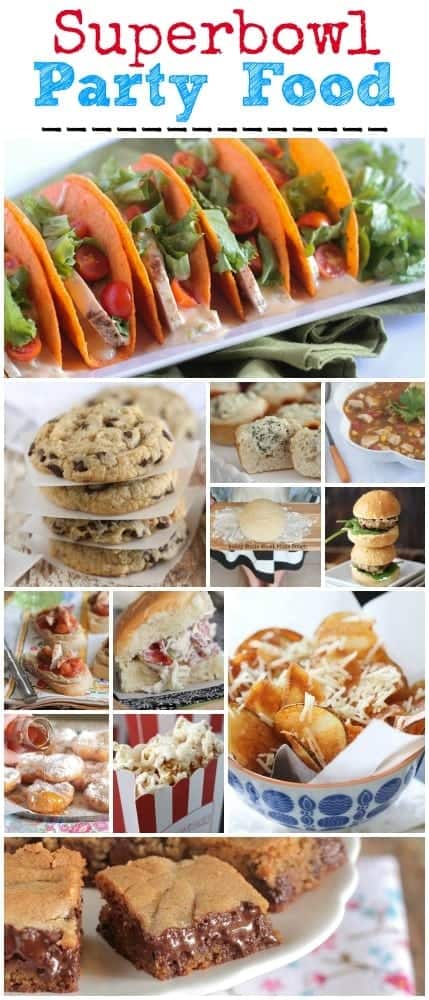 I have so many fun memories of getting together for the Superbowl. I have to admit, the highlight for me is having a fun assortment of party food. I love the excitement of the game, but who am I kidding….I never know what's going on. Sad that I was a cheerleader in high school and never knew football rules, lol! One of these days I'll get my husband to fill me in!

I've collected some of my favorite party recipes that will make the perfect Superbowl party for your family and friends. From chicken tacos with homemade queso sauce to homemade quesadillas and mini spinach dip bread bowls…..they are all so much fun not to mention delicious!
Grab your favorite friends and have them help in the kitchen to prepare the recipes. Don't forget to have everyone bring a little something to help. Makes your job as the host much easier.
Hope you enjoy! May the best team win…..who's playing again? Haha. It's not secret, I'm all about the food 🙂
Mini Mint Chocolate Chip Cookies
Baked Spinach Dip Mini Bread Bowls
Feta Sun Dried Tomato Turkey Burger Sliders
Salsa and Hummus Roasted Chicken Bruschetta
Bacon Gorgonzola Chicken Salad Sandwiches
Homemade Parmesan Potato Chips
Snickerdoodle Popcorn with White Chocolate Drizzle
Vanilla Malted Chocolate Chip Cookie Bars