Sponsored
This simple and flavorful corn side dish makes the perfect addition to any meal!

It's always a pleasure partnering with Old El Paso to bring you Mexican-style recipes that make dinner time a breeze.  I whipped up this flavor packed corn dish with just a few ingredients that will go great as a side dish or even inside your favorite burritos.  Can't wait for you to try this one!
Just a few ingredients.  I used Old El Paso Taco Seasoning, Old El Paso Chopped Green Chilies, some corn kernels and cilantro.  Told you it was a simple one!
Warm up your corn that has been drained and stir in your taco seasoning.
Add in two cans of diced green chilies.
Give a good stir and cook until hot.
Stir in some fresh chopped cilantro.
No one will even know the whole dish takes 5 minutes to prepare.  Winning!
My kids love to even use this as a corn salsa with chips!  Lots of options with this tasty recipe.  Enjoy!
Prep time: 5 min | Cook time: 10 min | Total time: 15 min
Ingredients
2 15 ounce cans

corn kernels, drained

2 tablespoons

Old El Paso Original Taco Seasoning

1 4 ounce cans

Old El Paso Chopped Green Chilies

1/2 cup

chopped fresh cilantro
Directions
Place corn into a large skillet over medium-low heat. Stir in taco seasoning, green chilies and fresh cilantro. Stir until hot. Serve as a side dish or inside burritos or as a salsa with chips. Enjoy!
Makes 6 Servings
Disclaimer: This post is in partnership with Old El Paso. All thoughts and opinions are 100% my own. Thank you for supporting the brands that make Picky Palate possible.
Pin to your favorite Recipe Board!
Sharing my latest trip, Walt Disney World With Girlfriends!
It's no secret that EVERYTHING Disney is my absolute favorite.  Generally, I'm at Disneyland Resort on a regular basis, so getting to spend time at Walt Disney World with my girlfriends was the ultimate treat. Disney hosted our group to a week of pure magic.  Amazing food, sneak peeks into what's coming for the Holidays and fun times exploring the Parks.
We enjoyed our stay at Disney's Animal Kingdom Lodge.  This was on my bucket list so I was over the moon excited!
Our rooms were so cozy and had the perfect Safari flair.
Our "Savannah View" rooms had these amazing views of all of the animals, loved this!  Being able to open up the window in the morning to see the animals eating was the coolest experience.
So many gorgeous details all around the resort.
We got checked in and it was time for dinner at Disney Spring's Paddlefish Restaurant.  Our dinner was fantastic.  I'm talking Lobster Guacamole, Crab Fries and Lobster Corndogs to name a few.  So good!
For  dessert, we ordered Key Lime Pie, Strawberry Shortcake, and Brownie Milkshakes.  What a treat, literally.
Our next morning was spent at Disney's Hollywood Studios with a private catered breakfast at Brown Derby.  Everything was just beautiful and delicious.
We got to hear from the pastry chef from Ganachery and Amorettes who told us of the delicious things coming for the Holidays.  Look at these S'mores, macarons, cookies and chocolates!  The Gingerbread S'mores coming to the Ganachery had us all swooning!!  Be on the lookout December 1st!
Steven from the Disney Parks Blog spoke to us and brought all kinds of merchandise coming to the parks and online for the Holidays.   New ornaments, Mickey Ears, pins, clothing and more!  Seriously can't wait!  Look how fun all of this is.
The Holiday treats coming to the Parks are going to be amazing!  Check these out!
Hollywood Studios also has some amazing things planned for the season. Starting November 9th you can see the Sunset Seasons Greetings show. As night falls on Hollywood Studios, "billboards suddenly begin to move into motion and tell a tale, courtesy of iconic characters sharing their love for the season. All the while, the Hollywood Tower Hotel—a.k.a. The Twilight Zone Tower of Terror—magically transforms, bringing to life the characters' stories."
Free time at Disney's Hollywood Studios with my girls!!
Rode our favorite rides and so many fun treats!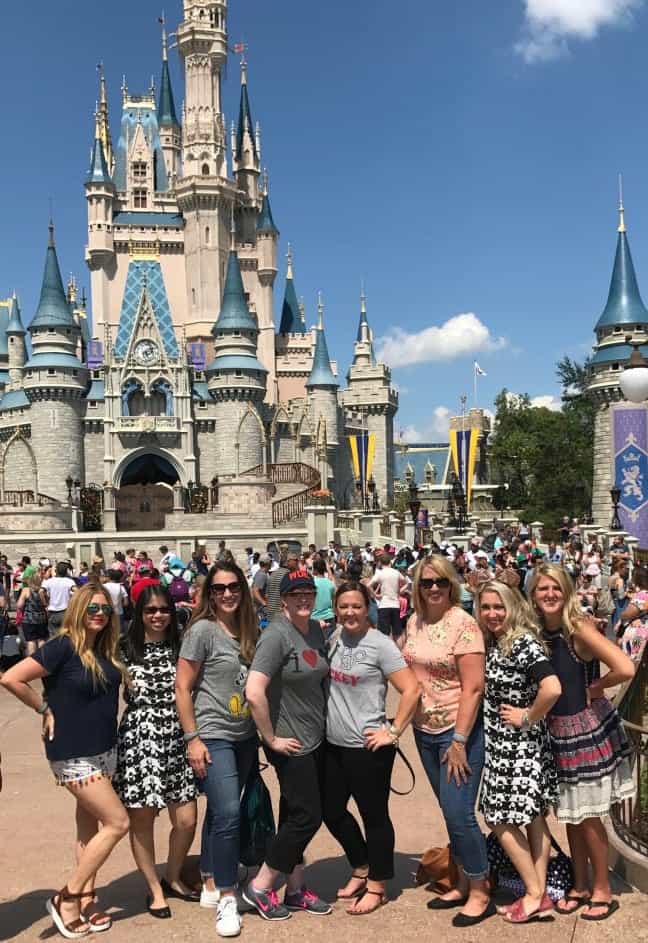 Off to Magic Kingdom for some free time to enjoy the Park.
Lots of treats, shopping and our favorite rides!!
Dinner at Skipper Canteen was amazing!  This restaurant tucked away inside Adventureland is a new favorite for me.  The food was phenomenal and such a cool atmosphere.
Later that evening we did the Happily Ever After Dessert Party before the fireworks.  Look at these desserts, such a perfect way to get ready for the show!!
The Happily Ever After Firework Show was one of the highlights of my week.  The show was spectacular.  The music, oh my goodness, no better firework show if you ask me.
Our next morning was spent at Disney's Animal Kingdom.  We had breakfast at Tusker House.  LOVED this whole dining experience.
Getting to explore Pandora had me in complete awe.  It is so visually stunning!  Every detail was so beautiful.  The Avatar Flight of Passage ride was about the coolest thing I've done.  Had that same feeling of Soarin Over The World, but on an extreme different level.  LOVED the Na'vi River Journey as well.  Can't wait to visit again. Be sure to get your FASTPASSES in advance as this is a very popular ride. Was also so excited to try these treats from Pandora!  Tried the Night Blossom from Pongu Pongu, the Blueberry Cream Cheese Mousse and Chocolate Cake from Satu'li Canteen.
Our afternoon was spent at Epcot!!  We got to sample the Food and Wine Festival and ride some of our favorite rides.
Eating our way through Epcot was AMAZING.  We sampled lots of the Food & Wine Festival along with some favorites through World Showcase.  It's my favorite kind of day!
I mean check out these Cheeseburger Mac n' Cheese in a bread cone at the Craft Beer booth!  They were so good.  Highly recommend them.
Later that evening we got to see David Cook perform as part of "Eat To The Beat" and had dinner at La Hacienda de San Angel.  Perfect ending to a great day.
We had Friday to explore on our own so we started at Disney Springs for some shopping and of course….eating 🙂
Candy Cauldron is always a favorite.  Look at these cute treats!!
Lunch at Planet Hollywood is a foodie's dream.  Look at these milkshakes we got for dessert!
This is another Disney trip I'll never forget with my girlfriends.  So many memories and ALL of the food!  There's nothing like a Disney Vacation.  Can't wait to start planning my next one!
Huge thanks to the Walt Disney World team for hosting us on this very memorable week.
This Green Chilie Beef Enchilada Rigatoni makes the perfect quick fix weeknight dinner the whole family enjoy!
It's always a pleasure partnering with Old El Paso to bring you Mexican-style recipes that make dinner time a breeze.  It's no secret I love putting together dinner recipes that are simple to prepare especially for busy weeknights when we're busy getting the kids to their various activities and finishing homework.  Can't wait for you to try this Mexican style Rigatoni.  So many great flavors!
For this recipe I used Old El Paso Chopped Green Chilies and
These Peanut Butter Banana Chocolate Chip Bars make the perfect back to school treat!
It's a pleasure partnering with Stevia In The Raw® to bring you these bars that are perfect for getting back in the kitchen now that school is back in session and the temperatures are starting to come down!
Continue Reading »
These Raspberry Chocolate Chip Buttermilk Pancakes make the perfect breakfast or brunch!
It's always a pleasure partnering with Eggland's Best to bring you new recipes!  Today, I am sharing a favorite pancake recipe that is such a great way to start your day!  I love making a special breakfast (the most important meal of the day!) for the family to kick off the morning right!
Sharing my Salsa Verde Chicken Taco Rice Skillet today that makes the perfect weeknight dinner!
It's always a pleasure partnering with Old El Paso to bring you simple and flavorful Mexican recipes the whole family enjoys!  I put together this quick fix dinner recipe that was a huge hit this week.  Adding it to our weekly rotation!  Hope you enjoy!
Aug 24, 2017 | Tags: sponsored
Sharing some Birthday Cake Waffles today plus Sweepstakes!
To celebrate National Waffle Day I've partnered with Comfort Inn and Comfort Suites to help choose the next waffle flavor to be served at select Comfort Hotels complimentary breakfast nationwide.  Will it be Birthday Cake, Sweet Caramel or Cinnamon Roll?
Continue Reading »
Sharing The Ultimate Breakfast Frittata today, perfect for weekends and celebrating!
It's always a pleasure partnering with Eggland's Best Eggs to bring you new family-friendly recipes perfect for any occasion.  I put together The Ultimate Breakfast Frittata over the weekend to celebrate my oldest son getting his braces off after 2 years!  The smiles on the family's faces were priceless when I brought this frittata to the table.