Sponsored
Sharing Where To Buy The Best Christmas Cards today!

I've LOVED working with Minted.com over the last few years for my Christmas Cards.  They honestly have the cutest designs and it's such a simple process.  I can't recommend them enough!  Above is one of the Christmas Cards I ordered this year.  We didn't do "official" family photographs this year, so I put together some snapshots in a collage type card.  Love how it turned out.
I also ordered this design for this year.  Such cute options to choose from!
My Christmas Cards last year were some of my favorites yet.  We did our family photos at Disneyland.  So fun!
Another favorite from last year.  You can choose so many options for the backs of your cards too.
My Christmas Card from 2014.  Fun looking back!
Giveaway time!
UPDATE:  Giveaway is closed.  Winner has been notified.  Thanks.
One Picky Palate winner will receive a $300 Minted.com credit to use on their website.  Use it for your Christmas cards or other amazing gifts they offer.
To enter, leave a comment below telling us, when do you usually send out your Christmas Cards?  Early December?  Late?  Let's hear it!
Giveaway ends Sunday December 4th 6am PST.  Winner will be notified by email and have 24 hours to respond.
Sharing these festive Peppermint Patty Stuffed Cookies today!
Thrilled to partner with Pillsbury today to bring you this gorgeous Christmas cookie!
Pillsbury is counting down to Christmas in the most delicious way possible-with freshly baked cookies!  Be sure to check out the Cookie Countdown Page to see a new recipe revealed daily, or sign up to have them delivered straight to your inbox.  This is one list you'll want to be on!

You'll need some simple ingredients to get started.  See instruction list for complete details.
Place your cookie dough into a mixing bowl and crumble like so.
Add your cocoa powder.
Heavy whipping cream up next!
Add a touch of flour to the bowl.  Give a good mix to combine ingredients.
Wrap cookie dough around each peppermint patty and bake!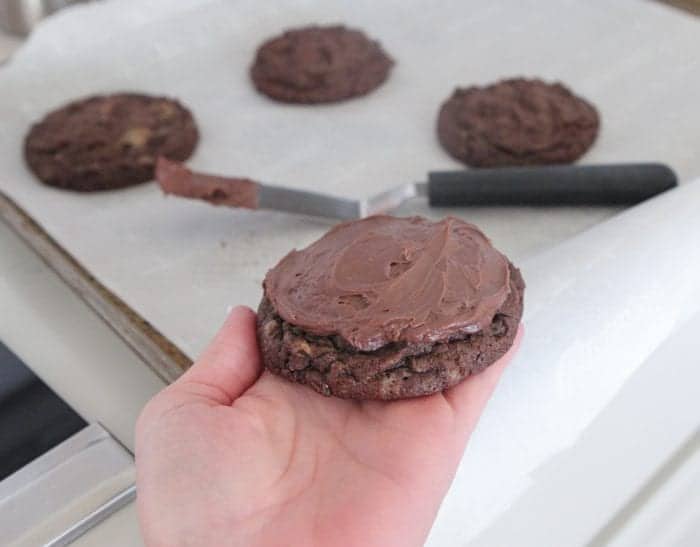 Once completely cooled, frost with a light layer of chocolate frosting.
Top with crushed candy canes.
How gorgeous and simple are these?!
Perfect for your Christmas Cookie Exchanges!  Enjoy friends.
Be sure to check out my friends and their cookies!
Buns In My Oven (coming soon)
Dinners, Dishes and Desserts (coming soon)
Prep time: 30 min | Cook time: 12 min | Total time: 1 hour 30 min
Ingredients
1 roll (16.5 oz) Pillsbury Refrigerated chocolate chip cookie dough
1/3 cup unsweetened baking cocoa
1 tablespoon all-purpose flour
3 tablespoons Heavy whipping cream
24 York minis dark chocolate peppermint patties (from 8 oz package)
3/4 cup chocolate frosting (from 16-0z container)
1/3 cup hard peppermint candies, crushed (about 14 candies)
Disclaimer: This post is in partnership with Pillsbury. All thoughts and opinions are 100% my own. Thank you for supporting the brands that make Picky Palate possible.
Pin to your favorite Cookie Board!
Nov 23, 2016
Sharing the Ultimate Thanksgiving Leftover Sandwich today!  One of our favorite traditions!
Thanksgiving is one of the very best days of the year.  Not only do we get to enjoy a feast on actual Thanksgiving Day, we usually get to bring home the BEST leftovers!
There's nothing like getting together with family and friends on this special day with some of the best food of the year.  We look forward to it for months!
We have made it a tradition to enjoy what we call The Ultimate Thanksgiving Leftovers Sandwich after Thanksgiving.
Continue Reading »
These Peanut Butter Apple Hand Pies make the perfect sweet treat for your upcoming Holiday parties!
What a pleasure partnering with Karo® Syrup today to bring you a Holiday treat that will wow all of your guests! The texture Karo® Syrup brings to your baking is like no other. It's always stocked in my pantry for all of my Holiday baking and I think you'll find it's a key ingredient to have around whenever you're baking.
It's so hard to believe Thanksgiving is right around the corner.  So much fun cooking and baking going to happen. I have so many fun memories of cooking and baking around this time of year and can't wait to dive in  These little individual hand pies are a fun and simple dessert for your guests to enjoy! I started by using a Karo recipe for Apple Pie Bites, but changed it up a little with peanut butter and a double crust.
Continue Reading »
Sharing this perfect for chilly months, Creamy Autumn Corn Chowder!
It's a pleasure partnering with Mirum Shopper today to bring you this delicious soup recipe, great Target Store products and fun in the kitchen with the kids!
Creating family fun with Fall Flavors is right up my ally.  Target is one of our favorite places to stock up on Fall essentials.  Getting my kids in the kitchen to help with dinner is always a highlight for me.  I love to teach them and get them excited about cooking with great ingredients.  Not only is is fun, but there's a real … Continue Reading »

My Tortellini Taco Soup makes the perfect quick fix weeknight dinner for the whole family!
It's always a pleasure partnering with Old El Paso to bring you new Mexican Style family recipes.  This is the best time of year to make big pots of soup.  We are loving this fun twist on taco soup.  The tortellini brings a great layer of flavor and the kids go nuts for it.  This soup takes just minutes to prepare, perfect for busy school weeknights.  Add this one to your meal plan, you'll be glad you did!
Continue Reading »
Sharing my Kitchen Sink Skillet with you today and my trip to Chicago with Albertsons Company! Such a fun day.
Had a fun trip to Chicago with Albertsons Company to learn about their O Organics products.  Love that you can buy organic at a lower price with all of their O Organic products.  They believe everyone should have the opportunity to go organic, which is why they offer their high-quality O Organics brand at a value compared to leading national organic brands.  O Organics features more than 300 USDA Certified items for every occasion throughout the store from fresh fruit and vegetables to wholesome dairy and meats, cereals, snacks and more.
Continue Reading »
Sharing my Peanut Butter S'mores Dessert Pizza today for the perfect sweet pizza night!
It's a pleasure partnering with Fleischmann's® Yeast today to bring you this show stopping dessert pizza!  There's nothing like baking during fall months with the family.  I love seeing the smiles on my boys faces when I bring out sweet desserts to share…and what is better than pizza?  As a matter of fact, Fleischmann's® Yeast is having a pizza promotion- Make sure to share your photo in one of their pizza posts in their newsfeed on Facebook to enter! More details are located HERE.  A fun dessert all around that is simple to put together and worth baking a little extra so you can share the love and tasty results!  Today's recipe is based on Fleischmann's® 30 Minute Pizza Crust recipe.
Continue Reading »