Sponsored
This Ultimate Breakfast Turkey Burgers are packed with all of my favorite ingredients and puts a smile on everyone's faces!
So excited to partner with Butterball today to bring you this Ultimate burger!  Butterball has so many great products to help make amazing dinners for your family.

Be sure to visit their website to see all of their products.  Be sure to follow Butterball on Facebook, Twitter Pinterest and Instagram.
I used Butterball's All Natural Turkey Burgers.  Talk about easy to prepare.  You can pull them right out of the packaging straight to the grill or skillet.  Love!
Here are your line up of ingredients.  I wanted to use some hash browns, bacon, spinach, cheddar cheese and a fried egg for my burger.  Mmm!
I cooked my turkey burgers right in a hot skillet.  Cook both sides until browned and cooked through.
The last minute, add your cheese, cover skillet with a lid to melt.
Fry up your egg and it's time to assemble!
A layer of spinach then turkey burger to start.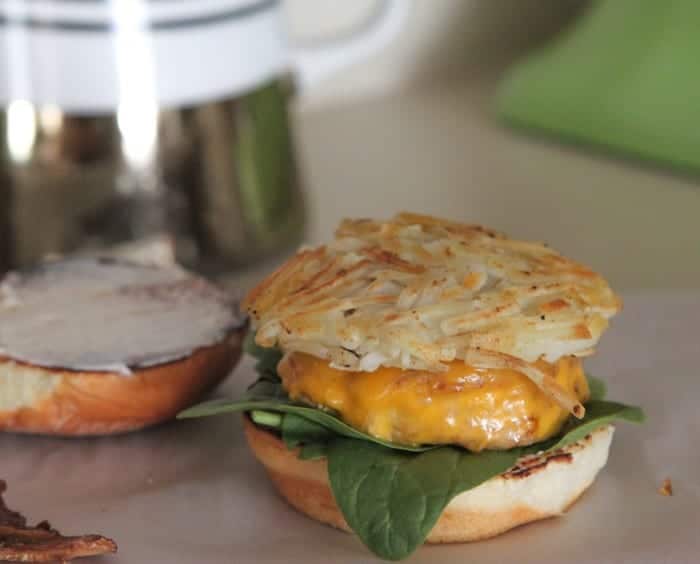 Hash browns up next.
Bacon slices and fried egg on top.
Serve with a little side of your favorite salsa and it's time to enjoy!
So excited for you to try this burger.  Enjoy friends!
Prep time: 15 min | Cook time: 5 min | Total time: 20 min
Ingredients
4 teaspoons

extra virgin olive oil

2 cups

shredded hash browns, thawed

4

Butterball All Natural Turkey Burgers

4 slices

cheddar cheese

4 large

eggs

4

Hamburger buns, split

4 tablespoons

mayonnaise

1 cup

fresh baby spinach leaves

8 slices

cooked bacon strips
Directions
Heat two medium skillet over medium heat. Place 1 teaspoon olive oil into one of the skillets. Add 1/2 cup hash browns into hot skillet and let cook for 2 minutes each side, until browned. I keep them in a round shape to fit onto burger. Continue until all 4 hash brown rounds have been cooked.
Spray second skillet with non stick cooking spray and add the turkey burgers in batches until browned and cooked through. During the last minute, add a cheese slice. Cover skillet with lid to melt quickly. Remove and set aside.
In batches, fry eggs in the first skillet over medium heat spraying with cooking spray first. Cover skillet with lid to cook egg without flipping it.
Place buns, split side down into hot skillet to brown/toast slightly. Spread lightly with mayonnaise. Layer bottom buns with spinach leaves, turkey burger, hash brown round, bacon, egg and top bun. Serve with a side of mild salsa if desired. Serve burgers immediately.
Makes 4 Servings
This post is in partnership with Butterball, however thoughts are my own.
This Roasted Broccoli Mandarin Sesame Ginger Salad is perfect for lunch or dinner and takes no time to prepare! Use your favorite vegetables that need used up in your salad.

It is a pleasure partnering with Newman's Own today to bring you a new beautiful salad recipe today.
It's so nice having a fresh colorful salad in the summertime. Cool and refreshing is the way to go!

Did you know that with every bottle of Newman's Own salad dressing that you buy, you are helping charitable causes?  Newman's Own dressing makes a difference in your salad, while it also makes a difference for charity.
Making good food and pursuing the common good have been Newman's Own mission since Paul Newman first started the company in 1982.
I've used Newman's Own Sesame Ginger Dressing for a zesty salad packed with so many great flavors.  It's one of my favorite dressings that I even like  to use  when marinating my chicken breast. Give that a try next time you are ready to grill!
Newman's Own is inviting consumers to showcase how they take their salad from ordinary to extraordinary using Newman's Own Dressing for an opportunity to direct a $35,000 donation to their charity of choice.  The contest in a perfect way to get your daily dose of greens and serve up some serious green to a charitable cause!
Visit Newman's Own website HERE  to enter an inspirational salad recipe.
The "Greens For Good" Salad Recipe Contest begins June 23rd, 2015 and the entry-phase closes August 21, 2015.  On October 21, 2015, Newman's Own will announce the $35,000 grand prize winner and charity.  The top ten finalists will be posted online for public voting to help determine the top nine finalists and the Grand Prize winners! The top nine finalists will receive a $1,000 donated to their non-profit of choice. Good luck everyone!
Start with your favorite salad greens and add some grated carrots.
Add your sliced almonds next.
Sliced cherry tomatoes up next.
Add some quartered English cucumbers.
Some beautiful mandarin oranges.
Top with your roasted broccoli.
Beautiful, colorful and hearty salad!
Enjoy friends!  For more salads see HERE.
Prep time: 15 min | Cook time: 10 min | Total time: 25 min
Ingredients
4 cups fresh broccoli florets
8 cups mixed greens
1 cup fresh grated carrots
1/2 cup sliced almonds
2 cups sliced cherry tomatoes
2 cups quartered English cucumber
2 cups mandarin oranges
1/2 cup Newman's Own Sesame Ginger Dressing
Directions
Preheat oven to 350 degrees F. and line a baking sheet with parchment paper or tin foil. Place broccoli florets onto baking sheet and roast for 10 minutes. Remove and let cool for 5 minutes.
Divide mixed greens between 4 salad bowls. Top evenly with carrots, almonds, tomatoes, cucumbers, mandarin oranges and roasted broccoli.
Drizzle with dressing, toss and serve.
Makes 4 Servings
This post is in partnership with Newman's Own however thoughts are my own.
Jun 7, 2015 | Tags: travel
So excited to share my Sandestin, Florida Vacation with you! Beautiful crystal blue oceans with the softest white sand I've ever felt. Amazing!
Can't say enough about this gorgeous "girls beach trip" I took last month with some of my best blogging friends.  Sandestin is such a great destination for complete relaxation and fun for everyone.
Our beautiful condo! Photo via Amanda
Left: Shawn, Stephanie, Shelly, Amanda, Me, Sommer, Lauren
My Homemade Party Meatballs with Sweet and Spicy Mustard Cream Sauce are perfect for summer entertaining!

This post was brought to you by the makers of French's Sweet Yellow Mustard and Spicy Yellow Mustard. I received compensation to write this post through the Sweet and Spicy Influencer Program…all opinions expressed are my own.
Thrilled to share these fun party meatballs with you today!  I've partnered with French's Mustard to bring you a new appetizer that will be the hit of the party.  Flavorful bite size meatballs with a mustard cream sauce that pops with sweet and spicy notes.
Continue Reading »
These Garlic Lime Taco Grilled Chicken Drumsticks are the perfect summer dinner recipe. Simple and full of great flavor!
It's always a pleasure partnering with Old El Paso to bring you new quick and simple dinner ideas!  These chicken drumsticks could not be more simple to prepare and have a zesty taco glaze like coating.  With just a few ingredients, you are on your way to an awesome grilled dinner!
Continue Reading »
My Broccoli Cheddar Breakfast Bake is the perfect recipe to impress your family and friends for special occasions!

I am thrilled to be partnering with Thomas Breads to bring you new recipes this year using their products.  Today, I've incorporated Thomas English Muffins in my breakfast dish and it could not be more delicious!  Packed with roasted potatoes, broccoli, tomatoes, bell peppers and cheese, this recipe will be a huge hit!
Be sure to prepare your roasted potatoes ahead of time, that way you can get right to work on the recipe.
This American Heritage Chocolate Tart is beautifully delicious! A chocolate lovers dream!
Thrilled to be partnering with American Heritage Chocolate today to bring you a gorgeous recipe plus all kinds of fun news going on with them. Have you had their chocolate before? It is fantastic!
First off, let's talk about this gorgeous tart. See recipe below.
Continue Reading »
You are going to love these Chicken Taco Cornbread Wedges! A fun dinner recipe the whole family will go nuts for!
So many fun memories writing this post today.  I was contacted by Martha White to feature my 2007 winning Cornbread Cook-off recipe for their Virtual Cornbread Potluck 2015!  Be sure to scroll down past the recipe and see the other bloggers who joined in the fun.
Continue Reading »