Sponsored
Thrilled to share my Walt Disney World Food Blogger Trip with you today!

It's no secret that Disneyland Resort and Walt Disney World Resort are two of my very favorite places to vacation to.  I was over the moon excited to have a Food Blogger #DeliciousDisney adventure at the Walt Disney World Resort this month.  Disney is just one of those magical places, no matter how old you are, you can have the time of your life.  I felt so fortunate to spend the weekend with 7 of my food blogging sisters.  We stayed at the lovely Boardwalk Inn, just walking distance away from Epcot.  We had a whirlwind of a weekend that I can't wait to share with you.  Huge thanks to American Tourister for our new luggage.  Love my Tangerine iLite Max!

Left: Shawn, Jamielyn, Kristen, Shelly, Kristyn, me, Amanda, Kristan
Most of us flew in a day early for our event, so that first thing Thursday morning we could spend the day at Magic Kingdom.  Is there anywhere else more magical?  Love it here so much.
Dying over this one.  Hey Tinkerbell!
Fall/Halloween Time at Magic Kingdom is absolutely beautiful.  The decorations are warm and the sweet little pumpkin Mickey wreaths are the cutest.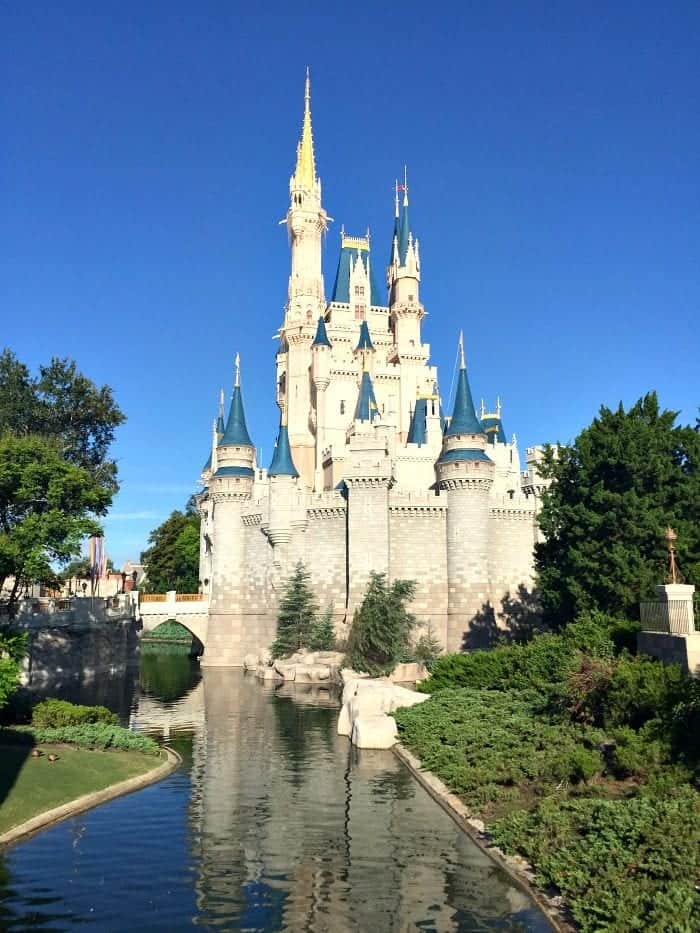 Every angle of the Cinderella Castle is just perfect.  Love strolling by and of course snapping pictures 🙂
As food bloggers do, it was off to find some of our favorite Disney food!!  First up was the Fresh Fruit Waffle Sandwich with Chocolate Hazelnut Spread from Sleepy Hollow.  Yah, it was amazing.
After we rode Pirates of the Caribbean we made our way to the Dole Whips!  The Dole Whip Float is my absolute favorite.  When it's hot at the parks, there's nothing better.
A few more rides like Haunted Mansion, Peter Pan's Flight and "it's a small world" then it was time for some treats at Gaston's Tavern.  Giant cinnamon rolls, chocolate croissants and Gaston's Brew were some of the things we shared.  All fantastic 🙂  Right around lunchtime we made our way to Epcot!
Half of us were headed to Mission Space and half on our way to Italy!
We grabbed a reservation at Via Napoli for lunch.  Their pizza is some of my favorite pizza ever.  This Classic Margherita is AMAZING.
We shared this gorgeous White Pizza too.
Flying Fish images via Disney
After we explored Epcot for a few hours, we made our way back to our rooms at the Boardwalk Inn and got ready for one of the most beautiful dinner experiences.  We enjoyed the newly renovated Flying Fish located on Disney's Boardwalk.  Every single dish that was brought out, was so carefully prepared and unmistakably delicious.  I ordered the Wagyu Filet Mignon and let me tell you, it was one of the best I've had.  The appetizers blew me away as well.  Don't miss the Blue Crab Bisque , Yellowfin Tuna, Wild Gulf Shrimp and Kurobuta Pork Belly.  Be sure to get your reservations when visiting the parks.  Flying Fish is a must.
Friday morning, we had the pleasure of having breakfast at Be Our Guest Restaurant located in Magic Kingdom.  I had lunch reservations a couple years ago (this photo from last trip) and was so excited to enjoy breakfast in this magical Beauty and The Beast themed restaurant.  You really feel like you are walking into Beast's enchanted castle.  The detail is simply a must-see.  Breakfast and lunch are served quick service style and dinner is an unforgettable sit down style.
As you walk in, you are greeted by friendly Cast Members who guide you in the right direction.  Beast's Castle details are so GRAND and remarkably stunning.  Take a good look around during your visit.
For breakfast and lunch you walk up to a computer like touch screen and select your meal choices.  You go find your own table and your server magically finds you!
There are three different dining rooms to choose from.  Each absolutely beautiful.  I really love The Castle Gallery, with Belle and Beast dancing in the center of the room with the most beautiful art work on the walls to enjoy.  Each room has a different theme such as Beast's West Wing, which is a dark dining room with dramatic ripped curtains and be sure to watch the painting on the wall and the rose.  The Grand Ballroom has dramatic high, domed ceiling, chandeliers and beautiful murals on the ceiling.
I ordered the Croque Madame and a Croissant Donut on the side…no calories at Disney right?  Ha!  We also shared pastries and of course the Master's Cupcake with the ever so delicious "Grey Stuff" topping.  What a breakfast!  It really was all amazing.
Seven Dwarf's Mine Train is a favorite.  Love this!
Later in the afternoon we made our way to Hollywood Studios.  We went straight to Hollywood's Tower of Terror.  Complete terror, but I love it!
More fun treats!  This is the Carrot Cake Whoopie Pie from Beverly Sunset that knocked my socks off.  That cream cheese filling, so good.
This chocolate filled Butterfinger Cupcake from Starring Rolls Cafe was my favorite.  Talk about a treat!
How adorable are all of our cupcakes?!  Hollywood Studios has some fun treats.
It was off to dinner at Animal Kingdom's newest restaurant called Tiffins.  This experience blew me away!  We started with drinks and gorgeous appetizers at The Nomad Lounge.
One of my favorite stories from Tiffins are the little tags that hang from the ceiling at the bar.  Travelers get to write stories about their favorite travel stories and hang them for all to read.
There are three beautiful dining rooms to enjoy with so many beautiful things to look at on the walls.
This dining room has the most beautifully detailed tiki's in the center of the room.
Ordered a lovely curry soup to start, the halibut for dinner and gorgeous dessert.  The entire experience was so memorable.  I look forward to taking my family in the future.
After dinner, we went over Magic Kingdom for the Mickey's Not So Scary Halloween Party.  This is a special event during Halloween Time that requires a separate ticket.  What a night.  Having only done Mickey's Halloween Party at Disneyland, this was such a memorable night taking in all of the excitement.  So many things to do and see.  The Hocus Pocus Villain Spelltacular Show was too fun!
Loved Mickey's "Boo-To-You" Halloween Parade.  This was truly a magical night!
During Mickey's Not So Scary Halloween Party, you can find special Halloween Time treats only available during the party.  Of course we hunted down about every one.  Great night!
The next morning it was off to breakfast at Trattoria al Forno located on Disney's Boardwalk.  I ordered the Pouched Eggs which is served over top soft polenta and topped with a red sauce.  This might be one of my favorite breakfast dishes to date.  We shared quite a few dishes and I'm telling you everything was beautiful and delicious.  Yes, we had to try the French fries at breakfast, lol!  They were so crunchy yet tender, I'm still dreaming about them.  Loved this dining experience.
While at Disney, you get matching shirts with your friends right?  Ha!  Couldn't resist getting a group shot of our cute matching Mickey Mouse tees.
With very full bellies, we made our way to Epcot's Food & Wine Festival.
We were invited into the media area where the chef's were preparing different dishes representing different countries.  Everything was gorgeous and from the bites I sampled, absolutely delicious.  You could really spend a whole day at Epcot sampling your way through each country.  Share with a friend for sure.  Lots of great food to try! The festival runs from September 14-November 14th 2016.  What a great time to visit the parks.  For a full list of menu items from each Marketplace click HERE.
Chef Morimoto, talked to us in the Media room.  He even sang a little song.  My husband and I watched Iron Chef faithfully for years.  Too fun, seeing him in person.
After the Food & Wine Festival, we had to ride the very popular Frozen Ever After.  Here we are on our boat 🙂
On our way back to our rooms, we had to try Ample Hills Creamery on Disney's Boardwalk.  That Gooey Buttercake Ice Cream was out of control amazing….and how cute is the chocolate chip cookie cone?
The Boardwalk Bakery next door to Ample Hills Creamery had this adorable Mickey Oreo Cupcake.  Cuteness overload!
Our last dinner together was spent at Disney Springs, Morimoto Asia.  Can you even believe Chef Morimoto was hanging out at his restaurant?!  He came over for a picture with us.  We were dying, ha!  He really is the sweetest.  The giant appetizer tower, sushi rolls, the ramen and our gorgeous private dining room made for an unforgettable evening.  This is a really gorgeous restaurant to visit.  Loved our last dinner together.
On our last morning, we walked over to Disney's Beach Club Resort for breakfast.  We were treated to Minnie's Beach Bash Breakfast at Cape May Cafe.  What a fun Character breakfast!  We got pictures with each Disney Character dressed in the cutest beach wear.  They were dancing and having a great time with the guests.  Would absolutely take my family back here!
After breakfast, we checked out of our rooms, got our luggage squared away and made our way to Disney's Animal Kingdom.  This park is so gorgeous with it's lush green trees all around the walkways.  I really love it here.
As you walk through Animal Kingdom's entrance and head towards Kilimanjaro Safari, you'll see this very grand Tree of Life in the center of the park.  It really is a sight to see.  The details on the trunk are spectacular.
Mickey Pretzel, one last Dole Whip, a ride on Expedition Everest and Kilimanjaro Safari, then it was on our way back home!  This was a weekend I will never forget.  So many adventures with the best of memories.  Nothing like a Disney vacation, can't wait to plan my next visit!  Be sure to follow our adventure on Instagram under #DeliciousDisney.
Disclaimer: This post is in partnership with Walt Disney World Resort. All thoughts and opinions are 100% my own. Thank you for supporting the brands that make Picky Palate possible.
Pin to your favorite Travel Board!
These Chicken Enchilada Soup Boats make the perfect weeknight dinner for the whole family!

It's always a pleasure partnering with Old El Paso to bring you quick and simple family friendly dinner ideas!  I've put together a weeknight dinner that couldn't be more simple to prepare plus it's packed with great Mexican flavors.  I know how busy the school week can be with all of the kids different activities and homework.  It's so nice to have quick to prepare dinner recipes for a stress free experience.
Just a few ingredients is all you'll need to get dinner on the table this week.  Enjoy!

I used Old El Paso's Whole Wheat Taco Boats as a "bowl" for my simple soup.  The kids loved this!
I placed the taco boats onto a baking sheet and bake until slightly browned and crispy.
Only takes about 10 minutes and they come out nice and crisp to hold your soup.
Love stocking up on Old El Paso's Red Enchilada Sauce.  Great for enchiladas plus makes a really great base for enchilada soup.
To make the soup, pour the enchilada sauce into a small saucepan.
Add 1 cup of heavy cream.
1 can of diced tomatoes with green chilies.
Some sweet corn kernels, a little garlic salt and cumin.
Stir in the cooked chicken and let simmer for about 15 minutes.
Carefully spoon your soup into the taco boats and garnish with fresh cilantro leaves and cubed avocado if you'd like.  Enjoy!
Prep time: 15 min | Cook time: 15 min | Total time: 30 min
Ingredients
8 count Old El Paso Whole Wheat Taco Boats
10 ounces Old El Paso Red Enchilada Sauce
1 cup heavy cream
10 ounces diced tomatoes with green chilies, mild
1 cup sweet corn kernels (fresh, frozen or from can is fine)
1 1/2 teaspoons ground cumin
1/4 teaspoon garlic salt
2 cups cooked, chopped chicken
1/2 cup chopped fresh cilantro
1/2 cup chopped avocado
Directions
Preheat oven to 400 degrees F. and line a baking sheet with parchment paper. Place taco boats onto baking sheet and bake for 10 minutes, until golden and crisp. Remove and set aside.
Place enchilada sauce, cream, tomatoes, corn, cumin, salt and chicken into a small saucepan over medium heat. Stir until hot then reduce to a simmer until ready to serve.
Before serving, spoon soup into taco boats and top with cilantro and avocado if desired.
Makes 6-8 Servings
Disclaimer: This post is in partnership with Old El Paso. All thoughts and opinions are 100% my own. Thank you for supporting the brands that make Picky Palate possible.
Pin to your favorite dinner board!

These Homemade S'mores Granola Bars are the perfect snack to satisfy that sweet tooth!
Partnering with Frigidaire Gallery® today to bring you a simple family friendly snack recipe that will have everyone smiling ear to ear.  Oats, graham crackers, dark chocolate and marshmallow bits?  Heaven 🙂
With just a few pantry staple ingredients, you'll have these homemade granola bars ready in no time.  S'mores is one of our very favorite dessert flavors so I knew they'd make a great granola bar.
Hope you enjoy this fun recipe that makes the perfect after school snack!
Here are the ingredients

My Homemade Supreme Pizza is such a fun weeknight dinner that can get the whole family involved.
It's always a pleasure partnering with Frigidaire Gallery® to bring you simple dinner recipes the whole family loves.  With back to school season in full swing, I know how important it is to have dinner recipes that won't take much time to put together.
I love pizza night because the kids love helping with dinner prep.  Some nights I'll double the pizza dough recipe and let everyone make their own mini pizzas using their favorite toppings.
I put together a loaded pizza today with some of my favorite toppings.  Sausage, lots of veggies and lots of cheese.  Have fun and create your own favorite pizza.
Enjoy!
Continue Reading »

This Chicken Rigatoni Bake is the perfect quick fix dinner that everyone loves. Great flavors, simple ingredients.
Always a pleasure partnering with Old El Paso to bring you family friendly Mexican style recipes.  I always love creating weeknight dinners, because I know how crazy weekdays can get while the kids are in school with all of their activities.  This is a great one you can even whip up in advance and bake when you need it.
Cheesy goodness packed with great Mexican flavors.  Love this one.  Hope you enjoy!
Continue Reading »

Sharing my Make Ahead Freezer Smoothie Packs with you today! Perfect way to start your day.
Mornings can get somewhat hectic if you aren't sure what you're making everyone for breakfast.  Having these smoothie freezer packs ready to go in your freezer make for a simple and healthy breakfast choice.
It's always a pleasure partnering with Frigidaire Gallery® to bring you new recipes for the whole family.  Having our newly remodeled kitchen with Frigidaire Gallery appliances has given my kitchen new life.  Can't tell you enough how great it is cooking and baking now.  What a difference!  Be sure to check out the full kitchen remodel HERE.
Continue Reading »
This Chicken Black Bean Enchiladas Freezer Meal is perfect for taking dinner to a friend or having on hand for a last minute dinner!
Having freezer meals are so great to pull out when time is short for is dinner.  Some nights I am scrambling to get dinner on the table, so I appreciate having freezer meals available.
Such a pleasure partnering with Frigidaire Gallery® to bring you new recipes that the whole family will enjoy and saves you time in the kitchen.  I prepared a simple freezer meal with only a few ingredients that you can put together in no time.  I like to have freezer dinners on hand in case a friend is in need or when I run out of time during my busy week.  So nice to pull something out that you've prepared ahead of time.
Continue Reading »
This Cheesy Taco Chili Rice Bake is the perfect weeknight dinner that is done in no time. Be sure to add it to your menu this week!
I love partnering with Old El Paso to bring you new quick and simple Mexican-style dinner recipes.  I created this taco seasoned chili rice bake recipe that I've baked over rice.  Top with your favorite taco ingredients and the family will go nuts for this dinner.  This also makes a great meal to take to any friends, family or neighbors in need.  Hope you enjoy!
Continue Reading »