Sponsored
My Homemade Party Meatballs with Sweet and Spicy Mustard Cream Sauce are perfect for summer entertaining!

This post was brought to you by the makers of French's Sweet Yellow Mustard and Spicy Yellow Mustard. I received compensation to write this post through the Sweet and Spicy Influencer Program…all opinions expressed are my own.
Thrilled to share these fun party meatballs with you today!  I've partnered with French's Mustard to bring you a new appetizer that will be the hit of the party.  Flavorful bite size meatballs with a mustard cream sauce that pops with sweet and spicy notes.

So excited to share these two new mustard flavors with you today!  French's Spicy Mustard with Cayenne Pepper and French's Sweet Mustard with Brown Sugar.  The flavor possibilities are endless, perfect for something sweet, spicy or a little of both!  I love that French's isn't just for hotdogs and hamburgers, its perfect for bringing amazing flavor to everyday cooking such as my meatballs and mustard cream sauce.
Crafted with only simple, quality ingredients, including stone-ground #1 mustard seed, French's Classic Mustard has been America's best-loved mustard for more than 100 years.
Place your beef into a large mixing bowl.  Add your ingredients into the bowl.
I added French's Spicy Mustard for a nice little kick to the meatballs.
Gently stir all ingredients together.  Mix until just combined.
Take about 2 tablespoons of beef and roll into meatballs.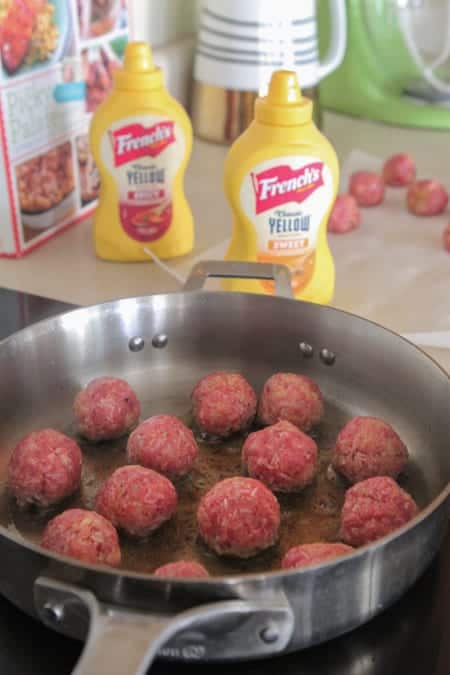 Heat 3 tablespoons of oil into a large skillet over medium heat.  Add meatballs in batches, browning all sides.
Prepare your mustard cream sauce while the meatballs are browning.  You'll use French's Sweet Mustard and Spicy Mustard that makes the perfect sauce over your meatballs.
Remove meatballs from pan, carefully pour hot oil from pan.  Add meatballs back to skillet and pour in the mustard cream sauce.
Add a few pinches of fresh thyme and now it's time to enjoy!
Perfect for snacking on with a fork, or great served with a side of pasta.
Enjoy!
Prep time: 25 min | Cook time: 10 min | Total time: 30 min Ingredients
3 tablespoons

extra virgin olive oil

1 pound

lean ground beef

1/2 cup

Panko bread crumbs

1/2 cup

shredded Parmesan Cheese

1/2 teaspoon

kosher salt

1/2 teaspoon

freshly ground black pepper

1 large

egg

1/2 cup

milk

1 tablespoon

French's Spicy Mustard

1 teaspoon

hot sauce
Sweet and Spicy Mustard Cream Sauce
8 tablespoons

unsalted butter

1/2 cup

all-purpose flour

1/2 teaspoon

kosher salt

1/4 teaspoon

freshly ground black pepper

1 1/2 cups

half and half

1 teaspoon

French's Sweet Mustard

1 teaspoon

French's Spicy Mustard

1 cup

reduced sodium chicken broth
Directions
Heat olive oil in large skillet over medium heat. Place ground beef into a large mixing bowl. Add Panko, Parmesan, salt, pepper, egg, milk, mustard and hot sauce. Gently mix until combined. Take 2 tablespoons of meatball mixture and roll into balls. In batches, add meatballs to hot skillet, browning all sides, about 5 minutes. Removed meatballs. Remove oil from skillet then add meatballs back to skillet over low heat.
To prepare mustard cream sauce, place butter into medium saucepan over medium heat. When melted whisk in flour, salt and pepper until thick and bubbly. Slowly whisk in half and half cooking until thickened. Whisk in mustards and chicken broth until smooth. Pour sauce over meatballs. Garnish with fresh thyme leaves if desired. Serve immediately. Sauce thickens as it simmers. As needed, stir in additional chicken broth to loosen sauce.
Makes 4 Servings, 4-5 meatballs each serving
These Garlic Lime Taco Grilled Chicken Drumsticks are the perfect summer dinner recipe. Simple and full of great flavor!

It's always a pleasure partnering with Old El Paso to bring you new quick and simple dinner ideas!  These chicken drumsticks could not be more simple to prepare and have a zesty taco glaze like coating.  With just a few ingredients, you are on your way to an awesome grilled dinner!

I used Old El Paso's Original Taco Seasoning Mix, fresh lime juice and minced garlic to season the drumsticks.
Place your drumsticks into a large zip top bag.
Pour in your lime juice.
Minced garlic.
1 packet of taco seasoning.  Close bag and massage all seasoning over the chicken.
They'll look something like this.
Place your drumsticks onto a hot grill.  Indoor or outdoor grill is just fine.
Grill each side about 4-5 minutes.
You'll get those nice grill marks
Remove from grill and serve them warm.
Prep time: 5 min | Cook time: 10 min | Total time: 15 min
Ingredients
1 pound Chicken drumsticks,4-5 pieces
3 tablespoons fresh lime juice
1 tablespoon fresh minced garlic
1 packet Old El Paso Taco Seasoning
2 tablespoons extra virgin olive oil
Directions
Preheat indoor or outdoor grill to medium high heat.
Place chicken, lime juice, garlic, taco seasoning and olive oil into a large zip top bag. Close bag and massage chicken to combine all ingredients.
Place chicken drumsticks onto hot grill and cook 4-5 minutes each side, until chicken is cooked through. Remove from heat and serve warm.
Makes about 4-5 drumsticks
This post is in partnership with Old El Paso, however thoughts are my own.
My Broccoli Cheddar Breakfast Bake is the perfect recipe to impress your family and friends for special occasions!

I am thrilled to be partnering with Thomas Breads to bring you new recipes this year using their products.  Today, I've incorporated Thomas English Muffins in my breakfast dish and it could not be more delicious!  Packed with roasted potatoes, broccoli, tomatoes, bell peppers and cheese, this recipe will be a huge hit!
Be sure to prepare your roasted potatoes ahead of time, that way you can get right to work on the recipe.
This American Heritage Chocolate Tart is beautifully delicious! A chocolate lovers dream!
Thrilled to be partnering with American Heritage Chocolate today to bring you a gorgeous recipe plus all kinds of fun news going on with them. Have you had their chocolate before? It is fantastic!
First off, let's talk about this gorgeous tart. See recipe below.
Continue Reading »
You are going to love these Chicken Taco Cornbread Wedges! A fun dinner recipe the whole family will go nuts for!
So many fun memories writing this post today.  I was contacted by Martha White to feature my 2007 winning Cornbread Cook-off recipe for their Virtual Cornbread Potluck 2015!  Be sure to scroll down past the recipe and see the other bloggers who joined in the fun.
Continue Reading »
My Peanut Butter S'mores Style Panini could not be more delicious and simple to prepare!  Dessert just got a bit sweeter!

What a fun day in the kitchen it was making these outrageous sweet grilled sandwiches!! Packed with creamy peanut butter, marshmallows and melty chocolate…you are in for a treat!
Fun recipe to make with the kids, be prepared for messy sweet hands.
Hope you enjoy!
Continue Reading »
The Ultimate Queso Bean Dip is going to knock your socks off. Perfect for your upcoming parties. Careful, it goes quick!
Party food is so much fun to develop….and even more fun to eat.  My family enjoys Mexican food on so many times during the week, it's hands down some of our favorite food to enjoy as a family.
I put together two of our favorite things…homemade queso dip and bean dip.  Wait until they are combined and baked to perfection.  It's a match made in bean dip heaven.  Perfect for Cinco de Mayo or any party with hungry guests.  This one does not
This Caramelized Roasted Banana Bread with Oat Streusel is sweet, rich and absolutely a must for banana bread lovers!
Banana bread is one of my favorite things to bake for my family.  I get a little excited every time I see bananas that have gotten dark because I know I'll be making banana bread!
Have you tried roasting your bananas before adding them to your batter?  They become caramelized from the butter and brown sugar…literally a dream.  Sweet and rich.  So excited for you to try this new recipe!
Continue Reading »